Exploring the Fiji Islands on Captain Cook Reef Endeavour.
Did you know Fiji is only a 4-hour flight from Sydney? That if you leave at breakfast time, you can be tucking into lunch on a sandy beach cocktail in hand? The minute we arrived in Nadi, we wondered why we had not visited before. I mean 330 islands lay waiting for you less than two inflight movies away; how did we not know this!
Why Explore the Fiji Islands?
For a pair of city-chasing travellers from a town renowned for its numerous beaches and coastal beauty, beach holidays are few and far between. But, after Charlies' 800 km trek along the Camino de Santiago, the realisation came that we ought to consider a relaxing holiday for a change earlier this year.

The Fiji Islands are known for their pristine, crystal-clear beaches. But, drawing us there too were stories of enchanting hospitality and activities and cultural experiences that could cure any restlessness. Thankfully, such stories were not fake news – The Fiji Islands did not disappoint.

We have included lots of images on this page, so apologies if it loads a little slowly.
Fiji is an excellent stopover when travelling to Sydney with direct flights available between Los Angeles, San Fransico and also Japan and Singapore.
Why a Fiji cruise is a good idea
With so many beautiful islands to explore, trying to choose just one was hard. If you want to see some of the nation's most beautiful spots, you can move around using ferries but taking a cruise is the easiest and most relaxing way to cover a lot of ground in just a week.

The idea of cruising had never appealed to us, but when we heard about the Reef Endeavour small ship experience with Captain Cook Cruises Fiji, we decided it was worth a try. Large ships with thousands of passengers had put us off cruising completely. We like active holidays and are not big drinkers, so we felt like a week on a big boat with numerous bars was not a great fit.
Cruising with Captain Cook Fiji
What did we love about our time on the Reef Endeavour?
The Reef Endeavour is a beautiful classic vessel, small enough to feel cozy but spacious enough not to feel cramped. By the end of our week, we knew we had had a unique experience that would stay with us forever. I am still trying to put my finger on exactly what made it so special, but I know that the Fijian people, particularly the crew of the Reef Endeavor, are an enormous part of it.
The atmosphere onboard is first class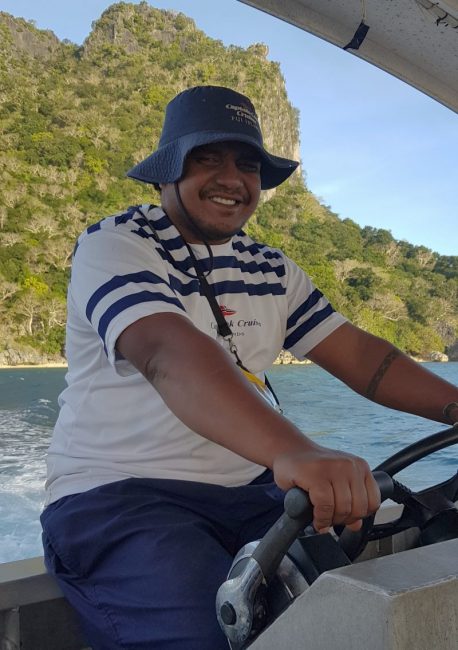 It's hard to talk about the Reef Endeavour without talking about the crew. While it might sound like a cliché, the crew on the ship made us feel like family. From the fact that you are welcomed on and off the boat by name within a day of being aboard to greetings of "Bula Family" from our glass boat captain Herman every morning, you can feel how invested they are in making sure you have a great time.

With approximately 50 crew looking after a maximum of 103 guests, the staff ratio is hard to beat. We cruised towards the end of the season and only had 60 guests on the ship. It was perfect.
Isa Lei, the Fijian farewell song the crew sang to us on departure, had many guests in tears and working out when we could book our next trip.
Find out more about the beautiful areas you can dive in Fiji
Our fellow passengers were great
You may be wondering what sort of people choose this ship? We met some lovely people on our 7-day cruise (we combined the 3-day Mamanuca Islands with the 4-day Yasawa Islands). We were sad when some new friends left after the three-day trip but new ones boarded, and they were just as lovely! The size of the ship made it easy to get to know each other quickly.
The passengers ranged in age from their late 20s to their late 70s (there were also two kids on the boat over the week). The majority were Aussies with a smattering from the United States, New Zealand, Canada, a handful of Europeans and a Chinese family in the mix. The strong focus on swimming and snorkelling meant we were mostly a bunch of water babies.
Being a small group of about 60 odd, it was easy to get to know everyone and spending time snorkelling and swimming together each day gave us ample chance to chat on the tenders to the beach each day.
While this is not a party ship, there were plenty of opportunities for fun and several Kava singalongs.
The beautiful ship itself
The Reef Endeavour is a 25-year-old 73-metre-long beauty. Her wooden decks and walnut polished cabin doors and railings provide a stunning contrast against the blue skies.
A two million refurbishment was completed in 2013, and while it could not be described as a luxury ship, the cabins and public spaces are very comfortable.

The ship may not have all the bells and whistles of a big cruise ship, but as the Captain says, she is steady as the water, and on the one night, we hit some pretty average weather that rang true. We felt the odd bit of rocking but nothing remotely like I would have expected on a windy night at sea.

There is a small swimming pool, three deck areas to relax, including the top sun deck where you will find a hot tub, small gym and a fantastic view. The lounge area offers a bar where you can relax between outings on the middle deck and has lots of comfy seating. The dining room is downstairs and large enough for everyone to eat at once. Evening entertainment also happened here.

The most significant benefit of the size of the ship is that it allows her to reach many beautiful small reefs and bays that are not possible for bigger vessels. It also means getting on and off the boat via the tenders was super quick as we all fit on one or two boats. The tenders have a lift at the stern, made going ashore a painless process.
There was the occasional wet landing, but we were always warned in advance, and there was plenty of staff on hand to help anyone feeling a little uncomfortable about it.
The cabins are comfortable
There are four types of cabins available. All offer an ensuite bathroom, on-off air conditioning, a wardrobe and a small desk.
We were in a stateroom (113) on A Deck. With two decent sized windows and a door opening to the deck, we felt it was light and relatively spacious for the size of the ship. It looked the same as the suite above without the extra doorway.

The cabins might only be 14sq metre, but they are well designed, and with plenty of space for the amount of time we spent in there. There was room to store our bags under the bed and several draws to unpack into. We also loved the hooks placed strategically around the room for hanging hats and other swimming gear.

The shower had excellent water pressure, and the room was serviced twice a day which meant even though it was small, it always looked great.
There were two flights of stairs to reach the main bar and dining areas on C and D deck, but we had sun lounges and chairs on our deck if you wanted to relax close to our room. These additional staircases proved to be for the best considering how much food is on offer!
If you want to splurge, the Tabata suites, also located on A deck, feature two bathrooms, two wardrobe spaces and a separate sitting room with small sofa, desk, LCD screen & DVD player, fridge and kettle. The bathrooms in these suites have been updated, but otherwise, these are basically like having two staterooms of space.

A number of family rooms are also available. These are two interconnected cabins that give access to two bathrooms; the second contains two single beds.
Standard cabins – these are below deck – just off the dining room. I didn't see inside these, but they have a similar layout to the staterooms with no external access to the deck. Some of these offer bunk beds.
Is there enough to do on the cruise?
We wondered if we would get bored just cruising and going to be the beach; I even packed two books; I barely picked them up. There were plenty of opportunities to lie on the beach and read or sit back on a sun lounge between afternoon tea and dinner, but we were so exhausted after snorkelling and swimming twice a day we needed a nap! Of course, you can elect to skip any of the activities and relax onboard.
Experienced divers can schedule dives with a qualified guide, or if you have always wanted to try diving but never managed to find the time, you can take an introductory diving course and do your first dive before the end of the cruise (extra cost).
Honestly, it felt like we spent as much time off the boat as onboard. Every day there are at least two opportunities to head to a different beach or new snorkelling sites to enjoy.

On several days we also had a chance to interact with the locals on school visits, a stroll through local markets, village tours, a lovo dinner and even a church service.
Between our morning excursion and lunch, the crew ran talks on Fijian Culture, marine life and reef ecology. I only managed one of these, but it was very informative, and I wish I had gone along to them all.
One of the cabins has been turned into a spa treatment room, and I treated myself to an hour-long massage after seeing so many happy and relaxed faces return from masseuse Talica's care.

Evenings on Board

Evening entertainment was simple and performed by the very talented crew. It was loads of fun. From crab races to music trivia, a cultural performance and a historical Fiji fashion show, every night after dinner, there was something on to get us dancing and laughing.

There were plenty of opportunities to join the crew for their evening kava ceremony, which Charlie jumped at the chance to do.
There were also nights when we were so tired from all the fresh air and exercise; we were sound asleep at 10 pm.

Evening highlights for us were the Lovo dinner in Gunu Village and the Crab racing, both part of the 4-night cruise.
What is the food like aboard the Reef Endeavor?
The food is plentiful and overall, very good. It's not as gourmet as the food offered on, say, a European river cruise, and while there is no choice of restaurants like you find on a bigger ship, a lack of variety was never an issue.

Here's how it went:

Breakfast – a buffet with plenty of options, you can also request eggs prepared in your favourite way. I loved the local additions which changed daily – from sautéed pumpkin or eggplant to Okra. There was loads of fresh fruit; the papaya and pineapple were delicious. Compliments to the pastry chef, all the pastries delicious! Keep an eye out for the mini chocolate croissants.
Beach Bar – No judgement for morning drinkers here – the beach bar was open shortly after we landed each morning. I even managed a drink at 10.30 am one day!
Lunch – these were mainly buffets and were plentiful – lots of great salads, always a couple of substantial vegetarian mains and at least three meat dishes. Ice cream and one or two dessert choices were also available.
There was not much repetition at lunch which was appreciated. One day there was a BBQ, another a Fiji curry buffet. It took a lot of self-control to stick to one plate so we could snorkel after lunch.

Afternoon tea – simple cakes or slices – we decided early on that we needed to skip this, or we could not eat the nibbles served at 6 pm.

Evening Canapes – one hour before dinner, a few different canapes appeared. Some were amazing, and again there was plenty to go around.

Dinners – all but two of the evening meals were al la carte. Seating was assigned, although you could request to sit with friends if you wish. We enjoyed meeting new people each night. It's such a small group that by the second day, you knew almost everyone anyway.
Just a few of our dinners
Our 7 Night Fiji Cruise Itinerary
We met the ship on Saturday morning at Denarau Marina. You can also choose to begin your cruise on a Tuesday. The three day Mamanuca and four day Yasawa cruises run in a rolling schedule for three weeks of the month. This adds lots of flexibility when trying to work out dates.
3 day Mamanuca Islands Fiji Cruise.
We started with the three day Mamanuca Islands tour. This included the following excursions:
Nuku I Mana cay (sand island)
Monuriki Island – home of Castaway/evening church service
Shark Feeding / the Sacred Islands, the place where the first Fijians landed.
Yalobi Village / Ratu Naivalu Boarding School / Hike
Sadly, the afternoon hike was cancelled due to bad weather on our trip. We enjoyed all these activities, and while the weather seemed to come over cloudy every afternoon and we had to cancel two of our late afternoon events, it did not matter; the days were full and the morning weather glorious.
On Tuesday, we came back into port to drop off those leaving the ship and pick up new passengers. On this change over day, the 7-day passengers are offered a free ½ day tour. You could choose from:
Sabeto Hot Springs and Mud Pool
Garden of the Sleeping Giant (Orchids star here)
a day at Captain Cook's private island Tivua
a ziplining adventure
a shopping excursion
We chose the mud pool option and, it was great fun. We are sure we look years younger now!
We re-boarded at Port Denarau at 12.30 pm before the new arrivals were ready to welcome them with the crew.
4 day Yasawa Islands Fiji cruise
And so began the Yasawa Islands cruise with the following stops:
Tivua Island – Captain Cooks private island, join in a volleyball game or go snorkelling off the pier.
Brothers Beach
Waya Island Island Gunu Beach and village Lovo and kava ceremony
Sunrise hike up to Mt Tamasua elevation of 763ft
Blue Lagoon Beach
Ratu Namasi School
Sawa-I-Lai Cave swim
Yaquta Island
Drawaqa Islands and Marine Reserve snorkelling
Out tips for enjoying your Fiji Cruise
If you drink wine, then buy a bottle – they put your room number on it, and you can drink it over a couple of days.
Don't overpack – there is nothing formal about this cruise, and there is a self-serve laundry available for about $10FJD a load.
Do bring at least two swimsuits. It's much better than putting on wet bathers in the afternoon.
If you have a room above deck pop your door open and enjoy the afternoon breeze while you nap, I enjoyed this so much.
Buy some reef shoes – you can pick up cheap pairs at Kmart or similar, I think we paid $8 for ours. They were handy getting on and off the tenders in wet conditions.
If you don't own any Bula (local Fijian design) clothes pick some up in Nadi on arrival – they are not expensive, and there are 2 Bula nights on the cruise.
Make sure you pack something that covers your knees and your shoulders for wearing to the villages. The Fijians are very conservative, and it is disrespectful to expose these parts of your body.
Bring sunblock and consider a rash shirt to protect you when snorkelling. The sun is intense here. I have not been sunburnt in over 20 years but on the last day copped a bad burn on the back of my legs. I will wear wet suit pants next time.
If you only have time for a shorter cruise choose the 4-day option.
Would we cruise with Captain Cook Fiji again?
We plan to book the Fijian 4 Cultures Discovery Cruise that travels to some of Fiji's most remote islands next year. Captain Cook offers 35% off on your next cruise for previous customers, and that is an offer too good to refuse!
You can learn more about Captain Cook and their latest cruise deals on their website or read more reviews on TripAdvisor. You can also find the latest special deals on the official Captain Cook specials page.
Check out more of our Getaway ideas here.
Thanks to Captain Cook Cruises for supporting some of our expenses on this tour. Our opinions are our own.