A Complete Sydney to Canberra Road Trip Itinerary
We recently took a much overdue Sydney to Canberra road trip. Our three days were spent wandering galleries, exploring parks and open spaces and eating way too much! Did we love it? Absolutely, we are already planning a return visit next autumn.
This page contains affiliate links. You can find our full disclosure policy here.
What to see on a three-day visit to Canberra
Our Canberra trip was a mixed bag of activities; see a couple of exhibitions, try out some new cafes, and balance it all out with some time exploring Canberra's outdoors. The city offers something for everyone with a little planning; you can craft the perfect trip for your interests.
Most Aussies make on a high school trip to Parliament House and never return. It's a shame because Canberra is a great weekend getaway with so much to see and do!
When is the best time to visit Canberra?
Canberra is most popular in the spring when the annual Floriade Festival is in full bloom. Another great time to visit is during the Enlighten Festival, which runs from the end of February to mid-March.
The thing about Canberra is that with all the museums, bars and cafes, there is plenty to do when the weather gets too hot or too cold to enjoy being outdoors. It's an excellent year-round destination.
How to get to Canberra?
Most people from Sydney drive to Canberra, but you can fly, take the bus, or train.
Another option, if you don't have your own car, and one that we tried on this trip, is using a car-sharing company.
Popcar reached out and asked us if we would like to try their service. So for this trip, we decided to take one of their SUVs so we could experience their cars and try car-sharing first hand. Read on for our review.
So now let's hit the road
The Sydney to Canberra drive is an easy one, along a well maintained, if soulless motorway. We, however, seem to find it impossible to drive past the pretty Southern Highlands towns that lay just off the highway without at least one stop!
This weekend we settled on Bowral on the trip out and Berrima on the way home. These two towns have great antique shops, and Bowral has several excellent cafes.

If you are travelling in September, Tulip Time will be in full swing and must be seen!
Many of the sights in Canberra are free to visit but require you to book your spot
Our Three Day Canberra Itinerary
Our visit was over a weekend but this itinerary would work mid-week, although parking is more expensive with most areas metred. If you want to extend this trip, you could combine it with a trip to Mollymook. You could also do the drive down via the Grand Pacific Drive.
Day One – Friday
After picking up our car, we were on the road bright and early and hit the Hume Highway well before the traffic.
Breakfast in Bowral
We found ourselves in Bowral before most of the town had woken up. Note – the shops seem to open about 9.30am here. We strolled the main street doing a little window shopping and eventually found ourselves at Green Lane. Best known as the home of Antique Store Dirty Janes it is also where you will find The Plantation, our chosen breakfast spot.
The Plantation stocks a large range of speciality food products and also has a lovely courtyard. After a light breakfast and wandering around the garden centre, we checked out the town's biggest attraction…
The Bradman Museum
The International Cricket Hall of Fame aka The Bradman Museum is a must-see for sports lovers. Explore the museum where you can learn more about the game. Exhibits cover everything you could ever want to know about the way the game is played around the world.
Once you have finished pop outside and take your photo with the legend. You can even have a quick hit on the greens – just ask the staff for your plastic bat and wickets.
By 10.30am we were back on the road and wondering whether we would find water in Lake George.
Lake George Lookout
Lake George on the Federal Highway has always fascinated road tippers. Is it really a lake? Has it ever been filled with water? These questions come up every time we drive past and we could never answer them, so this time we did some research.

Thought to be more than a million years old, Lake George is an endorheic lake, which means the water in the lake does not flow to rivers and oceans. The lake is flat and shallow, no more than 4.5m deep, it's 25km long and 10km wide.
The last time it had a decent amount of water in it was the mid-1990s when it reached the highway. This year heavy rain in winter has seen it fill more than it has in several years. The view above is from the Weereewa Lookout about 30km from Canberra.
Our first stop, once we arrived in the capital, was on the shores of Lake Burley Griffin. If this is your first Sydney to Canberra road trip we encourage you to slot this into your itinerary.
National Capital Exhibition
The National Capital Exhibition is a great place to begin your visit to Canberra, particularly if you are not familiar with the city.
Along with being the home to the visitors' centre and their helpful team, the centre tells the story of the city in a variety of ways.
A brief film will give you a great overview of how Canberra came to be, and a scale model of its design can help you get a lay of the land. This may cause less swearing when you are driving around looking for your next stop!
Lake Burley Griffin
This artificial lake was an integral part of Walter Burley Griffin's design for Canberra. It's one of the city's focal points and a popular place to walk, cycle, and row.
A highlight, the Captain Cook Memorial Jet, sends water 152 metres into the sky operates daily from 11am to 2pm. In high winds, they turn the jet off. Sadly, the wind was pretty strong all weekend, so we missed it this time.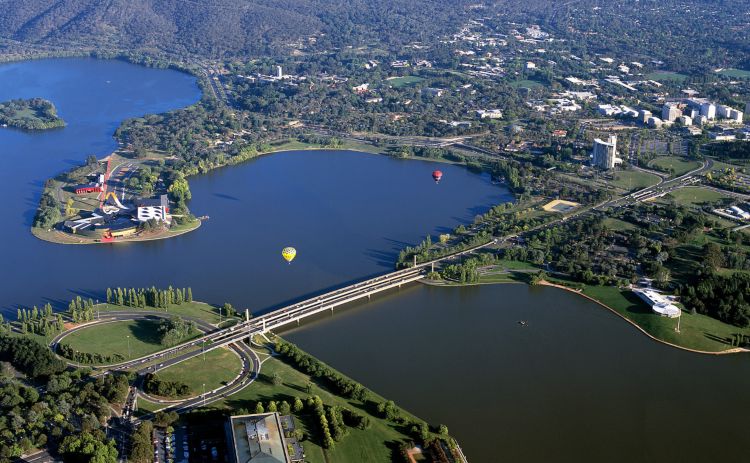 The waterfront is a great place to explore by bike, boat, or if your budget and the weather are in sync, in a hot-air balloon!
Australian War Memorial
The vast collection here covers all conflicts Australia has engaged in since the Boer War. We loved the old school diorama depicting the battlefields of World War One. There is also an impressive collection of aircraft and lots of personal memorabilia.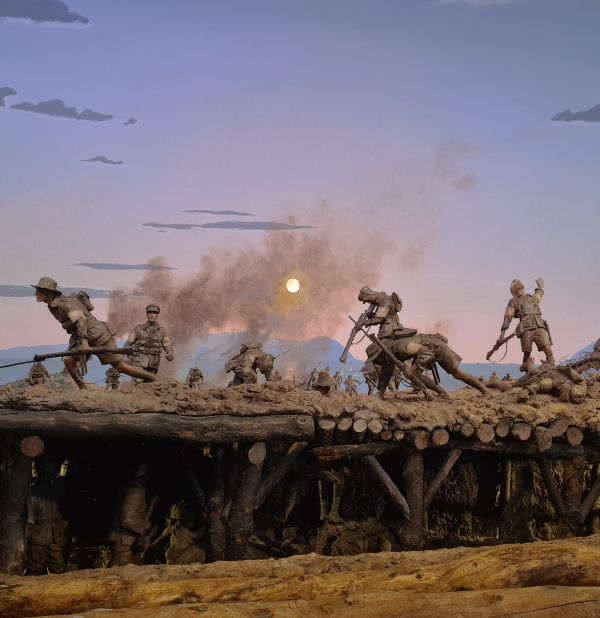 This memorial is a place where a history lover can easily lose half a day, but even those with a fleeting interest will find themselves engaged here.
Mount Ainslie Lookout
At least one of your days in Canberra should end with a visit to Mount Ainslie. This lookout offers one of the best views of the city.

From this spot, the Australian War Memorial, Old Parliament House and Parliament House line up perfectly. It is perfect for experiencing a Canberra sunset after attending the last post ceremony at the War Memorial.
If you fancy a bit of exercise, you can hike up Kokoda Track to the lookout. This is one of the most popular walks in Canberra. The 4.5km trail starts in Remembrance Park behind the War Memorial.
Drinks at – Smiths Alternative
Our Canberra trip coincided with parliament's last sitting day, which is also the biggest day on the Canberra office Christmas party calendar. Finding a bar or restaurant was beyond challenging. Helen, from Destination Differentville, was also in town and found this great little bar for us to meet at.
Charles got stuck into a local brew from Bent Spoke, and it quickly became a favourite. The drinks at Smith's Alternative were well priced, and we got a generous cheese platter with olives for only $15! We didn't have time to fit in a visit to their brewery bar but recommend it for beer lovers.
Dinner in Civic
We planned to head to one of the newer dining spots in Civic Verity Lane Market. It seems half of the city had the same idea, so this one is on our list for our next visit. It looked great, so perhaps see if you can squeeze it in on your visit.
SoLita Pizzeria just a short walk away had $12 Aperol Spritz and a certificate from the official Associazione Pizzaivoli Napoletini, so it was an easy decision!
Day 2 – Saturday
Breakfast in NewActon
Just a couple of minutes' walk from our apartment in NewAction were several bars and restaurants. We enjoyed a quick breakfast of Bircher, nectarine, coconut chia at Mocan and Green Grout before our big museum day.
This is a lovely area, and we enjoyed the architecture and surrounding gardens. A footpath leads over the roadway directly to the walking path along the lake. From here, you are just a few minutes by car to the centre of town and the sights.
Bridge to Bridge walk
A late start today meant our 5km Bridge to Bridge walk was cut back, we only had time to do a quarter of it. Next time we will get up earlier as we really enjoyed what we covered.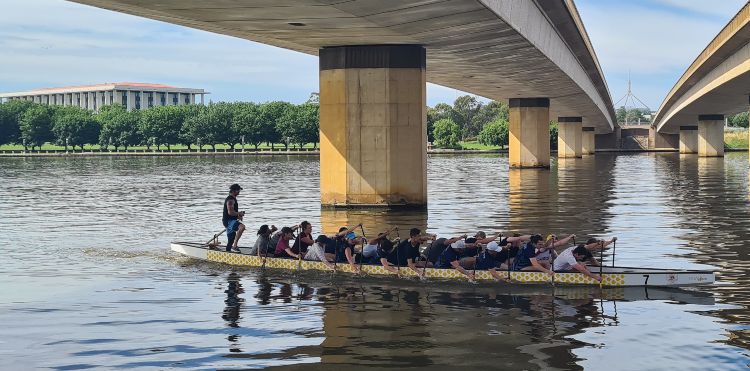 A fast walk by the river is a fantastic way to start the morning. We enjoyed watching the dragon boats gliding up the lake and seeing all the locals enjoying their city.
National Gallery of Australia (NGA)
The first stop on the culture trail today was the NGA. We began with a stroll around the sculpture garden while waiting for the 10am opening.
We were keen to see two of the current exhibitions Xu Zhen Eternity vs Evolution and Know My Name Australian Women Artists 1900 to Now.
The variety of masterpieces in the NGA collection may surprise you, including one of Monet's impressionist works, Sunrise, Jackson Pollock's controversial Blue Poles and Andy Warhol's Campbell's Soup.
The gallery is free to visit but they currently require entry bookings because of social distancing, so in peak periods you may miss out if you have not made a booking.
National Portrait Gallery
I threw the next stop in for nostalgia's sake – Pub Rock: people, places and sounds of Australian pub rock scene.
You will find it in the Portrait Gallery, just a couple of minutes' walk from the National Gallery. If you grew up listening to bands in the 1970s and 1980s, you would find much to love in this journey back to your youth.
The main collection features the faces of prominent Australians from all walks of life. We really enjoyed our visit and suggest you allow about an hour to see both exhibitions. Take a few minutes to explore the shop before you leave; we found some unique stuff here.
Lunch at the Kingston Foreshore
We chose Local Press for a break from our cultural pursuits. At just 2km from the museums, it's a perfect place to get some fresh air and squeeze in a look at this newly developed part of the city.
Dozens of bars and dining spots line the waterfront here, and you can also rent a boat and explore the lake. The Canberra Glassworks is just across the road if you fancy exploring.
If you are not into museums, then this Beer and Brewery Tour is a great way to spend the afternoon
Museum of Australian Democracy
Our last stop of the day is the Museum of Australian Democracy, which showcases Australia's social and political history. It's housed in Old Parliament House, the building that was supposed to be a temporary space but served as the seat of government for over 60 years from 1927 to 1988.

The museum includes several permanent and temporary exhibits. Truth, Power and a Free Press is a permanent installation that challenges us to think about how we engage with the news.
Using a mix of video, original letters and documents belonging to journalists, and interactive quizzes, the exhibition is engaging and achieves its goal of making you think about the way you consume media
Also showing is Behind the Lines 2020: the best political cartoons – a great way to look back on the horror show this year has been.
You can join a building history tour and explore some of the original parliamentary spaces that have been preserved just as they looked when the building closed.
Even hardcore museum lovers will probably need a rest before dinner. You could be lazy like us and head back to your accommodation for a nap or make your way to see the sunset from Telstra Tower.
Dinner in Dickson
Dickson has been the centre of Canberra's ethnic food scene for many years. We have been eating Chinese food in Dickson on almost every visit since the mid-1980s. With 47 dining options on offer, it's a good place to head if you are not sure what you feel like or want to dine on a budget.
Our old favourite Dickson Dumpling House is still going strong and serving their amazing roast duck san choi bau. Serving sizes are enormous, so keep this in mind when ordering!

Day 3 – Sunday
After all of those museums yesterday, today is about enjoying the outdoors before we begin the drive home. But first… coffee
Breakfast at The Cupping Room
Almost everyone we met on our visit to Canberra recommended the Cupping Room. Serving Canberra's famous Ona Coffee owner, Sasa Sestic, won the World Barista Championship in 2015 and staff have won the Australian Barista Champion' 2015, 2016, 2017, and 2019.
The coffee menu here is longer than the food menu, and both the espresso and white coffee were excellent.
We settled on an avo toast with poached eggs that came with cranberries and miso paste. I am not sure the miso paste really added much for me, but the rest of the dish was delicious.
Hike in National Arboretum Canberra
One highlight of our trip was a morning walk in the National Arboretum. If you get up early enough, you might catch a view like the one below.
Just a 10-minute drive from Civic, the Arboretum covers over 250 hectares. It contains 94 forests made up of over 40 thousand rare, endangered and symbolic trees from across the world.
We suggest you set aside some time to explore one of the walking and cycling tracks; there is over 20km of these in the Arboretum.
If you prefer not to walk alone, there are several guided tours and walks you can join.
We chose the Himalayan Cedar Track, which left from the Pod Playground near the visitors' centre and took in the Wide Brown Land sculpture. The artwork by Marcus Tatton, Futago and Chris Viney, was completed in 2010 and is a line from the classic Australian poem A Sunburnt Country.
Once we had completed our walk, we drove up to Dairy Hill Lookout, where we snapped the photo at the top of the page, and discovered the Nest III sculpture by Richard Moffatt. Apparently, he constructed it from abandoned farm machinery.
On the way back down we came across "A Backwards Attitude" by Louis Pratt. It is just past the turnoff to the Pod Playground.
Lake George Winery
It was time to head home, but not before a quick stop at the Lake George Winery on the way out of town. This is one of the earliest wineries established in Canberra. We did not have time to stay for tastings at the cellar door, (no booking either silly me!), or a bite in the cafe, but we will return next time. We might even book in on a Canberra wine tour.

To break up the three-hour drive home, we stopped in Berrima to walk around this historic village.
Berrima Village walk
Berrima is 160km from Canberra, and the drive took us a little over 90 minutes. We parked our car near the museum and wandered the length of the small town, exploring the small shops and restored buildings. History lovers might like to check out National Trust listed Harper's Mansion.
Lunch – Berkelow Book Barn
Berkelow Book Barn is just a few minutes out of town and a brilliant spot for lunch with or without incidental book shopping.
From here it's less than 125km back to Sydney.
Where to Stay in Canberra
Prices can fluctuate wildly in the national capital, depending on whether parliament is sitting or major events are running. At these times you should aim to book at least 6-8 weeks in advance to find something in a good location.
On this trip, we stayed in NewActon, an area that sites between Civic and Lake Burley Griffin. Possibly the most urban part of the city, the area originally provided temporary accommodation for newly arrived employees of the colonial capital and then functional workplaces for a variety of government departments.
These days NewActon is home to interesting architecture, quirky sculptures and some excellent eats. Its proximity to both the lake and the city centre makes it a perfect base for a quick visit.
Ovolo Nishi Hotel
The Ovolo Nishi is a superb choice for a short stay in Canberra.
Be sure to check out Monster Bar for a pre-dinner drink.
You may also like to consider nearby properties including:
Sydney to Canberra road trip – All the answers
How far is it from Sydney to Canberra?
Sydney is 286km from Canberra by road.
How long does the drive take?
The drive from Sydney to Canberra takes approximately 3 hours but can take an extra 30-45 minutes in peak hours.
What a good lunch stop between Sydney and Canberra
There are a couple of big petrol stops with all the usual fast-food haunts. We suggest you get off the highway at Goulburn or Collector or take a brief detour to Bungendore, which has developed as a popular spot for Canberrans to head for a day out.
Is it safe driving Sydney to Canberra at night?
We saw plenty of dead kangaroos along the side of the road just outside Canberra, so if you drive after dusk please be careful.
Using Popcar for our Sydney to Canberra road trip
What is Popcar?
Popcar is a membership platform that offers its members access to a range of vehicles from hybrids to SUVs to use by the hour, or for up to 4 days.
How does Popcar work?
Members are issued with a card used to access the vehicle they book via the Popcar app. Cars are parked around Sydney; we collected ours from Sutherland. They include petrol in the cost of your booking.
Would we recommend Popcar?
In a word, yes, the service is perfect for anyone who does not use their car often. It's also good when you need a bigger car or van for a specific purpose. Anyone serious about reducing their carbon footprint could find that combining a car share scheme and public transport is a brilliant solution. This could easily replace the second car in many families.
Popcar is currently operating in Sydney, Melbourne, Canberra, and Byron Bay.
What public transport options are available for visiting Canberra?
You can travel to Canberra by train from Sydney's Central Station to Canberra Railway Station in Kingston. The trip takes approx four hours and 30 minutes. At the moment the direct train journey is not operating and you may end up taking a train as far as Goulburn before joining a bus.
You can also choose to book a Murrays Canberra to Sydney Coach service
Note: Popcar gave us free use of a vehicle for this road trip, but we covered all other expenses ourselves. We base our opinions on our use of the vehicle for this trip.