It can be hard to decide which museums in Sydney deserve a place in your itinerary or even your weekend. Looking for the city's best galleries? More than just a list of galleries and museums in Sydney we have added insider tips to make the most of your visit.
Twenty Sydney Museums and Galleries to visit
For us, a trip to any city is incomplete without wandering through some of its museums and galleries, and Sydney is certainly no exception. Here are twenty that you might like to check out next time you are in the Harbour City.
We have split these into two sections and added a map at the bottom of the page so you can quickly see which ones are located close together if you fancy popping into a couple. They are great to have in mind for a very hot or very wet day when you are looking for indoor things to do in Sydney.
Let's start with Museums, many of these offer free tours and quite a few have free entry too.
Museums in Sydney
Anzac Memorial
Feature: The architecture itself makes this well worth a look and the collection of war memorabilia is impressive
Situated in the middle of Sydney's Hyde Park, the Anzac Memorial is both a museum and a monument to Australia's war dead, in particular, those of the Australian Imperial Force of World War One. There is a short daily service at 11.30am each day.
Unveiled in 1934, the memorial was constructed in a stately yet beautiful Art Deco style. Inside the pink granite building sits a historic collection of over 6,000 objects, each helping to illustrate the stories of those who serviced and the families they left at home.
Tip: The building is particularly lovely to photograph in the twilight when the lights jump off the Pool of Reflection.
Where: Liverpool Street, Hyde Park
When: 9am-5pm 7 days a week
Cost: Free
More: Check the website for details of current exhibitions
Australian Museum of Natural History
Feature: Natural History and anthropology
Placed right in the heart of the CBD, the Australian Museum, as it is known, is the oldest in the country, opening its doors back in 1827. Architecture lovers will remark at its combination of early Greek Revival and new International Style, but the building is not the only part of the Museum that's been renovated.
Founded initially to document the continent's colonisation, this centrepiece of scientific chauvinism has undergone a renovation in thinking and purpose, and now displays a wide range of exhibits specialising in natural history and anthropology.
It is currently undergoing another major renovation that is due to be completed later this year.
Where: 1 William St Sydney
When: Monday ‑ Sunday 9:30am‑ 5pm
Cost: Entry to the main collection is free
More: Check their website for details on current exhibitions
Australian National Maritime Museum
Feature: Board a battleship, submarine and a replica of the Endeavour
Australian National Maritime Museum juts right out into Darling Harbour and is, unsurprisingly, about all things water. A relatively new museum, the building was opened in 1991 but in the last thirty years has cemented itself as one of Sydney's must-see destinations.
While a variety of aquatic-themed exhibits can be seen inside, the Museum's real attraction is the three museum ships moored in the harbour. Visitors can board a replica of Captain Cook's Endeavour, the Cold War-era destroyer HMAS Vampire and the much-maligned submarine HMAS Onslow.
We highly recommend you join one of the free guided tours of the vessels, the volunteer who took our last tour was a retired serviceman who had worked on the ship he showed us around.
Tip: Check Groupon for regular deals on family tickets. Also, download the free app to make the most of your visit.
Where: 2 Murray St Sydney
When: 9:30am ‑ 5pm every day except Christmas and Good Friday
Cost: Free museum's galleries and selected exhibitions. Tickets required for entry to the ships and vessels
More: Check their website for more info
Hyde Park Barracks Museum
Feature: Colonial History of Sydney
Standing right at the heart of the city, Hyde Park Barracks was built in 1819 by the famous convict architect Francis Greenway as a prison. Since then it's been an asylum, a hospital, a mint and a courthouse before finally becoming a museum of colonial history.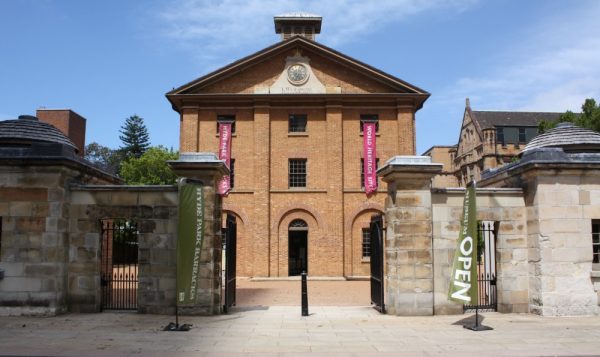 The building recently reopened after a major restoration that has seen new life breathed into its exhibits. The building is now accessible to all with an elevator and other features to ensure all visitors can explore the collections.
Where: Macquarie St Sydney
When: 10am-5pm Thurs-Sun – 90-minute sessions – bookings required.
Cost: Likely to be Adult $24 | Concession $12 | Family* $64
More: Keep an eye on the website for the reopening date
Justice and Police Museum
Feature: The stories of the "crooks" and the 'cops" of early Sydney
Just up from Circular Quay, the Justice and Police Museum is dedicated to all things law and order. Built in 1886, it was once a working station of Sydney's Water Police before passing through various branches of the police service and the court system.
Today it exhibits a wide collection of artefacts such as mugshots, forensic equipment and antique firearms. There are also interactive activities, with a restored courtroom, charge room and cells offering visitors a taste of the law in the bad old days.
I really enjoy this museum, but it does not get the love it deserves with such short opening hours.
Tip: There are three scheduled events each day – don't miss the chance to join in a mock trial at 11.30am, it's a hoot.
Where: Corner Albert and Phillip Street, Circular Quay
When: Sat and Sun 10am – 5pm
Cost: Adult $15 | Concession $12 | Family*$38
More: https://sydneylivingmuseums.com.au/justice-police-museum
Museum of Sydney
Feature: History of Sydney pre and post colonisation
Built on the ruins of the very first Government House, it's perhaps only fitting that the Museum of Sydney is dedicated to the city's local history, from the colonial period right up until the present day.
Visitors today can see not only the outline and remnants of that original building but a vast array of artefacts and exhibitions on Sydney's history, including a panoramic view of the city that shows how it has changed throughout the ages.
Tip: The free 30-minute highlight tour is a great way to learn about the history of Sydney.
Where: Bridge St &, Phillip St, Sydney
When: 10am-5pm
Cost: Adult $15 | Concession $12 | Family* $38
More: https://sydneylivingmuseums.com.au/museum-of-sydney
Chau Chak Wing Museum
Feature: Antiquities and National History
The art, science, history and ancient cultures collections that previously formed the Nicholson and Macleay Museums have now been incorporated into the Chau Chak Wing Museum. The stunning new facility recently opened on the grounds of Sydney University in Camperdown.
The new museum houses 18 new exhibitions across four floors of galleries, including over 30,000 antiquities from across the globe, from Ancient Egypt to the Roman Empire.
There is also a strong focus on natural history, with scientific equipment, ethnographic displays and one of the most important collections of insects in Australia.
Where: The University of Sydney, University Place, Camperdown
When: 7 days a week – Weekdays 10am – 5pm, Thursday evenings until 9pm and weekends Noon – 4pm
Cost: Free – but please book your timed visit
More: https://sydney.edu.au/museum/
Powerhouse Museum
Feature: History of technology and design with lots of hands-on activities for kids.
Together with the Sydney Observatory and the Museum's Discovery Centre at Castle Hill, the Powerhouse Museum forms the best-known part of the Museum of Applied Art and Sciences. A science and technology museum, the Powerhouse has a comprehensive remit that includes everything from design and architecture to household furniture and space travel.
Currently, in a converted power station for Sydney's old electric tram system, the Powerhouse Museum hosts up to 400,000 objects and is a must-see destination for tourists and locals alike. In July 2020 the museum will be heading to new premises in Sydney's west.
Tip: The Wiggles exhibition will keep kids busy for an hour or more easily.
Where: 500 Harris St, Ultimo
When: 10am-5pm (Closed Christmas Day)
Cost: Adult $15, Children 16 years and under FREE, Pensioners and Students* $8
La Perouse Museum
Feature: A mix of Aboriginal history and artefacts from the expedition of French Explore La Perouse who reached Australia in 1788 just days after the English.
Unlike many on this list, this Museum is well outside the CBD, in the coastal suburb of La Perouse. Housed in the old Cable Station, which once connected Australia to the rest of the world via telegraph, the Museum commemorates the famous La Perouse expedition, a French scientific endeavour whose ships arrived around Port Jackson at roughly the same time as the First Fleet.
The Museum also features the history of the local Aboriginal people, to which La Perouse has always been an important centre from colonial times to the present, and second only to Redfern in the city of Sydney.
Tip: Check the regular event program for things music performances and cultural talks.
Where: 1542 Anzac Pde., La Perouse
When: Wednesday and Friday 10am-2pm / Saturday and Sunday 10am-4pm
Cost: Free
More: Check the Eventbrite site to book tickets for regular events at the museum.
State Library Galleries
Feature: Extensive picture collection and Eight Days in Kamay, that explores the first 8 days in Sydney after the arrival of the colonials.
Built in 1826, the State Library is the oldest in Australia. It dominates a considerable part of the city's central Macquarie Street, but a little less known is it's five newly launched galleries.
Located in the Library's Dixon wing, these showcase a rotating series of artistic and historical exhibits. The Exhibition Galleries also include free tours, holiday activities for the kids and its very own collection of artefacts.
Be sure to wander into the beautiful Mitchell Library Reading Room before you leave.
Tip: Download the free audio guide for the gallery painting collection
Where: Macquarie Street Sydney
When: Mon-Wed and Fri 9am-5pm, Thur 9am–8pm, weekends -10am-5pm.
Cost: Free
More: https://www.sl.nsw.gov.au/galleries
Susannah Place Museum
Feature: Everyday life in early Sydney through the lives of the families who lived in these terraces.
Situated on Sydney Harbour in the historic Rocks, Susannah Place was built in 1844 as a row of terraces and occupied by working-class Sydneysiders right up until it became a museum in the 1990s.
One of the few places to escape slum clearances and gentrification intact, today visitors can step through a portal in time and walk through the preserved rooms that show the mundane and daily aspects of Australian-working class life throughout the buildings' long history.
Today they have staged the terraces to resemble the 1840s, 1930s, and 1950s. The experience is by guided tour only, and the stories told really bring the building to life – a perfect introduction to the Rocks.
Tip: If you miss a booking you can still visit the shop, set up as it was in 1915 that is located inside the corner terrace.
Where: 64 Gloucester St The Rocks
When: Mon-Sun 2pm‑5pm – currently closed due to Covid restrictions
Cost: Adult | $15 Concession | $12 Family* | $38
More: Check the website for more details on tours and exhibits here.
Sydney Jewish Museum
Feature: Jewish History and culture, Holocaust and Human Rights
Built on the site of the old Maccabean Hall, long a centre of Judaism in Sydney, the Sydney Jewish Museum documents and commemorates the Holocaust as well as the history of Jews in Australia.
Founded in 1992 by Holocaust survivors, the Museum's historic collection combined with presentations by survivors, tell the stories of those murdered during the Holocaust and gives voice its victims.
Tip: Try to visit early afternoon if you go during the week as school groups are often there between opening and 1pm.
Where: 148 Darlinghurst Rd Darlinghurst
When: Sun 10am‑ 4pm Mon‑Thur 10am‑4:30pm Fri 10am‑3pm. Closed Sat.
Cost: Adult $15 Seniors $12 Children $9 (under 10 enter free)*
More: Find out more about the collections here
The Rocks Discovery Museum
Feature: artifacts uncovered by digs in the area and the architecture of the building itself.
Thanks to the actions of construction unions during the 1970s, the Rocks district is probably the most historic and well-preserved part of Sydney, and places like the Rocks Discovery Museum only serve to add to that appeal.
Situated in a restored 1850s stone warehouse, the Museum contains a substantial collection of artefacts and interactive exhibits that chart the district's history from its indigenous occupation to well into the 20th century.
Tip: This is a small museum but well worth a stop before you explore the Rocks. They often run events for kids in the school holidays.
Where: Kendall Ln, The Rocks
When: Mon-Sun 10am-5pm
Cost: Free
Galleries in Sydney
Art Gallery of New South Wales
Feature: Strong Aboriginal and modern Australian art. Surprising good international pieces.
Sitting adjacent to the luscious Botanic Gardens, the Art Gallery of New South Wales is one of the nation's biggest and best galleries.
Opened in 1874 and constructed in an almost classical style, the Art Gallery of New South Wales is free to the public (although some exhibitions involve additional costs) and showcases the entire spectrum of both Australian and national art, from the most ancient to the present day.
Wednesday Nights "Art After Hours" program offers some great free performances and a chance to take a free guided tour or join a workshop.
Tip: If you have refreshments at the cafe, sit outside and wait for the rosellas to come and entertain you.
Where: Art Gallery Road Sydney
When: 10am-5:00pm, Wed 10am-10pm
Cost: Free general entry
More: artgallery.nsw.gov.au
Artspace Sydney
Feature: Discover emerging contemporary artists in an innovative space.
Artspace Sydney is a visual arts centre, specialising in contemporary art, that sits right on Sydney Harbour. Using the historic Gunnery Building, Artspace calls itself a centre for "experimentation, innovation and collaboration in the visual arts", offering many international residency programs, public initiatives and educational activities.
In a city filled with heritage and history, Artspace places itself at the cutting edge of Australian culture.
Tip: Follow their Facebook page for news of upcoming exhibits.
Where: 43 – 51 Cowper Wharf Road Woolloomooloo
When: Mon-Fri 11am-5pm, Sat-Sun 10am-5pm
Cost: free
More: artspace.org.au
Australian Centre for Photography
Feature: Gallery space with classes and workshops for locals
One of the oldest contemporary art organisations in Australia, the Australian Centre for Photography has been providing community programs and part-time courses since 1974.
Headquartered on Sydney's trendy Oxford Street, the centre is a not for profit that has provided a start for a brace of prominent Australian photographers and showcases prospective future stars in its publications and on-site gallery.
Tip: The current exhibition Martine Gutierrez – Body en thrall exhibition explore identity.
Where: 72 Oxford St Darlinghurst
When: Tue‑Fri 10am‑5pm, Sat 11am-4pm
Cost: Free
More: https://acp.org.au/
Brett Whiteley Studio
Feature: Not just a gallery but the workspace of one of Australia beloved artists filled with his personal belongings.
One of Australia's most prominent contemporary artists, Brett Whiteley's work adorns galleries across the world, but his studio sits right in Surry Hills and is today open to the public.
With one part serving as a gallery, the other is a kind of Museum and has been kept in largely the same state as it was upon his death on the NSW South Coast in 1992. Featuring both finished works and those not yet completed at his death, this is probably the best place to see Whiteley's avant-garde body of work.
Tip: Once you have visited head over to Lavender Bay and his wife's passion project Wendy's Secret Garden, where you can see the view he painted many times.
Where: 2 Raper St Surry Hills
When: Thursday-Sunday 10am-4pm
Cost: Free
More: brettwhiteley.org
Museum of Contemporary Art MCA
The Museum of Contemporary Art (often shortened by Sydneysiders to the MCA) is a beautiful Art Deco building right on the harbour that exhibits contemporary art from Australia and across the world.
Taking over from the Maritime Services Board in the late 1980s, the MCA has given the public a taste of avant-garde art for over thirty years. Alongside a wide range of exhibits, visitors can buy souvenirs from the gift shop and even have a bite to eat at the Museum's rooftop café or restaurant.
Tip: Even if you are not a huge fan of contemporary art, pop in for the cafe views and the excellent range in the gift shop.
Where: 140 George St The Rocks
When: Mon-Sun 10am‑5pm Wed. 9pm
Cost: Free
More: mca.com.au
S. H. Ervin Gallery
Feature: Specialises in Australian art
Right next to the Sydney Observatory, on the aptly named Observatory Hill, sits the S. H. Ervin Gallery. With a more sophisticated and even academic bent, the gallery aims to "encourage research and promote scholarly appraisal of artists from all periods of Australian art history."
Along with an impressive collection of work from female Australian artists, the Gallery also exhibits work that failed to make the prestigious Archibald Prize, all hung alongside the stylish Trust Café.
Tip: Be sure to get a cake from the on-site cafe – they are delicious!
Where: 2 Watson Rd, Millers Point
When: 11am to 5pm
Cost: $12.00
More: https://www.shervingallery.com.au/
White Rabbit Gallery
Feature: Chinese postmodernist and contemporary art
A very different kind of place from many others on this list, the White Rabbit Gallery in Chippendale collects and presents contemporary Chinese art, focussing on work produced in the last twenty years.
This former warehouse can only hold a little of the White Rabbit Collection's over 2500 individual works, and so cycles through the best this style can offer twice a year. The ground floor tea house is a lovely spot to take some time out. It has a large menu of Chinese tea along with some really delicious dumplings.
Tip: Not all the exhibits are suitable for children, so check before you visit.
Where: 30 Balfour St Chippendale
When: 7 days 10am‑5pm except during exhibition change over
Cost: Free
More: whiterabbitcollection.org
Sydney Museum Pass
The Sydney Museum Pass covers all the properties that are part of Sydney Living Museums. Currently 11 properties including the Museum of Sydney, Susannah Place, Justice and Police Museum and more. Get the details here. Hyde Park Barracks will also be part of this pass when it reopens.

Ten Obscure Sydney Museums
If you are looking for a specialist collection or something a little different one of these might work.
Frequently asked questions about Museums in Sydney
Best Sydney Museums for kids
For younger children, the Powerhouse, Australian Museum and Australian Maritime Museum are excellent with plenty of hands-on spaces to keep curious little explorers busy.

Older kids will enjoy the dressing up at the Justice and Police Museum, Susannah Place, and most of the museums on the obscure list above!
Best museums for learning about Aboriginal history
The Australian Museum when it reopens will have a state of the art Indigenous History collection. There is a small collection and movie at the Museum of Sydney, and at the La Perouse Museum in Sydney's East, there is an interesting collection by local Aboriginal peoples.
Sydney Museum and Gallery Map
Save this Sydney Airport Hotel Guide to Pinterest for your travel planning