Sydney seems to love nothing more in summer than watching a movie under the stars. Over the last decade, summer outdoor cinemas have sprung up across Sydney.  Here is our guide to this year's offerings.  
Updated May 2019
St George Open Air Cinema – Sydney Harbour 
Billed as the world's most beautiful cinema, watching a movie on a screen that pops up out of Sydney Harbour is as amazing as it sounds. This cinema at the edge of the Botanic Gardens is probably the most romantic in the city.
Watch the sunset over the harbour while you wait for the sky to darken enough for the movie to begin, usually at about 8.30pm. Chiswick Restaurant is catering this year food with food prices from $8-25. Premium dining is available, and catering is by Aria.
We have attended this cinema several times at our own expense, and it is by far our favourite for quality and comfort.
Dates: 8 January – 16 February 2019
Cost: Tickets available from Ticketmaster $40 ($36 plus booking fee). Tickets may be available at the gate but often sell out in advance.
Transport: Walk from Martin Place or Circular Quay Station.  Try to leave the car at home, parking very limited in this area.
Tip:  This cinema sells out very quickly – especially Valentine's day.  Bring your $$$ it is not BYO.
Visit the St George Open air website
American Express Open Air Cinema – Bondi Beach 
Live music, sunset drinks, food from Salt Meat Cheese and a movie in the great outdoors.  Summer in Sydney means outdoor movies and this venue at Bondi is about as Sydney as it gets.  This one is my favourite because you can take your dog along and they even have special doggy packages. Gates open from 6 pm and the movie here begins around 8:30 pm
Get there early to get a beanbag chair before they run out.  We arrived about 2 hours before the movie started and it was nice to be able to relax and catch up during the sunset.  My tip, avoid the back of the hill bar the bar cause it gets a bit distracting when they start to pack up towards the end of the movie.
There are a bunch of American Express Open Air cinemas this year, and they are all dog-friendly:-)
Dates: 23 January to 03 March 2019
Cost: $20-40 depending on how many perks your order.  Deal 4 tickets for $70. Beanbags extra and in limited supply.
Details:  Over 18 years only.  BYO food and soft drinks but no glass, alcohol or sharp knives.
Public transport:  Buses from Bondi Junction or the City.  Parking is very limited.
Tip: Arrive early for the pre-movie music.  Bring a jacket – it can get pretty cool by the ocean at night.
Visit the Bondi Open Air cinema website 
Moonlight Cinema – Belvedere Amphitheatre Centennial Park

The Moonlight Cinema has the most extensive season offering over three months of movies.  Bring a picnic and a rug and head to our biggest city park for a movie under the stars.
Movies start between 8 pm and 8.30pm depending on sunset times.  Dogs are allowed on a leash and you can BYO your own food and drinks, so this is undoubtedly a family and budget-friendly venue.
Dates: 29 November to 31 March 2019. Gates open at 7 pm and movies start at 8.30pm. Both times half an hour earlier in March.
Cost: Adults $20-$35   Kids $15
Transport: Bus from Bondi Junction or the city, parking is available in surrounding streets but fills very early.  The nearest gates to the cinema are the Woollahra Gates on Oxford Street, so any Oxford St bus is your best bet.
Tip: If you are looking to impress on the first date the "Gold Grass" ticket includes a bean bed.  These are also available to purchase on the night if you arrive before they sell out. Moonlight Cinema is closed on Mondays.
American Express Openair Cinemas – Inner West
This is a new venue for outdoor cinema, but I think it will be a popular one.  On the grounds of Sydney's oldest university and close to transport. This cinema is more than just dog-friendly with free dog couches and treats.
Food and drink packages are available to purchase before or on arrival; however, prices are lower if you prepay.
Dates: 10 Jan – 17 Feb 17 2019
Cost: $20 adults, $17 kids
Transport: Buses to the University of Sydney depart from Stand 'C' at Railway Square, outside Central Station in the Sydney CBD.
Sunset Cinema North Sydney – North Sydney Oval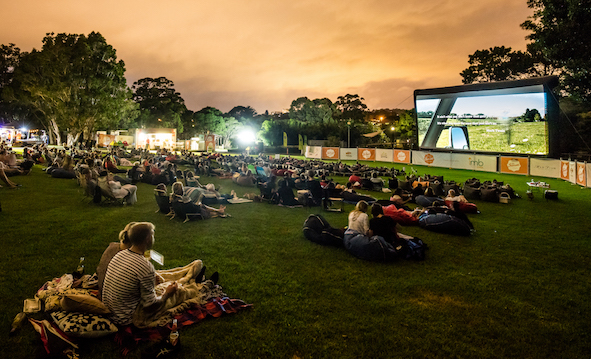 While best known as a home to cricket or football each summer North Sydney Oval's Starlight cinema screens over 30 movies. Watch from the lawn, rent a chair or bean bed and if it starts to rain head for the stands to watch the end of the film. Gates open at 7 pm.
Dates: 17 January to 2 March 2019
Cost: from $20 pre-purchased to $45 for a ticket that includes some food and drinks and a bean bed.
Public transport:  Bus from North Sydney or Wynyard station
Tip:  Great for last-minute seats as this large cinema is rarely sold out.  BYO food and soft drinks – no glass or alcohol allowed.  Food and alcohol are available to buy. This one is not pet-friendly, so if you have a dog phobia you are in luck!
Visit the Cinema website
Movies by the Boulevard – Sydney Olympic Park 
Sydney Olympic Park offers lots of free family activities, even more so over the summer.  Perfect for school holiday fun.  It is also one of only two free outdoor cinemas in Sydney.
Dates:  Wed to Sunday in January Check the website for times.
Cost: Free
Public transport:  Train to Olympic Park or plenty of parking available (not free).  Short walk to Cathy Freeman Park off Olympic Boulevard
Tip: Family friendly films make this cinema best for kids.
Visit the Movies by the Boulevard website for more details.
Little Nightowls – Darling Quarter
A fun free event for the whole family with two films each night, kids feature at 6:30 pm or a grown-up movie at 8:30 pm.  There are plenty of dining options nearby and parking under the Darling Quarter shops.
BYO picnic or grab dinner at one of the surrounding cafes and restaurants.
Dates:  Every Friday, Saturday and Sunday nights from  4- 20 January 2019
Cost: Free
Transport: walk from Town Hall or Central Stations
Check out the list of movies here 
Mov'IN Bed – The Entertainment Quarter
If the idea of sitting on the grass or a picnic blanket is not your idea of comfort, you might enjoy this outdoor cinema with beds!  This set up in Moore Park is the biggest bed cinema in the world.  The cinema has 150 queen size beds with comfy pillows and blankets to keep you warm.
You can order food when you buy your tickets or arrive early and dine in one of the great restaurants in the Entertainment Quarter.  If you plan to drive there is free parking on offer.
Gates open at 7 pm and movies start at about 8:30 pm
Dates: 30 November to 17 Feb 2019
Cost:  Beds can take 1-3 people – tickets start from $37 plus booking fee, General admission without beds is a
Transport: Buses from Central station – 339, 374, 376, 391, M10
Tip: Arrive early to grab your preferred bed.
Visit the website for this seasons program.
Google maps of outdoor cinema locations
View Sydney Outdoor Cinemas in a larger map
Visit 131500.com.au for public transport information.
Have you visited any of these cinemas?  Which is your favourite?