Where to find a great breakfast in Sydney
Breakfast in Sydney is a bit of an institution, perhaps because the city goes to bed so early 😉 The first meal of the day whether you call it breakfast or bunch is pretty important and something lots of locals (especially us) tend to go out and enjoy every weekend.
What follows is a list of breakfast places that either Charles and I or our fellow bloggers enjoy. Take a look and let me know if your favourite is on our list. If not, please leave a comment so we can check it out next time we wake up hungry!
This page contains affiliate links. You can find our full disclosure policy here.
Breakfast spots in the city and inner suburbs
If you are staying in the CBD, you are spoilt for choice during the week when every cafe offers breakfast deals for city workers, but if you want a nice sit-down meal or are looking for breakfast on the weekend, it can be harder to find. We are working on including more vegan breakfast options but in the meantime here are some options that might work for you.
The Haloumi Stack at Nook Urban Fresh is the sort of breakfast that will keep you going until long after lunch. There is a good range of option on the menu here, and coffee is a big deal with a fantastic range on offer.
Overall the food at Nook is fresh and healthy with just a few decadent items thrown if for when you feel like a splurge; it's tough to resist the Drunken Frenchman which features Brioche French toast with spiced poached pear and pistachio crumble and whisky maple after a big night on the town. Healthy choices include Quinoa porridge or Paleo yoghurt, also keep your eyes out for the homemade baked beans if you are a bean lover like me.
Address: 2 locations either 83 Clarence Street (behind Wynyard Station) or 48 Hunter Street just up from the Radisson Blu Hotel
Opening hours: 7am-4pm Monday to Friday only
The Palace Chinese Restaurant – CBD
I am a big fan of a Yum Cha as a breakfast option, and Sydney has some outstanding offerings. Yum Cha service usually starts at 11 am so this is not an option for those who like to eat breakfast within an hour or two of rising.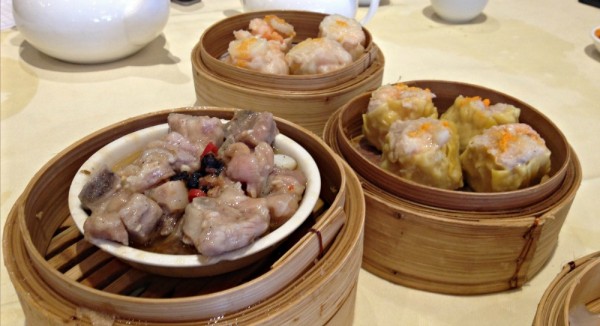 Yum Cha service is usually quick and often a little curt, as westerners it can be hard to get the trolley ladies to bring you the best stuff too. After eating our way through almost every yum cha offering in the city our clear favourite taking into account both food quality and service is Palace Chinese Restaurant in Piccadilly Shopping Centre. Just a short walk from either the Hilton or the Sheraton on the Park or Pitt Street Mall.
Address: Level 1, 133-145 Castlereagh St, Sydney (opposite the Hilton Hotel)
Opening hour:s 11am-3pm
Latteria – Darlinghurst
Stepping into Darlinghurst's Latteria cafe is like taking a trip to Italy. It may be small, but it's packed full of tasty cakes, pastries, Italian drinks and (they're pretty much legendary) focaccia. There's also a few Italian trinkets and wooden stools at the bar where you can sip your espresso in style just like in Rome!
The breakfasts include the Sydney standards of avocado, poached eggs, sourdough toast and omelettes and dishes range in price between $12-18.
Head there early, (it opens at 5 am) and grab a seat outside on the pavement. If you're there early enough (between 7-8am), you'll probably have timed your visit with the local cyclists who stop by for a caffeine kick before their ride. It's this atmosphere that makes Latteria somewhere you'll head back to time and time again!"
Hannah from That Adventurer shares her favourite Sydney breakfast spot.
Address: 324 Victoria St, Darlinghurst NSW 2010
Opening hours: Mon-Sat 5am-5pm
Pancakes on the Rocks – CBD
Nele from Global Introvert is a fan of pancakes for breakfast, and she recommends you visit Pancakes on the Rocks
Do you crave fluffy pancakes in the morning? Then Pancakes on the Rocks is the place for you! The original restaurant is located in the historic Sydney Rocks, but nowadays you can find them in several locations all over the city. They are open 24 hours, so never mind if you're planning an early start or sleeping in. Top your pancakes with ice-cream, fruits, and chocolate. Or go savoury by combining them with traditional breakfast options like eggs, bacon, or sausage. Pro-tip: When you can't decide between buttermilk and chocolate pancakes, ask to have both. They're delicious together!
Address: 4 Hickson Rd, The Rocks, Sydney
Opening hours: Open 24 hours a day seven days a week for your jetlagged breakfast cravings!
Great Breakfast Spots in the Southern end of the CBD
Something for Jess, Annandale
Something for Jess focuses on locally sourced organic food served in a friendly environment that makes you wish it was your local cafe.
The decor is recycled and adds to the warm atmosphere created by the friendly staff. All-day breakfasts and some great bruschetta or panini lunch options focusing clearly on healthy good for you food!
Address: Corner of O'Connor Street and Abercrombie Street, Chippendale
Opening hours: 8am-2.30pm
The Rabbit Hole Organic Tea Bar is a whole new café concept. It strongly focuses on tea and offers lots and lots of different and fresh tea flavours and types. Apart from that, the menu is full of healthy ways of starting into the day: from homemade granola over porridge to yummy avocado options.
Come here for a great start into the day and enjoy an energising chai masala and poached eggs with greens. Above all, it's beautifully decorated, light and cosy at the same time. It is located in Sydney's hip area of Redfern and basically invites you to go for a walk around the area, discovering art galleries or taking photos of the various murals. Could it get any better?
Clemens from Travellers Archive shares her favourite spot which is perfect for tea lovers.
Address: 82 Elizabeth St, Sydney
Opening hours: 8am-4pm (9am on weekends)
Kepos Street combines Middle Eastern and Mediterranean flavours to create fresh and interesting dishes. I love the food here so much I have bought both of the cookbooks they have published and even attended a cooking class with Chef Michael Rantassi at the Sydney Seafood School.
This is my all-time favourite breakfast in Sydney; Wood-fired smoked salmon salad, green olives, kipfler potato, soft-boiled egg, dukkah. It's fresh and light compared to many egg breakfasts, and the crunch of the dukkah beats toast any day in my book. Other standouts are the Burrata cheese with eggplant and a soft-boiled egg, and the Pea and Haloumi Fritters.
Address: 96 Kepos Street Redfern
Opening hours: 8am-3pm (also open for dinner four nights a week)
Breakfast in Sydney with a harbour view
Great for weekdays when locals are at work as weekend here can be insanely busy. Sitting right on the wharf at Kirribilli it's just a quick 10 minute trip across the harbour from Circular Quay. Nothing makes me happier than cheese, and the Burrata & Mushroom breakfast here is pretty hard to beat.
Where: Shop 1, 2 Holbrook Ave Kirribilli
Opening hours: 8am–2:30 pm
The first time we visited this pretty waterfront spot, it was because when the ferry pulled in at Celsius cafe (above) the queue was ridiculous, so we decided to stay on the ferry and check out a new spot. After a short wait, we were seated and gazing out over the harbour.
Breakfast here is not an all-day affair sadly, and we had missed the breakfast orders by five mins. Luckily there are several breakfast style items on the lunch menu including this delicious, healthy breakfast bowl.
This is a lovely spot to sip coffee while you watch the ferries come and go.
Where: 1 Hayes St, Neutral Bay
Opening Hours: 7am-5pm
Breakfast spots in the inner west
Vegant and vegetarians will fine plenty to loabe in the inner west.
Dani from The Full-Time Tourist eats a vegan and gluten-free diet, and she has a great find in Glebe.
After struggling to find gluten-free and vegan brunch options in Sydney, I miraculously stumbled across Gathered Kitchen in Glebe. This cute vegan café is right along Glebe Point Road, across from where the Glebe Markets take place over the weekend.

Gathered Kitchen has tons of breakfast favourites like pancake stacks, eggplant shakshuka, pandan waffles, and croissants. And as someone who has eaten their way through the gluten-free menu, I can vouch that everything is incredibly filling and delicious. (And even my non-gluten-free and vegan friends agree!) They also have some pre-made items at the front of the café, which are perfect for a little pick-me-up!
Where: 99 Glebe Point Rd, Glebe
Opening hours: 8am–4pm weekends and 9am-5pm weekdays
We usually visit Brewtown on weekends and happily wait in line for my favourite corn beef breakfast hash. However, I recently had an early weekday appointment in Newtown and was pleased to see the usually busy cafe is less so on a Monday morning at 8:30am.
The coffee here is good, really good and there is a good range of choice for breakfast from the exceptionally healthy Buckwheat and Cocoa granola to the decadent egg benny brioche. On the way out grab a cronut for later.
Where: 6-8 O'Connell Street Newtown
Opening hours: 8am-4pm seven days
Breakfast on the North Side of Sydney Harbour
Bella Vista Cafe – North Head Manly
I am not sure it matters all that much what the food tastes like when the view is this good. Seriously though the coffee was nice, the bacon and egg roll delicious and the service friendly.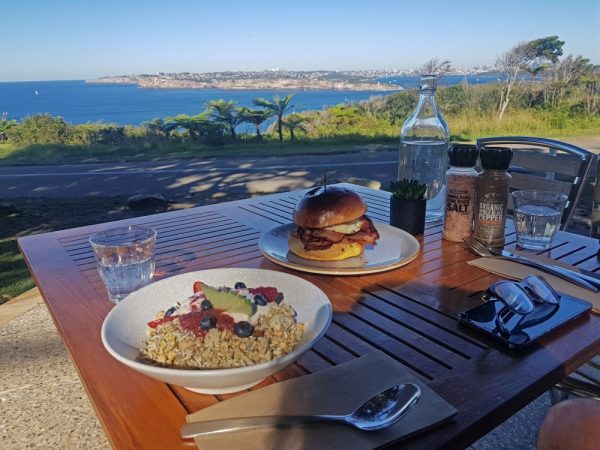 Sadly the Bircher was a little less pleasing, but perhaps it was an off day because everything else was spot on and we would most certainly go back
Where: 203 North Head Scenic Dr, Manly
Opening hours: 9am-4pm weekdays 8 am start weekends.
The Boathouse, Balmoral Beach
Kate and Oliver from KoTraveller sent us a recommendation for their favourite seaside breakfast
The Boathouse makes for a perfect setting to enjoy breakfast while watching the water shimmer and moored boats rock with the movement of the sea. Located at Balmoral Beach in Mosman, there is a no-reservation policy so expect to wait for a table, particularly on a hot day!
There is something for everyone from avocado and tomato toast ($18) to buckwheat and chia Bircher ($17) and green eggs and ham ($23). If you have a sweet tooth, be sure to save some room for the daily sweets. While the prices may come for as a bit of a shock, you are paying for the stunning view while enjoying a 5–star breakfast.
Where: 2 The Esplanade, Mosman (Balmoral Beach)
Opening hours: 7am-4pm seven days
Jane and Duncan from To Travel Too have shared their local favourite cafe on the gorgeous Dee Why Beach.
Nestled on The Strand at Dee Why Beach on the Northern Beaches of Sydney, with views over the Pacific Ocean is our favourite restaurant of 12 years – Sandbar. We have lost count of how many times we have been there for breakfast, lunch and dinner.

Breakfast is our favourite time, as we enjoy our first coffee of the day and ponder over the scrumptious menu while watching the waves gently lap the shore. Should we have the eggs benedict, full breakfast or corn fritters with avocados or the decadent freshly-baked muffins, always a dilemma!
Where: 25 The Strand Dee Why Beach
Opening hours: 7.30am-9.30pm
We have also shared some walks you might want to check out to work off some of these treats!

About the author: Paula Morgan, a born-and-bred Sydney resident, has been sharing this city and its secret spots for over 15 years. She's not just about the iconic landmarks; she's all about the hidden alleys adorned with street art, and the joy of discovering a new café or a fabulous restaurant tucked away in a corner you never knew existed and weekends away exploring regional NSW.
Need more ideas? Join our Sydney Expert Facebook Group where you can ask questions, stay updated with what's happening and meet a bunch of friendly locals just waiting to share their advice!