Your Guide to Exploring Brooklyn, NSW on a Weekend Getaway
Brooklyn NSW on the Lower Hawkesbury River, that section of the river east of the Hawkesbury River Bridge, is fast becoming a destination for those wishing to escape suburbia for a relaxing day out on or near the water surrounded by rugged native forest. The small fishing village of Brooklyn and nearby Mooney Mooney now plays host to a range of activities and eateries that will suit all ages and interests. Below local Joanne Karcz shares some tips about a special part of Sydney she calls home.
Where is Brooklyn NSW?
Brooklyn, a suburb of Hornsby Shire, is on the northern outskirts of Greater Sydney. Nestled on the shores of the Hawkesbury River, more accurately described as an estuary at this point, the area is home to large stands of mangroves and relatively undeveloped foreshores covered in native bush.
While much of the foreshore is accessible only by boat, a stroll along the Brooklyn foreshore reveals the beauty of the river also known as Deerubbin, an Aboriginal word meaning wide, deep water.
Getting to Brooklyn and the Lower Hawkesbury River
Only an hour north of Sydney, access the Lower Hawkesbury by car by taking the Mooney Mooney exit from the M1 or by train to the Hawkesbury River Station at Brooklyn. You can access the river itself by boat from boat ramps at Deerubbin Reserve in Mooney Mooney and Parsley Bay in Brooklyn.
What to do in Brooklyn on the Lower Hawkesbury River
Visit Brooklyn for a day or spend a couple of days there. There's plenty to do in the village of Brooklyn itself and a short drive down the road to Mooney Mooney. Meet friends for lunch. Be adventurous and try out a jet ski for the first time. Hire a boat or take a tour of a pearl or oyster farm. Lay back and relax with fish and chips at one of the many picnic spots.
Jet Ski
We can't all afford a jetski, but we can experience the thrill of driving one with Jet Ski Safari. You don't need any experience or a licence, just a sense of adventure. The different tour options include one that takes you up the river to Spencer where the café there advertises the "Best Hamburger on the Hawkesbury". And you can double up on a jet ski for no extra cost, with the longer rides allowing your friend to share the driving.
Boat Hire
If a jet ski isn't your thing, you may prefer to hire a boat to explore the Hawkesbury River. The bright yellow polycraft can take 4 adults or 2 adults and 4 kids (under 12 years of age). Hire a boat for half a day or even a full day. Only the listed driver may drive the boat.
Kayak the Hawkesbury River
Perhaps you'd prefer to explore the Hawkesbury River under your own steam. If that's the case then a kayak tour with River Adventures might be more to your taste. Options range from a five-hour tour to a five-day kayak adventure.
Oysters on the Hawkesbury
It's not easy to choose between the two Oyster Farm experiences available in Mooney Mooney, not far from the village of Brooklyn. Perhaps do both! The Broken Bay Pearl Farm and the Sydney Oyster Farm offer similar but quite different experiences.
Broken Bay Pearl Farm
Discover the aptly named Shellar Door of the only pearl farm on the east coast of Australia not far from the Mooney Mooney exit of the M1. At Broken Bay Pearl Farm discover exquisite pearl jewellery made using locally grown pearls. Take a guided tour of the oyster lease.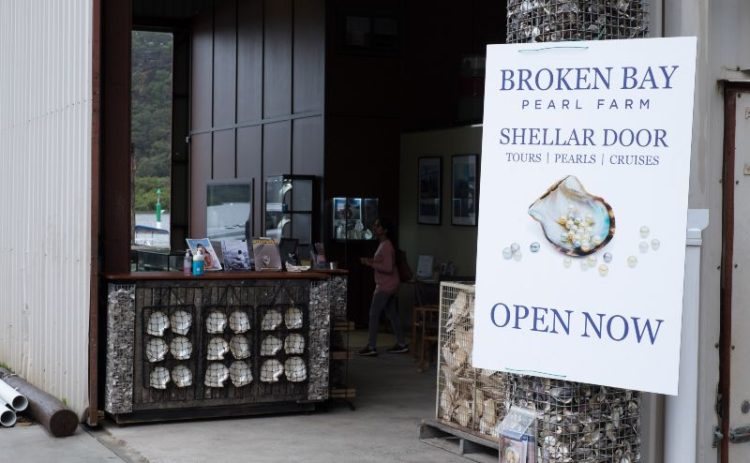 Learn about the history of pearling in Australia and how to grade pearls. Perhaps taste an akoya oyster, quite different from the Sydney Rock and Pacific Oyster. The more exclusive 'ultimate experience' includes a pearl as a memento of your visit.
Sydney Oyster Farm
This family run Sydney Oyster Farm also offers a range of tours. Meet local oyster farmers, visit their oyster leases and when you partake in the immersive experience stand in the river in a pair of waders at a specially laid table while shucking and eating your own plate of fresh oysters.
Dangar Island
Have you ever wondered what it is like to live on an island? Just across from Brooklyn is Dangar Island, a small island of about 300 inhabitants. Hop on the Dangar Island Ferry for a ride across the river and a walk around the island. The walk will take approximately 40 minutes. You may be lucky and see a King Parrot or two or even a couple of Eastern Rosellas.
Riverboat Postman
The Riverboat Postman delivers mail to water access only properties along the river. Go along for the ride to experience the Hawkesbury River from the water and see how the people of the river live.
Watch a sea eagle soaring above you, and wonder at the smack (yes, that's the collective noun) of jelly fish floating around the boat. The three-hour cruise includes morning tea and a ploughman's lunch.
Free Activities in Brooklyn
Not everything in Brooklyn and the Lower Hawkesbury costs money. Take a picnic, swim in the enclosed Brooklyn Baths or try your luck fishing from the shore.
Take a walk – the flat accessible path from Brooklyn Marina around the point to Parsley Bay is a pleasant stroll rewarded by views right down the river. There's an accessible toilet at Lower Mckell Park near the kiddies playground.
Tip: Parking in Brooklyn can be tricky. Give yourself plenty of time if meeting a tour.
The more adventurous may consider getting off the train to hike from Cowan Station to Brooklyn – but remember to take water, let people know where you're going and wear suitable bushwalking shoes. The walk can take up to 5 hours.
Where to eat in Brooklyn on the Lower Hawkesbury River
Many visitors enjoy fish and chips at Brooklyn, but that's not all on offer. There are small and larger café's, a pub bistro and a more upmarket restaurant.
Fitzies Fish and Chips
While many take advantage of the outdoor seating at Fitzies Fish and Chips, opposite Hawkesbury River Station, most will take their fish and chips down to the grassy shore to enjoy their meal while watching the comings and goings on the river.
Lifeboat Seafood
The small courtyard surrounded by greenery at Lifeboat Seafood is the perfect place to enjoy a fresh seafood platter or plate of fish, chips and salad. Otherwise, take your generous serving of take away fish and chips to one of the picnic tables near the kiddie's playground.
Be aware that the picnic tables are at a premium and you may end up sitting on the grass close to the shore. Not that that's a hardship!
The Hawkesbury River Oyster Shed
The Hawkesbury River Oyster Shed is another popular eatery in Mooney Mooney – just off the M1 and a stone's throw from Broken Bay Pearl Farm Shellar Door. Tuck into freshly shucked oysters, prawns or a seafood platter while relaxing to listening to the water lapping the shore as you sip on your chosen BYO tipple.
Brooklyn Corner Cafe
One of Brooklyn's newest cafés is Brooklyn's Corner Café. It has become the go to place for coffee and pastries for cyclists doing the Pacific Highway run from Sydney. The coffee is excellent and their sourdough loaves and fruit bread are very popular. 
King Tide Cafe
King Tide Café is a local institution. Book a waterfront table and watch the Dangar Island Ferry pull in at the wharf and locals coming and going in their tinnie's.  Open for breakfast and lunch, it is popular, so book before you go. 
Anglers Rest Hotel
Besides fish and chips, The Anglers Bistro at the Anglers Rest Hotel offers steak, salads and of course, hamburgers and chips. A full drinks menu is available from the bar. 
Estuary Restaurant and Kiosk
Estuary Restaurant and Kiosk at Kangaroo Point (before turning off to Brooklyn) offers both take away options from the Kiosk and fine dining in the restaurant, both riverside with spectacular views.
Dangar Island
If you take the ferry across from Brooklyn to Dangar Island, relax at an outdoor table listening to the water lap the seawall as you sip your coffee and bite into a BLT from the Dangar Depot Café.
Perhaps you'll see a king parrot or lorikeet or get to chat to a local about life on an island.
The Dangar Island Bowling Club is open for lunch and dinner on weekends. It is best to book and get in early.
Tip: Check opening times for all the above eateries. Not all are open all day or every day of the week.
Where to stay in Brooklyn on the Lower Hawkesbury River
There are various accommodation options on the Lower Hawkesbury River, ranging from a room with a shared bathroom at the local Anglers Rest Hotel, right up to the luxurious all-inclusive Marramarra Lodge.
Hawkesbury Houseboat Holiday
Perhaps book a houseboat for a week. That way you can explore the river from your 'home', passing weathered sandstone cliffs to drop anchor at one of the sheltered river beaches. Relax to the sounds of the river while casting a line in the hope of catching dinner.
There are various options to choose from for Houseboat Hire in Brooklyn:
Motels in Brooklyn
The Brooklyn Motel has rooms with ensuites and the Hawkesbury River Marina has two- and three-bedroom self-contained apartments for families or friendship groups. Take a look at the accommodation options on Airbnb or Stayz for other options. 
Marramarra Lodge
If you're looking for a little luxury and seclusion on the Hawkesbury River, look no further than Marramarra Lodge. Step ashore and feel the stresses of the week fall away. With all meals and most experiences, including a champagne and oyster cruise included in the rate, relax and revive.
Brooklyn and the Lower Hawkesbury River is only a short drive or train ride from Sydney's CBD. It's a great place to wind down from the hustle and bustle of everyday life. You might also like to check out the Central Coast just a short drive away. WIth beautiful beaches and plenty of great bush walks it's another great place to explore.

About the author: After spending years exploring and writing about Sydney's suburbs and hidden treasures, Sydney-based travel writer, Joanne Karcz now writes about her travels both within Australia and Overseas. She delights in meeting locals and discovering places differently.