Celebrating Lunar New Year in Sydney 2022
Each year Lunar New Year celebration in Sydney seems to get bigger; they are now said to be one of the biggest outside Asia. 2022 will see a few changes but never fear; Aussies love a party, and with many of our residents having Chinese, Korean, Thai and Vietnamese ancestry, it's no surprise there are plenty of ways to celebrate!
While Lunar New Year actually falls on Tuesday, February 1st, 2022, the festivities run from 29 Jan-13 Feb 2022.
2022 is the Year of the Tiger (the Water Tiger year to be exact). It's a year about change and risk
Read on and find an event to enjoy…
The Year of the Tiger 2022 -Sydney Events
Looking for the best places to celebrate the Year of the Tiger? Look no further; Sydney City Council's celebrations will run from Friday 29 January–13 February. You will also find local events spread across the city, from Chinatown to Chatswood and Hurstville to Campsie. There is something for everyone, and best of all, much of it is free!
A local favourite is the Lunar Lanterns display on Friday 29 January–13 February 2022. This year, along with the 12 zodiac lanterns, there are an extra 7 Tiger lanterns. How many will you find?
Check out the Lunar Lanterns
The lanterns are grouped along four blocks – between King and Goulburn streets. The lanterns are lit from dusk each day but are gorgeous in daylight too!
Download the self-guided walking app and snap a photo with your lantern.
Lunar Lanes Haymarket Street Party
Market stalls, lion dancers and food trucks will bring plenty of life to Haymarket to kick of New Year on 29 January. Lion dancers will begin at 8:45pm, and there will be performances from Sydney's Chinese, Vietnamese, Thai, Indonesian, Korean, Taiwanese and Japanese community groups on the Hay Street stage.
Lunar Lanes Street Party – Haymarket
Lion Dancers, market stalls and community performances will help get the festival underway on Saturday, Jan 29 in Haymarket from 5pm-10pm.
Show Haymarket some love this Lunar New Year and support the small businesses who have been missing the busy office and tourist trade for the last few years.
The Rocks Lunar Spectacular
Not to be left out of the party, The Rocks will have its own lion dancers, a Lunar market and plenty of live entertainment. A pop-up Tiger Beer bar will operate Friday, Saturday and Sunday nights from the 5-13th of February.

The Rocks Lunar Spectacular
Red lanterns will hang from above; food stalls will fill the street will the delicious smells of Asian treats and you can even try your hand mahjong or have your Chinese Zodiac read.
Friday from 5pm, Saturday10am-10pm and Sunday 10am-5pm.
The free Rocks Laneway Cinema will screen Crouching Tiger, Hidden Dragon and Crazy Rich Asians over this period.
Darling Harbour Lunar New Year Festival
One of the highlights, a stunning installation from Chris Yee, is a must-see. There will also be plenty of Lion Dancing on weekends with performances at 6pm at Darling Quarter​ and 9pm​ at Darling Square​ on Saturdays, and 6.30pm at ICC Forecourt​ on Sundays.
Darling Harbour Lunar Festival
Sydney's best Dragon Boat teams will head to Darling Harbour on 5-6 Feb for the annual Lunar Dragon Boat racing weekend. More than 3000 individuals will paddle their way along the water of Cockle Bay over this two day event.
Chris Yee Giant Lunar New Year Installation
Contemporary artist Chris Yee's amazing installation contrasts night and day on opposing sides. The installation's vivid colours represent optimism and playfulness. The artwork is available to view daily between 28 Jan-15 Feb.
Lunar Movies
The first weekend of Lunar New Year will see two nights of movie fun in Tummbalong Park – Friday 5pm Kung Fu Panda and 7pm The Farewell, and Saturday 5pm Shaolin Soccer and 7pm Crazy Rich Asians.
Lion Dancing
Lion dancers will entertain across the festival with performances over the weekends.
Chinese Garden of Friendship
The Chinese Garden of Friendship will kick off its Lunar New Year celebrations by staying open late on 12 Feb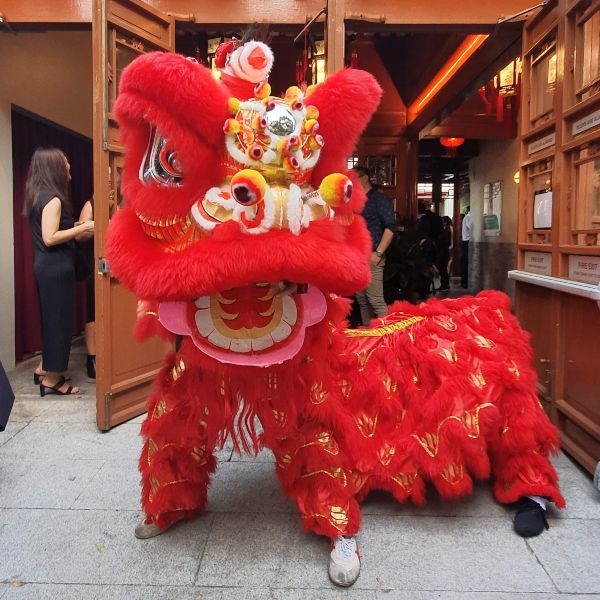 On Lunar New Year day (1 Feb) there will be a traditional red envelope for each child who visits the garden. Inside will be a chocolate gold coin for good luck!
There will be Lion Dance performances on Saturday 29 January and Tuesday 1st February.
Learn more about Chinese culture – you can take part in a traditional tea ceremony, calming meditation or brush painting demonstration.
Lunar New Year Dining in Sydney 2022
If you are looking for a special Lunar New Year Menu in Sydney, you may find a few less this year with staff shortages however there are still dozens of banquets and special meals taking place this year across the city. Here are a few of our favourites:
The Gardens by Lotus | Darling Harbour
The top of the list has to be Gardens by Lotus. This is THE ultimate spot for a Lunar New Year celebration. Dine on a specially created new year banquet surrounded by a traditional Chinese Garden.
The Lunar New Year banquet will be available from January 29 until February 13 with a Lion Dance Performance on Sunday 6th Feb at noon. Priced from $128pp & $168pp.
Chi by Lotus at Barangaroo
If you have not checked out Chi by Lotus, the beautiful new space in Barangaroo, then make Lunar New Year the excuse you need. They are offering New Year's Banquets for $90-120pp
A special limited edition year of the Tiger Lotus Australian Rice Lager, made in partnership with White Bay Beer Co. will be available.
Lotus will offer special menus at all their locations; Lotus at Barangaroo, Lotus at the Galleries, Lotus in the Gardens, Lotus Double Bay and Chi by Lotus.
There is a special Lunar New Year gift for all diners who book a decadent Lunar New Year banquet at Lotus. A traditional lucky red envelope containing an $18 voucher and a ticket into the draw to win one of 18 Lotus dining vouchers valued at $88.
When: Lunch and dinner Jan 29-13 Feb
Cost: from $90-120pp depending on the venue
Get full details here
Spice Temple will offer a special nine-course banquet designed with Chinese food symbolism at the fore: purse-shaped pipis that represent fortune, fish that symbolises life and abundance, eggs that signify fertility, and red ingredients that stand for prosperity and happiness in traditional Chinese culture and the Lunar New Year festivities.
When: Lunch and dinner 1-13 Feb
Cost: Adult: $139 Matching wine $85
Check the full menu here
Grab 4-8 of your nearest and dearest and head to New Shanghai to enjoy a Lunar New Year Banquet.
The menu includes "Welcome New Year Duck" pancakes, "Wealth Pork Dumplings" Xiao Long Bao, "Prawn of Happiness" Siriacha Crispy Prawns, Lettuce Cups of Prosperity" San Choy Bau, "Fish of Fortune" Sweet & Sour Whole Barramundi, "Good Luck Tofu & Mushrooms" braised with spinach, Wok Fried "Longevity Noodles", and "Boundless New Year" of Lucky Koi Mango Pudding.
When: 11-7pm 29 Jan-13 Feb
Cost: Adult: $49.90 Kids: $49.90
Book here
Lunar New Year at the Star
Black Bar and Grill, Flying Fish and Sokoyo will all feature special dishes to ring in the Year of the Tiger. Black Bar and Grill, Flying Fish and Sokoyo will all feature special dishes to ring in the Year of the Tiger. These three dishes will feature on a menu of Abundance throughout the Lunar New Year Festival from 31 January – 15 February.
On offer is a $700 sashimi platter from Sokoyo, $500 wagyu tomahawk from BLACK and $340 whole Eastern rock lobster from Flying Fish. Find out more here.
Lunar New Year at Sydney Fish Market
Sydney Fish Market will celebrate the Lunar on Thursday 11th February, from Midday-1pm. While you enjoy a tasty seafood lunch, Lion dancers will parade through the SFM site, bestowing happiness and good prosperity for the year ahead.
Lunar New Year Tours and classes
Aussie Chinatown – stories, snacks & secrets
Join Local Sauce, one of our favourite tour operators on their new tour of Chinatown. We went along last month and loved it! The tour uncovers Sydney's long connection with China, and the contributions Chinese-Australians have made to the community.
Along with a really entertaining history lesson, you will discover things hidden away in Chinatown that you have probably never noticed. You also get to taste at least 5 snacks from Cantonese, Nanjing, Xinjiang, and Xi'an cuisines.
At the end of the tour, you will receive a list of more than a dozen places to check out next time you're in Chinatown.
When: Friday 4 & Sunday 6 February 11.30am-1.30pm
Cost: Adult: $60 (Dine and Discover vouchers accepted)
Book here
LUNAR NEW YEAR TOUR – FOOD TOUR OF HURSTVILLE
Learn more about the food and traditions of Lunar New Year on this 1.5-hour tasting tour. Enjoy treats from China, Malaysia, and more.
Book on the Taste Tours website – Tickets are only $55. If you purchase this tour, you will get a discount voucher for their other Asian themed tours, including a Taste of Chinatown, a Taste of Korea in Eastwood and a Taste of Vietnam in Cabramatta
LUNAR NEW YEAR TOUR – KOREAN FOOD TOUR OF EASTWOOD
Explore Sydney's very own Little Korea in Eastwood on this brand new tour!
Learn how Korean people celebrate Lunar New Year while tasting the flavours of Korea including "banchan"
Enjoy amazing Korean flavours, visit a Korean supermarket and learn about new ingredients.

While learning about the migration of Korean people to Eastwood while sampling a generous amount of food at local cafes.
If you purchase a ticket to Taste of Lunar New Year (Hurstville) first you will get 25% off this tour in February or any time in 2022! The City of Ryde Council proudly supported this tour.
LUNAR NEW YEAR TOUR – VIETNAMESE TASTE OF CABRAMATTA
Enjoy Lunar New Year in Vietnam, with classic dishes and a trip to a vibrant world of bright fabrics, tailors, street vendors, and jewellers.
Learn how Vietnamese people celebrate this special time of year. Enjoy all the Vietnamese classics, like banh mi, pho, banh xeo, café sua da, sugarcane juice, and much more.
This bustling authentic Vietnamese market town experience has plenty to offer with a long and interesting history that your guides will share with you over the tour.
Indulge in generous local food specialty tastings at cafes, restaurants, and shops: food equivalent to a generous meal (or more). Purchase a ticket to 'Taste of Lunar New Year' tour in Hurstville first and get 25% off this tour in February or any time in 2022.
Lunar New Year events in the Suburbs
Chatswood Year of the Tiger Festival
A 10m high Curious Tiger and her four tiger cubs might steal the show that the Chatwood Lunar New Year festivities. As usual, the Concourse will host a celebration of Chinese Culture with a program that includes traditional folk and classical music, a martial arts presentation, and a soprano Shu Cheen Yu's will perform.
The highlight event will be the Chinese New Year Day Celebrations on Saturday, 05 February. The celebrations start at 9am and will run all day. Enjoy everything from Classical Chinese Opera to K-pop and traditional dance.
The Golden Market, featuring 35 unique stallholders, will run on Thurs, Fri and Sat nights from 27 Jan -5 Feb from 9am-9pm.
The festival program also features a performance of The Magic Flute by the Pacific Opera and Willoughby Symphony Orchestra.
When: 27 Jan-20 Feb 2022
Where: Chatswood Concourse
Cost: Free
Details here
Bankstown Lunar New Year Celebrations
If you have ever wanted to enter an eating competition here is your chance. The Bankstown Lunar New Year will offer, along with the usual lion dancers and Chinese firecrackers, a watermelon eating competition!
When: Sat 29 January from 4-9pm
Where: Griffith Park
Cost: Free
Details here
Campsie Lunar New Year Noodle Markets
Anzac Mall is the home to the New Year action, with a night noodle market being held on Friday 18 February and decorations on display throughout the festival period. Street performers will roam the mall providing entertainment.
When: 18 February 5pm-9 pm.
Where: Anzac Street Mall, Campsie
Cost: Free
Details here