Each year the Lunar New Year celebration in Sydney seem to get bigger; they are now said to be one of the biggest outside Asia. 2021 will see a few changes but never fear, Aussies love a party, and with many of our residents having Chinese, Korean, Thai and Vietnamese ancestry, it's no surprise there are still plenty of ways to celebrate!
While Lunar New Year actually falls on Friday 12 February, the festivities run from 1 Feb to 28 February.
2021 is the Year of the Ox which fittingly symbolises strength and determination!
Read on and find an event to enjoy…
Lunar New Year in Sydney – CBD Events
Looking for the best places to celebrate the Year of the Ox? Look no further; Sydney City Council's celebrations will run from Friday 12 February to Sunday 21 February. You will also find local evens spread across the city from Chinatown to Chatswood and Hurstville to Campsie. There is something for everyone, and best of all, much of it is free!
Lunar Lanterns
A local favourite is the Lunar Lanterns display which will line the Harbour foreshore from Friday 12 February to Sunday 21 February 2021. Download the self-guided walking app and snap a photo with your lantern.
The Ox will take pride of place outside the Opera House, and the Harbour Bridge will be lit in shades of pink and red each night for the duration. You can also download the free Culture Walks app and follow their tour.
The Rocks Lunar Spectacular
This year's Lunar Spectacular Show will be held at the Sydney Town Hall. Tickets are free, but you must register for one of the 3×1 hour concerts on Sat 13th February. Music and Dance performances from community groups representing Chinese, Indonesian, Japanese, Korean, Taiwanese, Thai, and Vietnamese will be performing.
Rocks Lunar Market
From 10am to 9pm Friday and Saturday, and 10-5pm Sunday between 12-21 February, Playfair Street, George Street and Jack Mundey Place will be filled with stalls, lanterns and plenty of Asian inspired eats.
The centrepiece is "a gigantic ox in a china shop display will hang from the sky" in Kendall Lane.
The Rocks Square will host a bunch of fun free experiences like Calligraphy making, games of Mahjong and Chinese Zodiac readings from 11am-2pm.
You can also join a free Lion Dancing workshop on Sunday 21 February from 11am to 12pm.

Darling Harbour Lunar New Year Festival
From Friday 12 Feb – Sunday 28 Feb, Darling Harbour will be one of the hottest spots to celebrate the Lunar New Year.
One of the highlights, a stunning installation from Chris Yee, is a must-see. There will also be plenty of Lion Dancing on weekends with performances at 6pm at Darling Quarter​ and 9pm​ at Darling Square​ on Saturdays, and 6.30pm at ICC Forecourt​ on Sundays.
Make your way to the ICC forecourt to see the Ox Lantern or the Maritime Museum and join one of the free lunar lanterns or dragon kite-making workshops. Bookings on the day.
Dragon Boat Races in Cockle Bay
Sadly this popular event has been cancelled for 2021
Chinese Garden of Friendship
The Chinese Garden of Friendship will kick off its Lunar New Year celebrations by staying open late on 12 Feb (6pm-9pm).

Another highlight is a Cocktail and Dumpling Masterclass at The Gardens by Lotus. Over 2-hours in this hands-on session, you will learn how to make 3 cocktails and 3 different types of dumplings.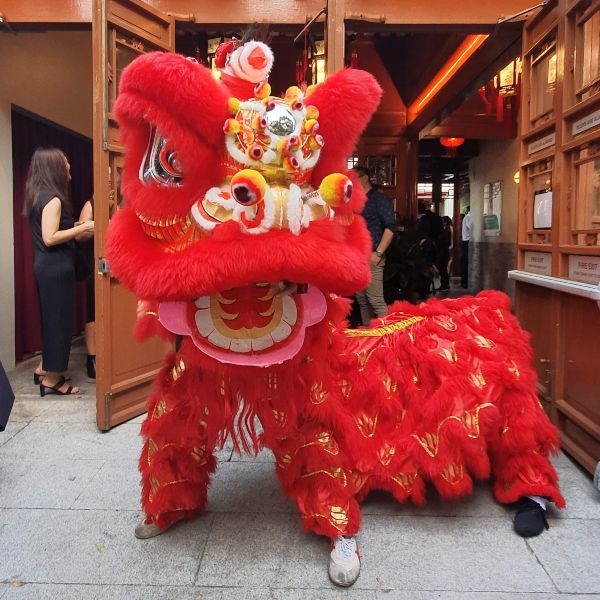 Movie night at the Gardens will run over two nights, Sat 20 and Sat 27 Feb. Your movies are served with a grazing menu created especially to match, including dumplings, salt & pepper chicken and our famous fried rice – $ 70 for the movie, bean bag, food and $5 beverage credit.
The Gardens by Lotus | Darling Harbour
The ultimate spot for a Lunar New Year celebration, The Gardens by Lotus, offers a beautiful dining space and a fabulous menu.
The Lunar New Year banquet will be available from 10-13 February with a Lion Dance Performance at noon on Friday 12 February. Priced from $128pp & $168pp.
Lunar New Year at Sydney Fish Market
Sydney Fish Market will be celebrating the Lunar on Thursday 11th February, from Midday-1pm. While you enjoy a tasty seafood lunch, Lion dancers will be parading through the SFM site, bestowing happiness and good prosperity for the year ahead.
Lunar New Year events in the Suburbs
Chatswood Year of the Ox Festival
The Concourse will host a celebration of Chinese Culture with a program that includes traditional folk and classical music, a martial arts presentation, and a soprano Shu Cheen Yu's will perform. There will also be Chinese contemporary dance by Cross Over Dance Studios.
Cabramatta Lunar New Year Festival
Sadly the festival has been cancelled for this year.
Bankstown Celebrations
From 7-14 February, Saigon Place in Bankstown will be decked out in lanterns and bunting and feature a Giant Ox lantern. Friday will see a traditional Lion Dance display.
Campsie Lunar New Year Noodle Markets
Anzac Mall is the home to the New Year action, with a night noodle market being held on Friday 5 February and decorations on display in the mall until 14 February.
Lunar Lane night markets Sydney Olympic Park
Over three nights (11-13 Feb. 4pm to 9pm), Lunar Lane will feature various cuisines from some of Sydney's best food trucks, including Bao Brothers, Birdman Korean fried chicken, Yan Asian. Pack a picnic blanket and sit under the lanterns enjoying the free entertainment.
Taste of Lunar New Year Food Tour of Hurstville
Learn more about the food and traditions of Lunar New Year on this 1.5-hour Taste Food Tours. Enjoy treats from China, Malaysia, and more.
Book on the Taste Tours website – Tickets are only $44. If you purchase this tour, you will get a discount voucher for their other Asian themed tours, including a Taste of Chinatown and a Taste of Vietnam in Cabramatta.
Special Lunar New Year Menus in Sydney
Almost every Asian restaurant in the city will be offering a special Lunar New Year menu but here are a couple of standouts if you are looking for a special meal.
Chi by Lotus at Barangaroo
If you have not checked out Chi by Lotus, the beautiful new space in Barangaroo, then make Lunar New Year the excuse you need. They are offering a New Year Banquet for $108pp
Aria – Two celebratory tasting menus on offer from 17 to 24 February 2021. Created by Executive Chef Joel Bickford, they feature Western Australian marron, Maremma duck from Tathra, Paspaley Pearl meat from Broome and local blacklip abalone.
Spice Temple – a special nine-course banquet designed by Head Chef Andy Evans and a cocktail on arrival for $129. Available lunch and dinner from 9-20 February.
Salt and Palm – Missing Bali? This Indonesian restaurant in Glebe has two great LNY menus to choose from
Prosperity Meal – $40pp includes a free welcome cocktail per person and a shared banquet of Indonesian-Chinese dishes. Minimum 2 people. You'll find braised pork belly with egg and fried prawns and pork mince rolls on this menu.
Abundance Meal – $50pp includes a welcome cocktail per person, and a shared banquet of Indonesian-Chinese inspired dishes. Minimum 4 people. In addition to the above menu, fried fresh snapper topped with sweet and sour sauce and pineapple can be enjoyed.