Celebrating Lunar New Year in Sydney 2024
Each year Lunar New Year celebrations in Sydney seem to get bigger; they are now said to be one of the biggest outside Asia. Aussies love a party, and with many of our residents having Chinese, Mongolian, Korean, Thai and Vietnamese ancestry, it's no surprise there are plenty of ways to celebrate!
While Lunar New Year actually falls on Saturday 10 February 2024, the festivities start a week earlier.
2024 is the Year of the Dragon (a wood dragon year to be exact). If you were born in 1940, 1952, 1964, 1976, 1988, 2000 or 2012, this is your year!
Read on and find an event to enjoy…
This article contains affiliate links. Our full disclosure policy is here
The Year of the DRAGON 2024
Looking for the best places to celebrate the Year of the Dragon? Look no further; Sydney City Council's celebrations will run across the week. You will also find local events spread across the city, from Chinatown to Chatswood and Hurstville to Campsie. There is something for everyone, and best of all, much of it is free!
The information below relates to 2023 – we will update the 2024 information as soon as it is available.
Lunar Lanes Haymarket Street Party
Market stalls, lion dancers and food trucks will bring plenty of life to Haymarket to kick off New Year on 29 January. Lion dancers will begin at 8:45pm, and there will be performances from Sydney's Chinese, Vietnamese, Thai, Indonesian, Korean, Taiwanese and Japanese community groups on the Hay Street stage.
Lunar Lanes Street Party – Haymarket
Lion Dancers, market stalls and community performances will help get the festival underway on Saturday 21 January from 5pm to 10pm
Show Haymarket some love this Lunar New Year and support the small businesses that have been missing the busy office and tourist trade for the last few years. Get the details here
A local favourite is the Lunar Lanterns display. How many will you find?
Check out the Lunar Lanterns
The lanterns are grouped along four blocks – between King and Goulburn streets. The lanterns are lit from dusk each day but are gorgeous in daylight too!
Download the self-guided walking app and snap a photo with your lantern.
The Rocks Lunar Spectacular
Not to be left out of the party, The Rocks will have its own lion dancers, a Lunar market and plenty of live entertainment.

The Rocks Lunar Spectacular
Red lanterns will hang from above; food stalls will fill the street will the delicious smells of Asian treats and you can even try your hand mahjong or have your Chinese Zodiac read.
Friday from 5pm, Saturday 10am-10pm and Sunday 10am-5pm.
Lunar New Year at the Star – Pyrmont
How many can you count? Enjoy a nest of 56 majestic bright red, pink, green, gold, purple, blue and yellow oversized rabbit statues taking over the property, providing a great opportunity for a photo moment and good luck for the year ahead.
The Star's Grand Foyer will play host to special free performances of Aqualume, a multi-sensory performance featuring an interplay of light, water and digital art alongside breathtaking aerial choreography. The show will be performed six times a night from Thursdays to Sundays and is free to view for all visitors.
The Michael Reid Art Bar is collaborating with the Vermilion Gallery of Contemporary Chinese Art to fill its space with works responding to the Lunar New Year from fourteen Chinese artists. The exhibition, INK+, will emphasise the legacy and ongoing resonance of Chinese ink painting through works spanning an array of art forms including painting, calligraphy, sculpture and mixed media.
Darling Harbour Lunar New Year Festival
One of the highlights, a stunning installation from Chris Yee, is a must-see. There will also be plenty of Lion Dancing on weekends with performances at 6pm at Darling Quarter​ and 9pm​ at Darling Square​ on Saturdays, and 6.30pm at ICC Forecourt​ on Sundays.
Darling Harbour Lunar Festival
Sydney's best Dragon Boat teams will head to Cockle Bay Wharf on 28-29 January for the annual Lunar Dragon Boat racing weekend. More than 3000 individuals will paddle their way along the water of Cockle Bay over this two day event.
Pose for a selfie at the Lunar New Year Graphic Wall
Asian Australian artist Chris Yee has a new work for this year Lunar New Year. This time he has created a work incorporating the 12 animals of the Zodiac interpreted through the modern lens of Asian graphic novels. See the wall from 21 Jan – 5 Feb at Darling Square.
Lion Dancing
Lion dancers will entertain on Saturday 21 Jan and 4 Feb at Darling Quarter at 6pm and Darling Square at 9pm. Then again on Sunday 22 Jan and 5 Feb at the ICC forcourt at 6.30pm and Darling Square at 8.30pm.
Chinese Garden of Friendship
The Chinese Garden of Friendship will kick off its Lunar New Year celebrations with an opening ceremony on 21 January. There will be Lion Dancing of course along with Tea Ceremony demonstrations, and traditional Chinese music.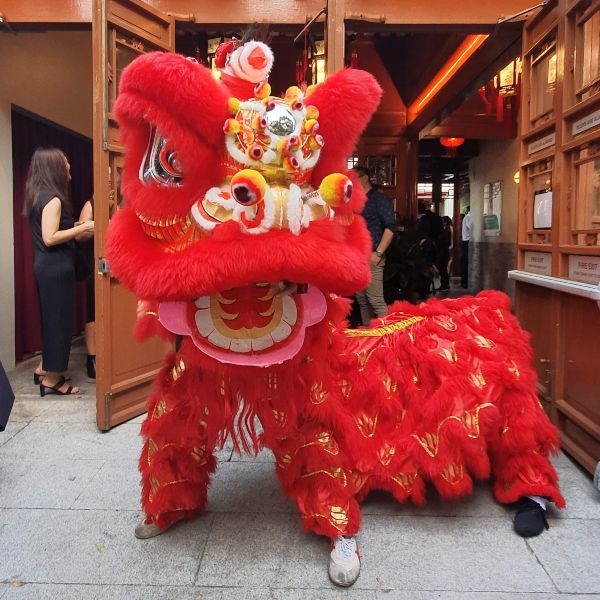 On Lunar New Year's Day (Sunday 22 Jan) there will be a traditional red envelope for each child who visits the garden. Inside will be a chocolate gold coin, for good luck! (Arrive early to avoid missing out)
They will stay open until 9 pm on Saturday 28 January so you can enjoy the ambience of the garden in the evening light.
Learn more about Chinese culture – you can take part in a traditional tea ceremony, calming meditation or brush painting demonstration. Or for an extra fee have your Chinese astrology chart read.
Lunar New Year Dining in Sydney 2024
If you are looking for a special Lunar New Year in Sydney menu, you may find a few fewer this year with staff shortages. however, there are still dozens of banquets and special meals taking place this year across the city. Here are a few of our favourites:
We will update these events as details are released
The Gardens by Lotus | Darling Harbour
The top of the list has to be Gardens by Lotus. This is THE ultimate spot for a Lunar New Year celebration. Dine on a specially created new year banquet surrounded by a traditional Chinese Garden.
The Lunar New Year Yum Cha banquet will be available from 5 January 29 until 3 February with a Lion Dance Performance on Sunday 22 January at noon. Priced from $79pp & $88pp.
CHI by Lotus | Barangaroo
If you have not checked out Chi by Lotus, the beautiful space in Barangaroo, then make Lunar New Year the excuse you need.
Lotus Barangaroo: LNY Specials: Year of the Rabbit dumpling + Shanghai-style red braised pork belly. There will be a Lion Dance Performance: 8:00pm on Friday 27 January.
LNY Specials: Year of the Rabbit dumpling and Prosperity salad. LNY Banquets: $118pp. There will be a Lion Dance Performance: 7:00 pm on Saturday 28 January.
Other Lotus venues offering special Lunar New Year menus include:
Lotus Double Bay: LNY Specials: Year of the Rabbit dumpling and Prosperity salad. LNY Banquets: $109pp
Lotus Dumpling Bar Summer Hill: LNY Special: Year of the Rabbit dumpling
Lotus Dumpling Bar Walsh Bay | Dawes Point: LNY Special: Year of the Rabbit dumpling
Din Tai Fung | CBD and Suburbs
Every year Din Tai Fung delivers some excellent LNY specials and 2023 is no exception. This year they have some very cute Crunchy Chocolate Biscoff Rabbit Buns, a perfect follow up to the traditional Prosperity Toss Salad (Yusheng). With 15 lucky ingredients, including smoked salmon the salad is dressed in a special house made plum sauce. If you really want to stick to tradition, you should shout your hopes for the new year while you mix the ingredients.
Follow up with a serving of rabbit-shaped steamed buns loaded with chocolate and crunchy biscoff crumbs.
When: From 18 January 2023.
Find the nearest outlet to you here. You can also order buns and other specials for home delivery.
Aria's limited-edition seven course tasting menu showcases prestige ingredients to match their unparalleled views of Sydney Harbour. The Lunar New Year seven-course degustation honours traditional flavours with an Aria twist.
The 7-course degustation menu will include:
Peking duck consommé with abalone and shiitake
Tasmanian lobster with handmade noodles and XO
Red braised wagyu short rib with oxtail
When: lunch & dinner, 21st January – 4th February
Cost: $300pp
Barangaroo's waterfront seafood restaurant is also celebrating the Year of the Rabbit with a special – Seven-Course Degustation feast menu which will be available alongside regular a la carte offerings.
Highlights of this menu include:
XO pipis with E-fu noodles
Roast suckling pig with baby bok choy and Chinese broccoli
Jasmine rice ice cream with lychee and tapioca
When: 21st January – 5th February
Cost: $128pp with optional wine pairing
Watch the sunset on Lunar New Year and celebrate 81 floors above Sydney at Infinity, with an opulent 6 course degustation of Asian inspired dishes.
The six-course degustation includes:
East 33 Sydney rock oysters, nashi pear, shiso dressing
Dry aged duck breast, brussel sprout, carrot, pickled bitter leaves, grape
Portoro striploin MB +4, potato shiro, king brown mushroom
When: 20th January – 22nd January
Cost: $235 + $155 for matching Penfolds reds
Skyfeast is rolling out the red carpet for Lunar New Year with special additions to their Asian inspired counter. Enjoy an unlimited selection of pork buns, Singapore noodles, crunchy spring rolls and fresh seafood before rounding out the culinary experience with a trip to SkyFeast's famous dessert bar.
When: 20th January – 22nd January
Cost: $60 children, from $110 adults with optional wine pairings
Botanic House | Botanic Gardens
Journey through Australia's multicultural heritage with a nine or ten course, Asian inspired degustation menu. Dishes are made using recipes handed down from chef Luke Nguyen's Chinese grandfather and feature native ingredients and fresh produce paired with a botanical lunar cocktail on arrival.
The nine or ten-course degustation includes:
Botanic House prawn – squid and chive Shumai
BBQ roasted duck with lychees, cherry tomatoes, spicy satay sauce
Vietnamese coconut cake with mango pudding, almond cookies, seasonal fruit and olive oil ice cream
When: Lunch and dinner, 22nd January – 5th February
Cost: From $95, beverage add on +$80pp
Lunar Dining at the Star | Pyrmont
Each of the restaurants at the Star Sydney's signature will present dishes made from the finest ingredients designed to bring diners good fortune and prosperity for the year ahead.
SOYKO
The highlight of these dishes is Australia's most expensive sashimi platter. Sokyo's $888 "Prosperity" lobster sashimi platter is packed with 12 kinds of fish and lobster and is perfect for sharing with friends and family.
Prosperity – Opulent sashimi platter with Lobster, Caviar, Toro, Scampi, and more $888
Auspicious – Steam John Dory with ginger shallot, house made 5 spices chilli oil, cucumber, celery $98
BLACK BAR & GRILL
Auspicious – Steamed Hapuka, scallop dumpling, gai lan, soy ginger dressing $68
Wealth – King Crab legs from the charcoal oven, Xo sauce, shallot $98
Prosperity – Pandan crème brûlée, charred mango, coconut sorbet $28
FLYING FISH
Auspicious – Woodfired Yabbies with saltbush and ginger $50 for 500g
Wealth – Steamed Coral Trout with bush tomato XO $120 p/kg
CUCINA PORTO
Prosperity – Dessert Tasting Platter including chocolate truffles, mini fruit mousse, almonds panforte, lollies, amaretti biscuits, mini cannoli $28.80
Auspicious – Lobster Pizza with red tomato sauce, fresh oregano, confit lobster tail, spicy crumb, smoked trout roe, gold leaf $48.80
When: Lunch and dinner
Fullerton Hotel | Lunar New Year Afternoon Tea
Fullerton will celebrate Lunar New Year with a Prosperity Green Plucking ceremony at 11.18am on Tuesday 24th January. The ceremony includes a lively traditional lion dance, and a colourful and exciting dragon dance incorporating drumming, cymbals, and gongs.  
Also on offer is a Lunar New Year-themed afternoon tea a prosperity-tossed salad and a special cocktail designed by The Bar's mixologists to celebrate CNY.
When: 7th January – 5th February
Cost: $78 per person, inclusive of TWG Tea or coffee, $88 per person, inclusive of a flute of Chandon, $98 per person, inclusive of a flute of Veuve Clicquot Yellow Label Brut NV Champagne or our signature Lunar New Year Cocktail
Spice Temple will offer a special nine-course banquet designed with Chinese food symbolism at the fore: purse-shaped pipis that represent fortune, fish that symbolises life and abundance, eggs that signify fertility, and red ingredients that stand for prosperity and happiness in traditional Chinese culture and the Lunar New Year festivities.
When: Lunch and dinner, Tuesday, 17 January to Saturday, 28 January.
Cost: Adult: $189 Optional matching wine $75
New Shanghai | Westfield CBD
Grab 4-8 of your nearest and dearest and head to New Shanghai to enjoy a Lunar New Year Banquet.
The menu includes "Welcome New Year Duck" pancakes, "Wealth Pork Dumplings" Xiao Long Bao, "Prawn of Happiness" Siriacha Crispy Prawns, Lettuce Cups of Prosperity" San Choy Bau, "Fish of Fortune" Sweet & Sour Whole Barramundi, "Good Luck Tofu & Mushrooms" braised with spinach, Wok Fried "Longevity Noodles", and "Boundless New Year" of Lucky Koi Mango Pudding.
When: 11-7pm Friday 20th – Tuesday 31st of January 2023
Cost: Adult: $68 (minimum of 4 guests)
Casual Dining Options | Darling Square
The buzzing precinct comes to life with a lantern tunnel, ceremonious Lion Dancers, an LNY graphic wall installation by local artist Chris Yee, Gong Grocer pop up store offering custom lanterns and traditional sweets, and special dishes from Darling Square retailers including: 
Shortstop Donuts: Lunar New Year 6 Pack, filled with LNY-inspired donut flavours
Wingboy: Fiery Hoisin wings topped with crispy shallots, fresh chilli, shallots & cucumber sticks, available until 23rd Jan
IIKO Mazesoba: Prosperity Mazesoba – A tangy noodle salad with toppings such as tuna, salmon caviar, carrot, daikon, ginger, cabbage, cucumber, seaweed, shallot and crispy noodle chips to symbolise good fortune and wealth. Or for those with a sweet tooth, the Rabbit Parfait with a choice of Matcha or Houjicha gelato served with red bean and shiratama rice balls looks like the go!
When: 21 January – 5th February
Lunar New Year Tours and classes
Aussie Chinatown – stories, snacks & secrets
Join Local Sauce, one of our favourite tour operators on their new tour of Chinatown. We went along last month and loved it! The tour uncovers Sydney's long connection with China and the contributions Chinese-Australians have made to the community.
Along with a really entertaining history lesson, you will discover things hidden away in Chinatown that you have probably never noticed. You also get to taste at least 5 snacks from Cantonese, Nanjing, Xinjiang, and Xi'an cuisines.
At the end of the tour, you will receive a list of more than a dozen places to check out the next time you're in Chinatown.
When: Every Sunday 11.30am
Cost: Adult: $65 Book directly with the operator here
Art Gallery NSW – Love Letters
Curated by guest artist Cindy Yuen-Zhe Chen the Art Gallery of NSW will host, Love Letters, a program that invites you to rethink traditions through cross-cultural exchange. Love Letters will offer a number of performances and workshops, including:
Wednesday 25 January – Art After Hours
Traditional Chinese Musical performances by Nicholas Ng and guests
Where you'd Radha be! By Radha: Singaporean–Indian performance artist Shamen Suku aka Radha invites you into his kitchen where stories of love, culture, gender identity, migration and family dynamics are shared.
Saturday 4 February
stunning acrobatics and lion dance performance by Qing Fong Lion Dance Team from Western Sydney
Korean–Australian artist Hyun Hee Lee will offer a space for contemplation and care through her calligraphic writing and collaborative stitching workshop for children and families
Sunday 5 February – 26 February 2023
Drop in and make Lanterns
Lunar New Year events in the Suburbs
Lunar New Year celebrations will be held across suburban Sydney with big celebrations planned in Chatswood, Campsie, Bankstown, Rhodes and Hurstville
Chatswood Year of the Rabbit Festival
Chatwood is home to some of the biggest Lunar New Year celebrations in Sydney. With plenty of events from street markets to a comedy festival. One of the highlights will be the Twilight Lantern Parade which will take place on Sunday, 05 February 7:30pm-8.30pm in Chatswood CBD.
Another highlight is the Free East Meets West Classical Music concert "Symphony in the Park" at Chatswood Oval on Sunday 29th from 6-8pm with gates opening at 4pm
Eight large-scale inflatable rabbits will feature across Chatswood's CBD and track them all down for luck.
The Golden Market, featuring 35 unique stallholders, will run on Thurs, Fri and Sat nights from 21 Jan – 2 Feb from 9am-9pm.
When: 18 Jan-12 Feb 2023
Where: Chatswood Concourse
Cost: Free
Head to Sze Yup Temple in Glebe on 15 January and join in the traditional celebrations that will include temple rituals and ceremonies, stunning Chinese lanterns, gongs and drums providing the soundtrack. Lion dancing and fireworks at 9pm and midnight (weather permitting).
When: 15 Jan 2023
Where: 2 Edward St, Glebe
Cost: Free
Bankstown Lunar New Year Celebrations
If you have ever wanted to enter an eating competition here is your chance. The Bankstown Lunar New Year will offer, along with the usual lion dancers and Chinese firecrackers, a watermelon eating competition!
When: Sat 14 January from 4-9pm
Where: Griffith Park
Cost: Free
Campsie Lunar Year Noodle Markets
Anzac Mall is the home to the New Year action in Campsie, with a night noodle market being held on Friday 4 February and decorations on display throughout the festival period. Street performers will roam the mall providing entertainment. Korean, Chinese and Thai food will be available.
When: 4 February 5pm-9 pm.
Where: Anzac Street Mall, Campsie
Cost: Free
Rhodes Lunar New Year Festival
Canada Bay Council has a number of great events on the calendar this year. Starting with a free community event on the Rhodes Foreshore. Sense Asia: Lunar New Year Festival will celebrate with a multi-national and multi-ethnic Lunar New Year celebration.
This will be followed by Rabbit by the River: a 3 day Lunar New Year celebration.
When: 22 January 9.30am-6pm & 27-29 January (Fri from 5pm, Sat and Sun from 10am)
Where: Foreshore Park Rhodes
Cost: Free
Hurstville Lunar New Year Festival
With traditional Lion Dance, entertainment, food stalls, giveaways and a festival atmosphere join in the fun in one of Sydney's biggest Chinese communities.
When: 28 January
Where: Forest Road Hurstville 12pm-9pm
Cost: Free
Do you know which animal represents your year?
Rat (1948, 1960, 1972, 1984, 1996, 2008, 2020)
Ox (1949, 1961, 1973, 1985, 1997, 2009, 2021)
Tiger (1950, 1962, 1974, 1986, 1998, 2010, 2022)
Rabbit (1951, 1963, 1975, 1987, 1999, 2011, 2023)
Dragon (1952, 1964, 1976, 1988, 2000, 2012, 2024)
Snake (1953, 1965, 1977, 1989, 2001, 2013, 2025)
Horse (1954, 1966, 1978, 1990, 2002, 2014, 2026)
Goat (1955, 1967, 1979, 1991, 2003, 2015, 2027)
Monkey (1956, 1968, 1980, 1992, 2004, 2016, 2028)
Rooster (1957, 1969, 1981, 1993, 2005, 2017, 2029)
Dog (1958, 1970, 1982, 1994, 2006, 2018, 2030)
Pig (1959, 1971, 1988, 1995, 2007, 2019, 2031)