Sydney Greeters is part of a global organisation called Global Greeters. Greeters are volunteers who give up their time to show visitors to around their hometown and help encourage cross cultural friendship.
I first came across a greeter service back in 2010 when I was lucky enough to be shown around Paris by a lovely retired gentleman who had lived in the city all his life.  He was a
Paris Greeter
, and he had some great stories to tell. For each street, we walked he shared tales from history and stories from last week.  He took us to tiny local street markets not listed in guidebooks and showed us to the best the area had to offer from a delicious fromagerie to his favourite bakery. He was so generous with his time that this morning became the highlight of my ten days in Paris and the beginning of my interest in becoming involved with the Global Greeters Network.
So what is the Global Greeter Network?
The Global Greeter Network is an organisation of greeter services around the world.  Big Apple Greeter in New York City was the first and is probably the largest, but there are now over 80 services operating worldwide.  One of the goals of the network is to build cultural understanding by sharing a little of your world with a stranger and from my experiences with them they do a great job at this.
Why I Joined
Once I returned from Paris, I was pretty keen to get involved, so it was disappointing to find that my Sydney did not have a greeter service operating.  I enquired about starting one and discovered it was quite a task. With a family and full-time job, I did not have the time required to get it off the ground.  Fast forward a few years, and I enquired again.  This time there were a couple of others interested including Sydney's chief organiser Mario. I got in touch and was then when we launched an official Sydney Greeter service in April 2015 year. I am now one of the admin managers and one of the ever growing number of volunteer greeters who get to show this amazing city to visitors.
What does a greet involve?
So the first thing to know is a greet is not a tour, the volunteers are not trained guides.  It's more like visiting a friend's hometown and spending a few hours with them while they show you some of their favourite places.  All the greeters have excellent knowledge of Sydney and a real love of the city. Each greet is unique; we share our perspective on our city.
How does it work?
 Once you know, you would like to book a greet you complete a
request form
. It's best to fill out this form 3-4 weeks before your visit. We will ask you for some brief information about yourself and anyone accompanying you on the greet.  It's also good to share your main interests and give a couple of dates that would suit you.
Once we have this information you are matched with a greeter if there is one available.  The Greeter will email you directly and come up with a few possible ideas for your greet. Depending on your interests they might suggest a visit to the beach, a short bush walk, or a stroll through an inner city suburb. What you see and do will depend on you and your greeter.
What type of people are greeters?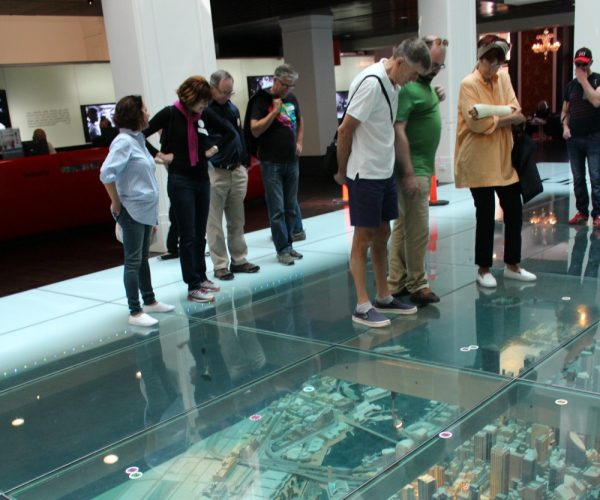 Sydney Greeters range in age from their 20s to their 70s and come from all walks of life.  At the moment there are 50 volunteers available but we adding new greeters every month. Thanks to Sydney's diversity several of our greeters speak more than one language so we can sometimes help visitors who are not so comfortable speaking in English.
Let me introduce you to a couple of our greeters
Mario
Mario is the main man behind Sydney Greeters; he has done all the hours of paperwork to get the group off the ground.
"I am a passionate traveller myself and like learning about different cultures by meeting locals for cross-cultural exchange. During my travels, I found that it's best not to plan too much ahead and instead gather travel tips from locals that take me off the beaten path. Sydney Greeters gives me the opportunity to give back to fellow travellers and contribute to my guests' holiday experiences by showing them parts of the city that are not mentioned in any guide book. I enjoy seeing the smile on their faces when we walk through our beautiful city and then know that I have helped them have a memorable stay in Sydney as a Sydney Greeter volunteer."
Jackie
Jackie (right) is one of the inaugural volunteers and has helped to get things up and running.

"I guess it would be fair to say that I am a passionate traveller and love meeting people. I am also passionate about Sydney and love playing tourist in my city. If I can share a little bit of Sydney with our visitors that gives me an enormous amount of pleasure."
Lyn 

"My friend told me about Sydney Greeters because she knows how much I love showing my interstate and international friends around our beautiful city. Without a second thought I volunteered right away.  For me, a highlight is Sydney Harbour – you can walk around, sail across or fly over one of the very best waterways in the world.  It's like a diamond – always impressive but sparkling spectacularly under the light of a sunny day.  Taking other people around gives me an excuse to revisit and share favourite spots and discover new and exciting ones.  There's no need to travel as frequently now because the world comes to me!" 
Would you like to become a greeter?
If you live in Sydney and think you would like to become a greeter complete an application form here.
If you want to see more of our greeters in action, check out the Official Sydney Greeters Facebook page.
Have you every experienced a greet on your travels?