The North Head Walking Track and Lookout Manly
The North Head Walking track at Manly is one of those walks everyone should make time for. It combines 10km of walking paths, three impressive harbour lookoiuts and a fascinating historical site. And best of all, entry is free!
Exploring Sydney's North Head Sanctuary
Traditionally known as Car-rang-gel, it held great significance for the indigenous people who travelled along the coast to this spot for physical and spiritual healing.
Along with its gorgeous view of Sydney Harbour, a visit to North Head Sanctuary, part of the Sydney Harbour National Park, offers something extra, a glimpse of Sydney's past.

After Settlement, the site became a quarantine station to house immigrants who had arrived by ship. It also hosted a military fort built to protect the new city from possible invasion. The land here holds many stories, and thankfully they have been preserved for us to discover.
Covering just under 4 square kilometres, North Head is home to some pretty cool wildlife and magnificent vistas.
Learn more about the history of North Head
Make sure you call into the Visitor's Centre, where volunteers can point out the highlights and give you a map of the various walking tracks. We met Keith, who had lots of tips for making sure we saw as much as possible in the time we had here. He gave us an excellent introduction to the area and was a font of information.

The sanctuary also encompasses North Fort, a former Army base, along with all the natural beauty. Military buffs may be interested in visiting the artillery museum or signing up for a guided tour of the tunnels and gun emplacements which runs every Sunday.

As you follow the walking tracks, you will come across a paved pathway, Australia's Memorial Walk, which links five monuments built to commemorate the significant conflict periods in Australia's history.
Take in all the fantastic harbour views
There are also three fantastic lookouts providing different aspects of Sydney Harbour. This one at the Third Quarantine Cemetery offers views across to South Head and its lighthouses.
Walk, run or ride
There is over 10km of well-signposted trails and tracks here. If you want to practice off-road cycling or trail running, I can't think of a better spot.

Stroll the well-marked walking trails.
It's also perfect for slow, gentle walks that are suitable for most fitness levels.
Spot some Australian wildlife
Blue Tongue lizards, rainbow lorikeets and kookaburras are almost always around; bandicoots, echidnas, and possums are occasionally spotted at dawn and dusk.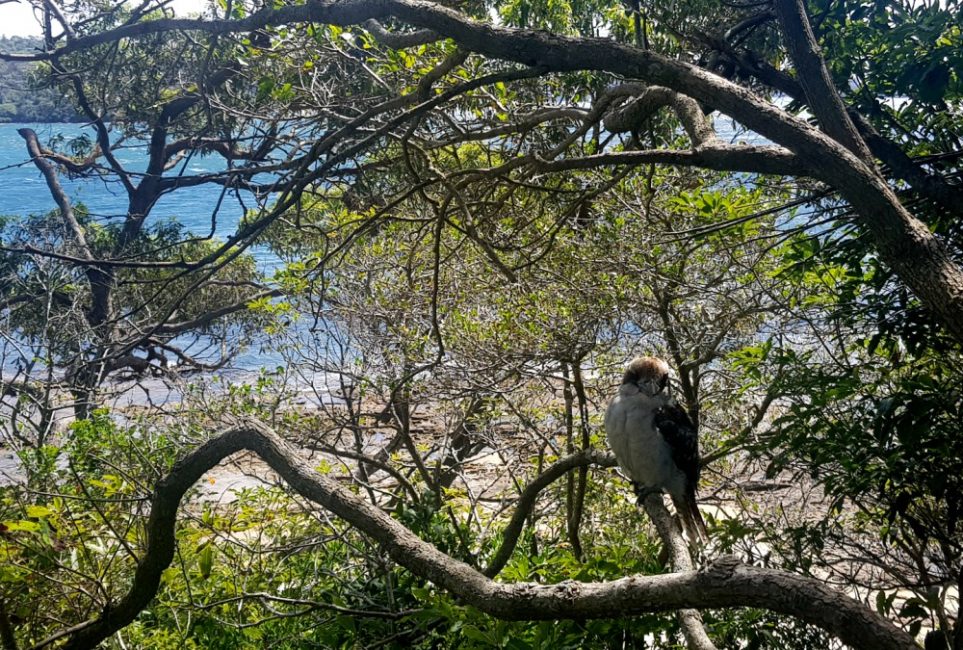 Where to Eat at North Head
At North Head Fort, you will find the aptly named Bella Vista Cafe, where you can take in the view with a fresh juice or coffee. If you are here at breakfast, the coconut and almond bircher muesli is fab!
Also worth a look is the Boiler Room Cafe at Q Station.
How to get to North Head Sanctuary
It's a 45-minute walk from Manly Wharf to North Head Sanctuary. However, the walk from the wharf to the start of the park is very steep. You can also walk into North Head from Shelley Beach. 
If you plan on walking, make sure you pick up the free guide from the Manly Information Centre at the wharf, as it's easy to feel like you are a little lost at the beginning of the track.

If you want to conserve your energy for walking the trails, you can jump on bus 135 from Stand J opposite the wharf to the Visitor's Centre. On weekdays the first bus leaves Manly Wharf at 7.01am but terminates at Q Station, requiring you to walk about 10 minutes to the Visitor's Centre; from 8.30am, buses run the complete route.

On the way back to Manly, I recommend turning down Collins Beach Road and detouring along the beach before joining the road again at the end of the beach.
There is minimal parking, which seems to be an excellent deterrent to visitors. On many occasions (admittedly not on summer weekends) we have visited, there have been less than a handful of people here.
From the bus stop, it is a 30-minute easy flat walk to North Head. The views back down the harbour are pretty damn impressive. Looking out to sea, particularly on a grey day, can the surroundings feel so desolate, I can only imagine how those quarantined here must have felt.
Q Station
Sitting right next door to the Sanctuary is one of Sydney's most interesting historic sites. Q Station, once the Quarantine Station for the city offers a small museum and a number of interesting tours exploring the history of the site. You can also spend the night, or a few relaxing days here like we did recently.
There are lots to see and do here, so if you have time to spare, I suggest you check it out.
Notes–
This track is closed during total fire bans.
Most of the walks here are suitable for those with limited mobility, and the short lookout walk that starts at the Visitor's centre is pram friendly.
There is minimal shelter, so make sure you take sunscreen and wear a hat! I would give this a miss on a sweltering day too.
Dogs are not allowed in North Head Sanctuary.
When: The North Fort Visitor Centre is open daily from 10am-4pm, except Christmas Day, New Year's Day and Good Friday.
Want to know more? Visit the North Head Sanctuary web guide
Need more ideas? Join our Sydney Expert Facebook Group where you can ask questions, stay updated with what's happening and meet a bunch of friendly locals just waiting to share their advice!