Escaping the City: Why Q Station is the Perfect Getaway
We recently had the pleasure of an overnight stay at Q Station Manly where we got to experience both a harbour sunset and sunrise, a delicious dinner at Boilerhouse Restaurant and a fascinating tour of this historic site. Read on and see why we think everyone should spend some time at Q Station.
The former Quarantine Station, which was once the first stop for immigrants and travellers arriving in Sydney during the 19th and early 20th centuries is today home to one of Sydney's unique accommodation options.
A night or two at Q Station is one of the unique ways to experience the harbour and learn about the history of the city.
This page contains affiliate links. Please see our full disclosure policy for details.
What exactly is Q Station?
Q Station, previously known as the North Head Quarantine Station, was established in the 1830s to isolate immigrants and travellers arriving in Sydney if order to prevent the spread of infectious diseases.
The quarantine station operated for over 150 years until it was decommissioned in 1984.
During its operation, the site was used to house a wide range of people, including immigrants, travellers, from ships arriving in Sydney. Any ship thought to be carrying disease was expected to raise a flag as they arrived in Sydney Harbour and was directed to the site well away from the docks of the colony.
Along with both convicts and migrants, some of its more unusual guests included:
Solders returning from the battlefields of WW1 where the Spanish Flu was raging
Orphans airlifted from Vietnam at the end of the Vietnam War
Residents of Darwin whose homes had been destroyed by Cyclone Tracy in 197?4
After the quarantine facility was decommissioned in 1984, it was transformed into a hotel and conference centre.
Aboriginal significance of the Quarantine Station site
Car-rang-gel / North Head is an important cultural and spiritual site for the Indigenous peoples of Australia who have lived in the Sydney area for thousands of years.
The traditional owners of the land on which Q Station is located are the Gayamagal peoples.

Sydney Harbour Trust
This land has a rich cultural history, and was used by the First Nations Peoples for a range of activities, including spiritual and physical healing and other important ceremonies.
Today, North Head is an important part of the local Indigenous community's cultural heritage and is protected by the New South Wales National Parks and Wildlife Service. Read more about the sites aboriginal heritage here.
Where is Q Station Manly?
One thing that makes Q Station such a unique place to stay is its location. Although it's a bit of a trek from the city centre, the hotel's position in the heart of a stunning national park offers a sense of peace and tranquility that is unexpected, so close to town.
As soon as I arrived, I was struck by the feeling of being transported to another time and place, far removed from the hustle and bustle of Sydney. In reality, you are 10 minutes from the action of Manly with shops, restaurants, bars and plenty more to amuse.
A free shuttle service operates between Q Station and Manly Wharf several times a day.
Accommodation options at Q Station
One thing that I loved about this property was how the hotel seamlessly blends modern comfort with its historic past. The hotel itself is actually made up of a collection of original buildings, each with its own unique character and charm.
These have been converted into a variety of different accommodations, from cozy rooms to terrace apartments and family size cottages. A family reunion, convention, or romantic getaway would all work well here.
We were fortunate enough to stay in one of the hotel's Heritage suites, in building P12. Along with a Sydney skyline view, the room offered views over middle harbour and north towards Manly. In its previous life, this building housed the passengers from first-class on any ships that were carrying disease.
The rooms have been lovingly restored to their former glory, with high ceilings, original fixtures, and a charming mix of old-world and modern amenities.
We entered our suite via a shared balcony and stepped into a small living room with a comfy sofa, and flat screen tv. The bedroom is separated by a door which was perfect for us as I wake at the crack of dawn and could slip out to enjoy the sunrise without disturbing my partner.
Although the rooms are not air-conditioned, the ceiling fans and French doors off the living and bedrooms allowing airflow throughout the space were more than adequate even on this hot humid day.
The only thing I felt was missing, was a mini bar or the ability to order room service or even buy a drink or coffee after checking in. We arrived at 2pm early in the week on a warm afternoon and once we had checked out our gorgeous room, thought it would be nice to sit on the balcony with a glass of bubbly and take in the view for a while. Only we didn't bring any bubbly!
Accessible rooms are available and while cars are restricted on site those with access needs can drive on site with pre-approval. Read Julie Jones from Have Wheelchair will Travel's review of Q Station.
Need to know: The cafe and bar are not open until 5pm on weekdays so perhaps pack some drinks to enjoy on arrival!
What is there to do at Q Station?
While I could easily see this would make a perfect location for a writing retreat or to sit and read for a week, if you want to get active or learn more about the history of Sydney, there is plenty to keep you busy.
We were surprised at the range of thing to do at Q Station. If you want to get active, you could:
Hike one of the tracks in the National Park, the walk to Shelly Beach is a favourite.
Lay on the beach in the shade of the large pine trees and watch the boats sail past
Hire a snorkel and explore the clear waters of Quarantine Beach
Rent a kayak or SUP from Quarantine Beach and head off to explore the surrounding bays (you can bring your own too).
Divers might like to book a session with Dive Centre Manly
Late afternoon and early evening is the perfect time for some wildlife spotting with echidna, bandicoots and goannas frequenting the bushland. The waterfront is also part of a marine reserve where little penguins may occasionally be spotted. Wildlife walks are scheduled on weekend afternoons (bookings essential)
For more intellectual pursuits, try:
Tour the property – book a guided tour or take yourself off on a self guided exploration
Visit the museum and learn more about the people who spent time here.
What type of tours are offered at Q Station?
Whether you are an overnight guest or just visiting on the day, the tours at Q Station are fabulous.
We joined a Heritage tour, a guided walk through the wharf and hospital precinct. The tour covers the history of the site, information about the daily life of the people who were quarantined at the facility and the treatments they received.
One of the first things that happened was all passengers belongings were taken from them and delivered to the room below for sterilisation.
Sadly, very little of it was in usable condition when it came out the other side, as the heat and steam often destroyed both the actual suitcase and the woollen clothing inside.
A range of ghost tours are also offered from family friendly tours on weekends to nightly ghost encounters suitable for people over 15 years and 4 hour long paranormal investigations that are only for the very brave ghost chaser.
Need to know: Weekends see more options with bushwalking and wildlife tours add to the mix.
What is there to eat and drink at Q Station?
There are three dining options at Q Station and we experienced them all on our quick visit. Thankfully, there was an enormous staircase separating us from the two of options, allowing us to feel a little less guilty about our overindulgence.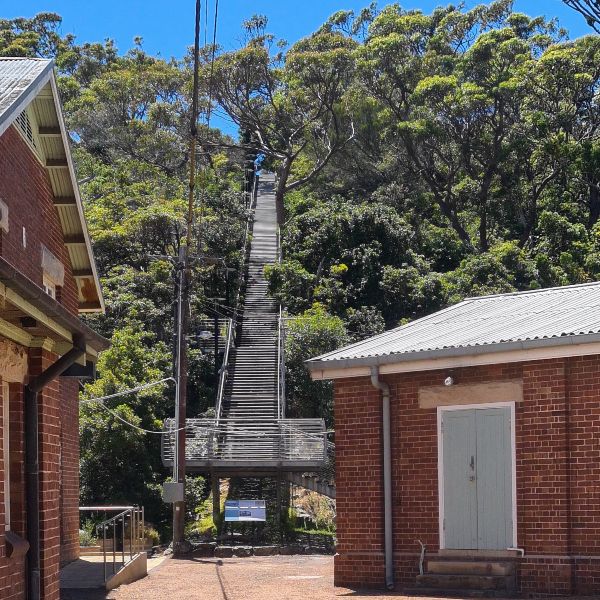 There are 200 odd steps between the top level of the site, where the accommodation is, and the dining areas on the wharf. A shuttle service will collect you from your room and drop you to the wharf and restaurants if requested. We walked, but we noticed the van coming and going throughout the evening.
Our stay began with an early dinner at Boilerhouse Kitchen and Bar, which serves modern Australian cuisine with a focus on locally sourced ingredients. Executive Chef Michael Mousseau has created a well crafted seasonal menu that had us struggling to decide between dishes.
The space has a relaxed atmosphere and offers indoor and outdoor seating and although there are no water views the building has been cleverly refitted to feel modern and stylish but retain all of its beautiful historic features.
We also had appetisers and entrees and just a couple of drinks 😉 you can find those over on our Facebook page.
For casual dining, The Pantry on the wharf serves a range of light meals, snacks, and drinks. The cafe is open for breakfast, lunch, and dinner and offers indoor and outdoor seating.
Tip: This is the place to head for barista made coffee from 8am.
Next morning Views Restaurant offers a full buffet breakfast from 7am till 10 am weekdays and 11am weekends.
Need to know: Evening dining options are limited early in the week however Barista coffee is available from 8am daily. Saturday and Sunday from 2 to 5pm you can enjoy $7 house spirits, Furphy ales, house wines and $15 Espresso Martinis.
Overall, If you're looking for a place to stay in Sydney that offers something truly unique, I would definitely recommend Q Station. It's not your typical hotel, but that's what makes it so special!
Got a question about Q Station or visiting Sydney head over to our friendly Facebook community and we would be happy to help
Paula and Charles were guests of Q Station on this occasion, but all our opinions are our own and we can't wait to visit again.