A Guide to the Best Things to Do in Manly
Beyond walking down the Corso to the beach, what other things there are to do in Manly? Well. lots in fact, so much that we live in Sydney and we still find things to do in Manly every time we are visiting. Read on for our insider's guide to what to see, eat, and do in Manly.
This post contains affiliate links. Our full disclosure policy is here.
The Insider's guide to Manly – What to do, see and eat
Most visitors have a trip to Manly on their list of things to do in Sydney, but once they get off the ferry, they do not know where to go. Some people don't even realise that the beach at the wharf is not Manly Beach but the harbour beach known as Little Manly Cove to the east and West Esplanade Beach to the west. Both beaches are great for kids, but they are not the famous Manly Beach.

Manly and Bondi go head to head for attention, and they are very different. Many locals feel Manly is more relaxed than Bondi – we agree – the traffic is better too.
The Norfolk Island palm trees that line the beach are a lot prettier than the car park fringing Bondi, I mean, we love Bondi too, but we could live without the cars!
The Cannalgal and Kayimai people were the custodians of Manly and the northern beaches.
When Captain Philip visited in 1788, shortly after arriving in Australia, he encountered some of the local aboriginal people on landing here. This meeting prompted him to name the area after them. "Their confidence and manly behaviour made me give the name of Manly Cove to this place."
How to Get to Manly
You can reach Manly by road or by sea. The critical difference between the options is travel time. We think the ferry is THE option. I cannot think of a circumstance where I would drive to Manly from the city.
Did you know: It's quicker to get from the city to Manly than it is to Bondi?
Ferry: 25-30 minutes from Circular Quay
Bus: the journey often requires a change and takes 50 minutes from Wynyard
Car/Uber: 30-minute trip in good traffic but can take a lot longer
Everything you need to know about the Manly Ferry
Confusingly, there is more than one ferry service from the city to Manly. Both public and private ferries operate along the route, and both accept Opal or contactless payments.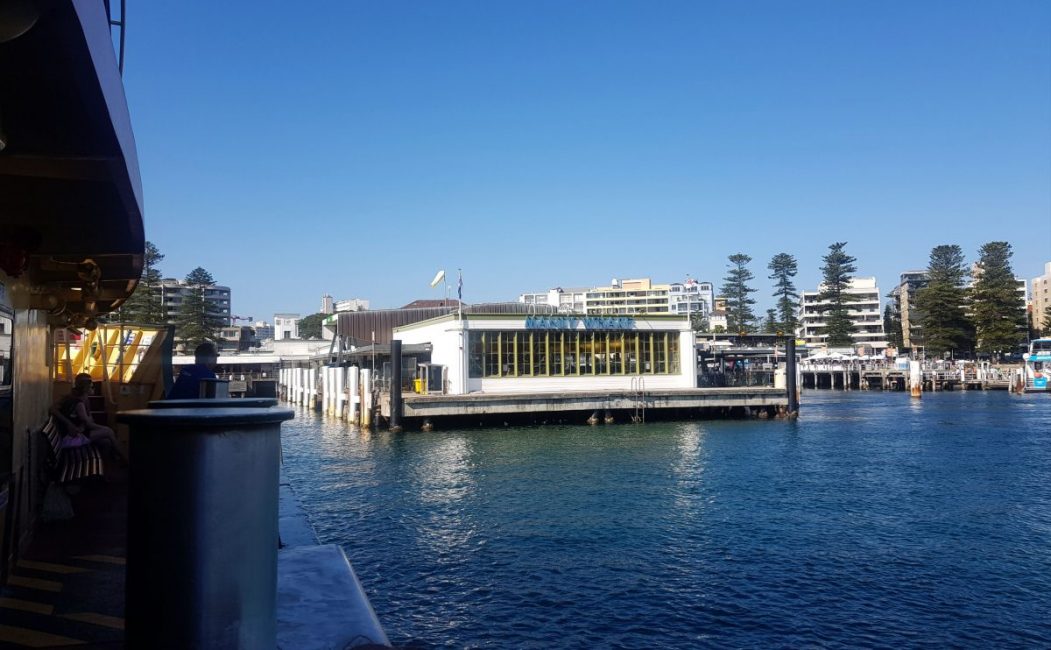 Private ferries to Manly
Two private ferries operate between the city and Manly. Both make the trip between Circular Quay and Manly wharf in 20 minutes.
Manly Fast Ferries runs services between Manly and Circular Quay
They also sell a 1 or 2 day hop on hop off cruise that includes other key tourist spots:
Darling Harbour to Manly via Circular Quay and Taronga Zoo
Captain Cook Ferries offers two direct services to Manly:
Manly to Barangaroo
Manly to Watsons Bay
You can use your Opal card to pay on either the Fast Ferry or Captain Cook, but these fares will not count towards your daily and weekly caps. There is also the Captain Cook hop on hop off ferry and the Sydney Harbour Hopper which cost a little more but give you 1 or 2 days of sightseeing and make some stops that are not possible on the public ferry.
Public Manly Ferry
Public ferries service the F1 route from Circular Quay to Manly Wharf. The original Manly ferries the 'Queenscliff', 'Narrabeen', 'Collaroy' or 'Freshwater' ferries are named after beaches north of Manly. There are newer Emerald Class ferries that travel this route but try to catch the one of the original services if you can. It's a much more pleasant experience, particularly in rough weather.
The service is direct from Circular Quay to Manly, taking 30 minutes. The first ferry departs at 5.30am, and the last one leaves at 11pm.
Can you get a ferry from Darling Harbour to Manly?
At the moment there is no direct service between these two stops. You will need to change at Circular Quay unless you buy a HOHO ticket.

What is the difference between the private Manly ferry and the public Manly Ferry?
The private ferry services are a little faster, but they cost a couple of dollars more and do not count towards your daily or weekly Opal caps.
Discover more great Ferry rides from Circular Quay
What is Manly Beach famous for?
Manly has several claims to fame; it was the birthplace of surfing in Australia, the first place to legalise all-day bathing in 1903 and one of the world's first Surf Life Saving Clubs.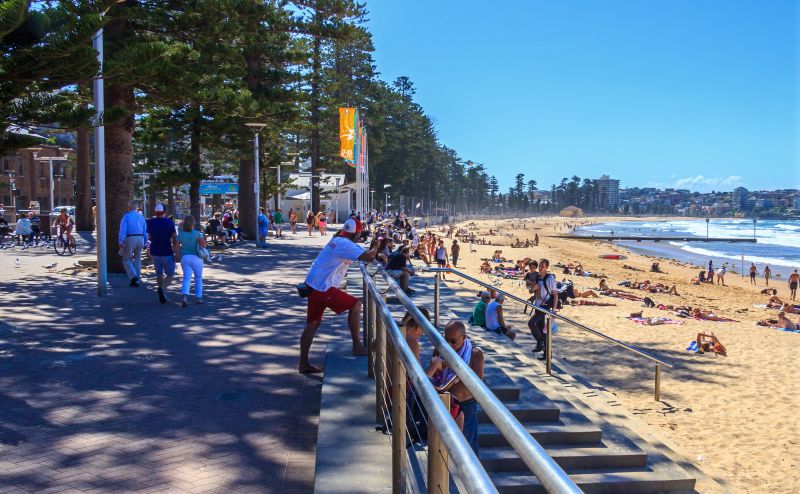 Manly Beach was the location for the first World Surfing Championships held in 1964.
The Main attractions in Manly
Besides the gorgeous waterfront, there are a few other places in Manly worth exploring.
Q Station – From the 1830s up to the mid-1980s, ships were quarantined here if they arrived in Sydney Harbour carrying any illness.
North Head Sanctuary – walks, views, a war memorial and a graveyard
Four Pines Brewery – the first smaller brewery in the area
Manly Distillery – Try the local gin made with ocean botanicals

Manly Art Gallery – A small collection with everything from

ceramics to photography
Manly Environment Centre – pop in to learn more about sustainability
The Sea Nymphs' sculpture at Fairy Bower Pool
The beaches of Manly
Manly offers both ocean and harbour beaches. The three main sections of the beach are Queenscliff, North Steyne, and South Steyne. A short walk around the southern headland brings you to the sheltered and beautiful Shelly Beach.
Shelly Beach is one of only two west-facing beaches on the east coast
There are also the harbour beaches you will see when you arrive at the wharf. A short walk to the west past the art gallery will take you to Fairlight and on to the secluded harbour beaches along the Manly to Spit walk.
Head to the end of East Manly Cove Beach to make your way to little Manly Beach and Collins Beach. These are both great options for anyone wanting a bit of seclusion midweek, although they get popular on summer weekends.
Want more beach fun? Jump on the 199 bus for the 75 minute trip to Palm Beach, along the way explore some great Northern Beaches gems.
Best Things to Do in Manly
There is plenty to do here, so we have broken this down into four areas:
Free things
Walks in Manly and nearby
Activities and tours
Shopping
Free things to do in Manly
There is no need to spend much money to have a good time in Manly. With walking and biking trails, plenty of parks and gardens and some excellent people watching.
Head to the free BBQs at Shelly Beach and cook up a feast
Take a walk to Freshwater Beach and look for the wormhole
Go snorkelling at Cabbage Tree Bay

Have a swim at Fairy Bower Pool
Find some friends and hit the free volleyball courts

Follow the Manly Heritage Plaques – a great way to learn the history of Manly
Check out an exhibition at the Local Manly Gallery
Check out the path of Olympians that runs from the wharf to the museum. It celebrates residents who have represented Australia in Olympics.
The best walks in Manly
Whether you want a quick stretch of the legs or fancy putting your fitness to the test, one of these Manly walks is sure to suit. The first two are wheelchair and pram friendly, and both offer fantastic views.
The first, and possibly the most popular, is the Shelly Beach walk. This short 1.5km stroll from The Corso around to Shelly Beach features eleven sculptures that make a fun scavenger hunt for kids. This flat walk only takes 15 minutes and is wheelchair friendly.
The Fairfax Walk also known as the North Head Sanctuary Loop is an easy 800m circuit walk that is also wheelchair friendly. It's a fabulous spot for some whale watching between July and October. Start at the North Scenic Drive carpark.
The three most popular longer coastal walks are:
The Manly to Spit Bridge Walk follows the harbour from Manly Cove Beach to the Spit Bridge.
North Head Sanctuary Walk – an 8km walk that starts at Shelly Beach and makes its way up to North Head. The views are hard to beat, but it's also a brilliant choice for those with an interest in military history.
The Manly Coastal Walk – The whole route is 50km, but you can stop anywhere you like with buses along the route heading back to either Manly or the city.
Check out more local walks on the Hello Manly website or stop at the Visitor's Centre located right outside Manly Wharf on arrival for some local advice and free maps.
Get active in Manly
Check out one of the 15 rock pools along the northern beaches.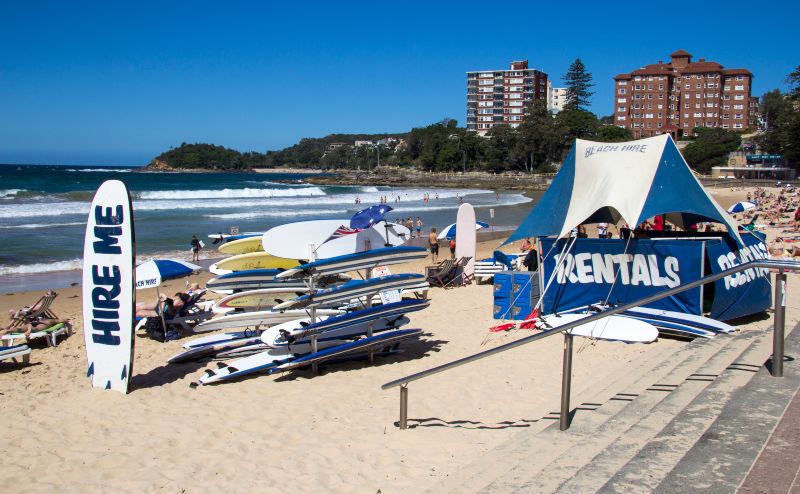 Find even more things to do in Sydney on our list of 75 things to do for free in Sydney
Shopping in Manly
The strip of shops that line the Corso from the wharf to be beach offers a huge variety of goods. Everything from surfwear to fishing gear and high-end fashion to the latest bestsellers can be picked up on your way to the beach.

There is a supermarket and a bottle shop that are handy for putting together an impromptu picnic. All up, there are 200 shops along the Corso and surrounding streets, so if you fancy some shopping or window shopping on your day out to Manly, you won't be disappointed.
The Corso in Manly was named after Rome's Via Del Corso
On weekends, they hold the markets in Market Place, which runs parallel to the Corso.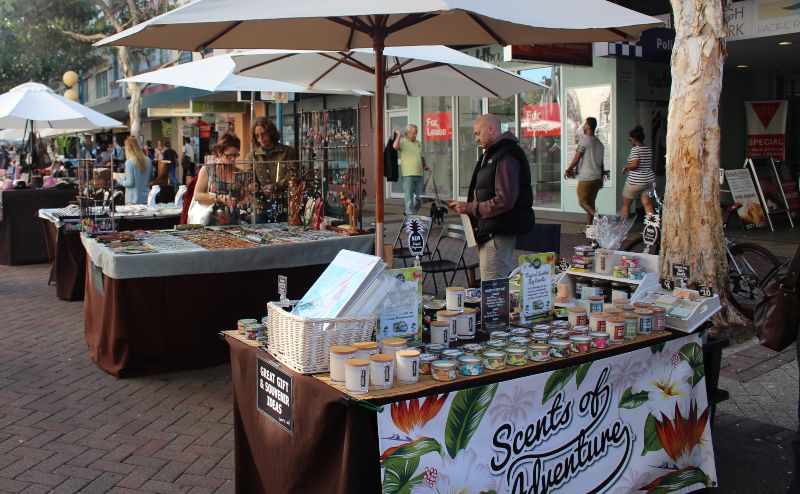 Where to eat in Manly
With over 120 cafes and restaurants to choose from, finding something to eat here is both super easy and super hard, depending on how you respond to all that choice! If I have too many places to choose from, I suffer from decision paralysis lol, so just in case any of you do, too, I have shortlisted ten options. These are my favourite Manly restaurant.
Our favourite spots for breakfast in Manly
The Bower – I love this cafe overlooking Fairy Bower pool, a great spot for people-watching, excellent coffee and if you are there for breakfast, the coconut Bircher is a favourite.
Ruby Lane – Our favourite breakfast spot for healthy options – off the main area but worth the walk. A good option when on the way back from the walk to Queenscliff.
Rollers Bakehouse – Great place for gathering a breakfast picnic
Bella Vista Cafe – Perfect spot for breakfast after a hike around North Head
Our top choices for lunch in Manly
The Pantry – The views don't get much better, I prefer their lunch menu and don't skip dessert, share a portion of Banoffee Pie.
The Boathouse – Fish n chips, burgers and several salad options plus pavlova for dessert.
Manly Wine – Oysters and sparkling wine, fish n chips and a good plant-based range of options. It's hard to be disappointed here.
Fika Kitchen – Serve an all-day Swedish style breakfast menu with a strong seafood focus and a delicious watermelon Chia pudding.
Little Shop of Waffles -Sydney's first bubble waffle cafe!
Our top picks for dinner in Manly
Sunset Sabi – Izakaya style bar and dining, fun spot, not great for a quiet chat
Queen Chow – Old school Cantonese food right on the wharf.
Manly Wharf Hotel – Great water views and excellent specials – plus a quick run to the ferry home.
Where to drink in Manly
North Steyne – Something for everyone with an old school pub on the outside and ground floor, funky new rooftop area above.
Hemingway's – If you like to drink surrounded by books and with an ocean view, this is your place.
4 Pines Brewing Company – This local brewing company is right opposite the wharf and has tasting paddles for the indecisive.
Manly Wine – with ocean views and an impressive list of sparkling wines and champagnes, this is the perfect spot to rest your feet for a while.
Looking for the best Fish n chips in Manly? Head to Fishmongers, grab some takeaway and eat on the beach.
Where to sleep in Manly
All the usual options with hotels, vacation properties and hostels on offer.
Only a 5-minute walk from the ferry wharf and directly opposite Manly Beach, the Sebel is a splendid choice. You are within walking distance to shops and cafes and only a few minutes from some of our favourites, Manly Wine, The Bower and The Boathouse. Family rooms are available.
The Sebel in Manly is directly opposite the southern end of Manly Beach. You are surrounded by dining options and just a short walk around to family friendly Shelly Beach.
We have stayed here and enjoyed both the location and the service. We had an apartment and found it very hard to leave!
Location: 8-13 South Steyne, Manly
Room types: studio and one-bedroom apartments can accommodate four people.
Facilities: 2 swimming pools and a spa pool, a handy guest laundry
Tips: Request a room in the north tower; they have been refurbished and offer the best views.
The Manly Pacific Sydney MGallery Collection has recently undergone a $30m transformation and boy is it looking good. It sits opposite the ocean beach and offers 213 rooms, a mix of Coastal Suites, Sun Lounger one-bedroom apartments, hotel rooms and for special occasions the Infinity Residence, a 177 sqm apartment which may well be the best beach front hotel residence in Sydney.
The property has three restaurants onsite, 55 North, Bistro Manly and Tokyo Joe. There is also a rooftop bar and pool. There is a strong focus on health and wellness with surfing lessons, kayaking, boot camps, beach yoga, facials, massages and cryotherapy all available to guests.
Location: 55 North Steyne Road, Manly,
Room types: Studio and one and two-bedroom apartments 1-4 guests.
Facilities: Rooftop swimming pool
Quest Manly at the Wharf
Unlike the two above, Quest Manly faces the harbour beaches and the wharf. The apartments here are bright and sunny with great harbour views.
A great choice if you are planning on self-catering as there is a supermarket across the road
Location: 54a West Esplanade, Manly
Room types: studio and one and two-bedroom apartments with full-size kitchen and laundry
Facilities: Small gym, guest laundry, spacious living area
Tips: Request an upper floor for less traffic noise.
Want to decide yourself if Manly to Bondi is Sydney's best beach? Check out our Bondi Guide before your visit.
We also recommend this guide for visiting beaches in Sydney by public transport if you want to explore further.

About the author: Paula Morgan, a born-and-bred Sydney resident, has been sharing this city and its secret spots for over 15 years. She's not just about the iconic landmarks; she's all about the hidden alleys adorned with street art, and the joy of discovering a new café or a fabulous restaurant tucked away in a corner you never knew existed and weekends away exploring regional NSW.
Need more ideas? Join our Sydney Expert Facebook Group where you can ask questions, stay updated with what's happening and meet a bunch of friendly locals just waiting to share their advice!