A Visitor's Guide to using Sydney Opal Card
Mastering the Sydney Opal Card System will help you make use of the city's extensive public transport system that includes trains, buses, ferries and light rail. This is an electronic ticketing system that allows you to use one card (or app) across all these types of transport. I hope this simplified guide to using Sydney's Transport Card, the Opal card helps you when you plan your visit to Sydney.
Please note the prices in the article are valid from 16 October 2023
As a life long Sydneysider who has never driven a car, I am very familiar with Sydney's public transport network and how to use it. I use public transport in Sydney every single day. On top of this, my partner is a Sydney bus driver, so I have an inside source 😉
What follows is my attempt to simplify all the Opal information out there and answer some of the common questions I am asked in our Facebook Group. I am a regular user of all forms of public transport and hope you find this guide helpful.
This post is not meant to provide comprehensive information for local users with complicated questions. In these cases, I suggest you consult the official Opal website. However, if you are on a quick trip to Sydney, read on; this should cover enough of the basics to get you sorted.
Learning how to use an Opal card in Sydney
Opal is a 'pay-as-you-go' system, so you only pay when you use a train or bus or ferry, including private ferry operators like Manly Fast Ferry. There are rewards for frequent travel and daily caps on fares that can save regular users and even visitors on short trips some $$$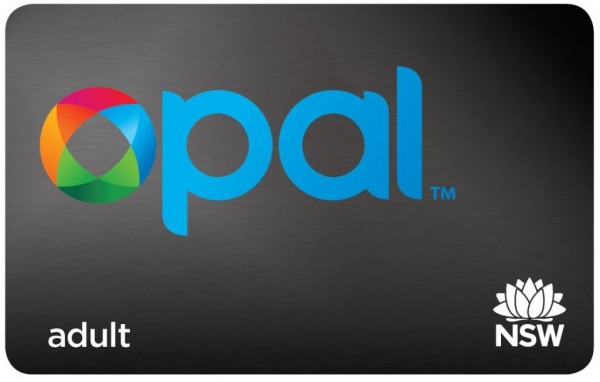 Understanding Opal travel discounts
The biggest benefit of Opal is the benefits you can gain by using the same opal card or credit card for every trip.
Daily Travel Cap* – Pay no more than $16.80 per day for adults and $8.40 a day for a child to travel anywhere in the network.

Weekend Travel Cap* – Pay no more than $8.90 for adults and $4.45 for kids for unlimited travel on Friday, Saturday and Sunday.

Weekly Travel Cap* – Pay no more than $50.00 a week for adults and $25 for kids when travelling on all modes of Opal enabled transport from Monday to Sunday

Transfer discount – You receive a $2 discount for every transfer between metro/train, ferry, bus or light rail as part of one journey within 60 minutes from the last tap off.

30% fare discount when travelling on weekends, public holidays and outside of the peak times**.
*Travel caps do not include access to airport terminal stations.
**Peak hour 6.30am-10am and 3pm-7pm
Can I use my credit or debit card instead of buying an Opal card?
Yes, you can! These types of payments are known as contactless payments. That is what I do, but if you do, you need to be careful to use the same card every trip if you want to get weekly or daily cap benefits. You will also need to use a different card for each traveller.
You can also use your digital wallet – ie Apple Pay, Samsung Pay or Google Pay by adding your American Express (AMEX), MasterCard, Visa credit or debit cards. The same rule applies as above though, make sure you use the same card or form of payment so you don't miss out on the benefits of daily or weekly caps. It's worth noting that using a card from your digital wallet and using a physical card will produce a different number for the same account so you wont get your discount if you switch between.

Provided you use the same card every day, you will get the same benefits as an Opal, i.e. daily or weekly caps or off-peak price reductions.

Children or concession cardholders will still need an Opal card to access reduced fares.
If you are an Overseas traveller you may be charged foreign transaction fees by your bank, so an Opal card might still be the best idea if you are taking more than a couple of trips.
If you are only in town for New Years Eve or Vivid it's probably easier just to use your credit card even if you do have some transaction fees.
How are Opal fares charged when you use your credit card
The fares are calculated the same way as regular Opal fares, so the card does not appear on your credit card until the end of the day. When you tap on for the first time, you are charged a $1 pre-authorisation (it will show as pending on your bank account balance).

At the end of the day, you will see a charge for the total of your travel that day. So if you take one trip or reach your cap, there will only be one charge (and only one foreign transaction fee per day if applicable). The date of the payment, when processed, will likely be different to the actual date of travel and will appear as Transport for NSW on your statement.

Find out more about contactless payments here.
Where can I buy a Sydney Opal card?
You can buy your cards from retail outlets or online. You can find a complete list of these here. Cards are not available for purchase on buses or Opal machines at train stations, and ferry wharves only sell single-use tickets.

The primary locations for visitors to purchase cards include:
Sydney Airport – You can buy opal cards at Sydney International and Domestic airport terminals. Cards can be purchased at NewsLink or WH Smith bookshops at either terminal. You can also buy them at the Airport Station. This page on taking the train from Sydney Airport will help you master this trip like a local.
Near city train stations – The only train stations that sell Opal cards are the two airport stations. Most regular stations will have a newsagent or convenience store nearby where you can buy a card.
Circular Quay – Transport shop just outside the entry
Town Hall – Woolworths Town Hall 2 – George Street Sydney
Central Station – Newslink kiosks around the station – there are at least five
Wynyard Station – NewsLink Wynyard Station – The Concourse, Wynyard or Woolworths Met Centre.
Supermarkets, newsagents and convenience Stores – Woolworths Supermarkets are a great place to top up. Many news agencies and convenience stores such as 7Eleven and EzyMart located around the city and suburbs also sell the cards. You will see an Opal sticker in the window of places that provides cards or top-ups.
Where can I top up or recharge an Opal card
You can recharge your opal card via the Opal app, using a machine a train station or ferry wharf, online or on the phone using your credit card (13 67 25). If you top up online or using the app if can take up to an hour for the credit to be ready for use so be sure to do it in advance.
How much does a Sydney Opal card cost?
Opal cards are free when you load a minimum amount onto it. The minimum cost is $20 for adult cards, $10 for child cards (other types such as seniors and students cards must be ordered). If you buy your Opal card at the airport train stations the minimum top-up is $35. This is because the station access or gate fee for these private stations is $15.74 for adults.
There is no fee for the card itself; all the credit is available for travel. Subsequent top-ups can be made in $10 increments. If you choose to buy your card online, the minimum credit is $40. I can see no reason to order your card online before you arrive. It's not worth the hassle.
You can set up auto top-ups for cards registered online, which I do not recommend unless you are here for a very long time.
Do I have to register my card?
You don't have to register your card if you buy it from a retailer. If you buy your card online, it is registered when you order it. If you buy your card from a retailer, you can also log in and register your card on the Opal website if you wish to.
Why you should register your card
Registering your card means that your travel is recorded, which some people are uncomfortable with; however, it also means you can keep track of your balance and trips online. Another benefit is that if you lose your card, you can cancel it and replace the credit. It just depends on how comfortable you are sharing your privacy.
Do I need an Opal card for each person?
Yes, everyone aged four years and over needs their own card. For children 4-15 you can buy a child's Opal. Children under four years of age travel free.
How can I check the balance on my Opal card?
The quickest way to check your Opal balance is on the official Opal App. The app is available for iPhone or Android users. You tap your card on your phone and the balance is shown.
What time is off-peak for Opal?
When calculating your fare, the time of day you travel is considered. Peak times within the Sydney metro area are:
Intercity trains like those to the Blue Mountains and up and down the coast
6 am – 8 am
4 pm – 6.30 pm
Off-peak travel is 30% cheaper when using an Opal card. Without an Opal card, you do not get any reduction and pay peak fares all the time.
Do Opal cards expire?
Yes, eventually they do; however, you have nine years to use the credit on your card.
Can you get a refund of your unused Opal Card balance?
You can only get a refund to an Australian bank account and it's not an easy process, so I would suggest using the app to monitor your balance and only top up when you need to.
If your Opal card is registered, you can also transfer the balance to another card.
If there is any credit left on the card, perhaps hand it to another traveller or local who I am sure would be happy to accept it!
Who can buy child and student discount tickets?
Sydney's public transport is free for children under four years of age. Kids aged 4-15 can buy a child's Opal card.
Full-time students aged 16 and over who are residents of Australia must apply for a student Opal via their educational institution.
If you are over 16 years and a student in another country you must still buy an adult ticket.
Access to Opal Gold cards for interstate seniors
Seniors from other states of Australia are eligible to apply for a Gold Opal card. Opal cards for Australian seniors or Centrelink pension concession holders are available. You can order your card in advance via the Opal website.

You can buy a Gold Opal over the counter at the Information Centres at Central and Circular Quay stations. Fill in the form and show them your Pensioner entitlement. You can find out more about Opal cards for seniors here.
Can international seniors get a Gold Opal card?
No, only Australia's are eligible for concession seniors Opal cards.
Can international students get a discount on public transport?
In New South Wales, international students are not entitled to a student concession on public transport unless they purchase a quarterly ticket through their institution. If you are found to be travelling with the wrong ticket, you will be fined $200.
**Some Opal Terminology
When working out how quickly you will earn your eight journey travel reward, the following definitions, taken directly from the Opal website, might help.
A trip is travel on one route, one mode (e.g. a single bus trip). When you transfer to another route or service, you are beginning a new trip.
A journey consists of one or more trips on eligible services where transfers between services occur within 60 minutes*.
A transfer occurs at the end of a single trip. It is a change of transport mode or route, to another service or route to continue a journey. Transfers made within a standard transfer time of 60 minutes* combine trips into a single journey.
*60 minutes applies to all services except the Sydney Ferries Manly service, where the standard transfer time is 130 minutes from the tap on.
How to tap on and off with your Opal Card.
Taping on is as simple as holding your card still over the sensor for a second or two. It's not so much of a quick physical tap and a hold and remove. The light will go green, and you will hear a beep when it works. Do not swipe. If you forget to tap off, you will be charged the maximum fare for that journey. You can call Opal and let them know, and they will usually reverse this charge.
Now you have sorted all that out, why not explore Sydney by public transport? I have written several articles to help you find some great ways to use your card. For starters, here are some of the most popular ones.
Now you have mastered Opal it's time to learn more about the options using Sydney Public Transport
Check out these articles that highlight ways to explore Sydney using our fabulous public transit network.

About the author: Paula Morgan, a born-and-bred Sydney resident, has been sharing this city and its secret spots for over 15 years. She's not just about the iconic landmarks; she's all about the hidden alleys adorned with street art, and the joy of discovering a new café or a fabulous restaurant tucked away in a corner you never knew existed and weekends away exploring regional NSW.