15 Tips for Backpacking in Sydney
We asked some travel writers to share their best tips about backpacking in Sydney. Below, they have covered the best hostels and a bunch of cheap but fabulous things to do in Sydney. We hope these tips will help you save some money and have a great time on your trip.
This page contains affiliate links. You can find our full disclosure policy here.
Some basics for backpacking in Sydney
Backpacker Costs in Sydney
Sydney is well known for being one of the more expensive cities to visit, so it is good to have a basic idea of the costs before you arrive so you can sort out your budget.
Cost of a dorm room: $28-$35 per night
Airport transfer: Train $18, bus hack $8
Weekly transport (Opal card): $30-60 depending on where you stay in Sydney
Cheap meals: Coffee and toast: $6, Asian lunchbox: $8-10, Pub dinner: $15
Beers: Happy hour $5 regular pub price: $8-9
Ideally, you will have at least $60 a day to get by in Sydney, and a fun stay will cost you closer to $100 or more. Many longer staying travellers move from hostels to share accommodation quickly to keep costs down.
Visas for visiting Sydney
Unless you are a kiwi cousin, you will need a visa to visit Sydney.
Visitor visas
There are a few options, but the main ones for short-term visitors are the e-visitor for EU citizens and the Electronic Travel Authority (ETA) for other nationalities. Both allow stays of up to 90 days.
If you wish to stay longer or are from a country not covered by the first two options, you can apply for a Standard Visitor Visa, which allows for stays of up to one year. You can access the list of eligible countries here.
I recommend you visit the Home Affairs website to determine which visa best suits your needs. There is no need to apply via an external agency, particularly if they have additional fees. Often your travel agent can help with an ETA or E-visa application. E-visitor and visitor visas are free; only the Electronic Travel Authority has a fee ($20).
Check out this list of 14 things to know before you backpack in Australia
Working Holiday visas

Some visitors aged 18-30 can apply for permission to work during their visit. If you hold a passport from one of the select countries listed, you can work for one year in Australia. Find more details and apply via the Home Affairs website.
So that's enough from us; what did our backpacking bloggers have to say about saving money on your trip to Sydney without missing out on the good stuff?
Money-saving tips for your trip to Sydney
Learn how to use Sydney's public transport caps
Nitha, who writes at The Trailing Mom, managed to get her head around the Opal system and public transport in Sydney and offers her advice.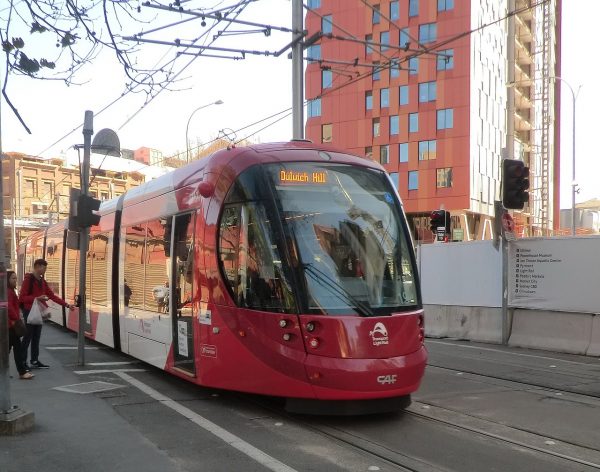 "Sydney is a popular destination for backpackers, and even though the living expenses in Sydney are on the higher side, backpacking is not uncommon here. With a little planning and understanding of the services available, you can cover Sydney's top attractions pretty easily by public transport.
Sydney's public transport system is well organised and user-friendly. It consists of trains, buses, ferries and light rail. Ticketing is by a smart system called Opal, which seems complicated by really is not. You can add value to your Opal card and then use it to tap on & tap off at any public transport in the network.
The Opal Card offers amazing travel benefits; the weekend travel cap is the most beneficial. On Friday, Saturday and Sunday, you have unlimited access to Sydney public transport services for a maximum of AUD 8.90 per person. That means you can comfortably travel all day on Sydney trains, buses, light rail and ferry services for just AUD8.90, which is an absolute bargain.
There are a bunch of fantastic day trip locations in Sydney that are entirely accessible via public transport, including the Blue Mountains, the South Coast towns of Wollongong and Kiama and even Newcastle 2 hours north."
We have several detailed articles that can help you navigate from Sydney Airport to the city, including advice for taking the airport train and details on that cheap airport transport hack we mentioned earlier.
Find the best spots for cheap drinks
We asked Sydney based blogger Holly from THATraveller to share her favourite local places for bargain drinks. Holly is based on the Northern Beaches when she is not exploring the world, so her tips are perfect for that day trip to Manly.
"Just along the shore from the ferry, Manly's Corso transforms into the perfect hub for nightlife on the beaches. From pubs to nightclubs to quaint eateries with cocktails to-die-for, there's something for everyone.

If you're like me, you love a good bargain – and if you're a backpacker, Manly is very kind to you. The Bavarian Bier Cafe on Manly Wharf lets you enjoy the best of Germany, a whole sausage menu and crispy beers. Mondays are the days for hospitality workers and those with working visas, so if you show your RSA card, you can get happy-hour prices all night!
For cocktail lovers, In Situ and The Hold are the perfect place for you. Located in its own little enclave from Manly Corso, the two along with Donny's Bar are rated some of the Northern Beaches best spots for specialised cocktails and live music; and even better, they have Happy Hour;
Donny's Bar- 2 for 1 Cocktails, $5 House Wine/Beer/Spirits
In Situ – $12 cocktails, $6 House Beer/Wine
The Hold – $5 Beer/Wine/Spirits and Tequila Tuesdays!
For a taste of local live bands, Henry's is one of the most well-known destinations for backpackers and regulars. Not only this, it's located on the top floor of the historic Hotel Steyne – Manly's largest and most renowned pub.
Now let's say you've had a good go of Happy Hour on the weekend, and it's time for a bit of dancing. Where to go? The Ivanhoe Hotel is the place to be if you don't mind a little bit of *pushin' and shovin'*, the lines can be long, but it's probably the most exclusive area around that's dedicated to having a dancefloor. Otherwise, Sugarlounge and its underground Brooklyn Bar give you a little mix of both worlds – did someone say Brazilian Night..?!"
If you fancy walking off some of those drinks, Holly has a great post on coastal walks that you should read. Also, check out her travels on Instagram – she takes a great pic!
Hunt down some cheap eats
Danielle from Live in 10 Countries has some helpful tips about making your food budget stretch a little further. She also has a great article on Working Holiday visas that may be helpful.
"One thing every backpacker agrees on in Sydney – 'great place, pricey though!' It's not that Sydney is very expensive as a city, but that you're likely on a tight daily budget for a trip and when you don't know a place, you often stumble into the most expensive options.
When it comes to food, you want to try some of what the locals eat and not splash out too many dollars. First, stop eating out for dinner and make it a lunch date instead – you'll get great lunchtime specials across the city especially nearing 2 pm when the office workers are back at work and the shops and cafes mark down the unsold meals. Hunter Connection near Wynyard Station is a little run down looking, but the food is cheap and tasty.
Paddy's Market near Central Station has a fresh food section that sells fruit and vegetables for much less than retail. You can grab considerable discounts in the early afternoon.
Next, sniff out some great local Asian groceries; they are of great value and very popular with many people in Sydney. From snacks to fresh produce and easy meals to eat at home, these are the best places to shop.
In the evening, hit up Chinatown for their bargain food halls, Thai town for affordable takeaway, and suburban areas like Campsie, Cabramatta and Canley Vale for food and prices that will make you think you have been transported to Asia."
Take a free walking tour
Wendy from The Nomadic Vegan is a fan of free walking tours, as are we.
"Free tours run in Sydney every day, rain or shine, and if you join the "I'm Free" walking tour, you don't even need to book in advance. You can just turn up at the meeting point and look for the guide, wearing a bright green shirt.
This company offers tours of downtown Sydney that start from Town Hall Square daily at 10:30 am and 2:30 pm, which gives a good introduction to Sydney, as well as a tour of the Rocks district that start at 6 pm at Cadman's Cottage. The Rocks tour is an excellent way to learn more about the history of colonial Sydney.
Your guide will also be a great source of local info and can give you tips on where to find the best bars and restaurants in Sydney."
If you are vegan, I recommend you look at Wendy's list of the best Vegan dining options in Sydney on her website.
You might also like to check out our posts on Sydney Greeters, a volunteer organisation in Sydney that offers free 3 hour tours with a local.
Best things for Backpackers to do in Sydney
Don't miss Sydney's two scenic coastal tracks
Dave from Jones Around The World spent time in Sydney on a working holiday visa which gave him time to check out lots of great walks.
"Sydney is one of the best outdoorsy cities I've ever visited, and that's one of the main reasons that made me decide to live there when I was backpacking in Australia on a working holiday visa. While it is known for being a bit expensive, it's also loaded with tons of free and breathtaking outdoor activities.
My favourite – hiking along the unbelievably scenic coastal walks!
Whether you're only in Sydney for a couple of days or decide on staying several months as I did, I'd highly recommend the famous Bondi – Coogee coastal track, as well as the gorgeous Manly – Spit Bridge trek. Both are completely free activities and will have you absolutely fall in love with Sydney as a city."
Dave is right; our coastal walks are stunning. One of our favourites is the track from Taronga Wharf to Balmoral Beach; this walk hugs the harbour, and it's a nice contrast to the beach walks.
Seeing the Sydney NYE fireworks at Mrs Macquarie's Chair
Many backpackers arrive in Sydney just before New Year's Eve with no plans and no idea of the best free options. Alex Trembath from the blog Career Gappers went along to the NYE backpacker hotspots and shared his experience.
"There are many reasons why December is a great time for backpacking in Sydney, not least the opportunity to see the legendary New Year's Eve firework display. With over a million people competing for views around the harbour, however, finding a good free vantage point can be difficult.
We saw the display from Mrs Macquarie's Chair – which we'd heard was the best cheap spot – and we were not disappointed. The grassy peninsula juts out to the east of the harbour, offering a pristine view of the Opera House and bridge.
To secure a place, you need to get there early. We arrived shortly after 6 am, and within an hour, the queue was over 10,000 deep (the maximum capacity is 14,000). We spent most of the morning queue, but it was infinitely worth it for the spectacle later. Bring some games and a picnic, and you'll be fine! Don't try and bring drinks in, though, as they'll probably be confiscated.
At 9 pm there is a smaller firework display for families. Many people leave after that, so it's a lot less crowded by midnight. All that's left is to enjoy the main show." Read all of Alex's 16 tips for enjoying the Sydney fireworks show from this fabulous spot.
If you plan to be in town for NYE, you might also like to check out the 'mega list' of the best ways to celebrate NYE in Sydney. It covers everything free vantage points to dance parties, harbour cruises and big-budget splurges.
Explore Sydney's Inner Western Suburbs
Laura from Escapes Etc is in Sydney on a working holiday, which has given her plenty of time to get to know the place, and she wants you to go west!
"While Sydney's beautiful harbour may be the place to tick an iconic site off your bucket list, don't be afraid to delve into the suburbs. Sydney's Inner West is teeming with bars, boutiques, coffee and Aussie culture. If you're visiting on the weekend and are looking for some retail therapy, be sure to find some pre-loved treasures at the famous Glebe market.
If street art is more your thing, Newtown and Enmore are fantastic places to head. Wander along King Street for boutiques and quirky shops and duck down any side road for the street art. You'll also find a vast array of bars and cafes here, making it a great spot any time of the day."
If you want to take her advice and explore Newtown and Enmore, check out our
self-guided Inner West street art walk.
Take a good look at Glebe
Marijs from Rooftop Antics is another who loves the inner west.
"Where are the best suburbs for backpackers to set up camp in Sydney? Let me introduce you to Glebe.
Located in one of the inner west pockets, Glebe is a great neighbourhood to choose as a base for your Sydney exploration. This green pocket of Sydney is most famous for its markets, offering the best secondhand and artisan clothing of the city. But it has so much more! Locals love living in the suburbs because of its great selection of coffee and international and affordable cuisine.
Glebe Point Road is filled with high-quality food, and the best part? You can walk through the whole suburbs; no car is needed when you live in Glebe! You can even walk to Broadway, one of Sydney's best malls, and all the way into the CBD.
If you're being extra lazy and don't want to go for the prettiest stroll past the Fishmarket, you can take the light rail to Darling Harbour and Central. While the train might not be around the corner, the suburb is excellently connected with many direct buses straight to Coogee beach or the CBD.
My favourite part of Glebe? Blackwattle Bay! This beautiful park with a view of the city and the Anzac Bridge makes me feel lucky to visit Sydney. The perfect spot to round up everyone from the hostel and have a picnic. Did I mention the epic group of dogs that take their walks here?"
Follow her travels around Australia for more great tips.
Hit up some of Sydney's local Breweries
Alicia from Alicia Overseas hails from England but now calls Sydney home, when she is not backpacking the globe.
"Sydney is home to some of the most iconic landmarks in the world, the Opera House and Harbour Bridge. These famous sights may steal the limelight when it comes to visiting Sydney but, when searching for your next night out, why not go beyond the guidebook and explore a little further?
As backpackers who are very much over the nightclub and party scene, we tend to venture outside the box when looking for local nightlife. We usually find what we're looking for in a good brewery, and Sydney has plenty to choose from.
As native English folk and lovers of a good pint, we found our favourite Brewery on Manly Wharf. Knowing that the beer is flowing from the very pipes around you keeps breweries authentic and exciting. I'd recommend trying out these three in Sydney, 4 Pines Manly, All Hands Brewing House and Redoak. Sydney breweries are the go-to for a social night out filled with laughter and to taste some locally sourced beer too!"
You might also like to take a brewery tour and learn a bit about the beer styles in Oz before you get laughed out of the pub!
Save even more by doing our self guided Marrickville brewery walk.
Spend some time on a Harbour Island
Crystal from Castaway with Crystal suggests a visit to one of the harbour's most historic islands.
"Cockatoo Island is one of the best things to do in Sydney Harbour, hands down! The island has a long history and has been everything from an old Navy submarine workshop to jail, and now finally a tourist destination.
A gigantic original factory still stands and is often used for exhibitions and performances, while the area where the submarines and boats were pulled from the water can be seen as well. Be sure to take a walk past the in-ground silos and read about their fascinating history (hint: people died in them).
Take a self-guided tour of the old jail and walk through a mineshaft that runs through the small hill on the island.
You can even rent a tent and camp the night on the island for the night if you please!"
If you want more ideas, check out her post on romantic things to do in Sydney on a budget for some great advice.
Explore the Blue Mountains
Anna, who writes at 15 Tips for Backpacking in Sydney about her travels to over 37 countries, shares our love of the Blue Mountains and thinks that even solo travellers should head up to explore the area. 
"While you are in Sydney, don't miss out on the Blue Mountains. It is the national park area that expands west of Sydney. It is famously known for its dramatic scenery, massive forests, refreshing waterfalls, cliffs, and villages with guesthouses, galleries and gardens. Katoomba is the main town in the mountains and a good place to start exploring the region.
Following are the things you can solo or with others.
1. See the Three Sisters from Echo Point
2. Watch the sunsets from Cahill's Lookout
3. Go on a Scenic skyway for dramatic views
4. Go to Katoomba Falls
5. Explore the Blue Mountains Botanical Garden
6. Try out one of the cozy cafes for hot soup or drink (I recommend true to the bean)
For some more adventures, challenge yourself to hike/climb Lincoln's rock, Ruined Castle, or Hanging rock."
If you are heading south to Melbourne, I suggest you check out this post of her tips for seeing Melbourne's best sites. You can also follow her on Instagram.
We have a bunch of content on the site to help you follow some of Anna's tips. I suggest you start with How to plan a trip to the Blue Mountains.
Backpackers favourite places to stay in Sydney
Wake Up on Pitt Street
Bryony from Coasting Australia is an old hand at backpacking; in fact, these days, she also backpacks with her family in tow and has written a guide to the hostels for families.
"My absolute favourite backpackers to stay at in Sydney is Wake Up! The hostel is on Pitt Street, just a few minutes from Central Station, so easy to find and ideally located for all the attractions and entertainment in Sydney.
Wake Up! is a large hostel, so it has all the facilities you need, and everything is modern and super clean. One thing that makes it such a great hostel is the staff – everyone is so friendly, so it's brilliant if you're travelling alone and need to make friends and get local tips.
There is also one of Sydney's best backpacker bars in the basement – Side Bar, and free activities and events are happening every day and night. Bonus – all guests get free high-speed wifi!" I agree with her that Wake Up is a great spot to stay if you like large modern hostels with excellent facilities. It is also in the middle of Sydney's transport hub so getting around is a breeze.
Byrony has recently launched a website for vegan travellers that has a great list of vegan eats in Sydney that you might like to check out.
Sydney Capsule Hotel
Kylie from Between England and Iowa spent some time in a capsule hotel and decided they are perfect for those who want a little more privacy than a hostel!
"The Capsule Hotel in Sydney is an accommodation option halfway between a hostel and a budget hotel, located on George Street. For those used to sleeping in a hostel, the Capsule Hotel gives you an extra layer of privacy.
Each 'bunk' has a solid door (keycard access) and walls. There are multiple charging outlets and power points, lights, a small safe and a mirror. I loved the way I could chill out in my 'pod' with the lights on, without the worry of disturbing other people in the room.
I had somewhere private to change, and I could leave stuff on my bed without the fear of things going missing. The keycard also opened a large locker that matched the number on the capsule. There is plenty of space to store luggage, and the lockers come complete with a rail and clothes hangers!
The Capsule Hotel is still similar to a hostel in the sense that there is around 16 individual 'capsules' in a room, shared bathrooms and communal kitchen space. They are also not soundproof, so expect to still hear a little bit of talking, alarm clocks and noisy ladders!"
Read her full review of what it's like to stay in a capsule hotel or follow her on Instagram @englandandiowa
Sydney Harbour YHA
Dave from Jones Around the World suggests the YHA located in The Rocks is the go.
"If you're wondering where to stay in Sydney, my favourite hostel is the Sydney Harbour YHA – The Rocks. While it is a bit more expensive than your average dorm bed, the facilities are top-notch. The location is fantastic, and you simply can't beat the rooftop bar views overlooking the Opera House!"
I wholeheartedly agree with Dave on this; the YHA Sydney Harbour is my favourite hostel in Sydney too! Follow Dave on Instagram to check out more of his travels.
If you want budget accommodation but need a few nights away from the hostel crowds, check out our list of the best budget hotels in Sydney.
So there you go. Some of the best advice we could gather from our backpacking buddies. If you have a great tip, please leave us a comment.

About the author: Paula Morgan, a born-and-bred Sydney resident, has been sharing this city and its secret spots for over 15 years. She's not just about the iconic landmarks; she's all about the hidden alleys adorned with street art, and the joy of discovering a new café or a fabulous restaurant tucked away in a corner you never knew existed and weekends away exploring regional NSW.