How to Visit the Blue Mountains From Sydney
So you want to visit the Blue Mountains from Sydney but you can't decide if you need to book a guided tour or if you can do it alone using public transport or a rental car? Well, read on, we have all the info you need to make an informed decision and a bunch of pages to help you plan a perfect trip to the Three Sisters and beyond.
This page contains affiliate links. Please see our disclosure policy for more details.
How to plan your visit to the Blue Mountains
The Blue Mountains is a world heritage wilderness that begins 60km west of Sydney. Spending a day visiting the mountains makes a great addition to a Sydney itinerary.
There are many reasons you should go, but for starters:
The area is home to 400 different species of animals, 40 of them rare or threatened.
The vast wilderness covers over 11,400 km², and standing above it looking down is mind-blowing.
The mountains are not mountains, but a valley that was formed over 50 million years ago.
The mountains are the perfect distance from Sydney for a day trip, which will give you a taste of the region, but a full weekend is the ideal amount of time to experience the area.

Read on, and I will highlight the main sights and attractions you can cover in a quick visit: Wentworth Falls, Leura, Katoomba, and Blackheath. Hopefully, this will help you decide what type of visit is right for you.
First things first, why are the Blue Mountains blue?
Let's start with the most common question I get asked about these mountains and get it out of the way!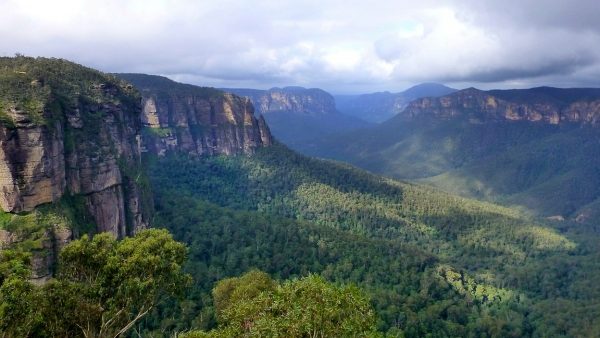 The mountains get their blue appearance and their name from the oil in the eucalyptus trees, which, when dispersed in the air, give off a blue hue. Science is not my forte, so I will not go into any detail on this. Instead, I suggest you check out the science behind the Blue of the Mountains here.
The best way to visit the Blue Mountains
There are three ways to visit the mountains:
Your first decision is, do you want to go it alone or take would you prefer a tour with an experienced guide?
There is no short supply of tours to the region, with prices starting from $75 and reaching several hundred dollars per person for private or longer tours.
The benefit of taking a Blue Mountains day tour
Blue Mountains day tours offer three major benefits:
A knowledgeable commentary along the way, someone to explain what you see and its significance.
A carefully selected itinerary – places that have been chosen to give you an overview of the region in a short time
Confidence to hike further into the bushland than you might alone
We have done extensive research on the day tours available to help you work out what to look for when choosing one to suit you.
The benefits of do-it-yourself day trips
If you are happy to go it alone, taking public transport or driving also has some advantages:
Visiting the Blue Mountains by train
The train from Central Station in Sydney takes approximately 2 hours to reach the mountains.
The return trip can be made using a variety of tickets. It is most economical to travel off-peak return (before 7 am or after 9 am on weekdays or all day Saturday) at $6.51 each way. If you leave Sydney between 7am, and 9am, tickets cost $9.31.
Tip: For the best views, make sure you sit on the left side of the top deck.
On weekends, you can make the trip for just $8.40 return. However, the trains will often be jam-packed, so consider that when deciding.
Local insight for the best train trip:
Go during the week for a less crowded experience.
If you don't mind paying the peak fare, there is an 8:50 am limited stops train that reaches Katoomba at 10:32 am. This is the first express train.
If you fancy an early start, there is a train around 7:23 am that will have you there at 9:20 am
Monday to Friday, the best trains to get are the 6:23, 6:53, 7:23, 8:18, 8:50, or the 9:18 am services.

More services head up to the mountains on weekends, and public holidays, but they can be crowded. The best options are the 6:24, 7:24, 7:54, 8:24am trains. Check for any changes to these times here.
Visiting the Blue Mountains by car
It is about a 1 hour 40 mins drive from the city in good traffic. You mainly travel via motorway although the last section can be quite slow. Sunday afternoon traffic can be terrible. Head up as early as you can to avoid the worst traffic and consider returning, leaving after 5 pm if you can for a quick run.
Check out our 3 itineraries for exploring the mountains by car
Planning your Blue Mountains itinerary
Which stops should you include in your visit to the Blue Mountains?
Katoomba, the main centre of the Blue Mountains, is approximately 120km west of Sydney city and takes approximately 1.5-2 hours to reach depending on traffic and your mode of transport.
The three main towns of interest to visitors on a day tour are:
Wentworth Falls – Great waterfall and the start of several good walking tracks
Leura – Picturesque village with lovely shops and cafes, access to stunning lookouts and HOHO bus stops
Katoomba – Main town centre in the mountains. The starting point of the HOHO bus, home to the Three Sisters, a number of hotels, shops and restaurants.
If you have time to make a weekend of it, I would add
Blackheath – Excellent walks, the stunning Pulpit Rock lookout, the fabulous Victory Antique Centre and the Rhododendron Garden
Mount Victoria – The beautiful sunset rock lookout
Mt Tomah Botanic Gardens – Gorgeous gardens set with a Blue Mountain backdrop – while these sustained some damage in the December 2020 bushfire, they are open for business and well worth a visit.
I have put together some itineraries to help you make the most of your time in the mountains.
If you are taking the train to Katoomba:
If you are planning to drive
What is the best way to get around in the Blue Mountains?
If you are heading up by train, it makes sense to pick up the hop on hop off service for seamless exploring of the mountains more accessible. 
You can get to most of the attractions by public buses (route 686 is a loop from Katoomba Station to Scenic World via Echo Point), but it requires a bit more effort to make sure you can find the stops and bus routes you need.
The mountains HOHO is called the Blue Mountains Explorer Bus and has 37 stops. It is an excellent service and covers all the main areas in both Katoomba and Leura.

There are a couple of ticket options; the basic ticket is valid for one day and costs $55. There is also a ticket that includes Scenic World. Your ticket can be extended to three days for free; just ask when boarding. They also let kids ride free!

I am not always a fan of HOHO buses, but this one is excellent. The drivers give great live commentary. They seem to go above and beyond what you would expect, giving passengers a few minutes at some of the smaller stops to grab a pic and get back on the bus rather than having to leave the bus and wait for the next coach in places that you don't need to spend much time exploring.
When is the best time to visit the Mountains?
The Blue Mountain region can be visited year-round. The temperatures are a little more extreme than Sydney and range from a daytime average of 16°C (60F) in winter and 29°C (84F) in summer.
The area hosts several big festivals which can push accommodation prices and crowds up but are also a lot of fun to join in.
The key events are:
The Blue Mountains Music Festival in March
The Winter Magic Festival in June
Christmas in July
Leura Garden Festival in October
You can check the region's festival calendar here.
How long do you need to explore the Blue Mountains?
You can get a good taste of the Blue Mountains in a day, albeit a rather long one if you are coming from Sydney, but if you are here on an extended visit, an overnight stay will reward you with some fantastic views and great memories.
If you have the time to stay longer, check out our Blue Mountains accommodation guide for our favourite places to stay

Keen bushwalkers can easily find enough to do here to stay for a week! For me, a 2 or 3-day visit is ideal, but if you don't have the luxury of time, then one day is still a great option.
The top Blue Mountains attractions
There are so many things to do in the mountains that we made a separate list but the main attractions you might want to cover in your day trip are listed here.
The Three Sisters – the number one attraction in the Blue Mountains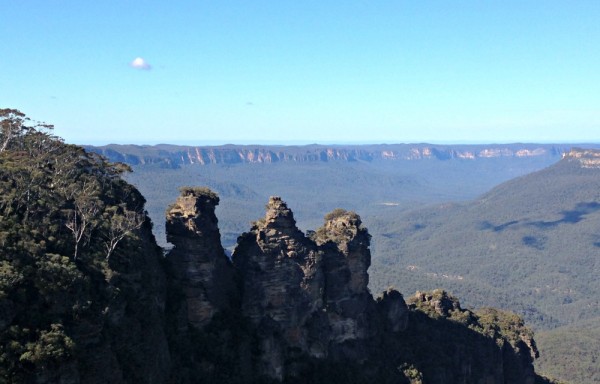 The Three Sisters, the iconic group of sandstone rocks at Echo Point, are a short ride or even a walk from Katoomba train station. They are the area's most visited attraction. Busloads of tourists flock here each day on day tours from the city, and it can get a little crowded sometimes, but it's still well worth a visit.

The 'sisters' are floodlit from dark until 10.30pm each night. They look equally amazing no matter what time you visit, and even a foggy day can provide a great photo of the rocks piercing the fog.

If you have a car, check out the alternative view of them from Eagle Hawk Lookout – same magnificent view with no tour buses in sight; the HOHO bus also stops near here.

Why are they called the Three Sisters anyway?
The rock formation gets its name from a Dreamtime legend that says the rocks were three young sisters whose father turned them to stone while he fought an angry bunyip. He lost the fight, and the girls were forever stuck in the rock. Well, that is the version I was told on my indigenous tour of the mountains years ago. Other stories are floating around, and some controversy over which is correct. Check it out on Wikipedia.
Wentworth Falls
There are numerous waterfalls in the Blue Mountains, but my favourite – and among the easiest to reach without a car is Wentworth Falls. There is a track called Darwin's Walk (after Charles Darwin) that begins at Wentworth Falls station and ends at the falls. It takes a little under 2 hours to complete and is a pretty simple walk.

If you want to swim at the bottom of the falls, the Wentworth Pass track will be the best one to follow. If you decide to eat in the area, the Conservation Hut offers good food with magnificent views. There have recently been some landslides in this area, so check the Blue Mountains National Park website before planning any walk in this part of the park.
Scenic World – The Katoomba Scenic Railway, Cableway and Skyway
Almost everyone who heads to the Mountains ends up at Scenic World; it is the most popular man-made attraction here. The Scenic World complex is home to three experiences:
The Scenic Railway – Ride the railway with the steepest incline in the world. The railway built to bring coal from the Katoomba coal mine on the valley floor. The mine only operated for 21 years. Today, this track, which travels 405 metres on an incline of 52 degrees to the top of the mountain, is used to transport visitors to the boardwalk below.
The Scenic Skyway – The skyway travels 720 metres across the Jamison Valley, providing incredible views of the Three Sisters and Katoomba Falls. The glass floor allows views of the valley below.
The Scenic Cableway – The cable car, the steepest aerial cable car in the southern hemisphere, descends 545 meters to the bottom of the Jamison Valley. Once you alight, follow the 3km scenic walkway through the rainforest. At the end, join the Scenic Railway for the ride back to the top. Wheelchair users can ride the cableway and travel the first part of the boardwalk.
The queues here can be pretty long mid-morning when the tour buses arrive, so I suggest heading here first-up or later in the afternoon.
If you are travelling in the peak season (summer), it's a good idea to pre-purchase your entry tickets. You can combine this with the HOHO bus to make things reasonably seamless.
Katoomba Town Centre and Street Art Walk
The first stately homes were built in the mountains in the 1870s. Katoomba was developed in the early 1900s as a mountain resort area and quickly became popular with Sydneysiders wanting to relax in a colder climate. The district took off in the 1920-1930s, resulting in many art déco styled buildings.
Katoomba main street is a pleasant spot to stop for lunch with some excellent examples of Art déco and Art nouveau architecture to explore.
What to see in Katoomba
Champagne Charlies – The cocktail bar in the Carrington Hotel
Katoomba Street Art Murals
Blue Mountains Cultural Centre – museum, gallery and excellent gift shop
Where to eat in Katoomba
Elephant Bean Cafe – We have always enjoyed the coffee here
Hominy Bakery – delicious pies and pastries
Bootlegger Bar – great cocktails and burgers
Katoomba is not as popular with day tour visitors but it's got a lot to offer and is worth a stop.
Leura Village – Old World Charm in Bucket loads
Leura village, located between Wentworth Falls and Katoomba, is a postcard-pretty village with beautiful gardens, a high street of quaint shops, and a variety of cafes and restaurants.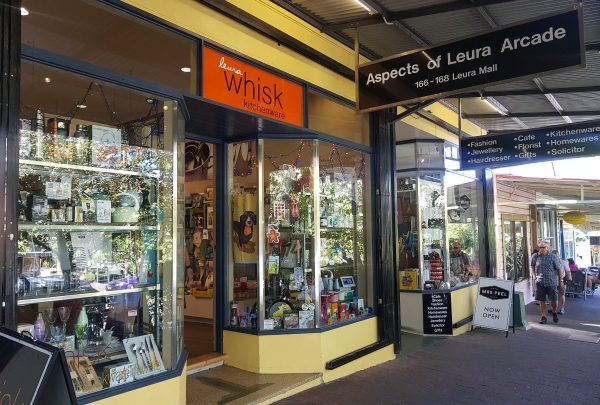 What to see in Leura
Sublime Point Lookout – Leura is the closest town to Sublime Point, that is, just as its name says, sublime!
Leura Cascades – a lovely picnic ground and a beautiful short walk to the cascading water
Garden lovers should try to time their visit with the annual Garden Festival held each Oct/Nov.
Everglades Historic Home and Garden – Tour this beautiful art deco house and garden
Gordon Falls Lookout – This waterfall plunges over a 200m drop, and the lookout has great views of Kings Tableland
Bygone Beauties – Check out the world's most extensive teapot collection while enjoying afternoon tea.
Leurella Toy and Railway Museum – Largest toy collection in the southern hemisphere
The Country Women's Association market stalls are a great place to pick up some homemade goodies if your visit coincides with their weekly market.
Where to eat in Leura
Solitary Restaurant – There has been a cafe on this site since 1913. These days you can either grab an all-day breakfast in the garden or dine in the restaurant — great views.
The Bunker – cafe and restaurant with a beautiful garden
Josophan's Chocolate – An experience for your eyes and your taste buds, we always stop off here for a little treat.
Blackheath – Gardens, antiques and that valley view
Blackheath is one of the last train stops in the Blue Mountains proper. The town centre by the station has quite a lot to offer with lovely cafes, galleries and the fabulous Victory Theatre Antiques Centre. It is also home to the famous Rhododendron Gardens.
If you are only in the mountains for a day, you will have to choose between Wentworth Falls and Blackheath as there is not enough time for both. I suggest taking the train directly to Blackheath if you intend to visit.

From the station, it's a 3km walk to Govert's Leap Lookout, and from here, you can take the track to Evans Lookout. This is a medium grade 3-hour walk. You would need to take a taxi or rideshare back to Medlow Bath or Katoomba Station.
Check our list of Fifty+ things to do in the Blue Mountains for more ideas to fill your itinerary
Which Blue Mountains bushwalk should you do?
Even if you have limited time, you should take at least one short walk. You don't have to be superfit to walk here; there are walks to suit all levels of ability.
Walks that start at the Three Sisters Lookout
Three Sisters Path (Moderate) – Start Echo Point – 1.1 km return; this is an easy 45-minute walk. You can choose to climb down 123 steps and across a bridge to the inside of the Three Sisters. On completion, you recover your steps. Full details here.
Echo Point to Leura Cascades (Moderate) – This walk is a little over 3km and takes about 1 hour 45 mins. It brings in Prince Henry Cliff walk about and also passes Honeymoon Lookout. There is a map with full instructions on the Wildwalks website.
Do you choose 1000 or 800 step staircase down to the valley floor below?
Echo Point to Scenic World via Furber Steps (Moderate) – The Furber steps are a little longer, but I think perhaps a little more comfortable. Several lookouts run off the walk, don't miss Juliet's Balcony! Once at the bottom of the steps, you can catch the scenic railway back up to the top. I have done this walk, and it's not that hard. I would rate it medium difficulty; make sure you wear sturdy shoes.
The Giant Stairway – This track takes you out and on to the three sisters themselves. You make your way down the stairs to the bottom of the valley and the Scenic railway. This walk is not suitable for anyone who is not fit. There are full details on Wildwalks' guide to the Giant Stairway walk. It takes about 20-30 minutes to descend.
Walks starting at Scenic World
Katoomba Falls walk (Easy) – This 4km walk begins at Scenic World and takes about 2 hours. You can also start from the Katoomba Falls Kiosk, which saves you some time.
Prince Henry Cliff Walk (Easy) – If you begin at Scenic World – this 7 km walk takes about almost 3-4 hours depending on how often you stop, but it is well worth it. The walk features three waterfalls and more than a dozen lookouts over the Jamison Valley. You can also begin at Echo Point to save some time and energy. More details here
We have shared a dozen easy Blue Mountains walks here
Where to stay in the Blue Mountains overnight
You can do the Blue Mountains in a day, but it's even better when you take your time
If you plan to stay overnight in the mountains, choosing which pretty village to stay in can be hard. If you do not have a car, then I would recommend Katoomba or Leura. There are lots of shops and restaurants, and the hop-on services stop here.

If you are on a budget, Katoomba is the better option. The food is generally cheaper here, and it's also home to a great Youth Hostel (YHA).

Leura is lovely if you are looking for an upmarket getaway. The town is very quaint, has beautiful old homes with lovely gardens, and there is enough to do to keep you busy if you need to be, even without a car.
There are also some great pubs or and houses further up the mountains in Blackheath if you are making the trip by car.
The Stunning Hydro Majestic
Guest Rating: 8.7/10 | Location: Medlow Bath | View on Booking.com
The Heritage-listed Hydro Majestic is one of the iconic buildings of the mountains with an exciting past. The hotel, built by department store mogul Mark Foy, opened in 1904 and was made in a mix of Edwardian and Art déco styles and includes a domed roof brought in from Chicago.
During World War 2, the hotel was turned into a hospital for US Soldiers. It also played host to Sir Arthur Conan Doyle, saw a performance by Opera Singer Dame Nellie Melba and sadly the death of the country's first Prime Minister.
The hotel has been beautifully restored and has some of the finest views in the mountains. An art déco lover's paradise, it has a fascinating history and even if you can't stay the night, you can pop in for a drink, meal or high tea.
Echoes Boutique Hotel in Katoomba
Guest Rating: 8.4/10 | Location: Katoomba | View on Booking.com
The views over the mountains from this hotel win me every time. We are partial to boutique hotels because we love the friendly feeling they offer. Echoes is perched on the cliff top over looking the valley at Katoomba and has what has to be one of the best views in the area.
With just 14 rooms and helpful, warm staff Echoes do this well. The rooms here are more spacious than many of the older properties, and the facilities are excellent. I would stay here again in a heartbeat.

The Carrington Hotel in Katoomba
Guest Rating: 8.5/10 | Location: Katoomba | View on Booking.com
The Carrington has been an important stop in the Blue Mountains since opening in 1883. This was where wealthy Sydneysiders came to escape the heat of summer.
It was one of the finest hotels in the country and operated for a century before it closed for a long-overdue restoration.

A stay here is like stepping back in time and it's easy to imagine life 100 years ago. It's well located for travellers arriving by train with the station just minutes away and the bus stops directly outside.
Fairmont Resort and Spa Blue Mountains MGallery by Sofitel
Guest Rating: 8.5/10 | Location: Leura | View on Booking.com
A much-loved option for both its facilities and stunning location on the edge of the Jamison Valley. If you prefer resort-style accommodation to smaller old-world properties, you will love the Fairmont.
With hiking trails on the hotel doorstep and two swimming pools, a fitness centre, an ice skating rink, a day spa and a tennis court you will find plenty to fill your days while staying here.
The hotel is pet and family-friendly, with 200 rooms of varying styles. Kids can choose from three children's games rooms.

There are five on-site restaurants for when you don't feel like heading out to one of the nearby villages for dinner.
Blue Mountains YHA
Guest Rating: 8.3/10 | Location: Katoomba | View on Booking.com
If funds are tight, you can get great bang for your buck at the well-located Blue Mountains YHA. It is a great budget choice, with a variety of rooms within walking distance of the station and shops for supplies.
Facilities include a pool table, a giant outdoor chess set and a large communal kitchen. The large open fireplace in the common room is a perfect spot to warm up after a long walk on a cold winter's day.

The hostel has 200 beds and both dorms and private rooms. They have also recently opened a coworking space that is really comfortable and open to outside users and guests.
Check our in-depth guide to where to stay in the Blue Mountains to help you choose the best village for your visit.
Stay safe in the mountains
While Australia has a reputation for dangerous creatures, the Blue Mountains is a safe destination and fine for solo travellers.
Just follow some basic safety rules:
Check the weather report and bushfire risk
Do not walk alone unless you are on really busy tracks like the Prince Henry Cliff Walk
If you are doing an overnight walk, tell some when you expect to return
Always take enough water and food with you – an extra muesli bar or two is good!
Pack a warm jacket just in case.
You can register your walk with the National Parks and Wildlife service offices in Wentworth Falls, Katoomba or Blackheath.
Want more Blue Mountains ideas? Check these articles

About the author: Paula Morgan, a born-and-bred Sydney resident, has been sharing this city and its secret spots for over 15 years. She's not just about the iconic landmarks; she's all about the hidden alleys adorned with street art, and the joy of discovering a new café or a fabulous restaurant tucked away in a corner you never knew existed.

Whether you're a first-time visitor or a seasoned local, her articles have that special touch that can only come from someone who truly knows and loves their city. She's your go-to source for all things Sydney and the Blue Mountains.
Need more ideas? Join our Sydney Expert Facebook Group where you can ask questions, stay updated with what's happening and meet a bunch of friendly locals just waiting to share their advice!