AN Easy Blue Mountains Drive- 3 road Trip Itineraries
Heading off on a Blue Mountains Drive? Are planning a Blue Mountains road trip but not sure where to begin? We have created three easy to follow Blue Mountains driving itineraries to help you plan the percect day visiting the Blue Mountains by car. Whether you fancy a bit of hiking, are a keen photography or are travelling with kids we have an itinerary to suit below.
This page contains affiliate links. Please see our full disclosure for more details.
How to Plan a Blue Mountains road trip Itinerary
Just like our one-day train itineraries, we have created three self-drive itineraries to help you have a perfect day in the Blue Mountains.
Itinerary 1 – Hit as many sites as you can in one day (limited walking) and lots of photography
Itinerary 2 – Fit in a couple of long bushwalks
Itinerary 3 – Suitable for mobility impaired, the elderly or families with younger kids.
As you can see, there is something for everyone here but before you skip to your preferred itinerary, let's cover some of the basics about taking the drive to the mountains.
General advice for driving to the Blue Mountains
Leave Sydney as early as you can and join the motorway towards Penrith. To reach the motorway, follow Parramatta Road to Strathfield and then take the M4, which will eventually join the Great Western Highway at past Penrith.

If you don't already have a car, we recommend Bayswater rentals in Kings Cross or check the options on Vroom Vroom who generally have good pricing.
Do you have to pay road tolls on your Blue Mountains Drive?
Using a rental car? This road includes tolls, so if you don't have an e-tag, ask your rental company if they supply them. If not, use this toll calculator and download this app so you pay your tolls online as you go.
Be sure to pay your toll within three days because they add charges to your original toll, and it can become costly.
Maps and guides for driving and visiting the mountains
If you don't have a data plan on your phone, you might like to stop at the visitors' centre at Glenbrook just as you reach the mountains in Glenbrook to pick up some maps and local information.
Itinerary One – Exploring the Blue Mountains with your camera
This itinerary is focused on capturing those classic Blue Mountains photos without too much time spent walking on trails. Of course, ideally, you would spend a weekend in the mountains to allow a Blue Mountains sunrise and sunset, in your shot list but if you are limited to one day let's make the most of it!

We will cover four of the most popular Blue Mountains towns in this itinerary:
Wentworth Falls
Leura
Katoomba
Blackheath
Wentworth Falls
The first stop of the morning is the charming village of Wentworth Falls. Leave the Great Western Highway and turn left onto Falls Road. If you need any refreshments at this stage, there are several cafes by the train station which is on your right as you are heading along the highway before Falls Road.

If you're someone who loves to shoot flowing water, then you will probably want to spend a couple of hours here. Along with the well known Wentworth Falls themselves, the area also has a few other gems especially the aptly named Valley of the Waters track.
There are two main parking spots in this part of the park,
Wentworth Falls Car Park – for viewing Wentworth Falls
Conservation Hut Car Park – for seeing the waterfalls along the Valley of the Waters Track and the cafe.
While you see the top of the falls from Wentworth Falls lookout and the nearby Fletchers Lookout, you need to venture further to see the full beauty of the falls.

The Princes Rock lookout is your best bet for getting a good shot without expending too much energy. It is an easy 1.8 km return walk that offers a full view of the 3-drop, 187m falling into the valley below if you are lucky enough to be visiting after heavy rain, you will hear them well before you see them.
Find more details of the tracks and plan your walk here
The other special walk here is the Valley of the Waters track which will have you walking into a deep gorge and past two small but striking waterfalls along the way.
The track is only 1.5km long but takes about 1.5 hours to walk. It's graded as hard, but I think that relates to the number of steps rather than anything else. You should have nothing to worry about if you are reasonably fit. It can be quite wet underfoot along this track so do wear shoes with a decent grip and make sure you keep your camera gear well protected when you are not shooting.
Leura
The next village along the highway is the pretty town of Leura; many would say it is the most beautiful in the mountains. Along with a bunch of very impressive lookouts that can be easily reached from the car parks, Leura is home to some fabulous cafes and food stores. Consider stopping here for a spell because face it, you will need to put your camera down at some point to eat and there are good choices here!
But first, let's check out the lookouts. The main ones in Leura are:
Sublime Point
Gordon Falls Lookout
Elysian Rock (2 lookouts connected by a bridge)
Next, come the walks, our favourites are:
Lyrebird Dell and the Pool of Siloam
If you have spent a lot of time at Wentworth Falls, you might need to pick just a couple. I am partial to Sublime Point Lookout and love the Pool of Siloam walk.
Leura Cascades is very popular and a well-shaded spot to practice taking flowing water images; however, parts of the area are still closed due to landslides. Check out this blog post that showcases so many of the pretty waterfalls in Leura.

Tip: If you are here on an overnight visit, then Sublime point is another excellent sunrise lookout. A bonus is that you do not have to hike far in the dark to get to the lookout.
Katoomba
We have finally reached the main town in the mountains and home to the best-known sights in the region, the Three Sisters and Scenic World. Most tours spend the bulk of their time in the mountains in this area, and while it's a beautiful spot, there are so many other places that are equally as beautiful and attract far few people so we will limit our time here a little to allow us time to explore Blackheath this afternoon.
If you are into street art, make a detour to Beverley Place just behind the main street of Katoomba for a quick look – this laneway full of murals.
If hunger strikes look for Hominy Bakery at 185 Katoomba Street. They offer delicious pies and usually have at least two vegetarian options.

Parking can be hard to find here, one hour is $4, so consider parking a little down the way and walking along Katoomba Street to Echo Point to save some stress and money.
There are two lookouts at Echo Point for viewing the Three Sisters. The lower lookout is less crowded, so it's worth checking out both.

It's also cool to walk out onto the Sisters via Honeymoon Bridge and shoot the rock formation from some less common angles. If you want to do this, it might be better to pay for metered parking at Echo Point to save time as this is also a 30 min return walk.
Once you are done here jump back in the car and make your way past Scenic World to the other side of the Three Sisters. If you need a bathroom stop, there are toilets in the Scenic World car park.

Next stop is the reverse view of the Three Sisters seen from Eagle Hawk Lookout. This spot rarely attracts a crowd.
We will now begin to head back to the Great Western Highway for the drive to Blackheath
Along the way, you will pass
Landslide Lookout
Narrowneck Lookout
Cahill Lookout
If you have enough time, you might want to stop at one of these. All are visible from the road, and no walking is required.
Related: Here are fifty more things to do in the Blue Mountains
Blackheath
Spend the afternoon in Blackheath and one of my favourite spots, Govetts Leap, which overlooks the Grose Valley.

While I feel this area is best photographed at sunrise, the colours are lovely in the late afternoon too. In the middle of the day, the light is usually too harsh.

There are more than a few great spots here for photography. Check out these lookouts – none of them requires much walking to reach the vantage points.
Evans Lookout
Valley View Lookout
Govetts Leap (and the waterfall) – best shot as early in the day as possible
Pulpit Rock (500m walk) – An almost 360˚ panorama across the dramatic cliff lines to Mount Banks
Anvil Rock Lookout – dirt road access but suitable for most cars, usually no one else around
Want to stay a while – Check out this cottage in Blackheath we loved.
Also in Blackheath is the Rhododendron Garden (best in early Spring) and the fabulous Victory Antique Centre.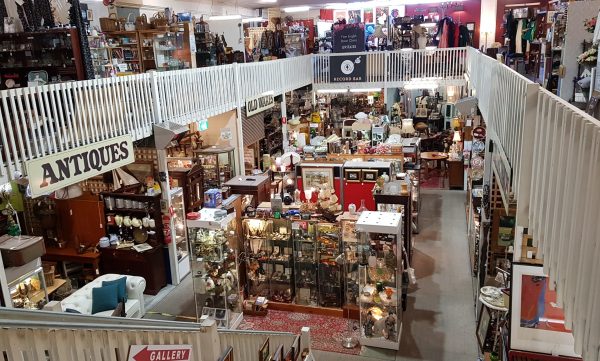 If you need coffee at this point, I suggest either Anonymous or the General Store on the Great Western Highway opposite the train station.

Now head back onto the highway and retrace your steps home. On the way, you could drop into
Lincoln Rock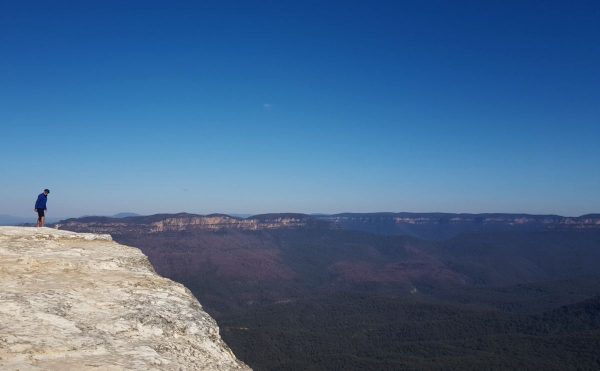 Also known as Flat Rock, this is a popular sunset spot to stop on your way back down the mountain. Lincoln's rock looks out over the King's Tableland and Jamison Valley. Check this Google map for the location. Please be very careful here as the area is not fenced.
Get more Blue Mountains photography ideas here
If like us, you are tempted to stay overnight and catch both the night sky and a Blue Mountains sunrise, then you might like to check out our Blue Mountains accommodation reviews for ideas.
Itinerary Two – Blue Mountains Drive with lots of bushwalking.
Two areas that offer fantastic walks but are not well served by public transports are Wentworth Falls and Blackheath. Both of these towns have train stations but reaching the walking tracks adds a few extra km walks, so these are best suited to driving trips.

You can choose between these two towns if you want to do a long walk or do two half-day walks, one in each place.
Wentworth Falls for bushwalkers
The first stop on the way up the highway, Wentworth Falls is a 3 level waterfall dropping 187 metres into the stunning Jamison Valley. To view the top of the falls, take the short walk to Princes Lookout.

Several tracks in this area are closed indefinitely after a series rock slide that resulted in a fatality of a worker who was checking track safety. The tracks need significant upgrading before they can reopen. Take a look at the National Parks page for Wentworth Falls area for the latest advice.
Option 1. Valley of the Waters
This relatively short track is not an easy one (Grade 4), but it features two beautiful waterfalls that make it worth the effort. It covers 1.5km return, and the suggested time to complete is 1.5 hours, but if you are anything like us wanted to stop and take photos or enjoy the views it can easily take 2 hours.
Highlights
Syliva Falls
Empress Falls
You can extend this walk to another waterfall, Vera Falls; doing this will add 2.5km to the walk and another couple of hours. The additional section is a Grade 5 walk. I would only recommend doing this if you are well prepared and have good hiking shoes and are used to being in the bush.

It is a good idea to lodge an intention form at the office before you begin so you can be found in case of any mishaps. Have I put you off yet? If you are not experienced that is my intention 😉
Option 2 – Walk to the Base of Wentworth Falls
The most popular walk at Wentworth Falls is to take the track to see the full view of the falls or even head to the base of the falls. Instructions online vary about the best way to do this. Make sure you are using information that is relatively recent as there are often closures due to maintenance. Check the official NPWS website for current warnings and advice.
The walk to the falls starts from the main car park and follow signs to the Wentworth Falls Lookout. This path takes you over the top of the falls. Keep your eyes out for the Fletchers Lookout signs and turn left when you reach this lookout.
Shortly after this, the stairs begin. You will find going down relatively easy provided you have the right footwear. The stairs will take you to the top of the falls. Keep walking past the top of the falls and head uphill. Take the turnoff marked "Slack stairs" which via even more stairs takes to the bottom of Wentworth Falls swimming hole.

There are some very steep metal ladders here; this might seem like the hardest part of the walk but remember you have to come back up them later thanks to the various track closures 😉
After you complete the three metal staircases, walk a little over half a km, and you will come to the base of the falls where you can reward yourself with a swim or some selfies.
The good thing about the staircases in the second section of this walk is that they deter many people from making the trip to the bottom of the fall so you can often have the place to yourself.
Check out the full range of Wentworth Falls walks if you are keen to explore this area.
Blackheath for bushwalkers
There are so many special walks here that we decided recently to stay for two nights and make a weekend of it, but if you only have one day, you will need to make some choices. I have listed all the lookouts here above in Itinerary 1 so any that you miss on your walk you could swing by on the way home.
Option 1. Grand Canyon Loop Track
Our favourite walk in the Blue Mountains is the Grand Canyon Walk which is a 6km, 3.5-hour medium grade walk that offers a great variety of landscapes. This track opened over 100 years ago and was the first track in the Blue Mountains. We would suggest driving straight here and starting this walk nice and early. If you need a coffee before you begin then check out Synonymous at Medlow Bath or Anonymous at Blackheath.

We usually begin this walk at Evans Lookout, but there are a couple of other parking spots nearby if you have trouble parking here. Neate's Glen car park is also a popular starting point.
Option 2. Cliff Top Track
Update: March 2020 – This walk is currently closed – check the NPWS site for updates
Clifftop Walk is an easy trail if you have already given your legs a workout in the morning. This 6km track will take you about 3 and a half hours and provides more gorgeous lookouts. The only downside here is that it's a one-way walk so best done if you are travelling with others and have two cars.
Check out the full range of Blackheath walks they range in difficulty from grade 2 to grade 6, so there is something for everyone. Before you begin to walk on one of the longer tracks, visit the Blue Mountains Heritage Centre, in Blackheath and lodge a trip intention form that will let them know you are walking in the park today. If you run into trouble and contact the authorities, they will have a good idea of where to start looking for you 🙂
If you are unsure of walking alone, then look at this option for a guided walk here with Tread Lightly Ecotours. We love visiting Blackheath, it's a perfect spot for an extended stay and generally away from the tourist trail.

AND if it all sounds a bit too much like work you might want to consider our guide to the best tours of the Blue Mountains and let someone else worry about the logistics 😉
Itinerary Three – Exploring with kids or anyne whose mobility is impaired
In recent years several tracks and lookouts in the mountains region have been made wheelchair accessible. It is easy to plan a day that will allow everyone from babies in prams to the elderly, walkers carrying injuries or wheelchair users to appreciate the beauty of the mountains region. I discovered most of these while nursing a torn calf muscle.
Wentworth Falls
There are two wheelchair accessible lookouts here that are easily reached along a paved footpath
Jamison Lookout
Wentworth Lookout
Sadly there is no way to see Wentworth Falls themselves from these two spots, but the views of the valley are lovely.
A short drive will get you to Conservation Hut. This cafe has lovely views and is wheelchair accessible however the service can be a bit hit or miss. Great for a quick snack but I would probably not choose it for a meal.
Katoomba
While the Three Sisters at Echo Point are the key attraction, Katoomba has several other viewpoints that can be seen almost from the road or with minimal walking. Let's get the Sisters out of the way straight up 🙂
Echo Point
Once you are back on the road head to Echo Point for a quick stop at the Three Sisters Lookout. There is an accessible walk down to the Three Sisters themselves but it's very steep back up and hard work for anyone with mobility problems or wheelchair users without assistance.
I recommend sticking to the main lookout here and waiting until our next stop for your bushwalk experience. You can read a review of this walk by a wheelchair user here. Paid parking is $4 an hour; there is also an accessible toilet near the Visitors Centre.
As you leave Echo Point head left along Echo Point Road and then follow signs to Cliff Drive.
Katoomba Falls Park to Cliff View Lookout
This short 20-minute walk might only cover 550m, but you will be rewarded with views of Mount Solitary and the Scenic Skyway in action. The Skyway is wheelchair accessible should you wish to give it a go.
Continue on Cliff Drive to view Narrowneck and Cahills Lookout before heading back to the Great Western Highway. These offer lovely views over the Jamison Valley and the Megalong Valley. There is a couple of picnic tables at Narrowneck, and it's a nice place to stop for a picnic if the weather is not too warm.
Medlow Bath and the Hydro Majestic Hotel
Along the Great Western Highway en route to Blackheath, you will pass a large white building that looks like it's clinging to the cliff wall. This is the Hydro Majestic, a 100 years old hotel that was restored to its former glory in a 30-million dollar makeover in 2014.
The Hydro Majestic Hotel is one of the most loved properties in the region and I highly recommend making a detour for a meal or a snack.

The grand art deco hotel offers westward views overlooking the Megalong Valley. There are several dining options here from the casual Boiler House with burgers and steaks to the high teas on offer in the Wintergarden with its glorious picture windows.
The Hydro also has a lovely shop if you are looking for locally made and sourced souvenirs or would just like a quick cup of coffee and cake.
Head back out onto the Great Western Highway and follow the signs to Blackheath. At the shopping centre turn right and drive to the end of Govetts Leap Road.
Thinking about extending your stay? Check out our guide on where to stay in the Blue Mountains for ideas
Blackheath
At Blackheath detour down Govetts Leap Rd (turn left at the traffic lights) until you reach the NPWS headquarters. Stop here for maps & brochures before you drive on to Govetts Leap itself for the most spectacular views of the Blue Mountains available from the car park.

The visitor's centre offers a virtual reality canyoning experience that is a great way to experience the mountains without any risk.

The visitor's centre, known as the Blue Mountains Heritage Centre, is also the starting point of the Fairfax Heritage Walk. This 2.4 km circuit through the forest down to the Govert's Leap Lookout and back is paved and in good condition.
Heading home
If you want to take a different way home, continue driving to Mt Victoria and turn right to Bell. Follow the Bells Line of Road to Richmond. This will allow you to visit the beautiful Mt Tomah (Blue Mountains) Botanic Gardens and Bilpin, also known as Sydney's fruit bowl.
While apples are the main crop, several fruits are grown including pears, figs, stone fruit and berries. Some orchids open their doors to the public during the season. It is best to check this before heading off to help you plan your route.
You can also enjoy cider tastings at Hillbilly Cider, Bilpin Cider and a bunch of other cellar doors.
Related: Check out some other great Road Trips for Sydney
Things to know before you go
Road Tolls
You will travel on some toll roads so you will need to log on to this site to pay your toll within three days to avoid them adding an admin fee of $10-$20. You can work out toll costs with this calculator.
Weather
Check the weather forecast before you leave. Temperatures can be entirely different from Sydney.
Accessibility
Find a list of accessible toilets through Australia. There is also an accessibility guide to the Mountains by the local tourism authority.
Blue Mountains Apps
Ask Ros – a very handy app developed by a Blue Mountains local that covers events, attractions, local weather, itinerary ideas and lookouts. Well worth downloading.
NSW National Parks and Wildlife– excellent app for using maps and walking guides offline when internet access
On the way there or back you might want to visit Featherdale Wildlife Park
Check out these links for more ideas