12 Easy Blue Mountains Walks You Will Love
There are over eighty Blue Mountains walks waiting to test you. Still, unless you are a local, it's unlikely you will have time for more than a handful, so rather than an exhaustive list we have pulled together our favourite easy Blue Mountains walks. Most take under two hours to complete so you can cover a couple on a day trip from Sydney.
Best Blue Mountains bushwalks under 2 hours
This list of easy hikes in the Blue Mountains aims to make it quick and easy for you to pick a couple of walks for your visit.

The tracks we have chosen are suitable for most people; having suffered a back injury, I can't tackle the challenging hikes for a while yet. Still, I can do these walks so I would suggest that most people of average fitness can also enjoy them.
This page contains affiliate links. Please read our full disclosure policy for more details.
We have noted anything we think you need to know before you start walking. However, we suggest you check official advice from New South Wales National Parks and Wildlife on the day you plan to set out for the latest track conditions across the Blue Mountains National Park.
Each walk has a public transport rating for those without a car – you can reach several of these hikes from train stations or nearby bus stops. You will also find Uber and other rideshare services offered in the area. So don't let lack of access to a car put you off hiking in the Blue Mountains.

Each listing includes a Google map reference; click these open and save to your phone for easy access later.
Easy Walks in the Lower Blue Mountains
The Lower Blue Mountains towns do not get the same love as the towns further west. The upside of this means they rarely get the same crowds; almost no tour buses stop here, and mid-week you will probably be alone on your walk. Summer weekends will see locals enjoying the tracks, but it's still a lot quieter than Katoomba and Leura.
Jellybean Pool or Blue Pool Glenbrook
The essential summer walk, these two pools in Glenbrook National Park, are popular Blue Mountains swimming spots. Jellybean Pool has parking nearby, but if you want a little more seclusion, head further upstream to Blue Pool.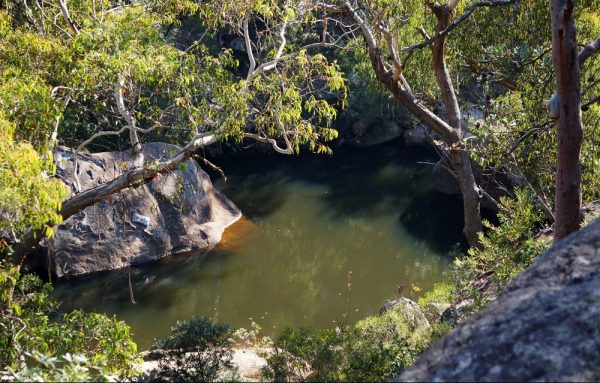 Key facts: 1 hour, easy 2km walk, grade 3 walk.
Public transport rating: Good – It is a 1.3km walk from Glenbrook Station to the start of the track.
Google map reference: Jelly Bean Pool Track
South Lawson Waterfall Walk
I have a bit of a soft spot for Lawson, having spent many childhood holidays in the area at a lovely old heritage property called Kihilla. The walks around Lawson are great for families and several, including this one, are pet friendly too.
The Lawson waterfall circuit track takes in four waterfalls, Adelina Falls, Federal Falls, Cataract Falls and Junction Falls. All are relatively small but pretty drops. Especially good after rain it's a great walk to practice your photography skills as it's not too far to carry your equipment. While there is usually some water here when it has been raining, you can get some awesome shots.
Lawson is also home to one of my favourite local cafes, Ben Roberts Cafe, a social enterprise that provides training to young people with disabilities. I suggest you pick up some refreshments here before you head off on your walk and picnic at one of the falls.

This waterfall track has the bonus of being dog friendly as it is outside the National Park.
Key facts: 1 hour, easy 3km walk, estimated, Grade 2-3 walk.
Public transport rating: Good – 1km walk from Lawson Station to the start of the trail.
Google map reference: South Lawson Waterfall Walk
Red Hands Cave
This walk will take you through the eucalypt forest and along Campfire Creek to the most significant Aboriginal art sites in the Blue Mountains. It is suitable for kids and makes a fun family outing. You could easily combine this with the Jellybean Pool walk if you have some extra time.
The hand stencils art is on a stone wall with an overhang above rather than inside an actual cave. It is protected by perspex to prevent vandalism and stop the public from touching the artwork.
Key facts: 2 hours, less than 1km. I consider this an easy walk, officially a grade 4 walk due to the short steep hills.
Public transport rating: No – nearest station is Glenbrook
Google map reference: Red Hand Caves track
Easy Walks near Wentworth Falls
Charles Darwin Walk
This track is currently closed due to flood damage but is expected to reopen later in the year.
It surprises many people to know that Charles Darwin walked this track in 1836 while he was on an expedition to Bathurst.

The track begins at Wilson Park and is an easy trail that offers a mainly level walk alongside Jamison Creek. The track ends near a small waterfall called Weeping Rock.

From here you can continue to one of the short walks to view Wentworth Falls (400m) or to the picnic area about 15 minutes away.

Visit the official Blue Mountains Council website listing for current conditions.
Key facts: 1.5hr, easy 2.5km walk (return to station is 5km), grade 3 walk.
Public transport rating: Excellent – the walk starts metres from the station. There is a loop bus that travels between Wentworth Falls and Katoomba- the nearest stop is on Fletcher Street at the junction of Falls Road.
Google map reference: Charles Darwin Walk
Princes Rock Track Wentworth Falls
The Princes Rock walk is one of the oldest walking tracks in the mountains. Your efforts are rewarded with more lookouts than you can poke a stick at.

The track starts off Sir H Burrell Drive between Jamison Lookout and Wentworth Falls track.
Key facts: 30-45 minutes, easy 1.8km walk, grade 3 walk.
Public transport rating: approx 2km walk from Wentworth Falls Station – following the walk above.
Google map reference: Princes Rock walking track
Related: If you have a few days in the mountains, check out our accommodation tips.
Walks near Leura
Leura Cascades Walk
The pretty Leura Cascades walk begins in the car park at the picnic area. It is another excellent summer walk, especially in the middle of the day when the shade along the trail provides relief from the sun.

Passing some lovely small waterfalls, this walk is great for working on your photography skills.
The Leura Cascades Walk branches off the Prince Henry Cliff Walk and you can either retrace your steps or continue onto the round walk track and back along the cliff walk to your starting point. We have a detailed guide to the walks in Leura if you want to spend some more time here.
Key: 1 hour, 1km, easy walk with some stairs with handrails, grade 3 walk.
Public transport rating: Not so easy – 1.6km walk from Leura Station
Google map reference: Leura Cascades track
Lyrebird Dell and the Pool of Siloam
This is my favourite summer bushwalk in the mountains, well shaded and if you are lucky some water around at the Pool of Siloam.
The walk continues across a small creek and passes two overhangs (cave-like) that were used by Aboriginal people as long as 12 000 years ago. There are some picnic tables here if you fancy bringing a picnic along.
We recently began the walk at Golf Links Lookout in Leura and walked to Gordon Falls Lookout. This is a longer walk, but worth it if you have time.

The walk from the Golf Links to the Pool of Siloam is relatively easy with a decent marked trail.

The next section to Lyrebird Dell is sometimes muddy and not as well maintained, but we had no trouble with it.

The section from Lyrebird Dell to the top of the track is not as well marked and a bit of a climb, I would probably not take small kids on this section, instead continue to Gordon Falls as even though it seems further it is easy and will take you less time.
Key facts: One hour, easy to moderate, 1.4km, grade 3 walk.
Public transport rating: Easy – the 695 bus stops nearby
Google map reference: Lyrebird Dell track
Walks near Katoomba
Echo Point to the Three Sisters
Known as the Three Sisters Walk, this easy walk starts at Echo Point Lookout behind the Visitor's Centre. Most of the path is relatively new concrete, and there are several lookout points along the way.
The first one, 400m in is called Oreades Lookout; if you have any little kids or anyone not too steady on their feet, you could stop here and return avoiding the steep hill on the way back further down the walk.
Next up is Lady Game lookout and then before you know it, you reach the stairs to Honeymoon Bridge and the walk to the rock formation.

The highlight though is walking out and onto the first of the Three Sisters, but you get a great view without the last section if you cannot use stairs.
Key: 45 mins, 1km, easy – a little steep on the return, it is wheelchair accessible to lady Game Lookout, grade 1 walk.
Public transport rating: Easy – bus or walk from Katoomba Station
Google map reference: Honeymoon Bridge
Katoomba Falls Round Walk
This pleasant walk begins at Scenic World and rewards with some beautiful lookouts including Vaniman's lookout, Juliets Balcony (where you get your first glimpse of the falls), and Rainforest Lookout. The track then takes you to the base of the falls before you make your way back out via the Prince Henry Cliff Track.
Katoomba Falls plunges 150 metres into the valley, and even in times of little or no rain, there is some water here.
Key facts: 2hrs, 4km, easy to medium graded, grade 3 walk.
Public transport rating: easy bus stop at Scenic World
Google map reference: The starting point of the Round Walk
Walks near Blackheath
Cliff Top Walking Track
The walk is all about expansive views; it brings home the vastness of the Grose Valley. In the distance, you can see both Mt Banks and Mt Tomah.
The image featured at the top of the page is taken from this track. Please check that the path is open before making any plans, as there was significant fire damage in the summer of 2019-2020.
Key: 90 minutes each way, 3km one way, grade 3 walk.
Public transport rating: Not so easy, long walk or taxi ride from Blackheath, there is a bus that stops near the Heritage Centre
Google map reference: Evans Lookout track
Govetts Leap Walk via Fairfax Heritage Track
The easiest of the walks in Blackheath, the Fairfax Heritage Track is wheelchair friendly too. The track passes two great viewpoints, George Phillips Lookout and Govetts Leap Lookout.
The path, a flat tar surface, is lined with native grass trees and scribbly gums and is pleasant, even on warm days. Our last few visits have been very foggy, as shown by the image above, but that only adds to the atmosphere. There are picnic benches at the George Phillips Lookout.
Key facts: 1 hour, 1.8km one way, retrace your steps or return via the road which is a short, easy and pram friendly grade 1 walk.
Public transport rating: The local bus (698) stops near the visitors centre.
Google map reference: Starting point – the Blue Mountains Heritage Centre
Pulpit Rock Walking Track
Pulpit walking track is closed from Cripps lookout to Pulpit Rock lookout.
Still considered an easy walk, but not quite as easy as some of the earlier tracks, mainly because of the stairs. There are lots of stairs! The 270-degree view extends to Mount Hay, and Mount Banks, and back to Evans' lookout.
The views here are in our top three in the Blue Mountains. Even though the bushland here was affected by the fires of the summer of 2020, regrowth is well underway and it is looking pretty good.
Key: 45 minutes including a brief rest before you walk back up! Less than 1km, Easy – as long as you can do steps, there are lots, grade 3 walk.
Public transport rating: Very difficult (5km walk – rideshare best)
Google map reference: Pulpit Rock Track
If you want a more challenging walk in Blackheath, check out the Grand Canyon Walk
FAQ about walking in the Blue Mountains
How to know if this walk is right for you
Grade 1. No bushwalking experience required, some are wheelchair accessible.
Grade 2. No bushwalking experience required, some steps and stairs
Grade 3. Suitable for most ages and fitness levels, can include lots of steps and stairs.
Grade 4. Bushwalking experience recommended, good levels of fitness required
Grade 5. Very experienced bushwalkers with specialised skills, including navigation and emergency first aid.
Which Blue Mountains walks are wheelchair accessible
Which also makes them pram friendly 🙂
Leura Cascades – This walk is partially accessible, the path to the view of the upper cascades has an accessible lookout.
Three Sister's Walk at Katoomba – This track is rated accessible, however, it is a little steep in spots and users may need assistance.
Katoomba Falls / Cliff View Lookout – an easy 30-minute return walk from Katoomba Falls Park.
The Gully Walk in Katoomba – an easy indigenous focused 1km return walk from Gates Ave
Fairfax Heritage Track – Easy flat 2km walk on a good surface. View of Grose Vally
Walks in the blue mountains that are dog friendly
This is a pretty short list – but luckily there are a couple of dog-friendly Blue Mountains walks. The Lower Blue Mountains near Lawson and Hazelbrook and the upper mountains around Mount Victoria are your best bet, mainly in the areas not included in the National Parks.
South Lawson Waterfall Walk
Horseshoe Falls Reserve, Hazelbrook
Mount Piddington in Blackheath
Minnehaha Falls Reserve, Katoomba – is often this is currently closed due to an unstable cliff
Wentworth Falls Lake
If you have any questions about these walks or suggestions of great walks, we have missed, please let us know below.
Find more ideas for great things to see and do in the Blue Mountains