A Self Catered weekend in Blackheath at Illalangi Cottage
Why Choose Blackheath for your Blue Mountains weekend?
If you are familiar with our website, you may have noticed we are big fans of the Blue Mountains.  At just over 1 hour 30 mins from Sydney, a weekend here is a great way to escape big city life, soak up some mother nature vibes and return to the city relaxed. Provided you miss the Sunday afternoon traffic jams back down the mountain that is 😉
We decided to stay at Blackheath this time to allow us to explore some of the stunningly beautiful walks that start in this part of the park.  The area also attracts very few tour coaches, so it has a much more relaxed vibe than Leura or Katoomba.  There is a more extensive selection of restaurants and cafes than Wentworth Falls too so for us it seemed like the perfect fit for an extended stay.
Where we stayed
Because we had settled on a three day weekend in Blackheath, we were looking for a self-catering accommodation to help keep down the cost. Illalangi Cottage was the perfect fit for us.
The cottage is a great mix of heritage and modern convenience and has everything you need for a comfortable stay in the area. Once home to the villages first baker and fruit shop, the owners have added a nice dose of personality to this very charming property.
The kitchen was well set up with everything you need to create like a master chef.  There was also a small stock of basic condiments and a great coffee machine!
Adjoining this room was a small living space with a super comfy couch and a large TV with plenty of channels to keep you occupied if the weather sets in or you have had enough outdoor time.  Pleased to say we barely had time to turn it on.
An open fire and a gas heater which I am sure are put to good use in the winter keep the place cozy.  We visited in November, and surprisingly, it did get a little chilly, but not enough to light the fire.
Three comfortable bedrooms sleep six guests, making this is a good choice for families.  We appreciated the games cupboard and the book selection. I could easily imagine spending a week here, and with NBN internet I could easily work when I needed to.
The backyard was extensive with a BBQ and a charming little cubby house.
There is also a herb garden and some veggies are you welcome to use in your cooking.
Our Blackheath Itinerary
I thought I would share our itinerary to give you an idea of just some of the things you can do here.
Day One – Bushwalks and fossicking
We arrived in at the cottage just before lunchtime and after checking out our new digs headed into town for a much-needed coffee.
First stop was Goverts Leap and a visit to the information centre to plan out our walks.
Looking out over the Grose Valley I think this view is even more impressive than the one over the Jamison Valley at Echo Point. Goverts Leap is the starting point for several walks including two of our favourites the Clifftop Track, a 3km one-way walk between here and Evans Lookout and the Grand Canyon Walking Track, which many agree is one of the most beautiful in the entire region.
There is a large information centre here called the Blue Mountains Heritage centre that will be able to advise you on the best walks to take for your group and ability.  There is something for everyone, including a very easy pram friendly track called the Fairfax Heritage Walk.
After our first walk, we needed lunch and coffee.
Time to head indoors
Even though it was November, the weather had turned cold and very windy, which is not unheard of here but also not that common this late in the year.  We had heard about the large antique centre that is located in the old cinema and decided it was time to have a bit of a fossick.
Victory Antique Centre is open every day from 8 am to 4 pm.  Be sure to check out the mural on the wall outside. It was designed by Australia fashion designer Jenny Key, who is a Blue Mountains local.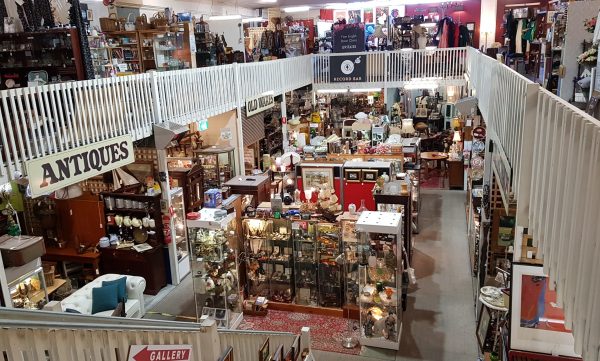 It was an impressive set up with lots of small dealers having stalls that are unmanned but price tickets letting the main cashier know who the sale was for.  Some were a mix match of things.
and others specialised in one thing, like this book and music dealer
At the front of the building is a cafe where we grabbed a burger and chips to rebuild our energy for our sunset walk.
After a bit of a nap at home from the carb overload, we headed out to find our sunset photography spot.
We decided to drive to Sunset Rock lookout with its views out over the Megalong Valley. It's just 9-minute further west along the Great Western Highway.
We parked our car, and it was only a 5 min walk to this lovely spot.
We didn't time it too well, so we had quite a bit of time up on the hill waiting for the sun to go down.
One tip: if you are here in summer by the time sunsets and golden hour ends at 8:45 pm and you're head back looking for dinner many of the local restaurants have stopped taking orders.  Grab some dinner and leave it in the cottage for your return.
Day Two – Sunrise and Gardens
Today we were up well before the bird and made our way down to Goverts Leap for sunrise. It was quite magical watching the sun come up in the distant valley.
We set aside day two as garden day.  After a quick morning coffee at Anonymous Cafe who serve our favourite Campos coffee,  we made a short drive to the Rhododendron Garden, which is only just a few minutes walk from the cottage.
Rhododendron season had just about come to an end, but we did manage to find a few pretty blooms. The area has an annual Rhododendron Festival held in October and early November each year that is very popular. Accommodation at this time of year needs to be booked well in advance.
We then made the 30-minute drive to the Mount Tomah Botanic Gardens and did a free guided tour; these are held most days at 11.30am.  Part of the reason for our trip was to work on our photography skills, and the garden provided much inspiration for this.
Mount Tomah is the only botanic garden in the world located within a World Heritage area. At 1000m above sea level, it's an excellent chance to see cold climate plant life that is not that common in Australia.
I love that from within the garden you look out over the national park, it is quite challenging deciding where to point your camera.
There is also a lovely cafe called The Potager that had us quickly wishing we had not had a hearty breakfast at home. If you have two days and have a car at your deposal, then I think this garden is every bit as beautiful as many of the big attractions further down the mountain.
In the afternoon, we drove into Katoomba and followed Cliff Drive to check out every lookout. My favourites are listed in our Blue Mountains by car itinerary if you want to check them all out!
Once we got to town, we parked and took a walk to check out Beverley Place, and it's murals. There are at least a dozen artworks here, but this one was my favourite.
Night views
Right down the bottom of the street from our lovely little cottage that sits on Hat Hill Road is Pulpit Rock lookout. Our hosts had mentioned it was a great spot to see the night sky, so we decided to check it out. It's only a 400m walk to the lookout from the carpark, and you will be rewarded with 360-degree views.  We Are Explorers have written an excellent review of this location.
For dinner, I suggest you are more organised than we were and make a reservation at
Fumo
, a local favourite that has brilliant reviews. Sadly we missed out but next time for sure.
Day Three – Food and views for miles
Our final morning in the mountain started with a hearty breakfast at Anonymous, we had enjoyed the coffee so while we did want to try the General Store just a few doors up, we ended up back in the same place again.
I suggest you spend your last day exploring Wentworth Falls on a morning walk down to the lookout before visiting Leura for a quick look on the way home.
Other sites you might like to consider if this is not your first visit to the Blue Mountains or if the weather turns nasty include:
Norman Lindsay Gallery 
Luerella Toy and Railway Museum 
Everglades Historic House and Garden 
Our friends over at Adventure Baby have shared a bunch of ideas of things to do in the Blue Mountains that work well for families. 
Places we are going back to see next time
We ran out of time on this weekend to do quite a few of the things we had planned, but we are already planning our next visit to check out the following spots in the Megalong Valley:
Megalong Creek Estate
Tea Rooms in Megalong Valley
Logan Brae Orchards for pie
Would we do it again?
Illalangi Cottage was a perfect base for our long weekend in the mountains.  I highly recommend it to anyone wanting a little bit of historic comfort.  There are so many walks just waiting to be discovered here your time will fly.
If you are planning a weekend here, you might want to check out our three self-drive itineraries for more ideas about what to see and do while you are here.
Where: Illalangi Cottage is on Hat Hill Road in Blackheath.  You can find more details on their website or read reviews on Google. Illalangi is also an Airbnb super host or check out the Airbnb listing. If you have not used Airbnb before you can use our referral code to save $39 on your first booking