51 Fun Things To Do in the Blue Mountains in 2023
Most visitors only uncover a tiny part of the Blue Mountains, but if you have time to spend a little longer in the area, there are so many things to do and less-visited sites to uncover that your time will be well rewarded.

From free things to do in the Blue Mountains, like bush walks and lookouts to art galleries and museums, this part of NSW has a lot to offer visitors. We have come up with over 50 things to see and do, so you are not wondering what to do in the Blue Mountains on your visit.
Before we get started, you may find our advice about how to get to the mountains helpful.
So let's go read and build your list of things to do in the Blue Mountains.

1. Visit the Three Sisters and learn about the legend
The best-known site in the mountains is The Three Sisters at Echo Point in Katoomba. At over 900m, these sandstone formations are thousands of years in the making and a must-see.
You can view them from above at Echo Point lookout or take one of the walking tracks to get a look from a different angle. You can even walk out onto the first one!

At night floodlights give the rock formation a very different look, and with the day-trippers returning to Sydney, you often have a private viewing.

Insider tip: View the Three Sisters from the rear without the crowds by heading to Eagle Hawk lookout.
Getting there: Walk to the Three Sisters from Katoomba Station in about 20 minutes (2.5km) or take the local 686 bus.
2. Hike to Wentworth Falls
There are many beautiful walks and trails in the Blue Mountains, a particular favourite of those in the know is Wentworth Falls. Wentworth Falls is actually a town; however, its most famous attraction is (no surprises here), a beautiful waterfall also called Wentworth Falls. The hike to the falls lookout is short but steep – and oh so worth it.
The waterfall is a staggering 187 metres and has three tiers. The result is a strikingly beautiful sight that's been delighting visitors for decades. Even in periods of low rain, there is usually at least a small fall here. In wet weather, it is awe-inspiring.
Insider tip: Although Wentworth Falls is the star of the show, you can combine a walk with visits to other beautiful natural attractions including the Weeping Rock, Undercliff Track or Prince's Rock.
Getting there: It's a 2.5km walk from Wentworth Falls Station to the top lookout. There is a car park at the entry.
3. Picnic at Leura Cascades
Leura Cascades has partially reopened after serious damage in 2020. All works are expected to be finished by April 2023.

Leura Cascades may not have the dramatic vertical drop of Wentworth Falls, but it is no less magical. Here, the water instead cascades down many rocky layers, creating an effect that is beautiful to see–and hear.
The surrounding area is also scenic, with many short walks that are suitable for visitors of all ages. There is also a well-equipped picnic area that's perfect for a relaxing DIY lunch.

If you are looking for things to do in Leura, this should be on your list. Read our post on the walking trails from Leura Cascades and choose at least one!

Insider tip: Be sure to keep an ear out for the sounds of the area's many birds. One famous resident is the 'bell miner', a small bird that can perfectly mimic the cry of a lyrebird.
Getting there: It's a 2.3km walk from either Katoomba or Leura Stations. The local bus service also stops nearby. Alternatively, buy a hoho bus ticket.
4. Take a ride at Scenic World
For those visitors who are short on time or with mobility considerations, Scenic World is the perfect way to take in the beauty of the Blue Mountains. It offers three unique rides that help you to experience the magic of this part of Australia.
There's the Scenic Skyway, the Scenic Railway and the Cable Car – each great fun and offering jaw-dropping views. The Scenic Railway is arguably the steepest in the world and a fun ride in itself. Combine all three and access a rainforest boardwalk between the cable car and the railway for the complete Scenic World experience.

Most Blue Mountains day tours include a visit. Of all the man-made activities in the Blue Mountains, this is by far the most popular.
Insider tip: Arrive as early or as late as you can to avoid the large tour bus crowds.
Getting there: Take the 686 bus from Katoomba Station. There is plenty of parking too. You can repurchase a HOHO bus and Scenic World combined ticket.
5. Snap a pic at Katoomba Falls
Many people say that Katoomba Falls is one of the most beautiful places in the Blue Mountains – and they are certainly onto something! These dramatic falls see the water plummet over the rock face, tumbling down onto a rocky outlet and then into the Jamison Valley.
To view this amazing site, you'll want to walk in via the trail which starts from Scenic World. The trail is about two kilometres with a few steep parts.

For a shorter walk begin at Katoomba Falls Kiosk. From here is less than 500m to view the falls.

Insider tip: About 150 metres past Vaniman's Lookout, there's a small staircase that leads up to Juliet's Balcony. It's easy to miss, but to do so is a shame–it offers a gorgeous glimpse of the falls.
Getting there: Get off the HOHO Bus at Katoomba Falls Caravan Park. From here it is a short but lovely walk
6. Be inspired at Govetts Leap
One of the most striking lookouts in the Blue Mountain is Govetts Leap, which offers jaw-dropping views that encapsulate the beauty of the area. A visit here helps you feel the vastness of the mountains; they seem to go forever. You can also hear the call of the resident birdlife and breathe the fresh mountain air.
It really is a magical sight, and getting to it is fairly straightforward as you can drive to the nearby car park, from which is just a short stroll over to the lookout.
This area is currently undergoing a big upgrade which will result in a more accessible site. It is due to reopen in April 2023.

Insider tip: Once you see the beauty of this lookout, it may well inspire you to do some more exploring! Luckily, several trails including the gorgeous Cliff Top Walking Track (six kilometres/medium difficulty and currently closed) start from the lookout.
Getting there: The 698 bus from Blackheath Station will get you to the Fairfax Visitors Centre, which leaves a 500m walk to the lookout.
7. Marvel at the view at Sublime Point
I know I am sounding like a broken record, but this is yet another spectacular view. Sublime Point – as its name suggests – offers a breathtaking aspect. After navigating some fairly steep stairs, you'll be treated to an amazing panorama over Jamison Valley and the Three Sisters.

Not far away, Honeymoon Lookout is another gorgeous spot and ideal for a picnic. From this fenced lookout, you can see Kings Tableland and Sublime Point.

Insider tip: Sublime Point is popular with rock climbers. If you're feeling brave and have the equipment, you can try climbs like 'Hells Bells'.
Getting there: A 3km walk from Leura Station. The 695 bus will get you halfway there, alight at Watkins Road. Parking is also available.
8. Get some retail therapy at Leura Village
Leura is the most picturesque village in the Blue Mountains. It is also home to some pretty great shops if you feel the need to escape nature and spend some money!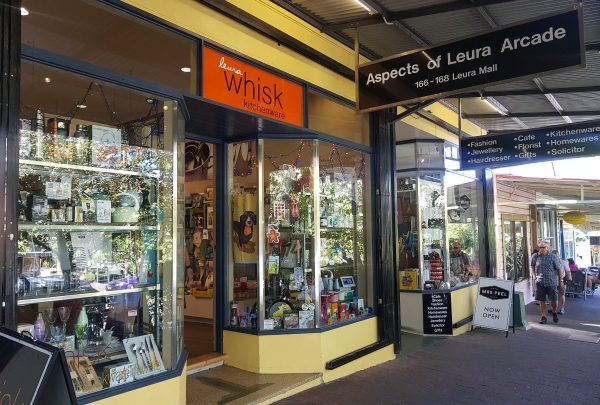 The village is a hub for creative types, and there are many folk artists in residence! It's no surprise that you can find some unique souvenirs here, along with great cafes, a weekly market and many art and craft stores.

Insider tip: Don't miss checking out the deli in the middle of the main street – it's full of delicious treats.
Getting there: The train station is at the top of the main street.
9. Tackle the Giant Stairway
Prepare to have your breath taken away on this amazing walk – and not just because it's a very steep one! No, any gasps are much more likely to be because of the absolutely stunning views you'll encounter as you walk through the Jamison Valley along the Giant Stairway.

Originally constructed in 1909, the walk (4.7 kilometres each way) begins at Echo Point below the Three Sisters. Over 800 steel and stone steps lead you 300m down into the valley, eventually arriving at the entrance to Scenic World where you can head up to the clifftop.

Insider tip: The last Scenic Railway ride leaves at 4:50pm, and the hike can take up to three hours. So, you won't want to leave much after lunch if you're hoping to catch the train!
Getting there: It's a 750m walk from the information centre at Echo Point to where the stairway begins.
10. Indulge at the Hydro Majestic Hotel
Sitting on the side of the highway in Medlow Bath, the Hydro Majestic Hotel is undoubtedly one of NSW's most beautiful Art déco properties and one of the top things to see in the Blue Mountains!
The hotel was one of the earliest luxury properties built in the mountains and is a unique sight perch above the natural beauty of the Megalong Valley. Famous for its mash of Art déco and Edwardian architecture, the hotel is topped by a stunning casino dome shipped in from Chicago at great expense and delight to locals when it was unvieled in the early 1900s . Whether you stay in the hotel or wander past to take a peek, you will be delighted by the Hydro.

It's a great spot to stop for a bite with three dining options including from high tea in the stunning dining room or a pub-style meal in the Boiler House restaurant.

If you are looking for something romantic to do in the Blue Mountains, this hotel is a good place to start.

Insider tip: If you want to peek inside but don't want to stay overnight, check the Hydro's event calendar as the hotel hosts many events.
Getting there: Medlow Bath train station is across the road from the hotel. It was purpose built to bring visitors here shortly after the hotel opened.
11. Fossick at the Victory Theatre Antique Centre
Whether you're an antique expert or just love having a browse through interesting collections, it's well worth stopping in at this antique shop and café. Housed in the Victory Theatre Antique Centre in Blackheath, another lovely an old art deco building, this is the largest antique store in the Blue Mountains, and one of the biggest in New South Wales.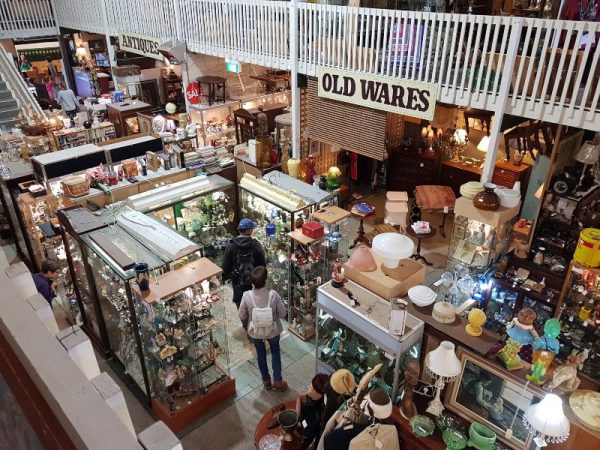 Over two floors, over 50 different antique dealers offer their finds, from the quirky to the ultra-valuable. It's quite the Aladdin's Cave, filled with treasures to admire – and maybe take home.

This should be on your list of things to do if it is raining in the Blue Mountains when you visit. Read about our visit to Blackheath for more.

Insider tip: Need a caffeine fix after a few hours browsing the selection? If so, make your way to the top of the foyer of the theatre to enjoy a drink (and maybe a light meal) at the café.
Getting there: Just a few minutes walk from Blackheath Station
12. Visit the Blue Mountains Cultural Centre
The Blue Mountains have long been popular with artists and performers, so it makes sense that the Blue Mountains Cultural Centre would be a brilliant space. Devoted to arts and cultural traditions of all types, there's always something going on.
You can head along to a special performance, workshop or event, or drop by to view the exhibitions which are on show daily. These range hugely in style, from astrophotography to Indigenous art, and change often.
Insider tip: Definitely look at the website to check out what's on during your visit. The workshops are especially fun, and beginners are totally welcome.
Getting there: Just a few minutes walk from Katoomba Station tucked in near Coles Supermarket
13. Art and history collide at Norman Lindsay Gallery and Museum
It's surprising to hear that one of Australia's most beloved children's authors and cartoonists was ever thought controversial – but it's true!

In his day, Norman Lindsay, author of the Magic Pudding, was considered blasphemous because of his unique paintings and bohemian lifestyle. This is part of what makes a visit to the Norman Lindsay Gallery & Museum so interesting.
Here you can find out a lot more about the man, as well as view the works that established him as one of Australia's best artists. You can also find out about his enduring connection with the Blue Mountains, a place he called home for most of his life.
Insider tip: Feeling peckish? There's an excellent café on-site, which offers "Australiana" meals inspired by the surrounding nature.
Getting there: The Gallery is in Falconbridge, although quite a hike from the station. Best to have a car or take a taxi, only a couple of commuter bus services stop anywhere nearby.
14. Visit the Blue Mountains Botanic Garden
The beautiful Blue Mountains Botanic Garden at Mount Tomah has the distinction of being the only botanic garden in the world within a UNESCO World Heritage Area.

That's not all that makes this place so special – it has a fantastic collection of indigenous and foreign plants, making it a relaxing and colourful place to visit.
The garden covers over 250 hectares, meaning it rarely feels crowded, and there's always something new to see and learn about. The staff run frequent tours and walks which can add more to your visit.
Insider tip: There are free guided walks of the garden every day, which start from the Visitor Centre near P1 car park at 11:30am. It's a good idea to book, especially if you're travelling in a group. Call (02) 4567 3000 to make a booking.
Getting there: A 30-minute driver past Blackheath. There is a shuttle bus from Katoomba
15. Explore the Campbell Rhododendron Garden
Hidden away in Blackheath, the Campbell Rhododendron Garden is a total gem. It's no surprise that the spectacular Rhododendrons are the biggest draw card; however, this garden is positively overflowing with other colourful varieties like azaleas and lilacs.
You're sure to find yourself grinning as you wander through the kaleidoscope of colours, admiring the details of all the beautiful plants. You can also stop in the tea room during spring when they serve up a totally scrumptious cream tea.
Insider tip: The best time to visit the garden is during spring (late September to late November), when the flowers are at their most spectacular.
Getting there: 10-minute walk or 2-minute drive from Blackheath Station.
16. Visit Everglades Historic House and Garden
Offering a unique fusion of European design and the Aussie bushland, Everglades is one of the prettiest properties in the Blue Mountains. The impressive art deco home is set in over five hectares of beautifully maintained gardens, filled with local and imported plants.

While the garden changes with the seasons, it's beautiful throughout the year. The gorgeous panoramic views of the Blue Mountain certainly help add to the charm and are one of the biggest drawcards to the garden.

Local tip: One unmissable highlight of Everglades Garden is the beautiful pools, including Reflection Pool and Grotto Pool. Don't leave without stopping by!
Getting there: A 15-minute walk or 3-minute drive from Leura Station.
17. Have tea at Bygone Beautys Tearooms
One of the more unusual things to do in the Blue Mountains is also one of the best! At Bygone Beautys in Leura, you'll find a collection of well over 5,500 teacups. It's amazing to think about all the conversations that must have been had over these cuppas.
As you'd expect, you can enjoy a tea or two yourself at the tearooms. They specialise in a gorgeous high tea complete with a tiered cake stand and all kinds of sweet and savoury treats. It will all be served to you by a waiter decked out in a top hat and tails – you'll feel just like royalty!
Local tip: For an even more lavish experience, you're welcome to bring your own champagne or sparkling to the high tea. There's a corkage of just $2.20.
Getting there: A 3-minute walk from Leura Station.
18. Discover street art in Katoomba
If you wander around Katoomba for a while, chances are that colourful murals will soon catch your eye. You will be dazzled by the amazing detail and colour of these art pieces, with many of Katoomba's buildings serving as the canvas.
Most of the artworks are part of the Street Art Walk, which began in 2013 as an attempt to beautify the city's laneways. Nowadays, it's a showcase of works from many of the best street artists down under and abroad. You'll find the everchanging walls walk at the end of Beverly Place – don't forget to bring your camera.
Local tip: Peek down the laneways that run off Main Street for more gorgeous walls
Getting there: A 5-minute walk from Katoomba Station.
19. Shop for your next outdoor adventure
Are you planning on trying some adventure activities while in the glorious Blue Mountains? If so, a great place to stop for some supplies and advice is at the outdoor shops in Katoomba like Paddy Pallin.

Few people know as much about outdoor adventuring and the Blue Mountains as the team of staff here, their passion for the region is palpable. They'll love talking to you about your plans and also sharing some local tips to help you make the most of your time adventuring in the Blue Mountains.
Insider tip: Don't be afraid to stop for a chat about your plans adventuring in Katoomba. Aussies are friendly and love a chat – especially about a common love of the outdoors.
Getting there: 5-minute walk from Katoomba Station
20. Hunt down an old book at Mr Pickwicks in Katoomba
Browsing an old book store is always a great way to pass the time, but doing so in the Blue Mountains is a real treat. The Mountains area is home to many writers, and the quality of stock here is excellent.

Second-hand bookstores come little more charming than Mr Pickwicks in Katoomba. Whatever your favourite genre, chances are you'll be impressed by the selection here. Everything from sci-fi to rare, out-of-print books is waiting to be discovered, read and loved. It's a reader's paradise!

Local tip: Check out this article by local Timothy Hyde for more great second-hand bookstores in the mountains.
Getting there: Main street of Katoomba just a 2-minute walk from the Station
21. Check out the glow worms at Newnes
One of the unique things to do in the Blue Mountains is to discover the glittering glow worms in the disused railway tunnel at Newnes. Originally built in 1906, the railway tunnel is long past receiving any traffic – unless visitors arrive to spot the flickering and spectacularly illuminated glow worms throughout.
Just the glow worms are a total delight; however, if you go on a tour with Wolgan Valley Eco Tours, you'll also be treated to some amazing views across the Wolgan Valley as well. What an amazing way to spend a morning!
There is also a great small group tour that picks up in Parramatta that my friend recently did and wrote about.
Local tip: While you can go through the tunnel yourself, it really adds so much to take a guided tour to the best spots to see the glow worms!
Getting there: A car or tour are the only options for visiting the glow worms.
22. Try Canyoning or abseiling (beginners welcome!)
Are you feeling adventurous? Perhaps you've spotted an intrepid adventurer in the Blue Mountains, and you want to join in the fun. Luckily, there are plenty of (safe) ways to get the adrenaline pumping, such as trying canyoning or abseiling.
Both activities are perfect for the Blue Mountains. You'll get an amazing perspective on the landscape as you jump, slide and scramble your way around. Best of all, the trained guides will be on hand to keep everyone, including total beginners, safe and having plenty of fun.
Local tip: You'll want to bring some good shoes and some clothes you don't mind getting dirty!
Getting there: Book an abseiling and canyoning tour , beginners welcome
23. Visit a Japanese Bathhouse
There are few things better than enjoying a relaxing, restorative treatment at a Japanese Bathhouse – nestled amongst the jaw-dropping beauty of the Blue Mountains. If you're looking for a real treat, then a visit to this Japanese Bathhouse is definitely an amazing Blue Mountains experience.
There are various packages available at the Garden & Bathhouse. Whichever you choose, you can expect to lie back, relax, and soak in water sourced from the natural underground springs. All while taking in the beauty of the natural surroundings – sounds pretty blissful, right?
Local tip: For the ultimate indulgent and relaxing escapes, you can even stay overnight in one of the on-site cabins or perhaps in the beautiful restored Tudor house. Be warned: you might never want to leave!
Getting there: Check their Facebook page for more information.
24. Sleep in a cave
Are you looking for a unique place to stay while in the Blue Mountains? If so, you're in luck – with the chance to sleep in a cave. Firstly, there's Hatters Hideout and Lodge, offering tent pitches in a huge natural cave. There's also a lodge option if that's more your style.
Another option (which is currently under maintenance, but due to re-open soon) is The Enchanted Cave, a more glamorous spot that still gives you that back to nature feel. And some seriously amazing views.
Getting there: There are a couple of options on their website
25. Learn how to drive a sulky
The beautiful Blue Mountains are ideal for exploring in the company of some sure-footed horses–but there are other options than your typical ride! At Centennial Glen Stables, you can also learn to drive a "sulky", a small carriage pulled by beautiful horses.
Local tip: If you'd prefer, Centennial Glen Stables also does horse treks, as well as pony rides that are perfect for little ones.
Getting there: It's best to have a car to access the stables.
26. Take a guided e-bike tour
Another fun and eco-friendly way of exploring the Blue Mountains is to take an e-bike tour. Cycling is a great way to see the landscape, but all of those hills can tire you out. The solution? E-bikes! Batteries power them, assisting you in pedalling through the kilometres of beautiful trails.
A guide will be on hand to make sure you discover the best that the Blue Mountains offers. It's great fun for families, couples and visitors of all ages, and Blue Mountain Bikes delights in making sure you have an amazing experience.
Local tip: I highly recommend heading out early in the day, especially during summer. Things can get pretty warm in the Blue Mountains.
Getting there: There are 4 tours with different meeting points, so check their website for details.
27. Swim Jellybean Pool
A sandy shore gives Jellybean Pool at Glenbrook the look of an inland beach. The water is clear, if brown and usually not too cold, so great for swimming.

The walk-in is a little steep with lots of stairs leading down to the pool but it's relatively short so easy enough for most people. There are no toilets or other facilities, so bring all you need with you.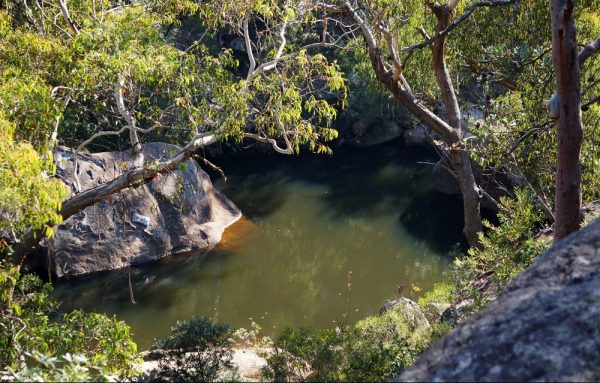 You will find this hidden gem not far from the Glenbrook Visitors Centre. It is part of the Blue Mountains National park; parking costs $8 per car.

Insiders tip: Avoid hot weekends as it gets really crowded. Midweek you may find you have it pretty much to yourself.
Getting there: Find more details on the National Parks website
28. Walk out onto Pulpit Rock
Pulpit Rock is currently closed because of fire and flood damage.
Pulpit Rock is one of the most rewarding lookouts in the Blue Mountains. Just 5 minutes or 400m from the nearest car park, the 280-degree panorama of the Grose Valley is breathtaking.
There are fences to protect you, but if you fear heights, you may find this lookout a little challenging. There are also quite a lot of stairs down to the lookout, which may remind you that you need to work on your fitness 😉
Insider tip: Sunset here is hard to beat. Dress warmly as it's really windy most days.
Getting there: A 10-minute drive from Blackheath Station.
29. Explore Jenolan Caves
At 340 million years old, the limestone Caves at Jenolan are among the oldest in the world. There are nine caves that you can tour. Trying to choose which cave to visit is the hardest part of your time here.

Lucas Cave is the largest and offers a good range of scenery, Orient and Imperial have the least steps, so are popular with anyone with limited fitness or travelling with kids.
Insider tip: the temperature inside the caves is a constant 15 degrees celsius so be sure to dress suitably.
Getting there: You need a car or a tour to reach Jenolan from Sydney or Katoomba.
30. Sample the drinks at Bilpin Cider
My favourite way to return to Sydney from the Blue Mountains is via the apple-growing region Bilpin. There are some brilliant spots along the way to stop off, and Bilpin Cider is one of our favourites.

The cellar door experience is lots of fun, and the apple and pear ciders, both alcoholic and non-alcoholic, are worth the drive. Made from 100% apples or pears, did you know only 15 of the world's ciders are, and with no added sugar you are bound to leave with at least a few bottles.
Insider tip: Visit in the season to have a go at apple picking from March to June.
Getting there: The grounds are lovely for a picnic, and they also have a small kiosk.
31 Watch the sunset from Lincoln Rock
No fences and no tour buses have kept Lincoln Rock a secret for many years, but it has recently moved off the insider list thanks to its popularity on Instagram.

Also known as Sunset Rock for the spectacular late afternoon views towards Mount Solitary. It's not unusual to come across a bride and groom.
If you have been watching the new ABC tv series Wakefield, you would have seen this view in almost every episode.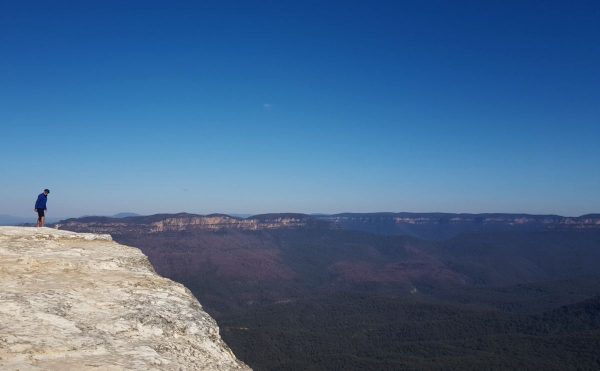 Insider tip: Look out for the track to the south of the main rock. Follow it for just a couple of minutes to reach a cave underneath the rock.
Getting there: You need a car to visit – 51 Little Switzerland Dr, Wentworth Falls
32 Find a Rock Art kangaroo
Hidden away in a quiet suburban street is an engraving of a kangaroo that dates back thousands of years.

Insider tip: Stop at the Ben Roberts Cafe, a social enterprise operation in Lawson behind the pub that provides training for young people with disabilities.
Getting there: Look for the reserve at the beginning of Kangaroo Street in Lawson
33. View historic Lennox Bridge
Built from local stone by a gang of twenty convicts in 1833 Lennox Bridge at Glenbrook is the oldest surviving stone arch bridge on the Australian mainland.
The area is popular with photographers and arriving here early in the morning awards you with brilliant light for your shots.
34. Find the Rocket Point Lookout
This 2.4km loop walk takes you to the top of Wentworth falls where you can see the waterfall over the cliffs from the top. You usually have the path all to yourself, and there are a few really great photo opportunities.
Getting there: The National park's site has all the details on how to find this hidden gem. Local bus 685 runs past the corner of Fletcher St and Falls Rd.
35. Discover Red Hands Cave
Darug (Daruk) people are thought to have made these drawings between 500 and 1000 years ago. Inside the 12 metre-high cave you will find 45 stencil drawings in red, orange and white hands.
The cave was used for initiation ceremonies and is considered a site of Aboriginal significance. It has been protected by a fence which keeps you back from the walls but still gives a very good view.

Insider tips: You can combine this with a visit to Jellybean Pool for a lovely half-day trip.
Getting there: Glenbrook is in the lower mountains and only 1 hour from Sydney. You can walk to Red Hands Cave trail from the train station or drive right up to a nearby gate.
36. Dine at Megalong Valley Tea Rooms
A very popular cafe with a stunning outlook, the Megalong Valley Tea Rooms have some of the finest scones in the state. Since the mid-1950s, the hearty homemade treats have been keeping locals happy.

The view from the outdoor dining area is lovely and even if you are not a scone lover, there will be something to tempt you. Their soups in winter are a treat after a chilly morning of bushwalking.
Insider tip: For a taste of Aussie favourites, order the lamb burger and follow up with a lamington.
Getting there: There is a shuttle from Katoomba to 824 Megalong Road Megalong Valley
37. Walk Narrow Neck Peninsula
The Narrow Neck Peninsula is the dividing ridge between the Jamison and Megalong Valleys. While it's best known as a bike trail, you can also walk this peninsula.

Along the way, you will see pretty wildflowers, spot lots of birds, and pass several lookouts and walking routes. The most popular here, the Ruined Castle walk an 8km track that offers 360-degree views, has recently reopened after substantial bushfire damage.
Insider tip: Narrow Neck is one of the most popular mountain bike trails in the region.
Getting there: You can view the lookout from Cliff Drive, but if you have time continue to Glenraphael Drive, which is a 2km dirt road that takes you out onto Narrow Neck. Once you reach the locked gate, park the car for a 7km walk.
38. Snap Hanging Rock
The view may seem familiar, it was once the cover of Lonely Planet's Australia guide. The official name of this walk is Burramoko Ridge (Hanging Rock) trail. The breathtaking viewpoint in Blackheath overlooks the Grose Valley. It is considered sacred to local indigenous groups who used this place for ceremonies.
The 10km track rewards with more than the Hanging Rock itself. Along the trail, there are plenty of wildflowers among them, the floral symbol of NSW the waratah.
Getting out onto Hanging Rock itself is not possible for average walkers; a 1-metre leap is required! If you intend to get adventurous here, perhaps drop into the visitor's centre at Blackheath and complete an intention to walk form.
Insider tip: Don't take safety for granted here. There are lots of rescues so unless you are a very experienced climber keep to the trail and away from the edge!
Getting there: Turn onto Ridgewell Road about 1km west of Blackheath and drive along until you reach the locked gate.
39. Stroll South Lawson Waterfall Circuit
We discovered this walk when we visited the area with our dog. So many Blue Mountains walks are in National Park which is not dog friendly. It's a short walk, less than 3km long and considered a fairly easy circular route.

It takes in four small waterfalls; Adelina Falls, sand lined Federal Falls, Cataract Falls and Junction Falls. It's a great place to practice taking photos of moving water if you are developing your photography skills.

Insider tip: Visit after some decent rain for the best experience.
Getting there: It's only 1km from Lawson train station to the starting point at Honour Ave and Livingstone Street.
40. Find the Blue Lake at Jenolan Caves
Access to Jenolan Caves is currently cut off because of road damage because of flooding.
The Blue Lake Loop, or Jenolan River Walk, is a 2.6km, peaceful walk that rewards with a magical looking bright blue water. The lake gets its colour from the minerals in the water deposited by the limestone. It is home to platypus that, sadly, I have not been lucky enough to spot yet, but one day!
Insider tip: For the best photo opportunities, take the walk to Carlotta Arch where you can look back over the lake.
Getting there: It's about a one hour drive from Katoomba. It's best with your own car, although there are coaches from Katoomba daily.
41. Swim at the Valley of the Waters
This walk takes in Empress Falls, Sylvia Falls and Ladore Falls along with Queen Victoria Lookout, Empress Lookout and Lyrebird Lookout.

You can learn more about the walk from my friend Margaurite of Wildlife Diaries, who has written a fabulous piece on her day in the area. You can also follow the instructions here
Getting there: The walk starts from Conservation Hut in Fletcher Street, Wentworth Falls,
42. Watch the sunrise from Wind Eroded Cave
We discovered this when we spent the weekend in Blackheath; we had been looking at a local photographer's website and decided we need to find it. It is an easy find too, only a 400m walk from the car park and very close to the other spots we have listed in Blackheath. Combine it with a stop at Anvil Rock.

Insider tip: The cave looks stunning at sunrise. You can camp at Perry's Lookdown for easy access at sunrise.
Getting there: Head towards Perry Lookdown and turn left at the turnoff to Anvil Rock. The caves are one km walk away.
43. Shop at Blackheath Farmers Market
One of the best farmers' markets in the mountains is the Blackheath Growers Market held on the second Sunday of each month. It was the first farmers' market in the area and at 60 stalls is probably the largest.

Other markets to check out include the Leura Market on the first Sunday of the month. Leura Country Women's Hall Markets on the first Friday and Saturday.
Local tip: The Blue Mountains Insider has a list of all the markets in the region.
Getting there: 8am to noon Blackheath Community Centre.
44. Picnic at Lyrebird Dell or the Pool of Siloam
A short trail through lush ferns to a lovely little waterfall and shallow pool, perfect for cooling off after a summer bushwalk.
There are often a couple of ducks about and plenty of local birdlife to watch. You may even glimpse a lyrebird. The walk is a 1.7km loop that is fairly easy but requires some fitness.
We usually begin our walk at Golf Links Lookout close to the Fairmont Resort and make our way along the track to the Pool of Siloam. The walk is relatively easy to this point.
Local tip: Bring a picnic to enjoy at the tables near Lyrebird Dell or at Gordon Falls Reserve.
Getting there: The walk begins at Gordon Falls Reserve. Full details here.
45. Experience Yulefest
With Aussie Christmases being hot and sunny affairs, the locals in the mountains decided quite some time ago decided to host Christmas in our winter. Throughout June, July and August many venues run special Christmas celebrations and occasional snowfalls add to the fun.

The Christmas fun is especially grand at the Hydro Majestic and Jenolan Caves House.

More information: Yulefest
46. Go Ice Skating
Blue Mountains Ice Skating Rink is a 600sqm indoor rink

Local tip: The hotel offers a range of skate and stay packages.
Getting there: Fairmont Hotel
47. Drink at Carrington Hotel Champagne Bar
The Carrington Hotel is the grand old dame of Katoomba. Opening in 1883 it was by the mid-1920s considered the "premier tourist resort in the Southern Hemisphere". Popping in for a drink here is like stepping back in time.
The dark wood bar and glass dome are impressive. Stop in for a cocktail, champagne or a beer and have a peek at the beautiful architecture.
Getting there: 2-minute walk from Katoomba Station.
48. Find Kangaroos at Euroka Clearing
Other than Featherdale Wildlife Park, Euroka campground is the most likely place to spot Kangaroos in the Blue Mountains. Gray Kangaroos appear at dawn and dusk.
There is an easy 1.5-hour walk, which is your best bet of spotting the friendly locals. You can also camp here. The site has very basic facilities (pit toilets). There is a lot to do in the area, so consider spending a day exploring other sites in Glenbrook.

Insider tips: Along with the roos you might spot some black cockatoos
Getting there: It's a 6km drive from Glenbrook Station. You could walk in a little over an hour if you don't have a car.
49. Boogie at the Blue Mountains Music Festival
The annual Blue Mountains Music Festival is a celebration of Blues, and Roots held every March in Katoomba. The next festival is in March 2022.
The event runs for 3 days and features local and international acts.
More: Early bird tickets which are valid the entire weekend are on sale now. Daily sales begin on 16 December.
50. Ride the Hop on Hop off Bus
I have to be honest. I am usually not a fan of these buses, so I was sceptical the first time i took this one, but it is fantastic. It would be impossible to get the view you get from the top deck of this bus from a car.
The business is locally owned, and the drivers are all passionate about the mountains and really want you to have a good time.
The booklet you get with your ticket helps you plan an itinerary to cover the things you want to see and the drivers ask you when boarding if you need any help with your plans and offer suggestions. I really think this is good value for money.
More information: We have written a detailed review here
51. Valley Heights Locomotive Depot Heritage Museum
Located just 45 minutes from Sydney Olympic Park, the Valley Heights Locomotive Depot Heritage Museum can be found in the lower Blue Mountains just 77kms west of Sydney.
The museum is housed in the 107-year-old Steam Locomotive Roundhouse, the oldest in NSW. Visitors to the Museum can explore the Roundhouse and climb aboard the locomotives and carriages on display. The Museum also has a railway art display, a collection of small exhibits and a working model of the depot circa 1951.
You can also view a 130-year-old Sydney Steam Tram, the 1890s equivalent of today's Light Rail.
There is a shop offering light refreshments and merchandise and picnic grounds.
Entry Fee: Adults: $16, Seniors, Pensioner & Student Concession: $14 **
Children (aged 5-16 incl): $12
Ticket prices include Museum admission and a short ride aboard a heritage steam train/steam tram.
When: Find details of open dates here
So there you go, fifty-one different things to do in the Blue Mountains, more than enough for an action-packed weekend or even a leisurely week.

If you want more, check out these other articles we have written on the Blue Mountains.