A Weekend Getaway to Maitland and Morpeth
Feeling a need for a break from the city? A weekend getaway to Maitland and Morpeth offers a chance to recharge surrounded by great food, a fascinating past and plenty of natural beauty. We recently spent 3 days exploring the region and share our tips for exploring this often forgotten part of the beautiful Hunter Valley.
We acknowledge the Wonnarua People as the Traditional Owners and Custodians of the land upon which Maitland and Morpeth stand.
Where are Maitland and Morpeth?
Maitland and neighbouring Morpeth are 2 hours' drive north-west of Sydney (166km) and 33km north-west of Newcastle.

You are:
40 minutes from Port Stephens
40 mins from Pokolbin
35 minutes from Newcastle
Our Maitland and Morpeth Attraction Map
We have marked out all the places we explored on our visit. You can save this map to your phone to use yourself.
Why we think you should you visit the Maitland Region?
A getaway that offers excellent food, beautiful architecture, and a thriving local art scene surrounded by farmland is a winner for us. Time spent in the Maitland region can be as relaxing or as busy as you want it to be.
The food scene is buzzing, and there's no way you will be able to eat your way through the list of recommendations below unless you stay a few days, so what are you waiting for, let's start planning.
How long do you need to explore the area?
Lots of people make a day trip from the Hunter Valley to Morpeth, but after spending three days in the area, we think they are missing out. This is a lovely spot to relax and learn a little about the area's colonial history.
I recommend making your way out of Sydney before the Friday afternoon traffic if you can and arriving in town in time for dinner. This will allow you to get a full day in Maitland on Saturday and the best part of a full day in Morpeth before the drive home on Sunday afternoon. Leave nice and early Friday, and you can get a good head start on the sites and fit in an extra lunch!

If you fancy some wine tasting Boydell's have a cellar door in Morpeth, or you can make the 40-minute drive to Pokolbin via Kurri Kurri to see town murals and big Kookaburra.
Did You Know: There is also a Morpeth near Newcastle in Northumberland, England.
Top Things to Do in Maitland
Maitland has an arty feel to it. The mix of cafes and bars, the quirky creative spaces, dozens of antique shops, and an impressive collection of op shops had me picking up a bit of an inner-western Sydney vibe.

There is enough to do without feeling overwhelmed by choice, making it an excellent place for a quick break from Sydney.
Maitland Regional Art Gallery
We began our first day at the Maitland Regional Art Gallery. Affectionately known as MRAG, the gallery was one of the first to open in regional Australia.

Housed in what was once the Maitland Technical College, MRAG offers 11 exhibition spaces of various sizes, allowing them to host several small shows at a time.

We were impressed by the range of exhibitions running during our visit, everything from a fabulous collection of miniature art to the Guns to Roses collection (closing August 2) featuring this work below.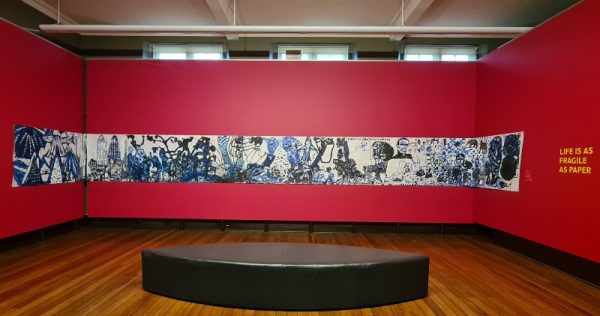 The building itself has a few unique features you should hunt down, the cantilevered marble staircase and art nouveau headlight above are stunning.
There is also a shop with a beautiful range of books and gifts, including an impressive children's collection. Completing the space is the very popular cafe, Seraphine, which ensures you won't leave hungry. Sadly, it was closed for renovations during our visit, but we will stop here next time we are in the area.
Where: 230 High Street, Maitland
When: 10am-5pm (Closed Monday)
The Levee and High St Maitland
Maitland's High Street runs parallel to the Hunter River. On one side, you have the lovely River Walk and the other The Levee, a partially pedestrianised strip of shops and cafes.
Seating areas are dotted along River Walk, perfect for enjoying the water views with a takeaway lunch or coffee.

The river is linked to The Levee shops in a couple of places; the Bourke Street Link at the southern end of High Street features this mural by Patricia Van Lubeck.
Another is the Riverlink Building home of the popular bar, deli and restaurant COQUUN. It's a fantastic spot to enjoy the riverfront with a drink, and the menu, which incorporates native flavours, is well suited for sharing or grazing.

Outside the building is the silver installation, Braddon Snape's "Clouds Gathering, " representing Central Maitland's relationship with water and the river.
Once you reach the end of the River Walk, head back to the main street and take in some of the well-maintained heritage buildings.
One of my favourites was this Byzantine wonder that was originally a bank and most recently, a department store. It would make a grand hotel.
Further along is the Maitland Post Office, designed by James Barnet, the colonial architect responsible for Sydney's Customs House and the State Library, which is another standout.
Boxer Les Darcy was known as the Maitland Wonder; fans can visit several memorials that honour him.
Almost opposite the post office, down a laneway next to The Bikesmith & Espresso Bar (great coffee btw) is another artwork. It features 22 birds painted on Bob's Bird Barn, a derelict building that was most recently a pet store. You can buy a book featuring all the birds at either MRAG or local gallery Studio Amsterdam, also on High Street.
Maitland Gaol
When it closed in 1998, Maitland Gaol was the longest operating gaol in Australia. Over its 150 years of operation, it housed some of the state's most notorious criminals, including serial killer Ivan Milat, drug baron George Savvas, and bank robber Darcy Dugan. The conditions were harsh, and I can not believe it only closed 20 years ago.
You can download an app and complete a self-guided tour or join in one of the guided options, including a comprehensive history tour and an escapees tour.

Because of current health restrictions, these tours are not operating, but the self-guided tour is excellent and well worth doing.
Where: 6-18 John St East Maitland
When: 9am-4pm (10am weekends)
Walka Water Works
This Italianate architecture of the old waterworks seems entirely out of place here on a back road 2km from town, surrounded by farmland.

Classified by the National Trust, the waterworks was the first permanent clean water supply in the Hunter Valley. Makes you wish we still built our industrial complexes with as much class.
Today Walka is an excellent place for a picnic. Grab some takeaway treats from nearby The Icky Sticky Patisserie. Their rolls and sandwiches are as delicious as their cakes.

It's also a lovely spot to stretch your legs, with over 12km of tracks and 140 bird species attracted to the area.
The full walk around the reservoir takes about 50 minutes. There is a bird lovers app and guide you can download if you fancy trying to spot some of the local wildlife.
Where: North of Maitland via Oakhampton Road and Scobies Lane
When: Open 7 days from 7am to 5pm (7pm during daylight savings time)
The Homes of Lorn
The suburb of Lorn, just across the bridge from the centre of town, is likely on your radar because of its rightfully famous patisserie (see below) but if you can carve out a little time, take a walk around the streets here. There are over 300 heritage listed homes and some lovely gardens.
Things to Do in Morpeth
Located on the southern banks of the Hunter River, Morpeth was once Australia's second-largest river port. It is also the birthplace of several brands that became household names; Arnotts, Soul Patterson, Sims Metal and Brambles Transport among them.
With its historic main street, well-preserved buildings and beautiful riverside setting, this small town has lots of charm.

Morpeth is an easy place to take a shine to, and we were glad it was our base for this visit.
Morpeth Heritage Walk
Start your day with the Morpeth Heritage Walk – the 25 stops, mainly on Swan Street and High Street, highlight the key buildings of the region and even if you're not a history buff, the buildings themselves are interesting to see.

We took our walk just after sunrise. The light over the bridge, and the river was gorgeous. The streets were almost empty, perfect for capturing photos of the heritage architecture.

If the Museum is closed, you can download a map here.
The Commerical Hotel
A classic old Aussie pub with a fantastic first-floor verandah overlooking the main street, the Commercial is also home to Morpeth Brewery. This microbrewery offers all-natural beers with no preservatives or additives.
Charles got stuck into a tasting paddle, and I had my first glass of wine for the year! An organic shiraz from nearby Tamburlaine winery at Pokolbin. It was a quick visit before dinner, but we could have easily stayed longer enjoying the afternoon sun.
Campbell's Stores
James Campbell built Campbell's Stores in 1835 when the Queen's Wharf saw hundreds of boats deliver goods to Morpeth each year. This was the place to shop, not only the Hunter but neighbouring regions as far as the Queensland border. Today it is still attracting crowds from far and wide with its vast range of quality antiques and collectables.

We were given the grand tour by Trevor Richards, who purchased the business back in the 1980s and has restored it to its former glory. If you have questions about the town and its fascinating history pop into the first-floor gallery at the back of the property and have a chat with Trevor aka "Mr Morpeth".
Over twenty dealers are offering everything from heirloom jewellery, vinyl records, tin toys, vintage signs, tools, books and teddy bears. There are also ten specialty stores selling food, art and even an excellent man cave selection! You could easily spend a couple of hours here.
Campbell's Stores is also home to the Morpeth Ginger Beer Factory, the very impressive Morpeth Art Gallery and the old servant's tea room.
Where: 175 Swan St, Morpeth
When: 10am-5pm Thurs-Sun.
Dr. Morse's Indian Root Pills Barn
If like us, you research future destinations on Instagram, you will have likely seen images of the vibrant blue barn. We were told it was on Morpeth Road and we would see it repeatedly, but we kept missing it, driving the road in morning fog or after dark. In the end, we had to hunt it down specifically, and when we did, it was worthwhile.
If you are looking for a souvenir to take home, they sell this image on a magnet at the MRAG shop.
Where We Ate in Morpeth
We did a lot of eating during our visit; it was hard not to there are so many great choices.

On this visit, we were based in Morpeth, which has plenty of cafes for breakfast and lunch, the dinner options are not as diverse but there is enough for a couple of nights and Maitland is only 10 minutes' drive away if you want more choice.
Boydell's at Morpeth
Boydell's Restaurant and Cellar Door is in an old slab building in the heart of Morpeth is like having a little piece of the Hunter Valley right on your doorstep.
We were treated to a three-course menu by the large open fireplace. The service was fantastic, and there is a sommelier on hand to help you select the right wine for your menu choices.
Where: 2 Green Street Morpeth
When: The cellar door is open Wed-Sun and the restaurant Thurs-Sun for lunch and dinner.
If you are looking for somewhere a little different to stay, Boydell also offers a luxe eco African Safari Tent.
Savannah on Swan
On the banks of the Hunter River right by the iconic bridge is old Morpeth's Bond Store, home of Savannah's on Swan. A classic menu with just enough choice.

We enjoyed our breakfast in the garden overlooking the river and imagined on a warm summer afternoon, this would be a lovely spot for lunch.
Upstairs is a gift shop with plenty of goodies, so pop up and explore before you leave.
Where: 130 Swan Street Morpeth
When: 8.30-4.30pm (8am on weekends)
Common Ground
Common Ground also offers a river view from its back dining room. We loved the coffee here and wished we had had some room left to eat because the menu looked great. If you want a quick pick me up, they had a kombucha and protein ball deal.
Where We Ate in Maitland
COQUUN
Daniel O'Leary heads up the team at COQUUN, a café, small Bar, deli and bistro in the Riverwalk building. Its location overlooking the river is the first drawcard, but the spaces, both inside and out, are inviting.

The emphasis here is on quality produce locally sourced. We ordered the whole snapper, with chilli, finger lime, lemongrass, and ginger. It was delicious and perfectly cooked. We also sampled the Red pepper bush tomato relish, which was a hit with me, much better than tomato sauce!
For dessert we shared the panna cotta, they served it with a wattle seed crack (YUM) and eucalyptus caramel. I have never seen eucalyptus on a menu, so I had to try it. The caramel was excellent. It seemed less sweet than regular caramel, which was a win for me and had a fresh mint-like finish.
I wish this were my local because there was so much here on the menu we wanted to try. The team were friendly, and their passion for the food and the region is undeniable. We highly recommend you check COQUUN out.
If you have time for two dinners in the region, make it this and Boydell's.
Where: 396 High St, Maitland
When: Currently Thur-Sun 10am-10pm – check the website for updated hours before your visit.
The Orange Tree
We had a lovely lunch at The Orange Tree, a cafe at The Levee that has a lovely courtyard overlooking the river.
The cafe is licensed and I can think of no better way to finish a morning shopping trip and a salad and a glass of wine overlooking the river here.
Where: 346 High St, Maitland
When: 8am-3pm daily
The Rigby
In a restored 1870s heritage building on High Street just along from MRAG, The Rigby provides a relaxed, welcoming space with a well-priced menu.

On Friday and Saturday, they offer dinner, with a share style menu and an impressive looking cocktail list. We were a little disappointed it was a bit early to drink during our visit.
Where: 307 High Street Maitland
When: Open for breakfast and lunch Sun-Thur and breakfast and dinner Fri-Sat
The Whistler
The Whistler, a pub on High Street in Maitland, makes a great choice for families and groups with their menu offering something for everyone including; gluten-free, vegetarian, vegan, and dairy-free, dietary options!
We went with relatively healthy choices here after a couple of days of decadence, but the menu had all the pub favourites, and they looked great as they came out past our table.
Where: 436 High Street Maitland
When: 7:30am-9pm Tues-Thursday, midnight Fri-Sat 10pm Sun.
Icky Sticky Patisserie
Lorn's Icky Sticky Patisserie was the first place friends recommended when they heard we were visiting, and thankfully we managed to fit a trip in on our way home. For the last 6 years husband and wife team, Phillip Bowtell and Jessica Boutard have been treating the locals to some of the best cakes we have ever tried.
Along with a bunch of picture-perfect looking single-serve cakes, there are whole cakes, pastries, rolls and sandwiches, all perfect for a picnic or the drive home.
Where: 2/27 Belmore Rd, Lorn
When: 7:30am-2pm daily
This post contains affiliate links. We may receive compensation, at no extra cost to you, when you click on or make a purchase using these links. Our full disclosure policy is here.
Where We Stayed
The Bronte Boutique Hotel
From the moment we arrived at The Bronte we felt like we were visiting friends. The property and its owner are so welcoming.
Clint, who purchased The Bronte in 2014 and has given the property a beautiful makeover, met us at the door. He gave us the grand tour, including some background on both Morpeth and the home once owned by Caleb Soul, founder of Soul Pattinson Pharmacy.

The hotel is in the centre of the main street of Morpeth. This allows you to park your car on arrival and explore the town on foot. Boydell's is a 5-minute walk away, so make a dinner reservation and have a car-free day.
The styling of the period building, with bold colours and a mix of Victorian and Asian antiques and artworks, is both stylish and warm. The bathrooms are modern, but classic black-and-white tiles and fittings are in tempo with the rest of the house. Some rooms feature generous bathtubs and twin showers, nab one of these for a real treat.
They cook a hearty breakfast to order and serve on the first-floor balcony. Don't decline the homemade muesli to start; it is delicious!
Where: 147 Swan Street Morpeth
If the Bronte is fully booked, you might like one of these properties:
William Arnott Hotel – This stunning historic property offers double and queen rooms and a 2 bedroom apartment
The Villa – a King Studio with a stunning bathtub and comfy living space
Surgeon's Cottage – You can book either one or two bedooms in the cottage
Related: Check out our guide for 48 hours in nearby Newcastle.
Tips for Planning Your Visit
Visit Thursday to Sunday for the best range of shops and attractions; most are closed on Monday and Tuesday.
Make dinner reservations, particularly on Friday and Saturday nights
Keep your eyes peeled on the Morpeth Road, just after you pass East Maitland Station for the old barn painted with Dr Morse's Indian Root Pills advertisement.
Getting to Maitland and Morpeth by Public Transport
Driving is the best option if you want to explore the area, however, you can get to Maitland by train from Sydney. There is a limited bus service from Maitland East to Morpeth or Maitland High Street Station to other parts of the area. Check the 184 bus timetable here.
You can also take the XPT train to Maitland and then take a taxi 9km to Morpeth.
Note: We were hosted by MyMaitland for this trip; that being said, we have shared our honest thoughts and opinions of our time in the region and can't wait to return.