We have created an easy to follow itinerary for visiting the Blue Mountains by train to help you explore this UNESCO wonderland on a budget. Departing from Central Station in the centre of the city, we show you how to see some of the mountains top sites for less than $20!
An itinerary for visiting the Blue Mountains by public transport.
This itinerary starts with a 2-hour bushwalk before you take a well-earned rest at lunchtime. After lunch, choose one of three options for the second half of your day.
Tip: If your budget is tight, then it's hard to beat the value of travelling to the Blue Mountains on a Sunday and taking advantage of the Opal Sunday deal. The full-day will cost you less than $10.
The downside of such a bargain is that the train and the mountains themselves will be more crowded than other days of the week. However, if you are trying to keep costs down, it's certainly the way to go.
This same outing using only public transport on a weekday will still cost you less than $20.
Start the day by taking an early train from Central Station to Katoomba.
Trains depart from platforms 5-12 in the older section of the station. The trip usually takes about two hours. Try to aim for the 6:23am or 6:53am train for a full day to explore. In summer when days are longer you could leave a little later. Check the train times on Trip Planner
On arrival, walk to the 686 bus stop outside the Carrington Hotel on Katoomba Street.
If you are on a really tight budget, pack a picnic lunch. You could also pick up supplies on arrival in Katoomba at Aldi or one of the bakeries.
Katoomba and the Three Sisters
Aim to arrive by 8:30am or check the bus timetable for later bus times.
8:48 am – Take the 686 bus from Katoomba Street to Scenic World and follow the instructions below.

For a shorter walk get off at the Blue Mountains Tourist Park, Katoomba Falls Rd and begin your walk from behind the Katoomba Falls Cafe. You will begin at the Prince Henry Cliff Track.
The 2km Katoomba Falls circuit starts near the car park and is well signposted. It will take you about an hour and a half to complete. It is especially good after it has been raining, but this waterfall has some water year-round regardless.
You begin by following signs to the Katoomba Falls access track between the car park and the main building.

We will start by taking the Round Walk to Katoomba Falls; this was one of the first tracks to be opened for tourists to explore in the late 1800s. This circuit will rejoin the Prince Henry Cliff walk but is worth the diversion as it offers so many pretty views.
The walk passes several lookouts including
Vanimans Lookout – a great view of the Falls and the Three Sisters
Juliet's Balcony – a full-length view of the Upper and Lower Katoomba Falls
Witches Leap – a small, but pretty waterfall
Rainforest lookout – especially lovely lookout over lush ferns and the upper falls.
From here we will return to the Prince Henry Cliff Track.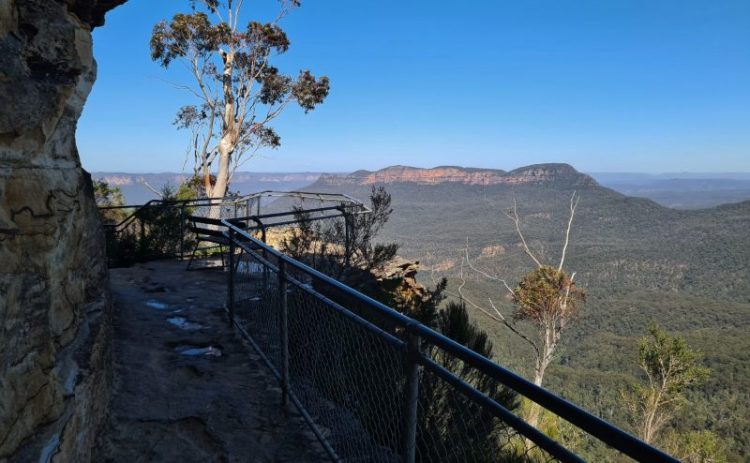 The Prince Henry track takes you past the top of Katoomba Falls and the Katoomba Cascades before moving on to:
Cliff View Lookout
Lady Darley Lookout
Queen Elizabeth Lookout at Echo Point
Detailed instructions here
Once at Echo Point you will be rewarded with the classic Three Sisters view.
There are two lookouts at Echo Point. The one on the lower level is usually less busy once you are done make a quick stop at the visitor's centre for any free maps of the park you might need before it's time to head out onto the Three Sisters themselves and take a closer look.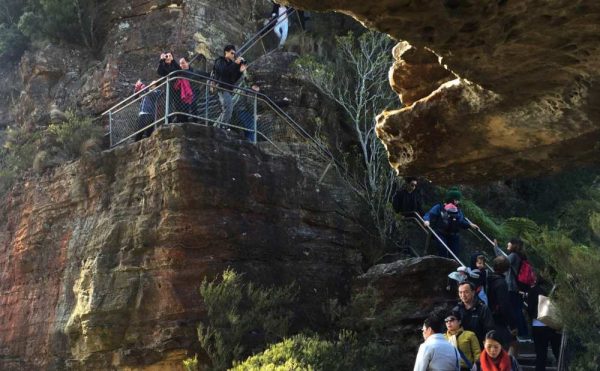 The walk down to the rock formation is about 1km and will take you approx 45 minutes return. It is a relatively easy walk to a small bridge called Honeymoon Bridge which will take you out onto the first sister and let you check out the cave in this formation. The track is suitable for most people, but there are quite a lot of stairs down to the bridge.
Time for lunch
By now, I am assuming you are pretty hungry. You have a few options; Miss Lilian's at the Lilianfels hotel is excellent if you fancy a big bowl of Pho or a Vietnamese salad. Not exactly a budget eat but you have saved money on your tour costs so why not splurge!

If you would prefer a cafe or takeaway lunch, I suggest heading to Katoomba where there are several affordable options like Hominy Bakery, 8 Things and Aunty Ed's.
Afternoon options
Choose from one of these three villages to explore, Leura for shops and gardens, Wentworth Falls for a waterfall walk or Blackheath for epic views of the Grose Valley
Related: Check out our list of 50 things to do in the Blue Mountains for more ideas.
Option 1 – Explore Leura
Don't feel like any more big walks?
If you don't feel like any more long walks, you could take the bus to Katoomba Station and either change buses or head one-stop east on the train to Leura.

There is plenty to see and do in Leura from exploring the shops and galleries to checking out more lookouts. You might also want to drink a few great Aussie brews at the local pub after all that walking.
If you are visiting in spring I suggest a stroll past Cherrydell, a beautiful private garden that is often open in October and then on to Everglades ($16.50) or just continue on to Sublime Point Lookout. You can return to Sydney from Leura Station.
Related: 3 Blue Mountains bushwalks in Leura
Option 2 – Wentworth Falls
Fancy more walking?
If you have stopped at Katoomba for lunch, then you can take the 685 Katoomba to North Wentworth Falls bus, ask the driver to drop you at the Fletcher St & Falls Rd stop. From here walk 850m to the Wentworth Falls Track.

Your efforts will be well rewarded, especially after rain when the falls look particularly spectacular.
There are a few walks here that allow you to view the Jamison Valley from a different angle.
There is an excellent video on Youtube by the blogger Sensatious Hiatus that might convince you it is worth the effort to walk to the base of the falls.

This is NOT an easy walk so read the track notes before you start and make sure you carry water. If you prefer, you can begin your day here and complete the mornings walk in the afternoon.
Option 3 – Blackheath
Blackheath is actually our favourite Blue Mountains town. It's the furthest west we suggest for anyone travelling by public transport and along with some great food, small galleries and antique shops the views from Govert's Leap are second to none.
Take the 698 bus from Katoomba to the Blue Mountains Heritage Centre, Govetts Leap Road. Spend a few minutes exploring the heritage centre before you head off on the Fairfax Heritage Track to George Phillips Lookout and then on to Govetts Leap lookout.
This is an easy walk and if you fancy something a little more challenging talk to the staff at the visitors centre and they will be able to help you choose the best walk for the time you have.
We would usually recommend the Cliff Top Track but it is currently closed for repairs after the 2019/20 summer bushfires.
Once you are finished walking here you can take the bus back to Blackheath Station for the train to Sydney or if you are a feeling cashed up jump in an uber to the station.
Before you go
Exploring the Blue Mountains by public transport really isn't difficult but if you decide you want an easier day then check out the HOHO bus pass.
Stay overnight in the Blue Mountains
If you can spare a night, I highly recommend staying at the Blue Mountains YHA and doing a few more of the regions' walks. You can also take a transfer to Jenolan Caves if you fancy spending a day exploring the caves.