Self-Guided Inner West Street Art Walk
If you like Street Art, you will love this self-guided Inner West Street art walk through St Peters, Enmore, and Newtown. A word of warning, this is not a short walk, the whole thing will take you a good half-day or longer if you stop for eats. If you have limited time or energy, you could choose just to do a portion of it. Buses run along these streets back to the city.
Updated 29 March 2023
This page contains affiliate links. Our full disclosure policy is here.
Recently on a particularly perfect sunny day, I went exploring some of my favourite inner west suburbs on a mission to find some great street art. This area has a large number of excellent works to choose from thanks in part to Marrickville Council, (now Inner West Council) who have over the years built good relationships with local artists through their Perfect Match program which has been replaced by a new program called Edge.
Originally this post was going to be all about the art, but there is so much great food in this area I have added lots of eating (and drinking) suggestions which may make it hard for you actually to complete the walk in half a day.
Stop 1 – Mays Lane St Peters
Begin at St Peter's train station approx 12 mins south-west of the Central Station. Once you arrive exit to the right side of the station and you are minutes away from Mays Lane.

Mays Lane and Caroline Lane, which runs off it, are an outdoor gallery featuring an ever-changing array of work. Some of the work here is legal, but since 2010 artists should seek permission to paint here, and that does not always happen. Along with a studio nearby, there is also a Facebook page showcasing the work.
Wander up to the main road, the Princes Highway, you will notice some tall brick stacks from the highway. This area is Sydney Park; once a brickyard in recent years has been converted into a fantastic space with bicycle tracks, a community garden, picnic areas, and wetlands.
Continue north along the Princes Highway, once the road crosses the railway line the highway becomes King Street. This 2km long thoroughfare which along with its sister street Enmore Road home to over 600 shop fronts, most of them independent and small businesses.

You are now in South Newtown, and there is street art down almost every lane. I will highlight some of the pieces I have discovered, but a wrong turn will probably result in you finding something just as wonderful.
Step 2 – Darley Street/Darley Lane- Welcome to Newtown
Head one block down to Darley Street. On the corner are the Botany View Hotel and a fitting ode to Newtown that highlights some of the suburbs icons. This was part of the 2017 Marrickville Council art program
The back wall of the hotel has in recent years hosted large-scale murals that focus on current social issues. Among my favourite of the recent ones was a key political figure smoking weed.
Go back to King Street and on the next corner Darley Lane there was once a very chilled out elephant 🙂 Sadly no more. I have decided not to show you the new work because I prefer this one.
If you are in need of sustenance before you get too far into the walk, you will find plenty of good options along this section of King St
My favourite food spots along this stretch of King Street are:
Foodarama has excellent coffee and a very decent breakfast menu.
Parliament on King – a tiny cafe that has a big heart a lot of interesting things to look at.
Tea Totaler – Coffee not your thing? No problem, this gorgeous tea shop will be hard to resist.
Pastizzi Cafe – warm pastries with a variety of sweet and savoury fillings and budget prices.
If you just want sweet treats to stash in your bag for later try
Grab a lamington at Flour Drum
Patisserie Petunia Bakery for an almond croissant or sweet pastry
Stop 3- Matt Hogan Reserve – Fintan Magee Mural
Turn left down Alice Street and continue walking until you reach this small park. It will be on the northern side of the street.
The park home to a gorgeous mural by Fintan Magee, probably my favourite street artist working in Sydney. This project was crowd-funded by residents in the houses surrounding the park. I was told by a local that image represents the first page of a picture book, and the artist hopes to complete several more in the neighbourhood to reveal the story.
Exit the park to Camden Street and head back up towards King St. Continue along King St – there is some good window shopping and a couple of great bars/foodie spots along here if you feel in need of sustenance at this point
Newtown Social – old pub all done up.
Bach Eatery – from midday on Sunday – great share plates
Continue along here until you reach Goddard Street. The walls of this short street look sort of like a gallery with a collection of small works in a line. At the end of the road turn right onto Bailey Street.
This street hosts an ever-changing display of graffiti on the garage doors that line the left-hand side, some good, some not so unique but it is a bit of a shortcut to our next destination on Enmore Road.
Stop 4 – Enmore Road
This work by Colin Bebe has recently been surrounded by controversy after being painted over by an ad agency sprouting a new film. There was a massive uproar from residents, and it was very quickly recreated and an apology was issued. It depicts the intersection of King Street and Enmore Road.
At this point, if hunger strikes you consider stopping at:
Stop 5 – Enmore Road and Station Street
On the wall of the Urban Hotel, you will find another Fintan Magee mural; this is called Housing Bubble. Pretty appropriate for Sydney I think.
Stop 6- Phillip St and Phillip Lane, Enmore
In these three streets, you will find a mix of stencil art and spray art. Artists are working in these lanes every time I visit. The last time I spoke with an older Greek gentleman whose home backs onto the lane and asked him if he minded all the graffiti, he said he felt it made the surroundings more beautiful, and he loved that now there are always people around.
Stop 7 – Young Henry's
If you have not already stopped for a break or have an interest in craft beer a stop at Young Henry's is highly recommended. The Brewery is in a warehouse and easy to miss but worth taking the time to find! Try the Newtowner or the Cloudy Cider if you are not into beer.
OK so tear yourself from your bar stool and get back out on the street (or not, I mean it's your holiday so feel free to ignore me and keep drinking till they close!)
If you are with me, walk back up to Enmore Road and continue north towards the city until you reach Australia Street. At this intersection is the Newtown Art Seat and on weekends often an assortment of market stalls.
Stop 8 – Newtown Art Seat and Guardian Dog
Opposite Newtown Station at the top of Australia Street is a pedestrian space known as Newtown Square. The square is home to a small market on Saturdays and some cool artwork. Firstly the Art Seat, a place to rest your bones and a gallery for a changing display of work by local artists.
Highlighting just how dog-friendly the area is the Newtown Guardian Dog by Richard Byrnes, there are three dogs, placed at the entrances to the suburb. The other two are in St Peters and Enmore.
If you have heard of the infamous strawberry and watermelon cake from Black Star Pasty, you can see the original shop was on Australia St, but recently moved up onto King Street just past the corner.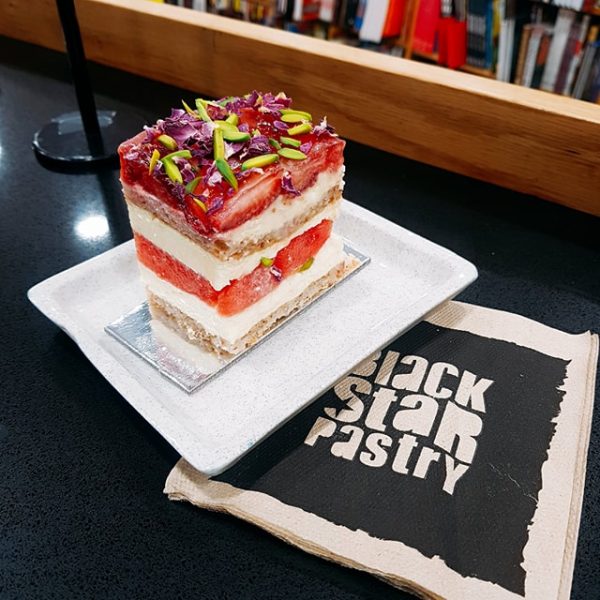 It is still my favourite cake in all of Sydney several years after it first appeared.
Now we are just going to walk a little further up King Street to the Martin Luther King mural.
Stop 9 – King Street – I had a dream
This one is one of the earlier Newtown murals. Painted in August 1991 by Andrew Aiken and Juilee Pryor (Unmitigated Audacity Productions). Later the Aboriginal flag was added at the bottom.
Just before the mural is Blue Dog Poster shop – worth a look if you want to take home some local artwork at a very reasonable price.
Keep walking along King Street exploring the shops until you reach Church St. Turn left on Church Street. Right around the corner is another Fintan mural I am not sure if this one has a name.
However, it does have a story. It used to be a drawer of an archer with a bow yet due to a miscommunication it was painted over shortly after being completed. When he was asked to redo it, he decided to paint something new.
Stop 10 – Camperdown Park and St Stephens Church
The walls surrounding Camperdown Park play host to several new murals and is a great place for a picnic.
If you have picked up some snacks along the way stop for a picnic lunch in the park. Before you leave spend a few minutes exploring the historic St Stephens Church graveyard.
If you prefer the idea of a more formal walking tour with a knowledgeable guide, you might like to check out Culture Scouts tours. I have not managed to get along to one yet, but I have heard good things.
Inner West Street Art Map
I have made a Newtown Enmore Street Art Google map that will help you find all the spots I mentioned and a whole lot more!
In our map, we have included a bunch more art not included on this walk but nearby if you have extra time to fit a few more spots in
You might also like to check out 20 other Fintan Magee murals across Sydney.
Do you know of any great spots I have missed? Share them here so we can add them to the map.
Want a shorter walk? Check out this walk along Lennox Street Newtown that offers lots of art in a very short stretch.
Book a guided Street Art Tour and let someone else worry about the route!