16 Fun & mostly Free Things to do in Kiama
There are so many things to do in Kiama we think it's worthy of repeat visits. Today we share a list of the best Kiama activities that we recommend you see when you visit this National Trust listed town only 120km south of Sydney.
The coastal town of Kiama, south of Sydney, is one of our favourite places to head for a short break. We have been visiting since primary school days, so whether you are heading there on a day trip or quick getaway, we have you covered.
This page contains affiliate links. You can find our full disclosure policy here.
Heritage buildings by the harbourside and an abundance of natural attractions make Kiama the perfect spot for a day trip from Sydney, a weekend getaway or even a week-long break, which will give you plenty of time to enjoy the many riches the region offers.
The traditional country of the Wodi Wodi people, the indigenous name is Kiaram-a, is said to mean "where the sea makes a noise."
Must-see sites and things to do in Kiama
All this natural beauty, such a short distance from Sydney and halfway along one of the state's best coastal roads, the Grand Pacific Drive, make plans to go soon if you have not visited.
View The Kiama Blowhole / Khanterinte
For over 100 years, the Kiama Blow Hole has been the number one stop for visitors from Sydney. It's still a draw card today, so pop in and look. The best way to find the blowhole is to head to Kiama Lighthouse.  
The blowhole was first spotted by explorer George Bass in 1797
There are two blowholes – Big Blowhole gets most of the attention, but Little Blowhole can actually be more exciting. 
It is impossible to plan the best time to see the blowhole and to be honest; It has disappointed more often us than we have been delighted, but according to the team at the visitors' centre, there are a few things to consider.
In a northeastern wind, Little Blowhole
In a south-easterly, the main Kiama Blowhole near the lighthouse is the go
Swim in the Kiama Rockpools
Kiama has two fabulous rock pools right in town and two more only a short drive away in Gerringong. If you are staying a while, we suggest you add all four to your list as they are picturesque spots to spend some time in the water or even just look at it!
Blowhole Point Rock Pool
This pool to the north side of Blowhole Point is an excellent choice if you have young kids with you. There is usually plenty of parking and decent facilities.

Where: Open the Google map location
Continental Rock Pool, aka the Olympic pool
This 50m rock pool at Black Beach reserve has a lovely aspect across the harbour. The pool is accessible, children's change rooms and parking.
Where: Open the Google map location
Boat harbour Rock Pool
A splendid choice if you want to settle in for a while. There are picnic and bbq facilities. You will find it a short walk from Boat Harbour Reserve.
Where: Open the Google map location
Stroll the Kiama Coastal Trail
On the wishlist for hikers is the Kiama Coast Walk, with its beautiful coastal views.
You can choose to walk some or all of the trail. While some people knock it off in a day, most cover it in two.

The walk is generally split into three sections:
North Section – Minnamurra River to Kiama Blowhole – 8.4km – allow 3hrs.
Mid Section – Kiama Blowhole to Loves Bay – 5km – allow 1.5hrs.
South Section – Loves Bay to Gerringong – 6km – allow 2hrs
Everyone asks which is the best part of the Kiama Coast Walk for us; it's the South Section cause we love that it's relatively quiet and green. Photographers will probably favour the first section, which offers plenty to please the lens, particularly at sunrise and sunset.
Tip: Gerringong Bowling Club has a great deal on offer to hikers – spend $20 per person at the club for a free ride back to Kiama.
Head to Kiama's Whale Watching Platforms
Spot some whales – The best whale-watching spots in the Kiama area are the two official viewing platforms.
Whale watching season runs from June to November, but the best time to spot them is in July-August when they head north and are closest to the coast.
Watch a Kiama Sunrise
The best place to see a sunrise on the Kiama Coast is Cathedral Rocks at Jones Beach. We have to be honest; we have not actually managed to wake up and be there for sunrise, but our nephew, a keen photographer, rates it highly and shared this image with us.
Head to the Bombo Headland Quarry or Jones Beach to capture the action. Ideally, photographers should try to visit the day before in daylight to scope out the best places to set up their cameras.
This is also one of the best spots in NSW to see the Milky Way
Explore the Minnamurra Rainforest and Minnamurra Falls
If the temperature rises and you fancy cooling down, then take a short drive to the Minnamurra Rainforest. The temperature is always a few degrees lower, and the walk to the falls is not too difficult for most. Check with the visitors centre staff to see if it's right for you.
BTW it's located confusingly in Jamberoo and not in Minnamurra Village as the name might suggest.
Related: Check out our guide to the best waterfalls in NSW
Follow a Scenic Tourist Drive
If a scenic drive is more your thing than a hike, we recommend Official Tourist Drive No 9. The trip will take you from Kiama to the Southern Highlands via Jamberoo Mountain Road.
Along the way, you will pass:
Jamberoo township
Minnamurra Rainforest & Waterfall
Illawarra Fly Treetop Adventures
Carrington Falls
Robertson – famous for its pie shop and Big Potato – possibly the ugliest "big" thing in the country.
Return to Kiama via Macquarie Pass and Albion Park. Alternatively, head further south and take in the towns of Gerringong, Gerroa, and Berry before returning to Kiama via the highway.
Get a birds eye view
If you don't fancy the full tourist drive, there are some spectacular views from the many lookouts along the coastal cliffs and in the Kiama hinterland.
Coastal lookouts
Minnamurra Lookout – Located on Minnamurra Headland offers magnificent views over the river and towards Kiama. There are also great views of Stack Island, an interesting rock formation just off the beach.
Mount Pleasant Lookout – For the classic south coast shot of rolling green hills, cows and crescent-shaped beaches, this lookout is epic. It's also just off the main road, so not a huge time investment. It's also known as Billy's Lookout – open the Google map location.

Sir Charles Kingsford Smith Memorial Lookout – A short drive south of Kiama just before you arrive in Gerroa, this is the spot where Kingsford Smith took off on January 11, 1933, to New Zealand.

The turn off to the lookout is at the crest of the hill, and there is a small car park. You can also park at the Gerroa Fisherman's Club, which offers a similar view from their dining room. Open the Google map location.
The view over Seven Mile Beach is backed by the Seven Mile National Park, where you can camp or challenge yourself to walk the length of the beach – we had done it a handful of times when we stayed in the area. It's a brilliant workout!
Hinterland Lookouts
There are at least three great hinterland lookouts within an easy drive of Kiama. You probably only need to visit one of them as the aspects are similar. Choose the one that is near other things you plan to visit.
Jamberoo Lookout – The viewing platform at Jamberoo offers a distance view of the ocean over miles of lush farmland. Where: Open Google map location.
Saddleback Mountain Lookout – Just 6km from Kiama offers panoramic views that stretch from Sydney's southern beaches at Cronulla to Milton.
Where: Open google map
A little further down the coast is Cambewarra Mountain Lookout.
Swim at Kiama stunning surf beaches
There are several beaches between Shellharbour and Seven Mile Beach at Gerroa that are easily visited from Kiama. Our favourite is Seven Mile, where I spent many school holidays in my later teen years; it's a beautiful long beach backed by National Park and usually devoid of crowds.
Jones Beach – Popular surf beach close to Cathedral Rocks
The Boneyard Beach – a pebbly beach that is dog friendly and popular for snorkelling
Bombo Beach – the long beach you can see from the train, this dog-friendly beach is best for surfers.
Black Beach – not a good choice for swimming but popular for snorkelling
Kiama Surf Beach* (aka Main Beach) a small beach with excellent facilities
Kendall's Beach* – a popular choice for families, usually not too busy
Easts Beach* – a brilliant choice on windy days as it is a well-sheltered beach
*They patrolled these beaches between October and Easter each year.
Which Kiama Beach is best for kids? Surf Beach has a good playground, and Kendall's Beach is also a popular choice.

Which Kiama Beach is suitable for snorkelling? Bushrangers Bay Aquatic Reserve at Shellharbour is about 20 minutes north of Kiama and the best spot along the coast.

Which Kiama Beach is a good choice for some privacy? Mystic Beach at Minnamurra is a splendid choice if you are steady on your feet and don't mind a bit of a walk to get there.
Visit one of the nearby villages
Berry – Only 20 minutes south is the charming town of Berry. Its main street is lined with cute shops and a popular day trip for Sydneysiders who go to poke around and have lunch.
Many people rate the Berry Donut Van; we haven't eaten one in over a decade, so we can't vouch for that, but Milkwood Bakery in the main street does fab pies, pastries and excellent sourdough.

Gerringong/Georra – Just a 15-minute drive south of Kiama surrounded by dairy country and enough shops and cafes to keep you entertained for a short visit. If you prefer something more active, the Gerringong Golf Club must be one of the most picturesque in the state. You can also do surf lessons at nearby Seven Mile Beach.

Jamberoo Village – This hinterland village is best known for its fabulous old pub that makes a meal hamburger. Definitely worth a stop on Tourist Drive 9.
Eat Fish and Chips at Kiama Harbours Fisherman Coop
I am not sure anything beats eating fresh fish straight off the boat, and after a look at the blowhole, your next stop should be the Fisherman's co-op.

There is plenty of lawn overlooking the harbour to enjoy your meal, whether you go with the traditional serve of battered fish and chips or the healthy serve of fresh prawns and oysters.
Try some Retail Therapy
Kiama Seaside Markets are held at Black Beach, Kiama, from 9am on the 3rd Sunday of each month. Get in early for parking as this busy little town gets a lot busier on market day.

The Historic Terrace Houses at Kiama were once cottages for quarry workers, but in the 1970s, they were restored and turned into shops that quickly became popular with daytrippers. Today they house antique and gift shops and cafes. If you visit in summer, you will be drawn to them by the beautiful jacarandas that line the street outside.

Don't miss The Collective, a marketplace that retails for dozens of local businesses (they also have shops in Gerringong and Huskisson)

Kiama Farmers Market – The Farmer's markets every Wednesday afternoon at Coronation Park, Surf Beach. Unlike most markets, they operate from 3-6pm, perfect for late sleepers.
Discover Kiama's Art Trail
We discovered the Kiama Art Trail after purchasing a couple of paintings from a stall at the seaside market. The artist suggested we look at some of the small galleries and studios in town. The trail stretches from Kiama Downs to Berry.
Taste the local wine and brews
Check out a local brewery. Stoic Brewing in Gerringong is best known for its pale ales. Food trucks provide the eats and change regularly.

It's only a short walk from the train station, so if you stay in Kiama, consider taking the train and letting loose!

Coolangatta Estate

The first winery in the Shoalhaven and also the most awarded in the region
Coolangatta Estate offers a cellar door and a restaurant only a short drive from Kiama. You can book a wine tasting of six of their current releases or enjoy a wine paddle in the garden. They also serve some pretty tasting plates.
The property also offers convict-built cottages, which you can book as your base for a night or more.
Get an adrenaline Hit
Jamberoo Action Park – You can easily spend an entire day at Jamberoo, especially in summer when the water slides will melt away the heat.


Illawarra Treetops – From a gentle walk through the treetops to zip-lining, the Illawarra Treetops is an experience for the entire family.

Explore the temperate rainforest, waking the 1.5km tree walk. For one-third of the walk, you will be 30 metres above the ground, and the view from the lookout is breathtaking.
Not sure how to pronounce Kiama? It's "I AM A" with a K 🙂
Buena Vista Farm
Take a 2-hour tour of this beautiful farm overlooking the ocean north of Werri Beach. Affordably priced and suitable for adults and kids. They also offer full-day classes in cheese making or vegetable growing. Find out more here.

Nellies Glen
This pretty waterhole in Budderoo National Park is close to Carrington Falls, is a lovely spot for a swim or a picnic. Best visited midweek as summer weekends can be pretty busy. Find out how to get to Nellies Glen on the Wild Swimming website.

Things to do in Kiama when it's raining
Depending on how hard the rain is, a trip to Minnamurra Rainforest might still work. Alternatively, take a drive down to Berry for some shopping. You could also head to Crooked River or Coolangatta Estate for wine tasting.
Where to stay
We usually book an apartment when we visit Kiama or this part of the coast. There are also a couple of Caravan parks and a good number of hotels.
This one above at Loves Bay, just a few minutes' walk from Easts Beach, is on our radar for our next visit.
Where to eat in Kiama
Otis Deli – generous salads and mains prepared by ex- Ottolenghi head chef Emily Herbert is reason enough to get me in the car for the drive south. You can grab a table in the small dine-in area, but this is the perfect food to buy en route to your accommodation for an easy dinner.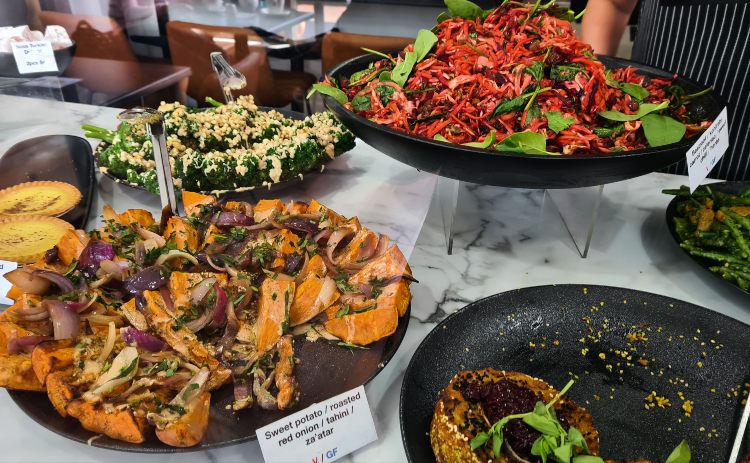 Penny Whistlers – Worth a visit, even if you are not hungry for the view alone. Grab a drink and enjoy the outlook. If you are looking for a breakfast option, their zucchini and halloumi fritters, which come with a poached egg, are epic. They have a day and a night menu, so if you enjoy eating lunch at breakfast and breakfast at lunch, this is the place for you.
For coffee with a view, try Diggies at Blowhole Point. They offer coffee with a view and an extensive all-day breakfast menu.

Try the Hungry Monkey in the terrace houses if you are a fan of those massive, almost monster-sized burgers that Instagram loves. They also have delicious healthy bowls and salads.
Plan your trip to Kiama
The Kiama region is an easy drive from Sydney or a relaxing and quite a scenic train trip if you travel down via the Grand Pacific Drive.
Kiama Day trip map

Consider making the Kiama Visitors Centre near the Blowhole your first stop if you are a first-time visitor. Download all the stops listed and our Kiama map here.
How long does it take to get to Kiama?
It takes about 2hrs to 2hr 15 mins to reach Kiama, depending on whether you drive or take the train.
How to get to Kiama
Drive: You have two choices from Sydney, the motorway via Campbelltown (M31) or the coast road (the A1), which is the most scenic option, including the stunning Grand Pacific Drive.

At 121km, it will take you just under 2 hours, less if you live in Sydney's southern suburbs. Alternatively, the M31 will take a similar time, especially if you live in the north of Sydney.
Train: The train from Central takes 2hrs 15 mins and travels via Wolli Creek, Hurstville, Sutherland and Wollongong. If you plan on doing the Kiama walk, you can get off at Minnamurra Train Station.
How far is Kiama from Wollongong
If you stay in Wollongong, it's only 35km to Kiama or 45mins by train.
So there you go, our favourite things to do in Kiama, whether you have a day or a week to visit. What have we missed? Got any advice for our next visit?
Want more Sydney Getaway ideas?
Try some of these:
Need more ideas? Join our Sydney Expert Facebook Group where you can ask questions, stay updated with what's happening and meet a bunch of friendly locals just waiting to share their advice!

About the author: Paula Morgan, a born-and-bred Sydney resident, has been sharing this city and its secret spots for over 15 years. She's not just about the iconic landmarks; she's all about the hidden alleys adorned with street art, and the joy of discovering a new café or a fabulous restaurant tucked away in a corner you never knew existed and weekends away exploring regional NSW.
Main image credit: Mark-Fitzpatrick Destination NSW