Take a Walk in Elizabeth Bay and Potts Point
This walkthrough of Elizabeth Bay and Potts Point will help you discover some of Sydney's most interesting inner suburbs. With a concentration of art déco beauty, fabulous harbour glimpses and lots of small bars and cafes, you can easily spend half a day or longer strolling these streets.
I love using local transport to explore new cities. On this self-guided bus tour, you join locals on the 311 bus as it makes its way from Barangaroo in the centre of Sydney to the waterside suburbs of Elizabeth Bay and Woolloomooloo.
This page contains affiliate links. You can find our full disclosure policy here.
An easy stroll through Sydney's inner east
Welcome to another instalment in our Exploring Sydney by Bus series, this 40-minute trip covers quite a bit of ground and is great if you want to get a little off the beaten track and discover the vibrant communities of the inner east of Sydney.
This short route includes:
Oxford Street, the centre of Sydney's gay scene
Kings Cross, once seedy but now relatively cleaned up
Elizabeth Bay – one of the harbour's beautiful and quiet bays.
Elizabeth Bay House – a grand colonial mansion
Potts Point with its great cafes and Sydney's best collection of Art déco buildings
Woolloomooloo and its historic Finger Wharf
The Rocks and Barangaroo.
So let's begin – We are going to start from Town Hall Station. You can join from Barangaroo if that is more convenient.
The bus travels up Oxford Street, the main route of the Sydney Gay and Lesbian Mardi Gras, and past some popular bars and restaurants. My favourite cheap eats here is Mr Crackles – Do not click that link if you are hungry! Seriously delicious pork rolls with crunchy pork rind crackling. Worth stopping for!
A self-guided tour using the 311 bus route
Now to the official stops
Stop 1. Kings Cross
Darlinghurst Road is the epicentre of Kings Cross's seedy past. Over the last few years, it has cleaned up remarkably, and during the day, it seems pretty much like any other city street with cafes, backpacker hostels and shops.

The recently introduced lockout laws have seen a downturn in activity at night, but there are lots of great bars and restaurants worth a visit if you are in the mood to celebrate.
About halfway along at the top of Springfield Ave is an info booth set up by the council. If you have not already downloaded the council's history walk, Passion, you can pick up a paper copy here. It is also available in the app store
Stop 2. El Alamein Fountain and Fitzroy Gardens
The El-Alamein fountain in Fitzroy Gardens is one of Kings Cross's most iconic landmarks. Built in 1961, it is a memorial to the World War 2 battles at El-Alamein, Egypt and was a key work of Australian architect Bob Woodward. It is said to be the most copied fountain design in the world.

If you are visiting Macquarie Street during your stay, you can find another of his fountains in the foyer of Parliament House.
Discover more fantastic artworks on our self-guided sculpture walk
On weekends, Kings Cross Market turns the park into a is a hive of activity with fresh food, flowers, cooked food and other ethical products.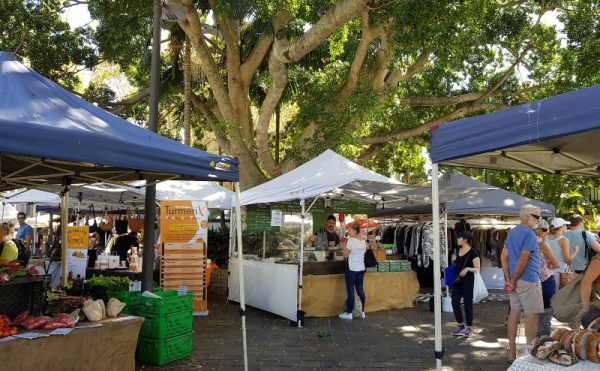 From the fountain, walk down Macleay Street until you reach Greeneknowe Ave.

Turn right and stop to look at the building on the corner. That is Kingsclere, Australia's first apartment building, completed in 1912. It was designed by the same architects that build the gorgeous Dymocks Building on George Sy.

Each apartment features two bedrooms at the time, two bathrooms and two balconies that at the time offered spectacular views of the harbour. Apartments in this building have recently fetched over 3.4 million at auction.
Head down the hill until you reach the roundabout at Onslow Ave. This street is home to some fantastic art déco buildings. One of my favourites is Meudon, our version of the NYC Flatiron. You will find it at 13 Onslow Ave.
Stop 3. Elizabeth Bay House
Continue along Onslow Ave and you will shortly reach Elizabeth Bay House.
Built in the 1830s and opened as a museum in 1977, Elizabeth Bay House was the home of Colonial Secretary Alexander Macleay. Macleay was second in charge of the colony and engaged architect John Verge to design him a grand home fitting for his family.

The house features a large oval entry hall with a beautiful dome ceiling and an impressive cantilevered staircase. Make sure you visit the cellar to watch the dated but fascinating dramatisation of the Macleay family's time at the house.
The reserve across the road is the perfect spot to relax with a picnic lunch or your favourite book. Cross the little bridge for a larger lawn with harbour glimpses.
Once surrounded by extensive gardens that ran down to the harbour, today it is one of the best-preserved colonial homes in Sydney.
From here, head back to the road and take the stairs between 18-21 Billyard Ave to Macleay Street.

Macleay Street is home to lots of cafes and one of my favourite bookshops Potts Point Bookshop. They have an impressive collection of Australian material and I rarely leave without at least one book.
Stop 4. Macleay St and Challis Ave
This area was the home of all things hip and happening in the 1960s and to be honest, not a lot has changed, at least when it comes to food. Today the street is full of cafes and restaurants and is the best area on our walk to stop for a bite or coffee.
Some stand-out spots are
Apollo – for a Greek feast
Cho Cho San – for a modern Japanese experience
Yellow – for an exciting take on breakfast eggs and other hearty meals. Oh, and if you are in the mood for breakfast martinis – need I say more?
From here, turn right into Challis Avenue, I love this street; it is full of well-restored terraced homes that date back to the turn of the last century.
At the bottom of the street, turn left into Victoria Road, and in about 150 metres, you will come to the McElhone Stairs.
Before these stairs were built in 1870, the only way direct to get between Potts Point and the slums below in Woolloomooloo was by using wooden ladders that ran down the rock face.

Today there are three sets of heritage-listed stairs, the Butler, McElhone and Hordern Stairs, connecting Victoria Street with Woolloomooloo below. They are incredibly popular with runners who love to add them to their morning workout.

Walk past these stairs; you will take another set further along Victoria Street.

Victoria Street has a fascinating history; many of the properties are protected by National Trust orders. The 19th-century terraces combined with the beautiful London Plane trees make for a beautiful street.
Three terraces have been turned into a luxury hotel, Spicers, and I can highly recommend this property to anyone after a bit of a splurge!
We owe much to the protestors of the 1970s who fought hard to protect this street from highrise development. Green Bans had been imposed by the Builders Labourers Federation to stop the destruction of housing and heritage to produce office towers and luxury complexes.

Number 202 Victoria Street is notable as the home of Juanita Nielsen, a journalist and activist who disappeared in 1975. In 1973, 393 long-term residents were evicted from the street to prepare for demolition. A small number, including Juanita, remained and fought on. She has never been found, and no one charged.
The Butler Restaurant and Bar located just across the road from 202 Victoria Street has named their front bar Juanita's and also has a cocktail named in her honour. Pop in and get one, but head out to the back verandah for magnificent views of the city while you enjoy it.
Ok so now it's time to head down the stairs and into Woolloomooloo.
Stop 5. Harry's Cafe de Wheels
Just at the bottom of the stairs and a few hundred metres along is Harry's Cafe de Wheels. Harrys has been serving its famous Aussie meat pies since the 1930s. The signature dish is called Harry's Tiger; it comprises a meat pie topped with mashed potato and mushy peas with a ladle of gravy on top.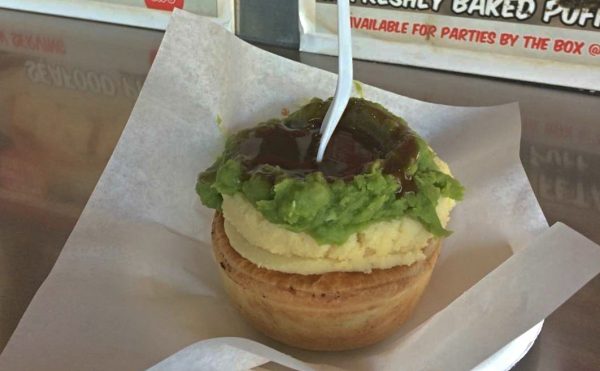 The much-loved business is included in the National Trust Heritage list. There are several franchises in the city, including one in Haymarket and another in Bondi.
Stop 6. Woolloomooloo Wharf
Once a busy working dock used by traders and later cruise liners today, the Finger Wharf at Woolloomooloo is home to fine dining restaurants, a marina, apartments for the rich and famous, including Russell Crowe and a 4.5-star hotel the Ovolo Woolloomooloo.
Along the waterfront around the wharf are various significant artworks from Artbank – which have a gallery across the road if you fancy stopping in for more art.
Detour: From here you can either continue walking into the city by taking the stairs to the Botanic Gardens and rejoining the bus in Park Street.
If you want to continue to Barangaroo, cross the road directly opposite the wharf and wait for the 311 bus which runs every 20-30 mins. If you have just missed the bus, you can kill some time in one of the two pubs near the bus stop, the Tilbury and the Woolloomooloo Bay Hotel.
Stop 7. Barangaroo
The bus ends its journey at Argyle Street in Millers Point right by Sydney's newest park, Barangaroo. A visit to this park is an excellent way to end your day and see the harbour from a new angle. It's ideal for an afternoon visit as the sunsets to the west over Darling Harbour and the Anzac Bridge.

The bus stops near the Rocks end of the Park. When you have walked through the park, you can either retrace your steps back to The Rocks or follow the signs to Wynyard Station and bus stops.
The 311 bus runs every 30 mins between 6 am and, at least, midnight seven days a week.

Check out more Sydney tours by bus
Need more ideas? Join our Sydney Expert Facebook Group where you can ask questions, stay updated with what's happening and meet a bunch of friendly locals just waiting to share their advice!