How To Visit Sydney Beaches by Public Transport
So you are in Sydney without a car, and you want to spend a day at the beach. Easy! Read on; this article will help you discover how to get to some of Sydney's most famous and less well-known, but equally beautiful Sydney beaches by public transport. There are also tips on what to do when you get there!
If you want to stay close to the city you might like to check out these harbour beaches.
This page contains affiliate links. Our full disclosure policy is here.
Bondi Beach
Bondi is usually the first beach visitors head to. It's the one in your guidebook, and it has plenty of attractions, food and great views for you to enjoy. Bondi became a public beach in 1882 and the first life-saving club, which claims to be the world's oldest, opened in 1907.
Stick to swimming at the northern end of the beach unless you are a strong swimmer. The southern end of the beach is known locally as "backpackers' corner" often has strong currents and is a common spot for swimmers to get into trouble.
Check out our detailed guide to the Bondi to Coogee Walk
It is advisable to swim between the flags here and listen to the instructions of the lifesavers so that you don't end up appearing in an episode of Bondi Rescue!
If all the talk of currents and lifesavers scares you a little, you can pay $9 for adults and $6 for kids under 12 years, and have your swim at the famous Bondi Icebergs Club. The club is open from 6am-6.30pm every day but Thursday, when they close the pool for cleaning. You can also rent a towel if you don't have one.
Insiders secret – check out the little cafe inside the Icebergs complex down the front and under the main building. They serve great coffee, and the view is fab!
What to see while you are in Bondi
Check out the Bondi Graffiti wall – this changing outdoor gallery features dozens of large murals that change every six months.
Watch the action at the skatepark, there are always seriously good skaters doing their thing here. We have also written a local's guide to Bondi with heaps more options.
How to get to Bondi Beach by public transport
Quickest way – Take the train from Town Hall, Martin Place or Kings Cross, it takes about 10 minutes to reach Bondi Junction station. From the station take the escalators to the top level of the concourse. From here buses to the beach take about 10 minutes lookout for the 380, 381, 382 or 333.

Scenic route – The bus journey is more scenic than the train, so if you are only making this trip once and you are up for some site-seeing try the buses instead of the train. Buses leave from Circular Quay and travel up Elizabeth St into Oxford St.
Look out for the 333 – it's the express option and will get you there a little quicker. You can also get here after exploring Watson's Bay by taking the 380 from outside Robertson Park.
Clovelly Beach
Unlike the rest of the beaches in the eastern suburbs, Clovelly is well protected from the winds and feels a lot more like a bay than an ocean beach.
There are long concrete platforms on both sides of the beach that are favourite sunbathing spots, earning it the nickname locally as the concrete beach.
This is THE perfect beach for anyone who hates sand. There are steps to enter the water straight from the concrete path avoiding any sand at all!
There is also a 25m ocean water lap pool for getting some serious swimming in.
Clovelly is great for kids with small waves most of the time. There is also disabled access on the northern side of the beach.
Things to do at Clovelly Beach
Clovelly is a great spot for snorkelling
Picnic in Bundock Park directly behind the beach where you will find plenty of shade, a kids playground and free BBQs.
Walk the track to Coogee around the edge of the cemetery
How to get to Clovelly
The 339 bus goes from Eddy Ave at Central via Surry Hills to Clovelly in about 35 mins. The 360 bus goes from Bondi Junction to Clovelly. You can also take the light rail from Circular Quay and change at Royal Randwick.
Coogee Beach
This horseshoe-shaped beach is fringed with tall Norfolk pines and has a large grassy area perfect for picnics. While it may only be a few kilometres along the coast from Bondi, I think it has an entirely different feel slightly fewer tourists.
The word Coogee comes from a local Aboriginal word, Koojah which means smelly place, possibly because the beach can at times attract large amounts of seaweed. Thankfully, today it is usually cleaned up quickly.
If you are not a surfer, you might prefer the rock pools at either end of the beach, at the northern end you have Giles Pool which is a deep natural pool and my personal favourite, and the southern end is home to a man-made pool at the Surf club.
There are two more private pools with small entry fees a short walk along the track. McIvers Baths is a women's only pool, and Wylie's Baths is a tidal pool a historic complex that has been operating since 1907 that provides lots of shade.
Check out the view for yourself on the Coogee Beach cam
What to see while you are in Coogee
There is a little library to borrow books down on the beach wall. You can leave a book you are finished with or just take one if you don't have one to give. There is also a memorial to the local victims of the Bali bombing at Dolphin Point.
How to get to Coogee by Public Transport
There is no train station in Coogee although the area is very well serviced by buses heading both to the city and into surrounding suburban areas.
From the City
370 – Leichhardt via Newtown
372 – Railway Square via Clevland St
373 or 374\x74 from Martin Place
From Bondi Junction
Watsons Bay – Camp Cove Beach
Part of Sydney Harbour National Park Camp Cove beach is a west-facing harbour beach and a great spot to watch the sunset behind the city. Head here on a weekday, and you might find you have the place all to yourself.
Exceptions are public holidays and big events like the Sydney to Hobart when Camp Cove beach draws huge crowds because of its aspect.
This was the first place the British first set foot in Sydney Harbour. There is a shark net to make you feel a little more relaxed about swimming, but not a lot of shade on the beach so be sure to slip, slop, slap (slip on a shirt, slop on sunscreen and slap on a hat) before you head out for the day. The beach has showers, toilets, and a small kiosk selling drinks and ice cream.
In 1963, two skeletons were discovered here dated to over 700 years.
What to see and do while you are in Watsons Bay
The beach is the beginning of the South Head Heritage Trail if you fancy stretching your legs before your swim. I suggest walking around to the candy-striped lighthouse on South Head and also taking a look at the cliff face at the Gap.
There is also a clothing-optional beach, Lady Jane, a short walk around the corner from the northern end of the beach.
Have an Aussie beer at the Watsons Bay Beach Club
How to get to Watson's Bay by public transport
The quickest way is to jump on a ferry from Circular Quay – 45 mins with an 800-metre walk from the Watsons Bay pier to the beach.
You can also:
• Bus – 1 hr 324 from Town Hall Station or 325 from Barangaroo
• Train to Edgecliff and bus 325 can save time in heavy traffic
• 380 from North Bondi Beach
Stay a while
The Watsons Bay Hotel sits on the beach looking towards the city and is a lovely spot to spend a day or two relaxing just a short 20 min ferry ride from town.
Nielson Park Beach (Shark Beach)
Once a fishing and camping place for the local Birrabirragal People, Nielson Park is part of the Sydney Harbour National Park. Located in one of the city's most exclusive suburbs is this pretty Harbour beach that can be relatively quiet mid-week and feels miles from the city.
Shark Beach is currently closed while they rebuild the seawall. It should reopen later in the year.
What I love most about this beach is that unlike so many Sydney beaches there are lots of big trees to provide shade from the midday sun and plenty of grassy picnic spots if you prefer not to have sand in your sandwiches!
The view back to the city is fabulous, and it's a lovely place to watch the sunset over the harbour.
The beach itself is netted from mid-Sept to mid-May so despite the name you can swim in peace for at least half of the year.
Check out this Google street view of Shark Beach
Things to do at Nielson Park
Take the beautiful Rose Bay Hermitage Foreshore Walk
Check out the Historic Vaucluse House built in 1805 and try their high tea
Enjoy lunch at Nielsen restaurant inside the 1914 Edwardian style kiosk
See if you can find the aboriginal rock at the northern end of the beach
How to get to Shark Beach by public transport
Take the 325 bus from QVB, York St, Stand A, the bus takes about 40 mins, and they leave approx. every 30 minutes.
Balmoral Beach – Middle Harbour
One of the most beautiful Sydney Harbour Beaches, Balmoral is a lovely harbour beach that is on this list for two reasons. First, the beach is home to lots of enormous fig trees that fringe the waterfront providing much-needed shade in the summer and secondly, it's home to the Bathers Pavilion Cafe.
Things to do in Balmoral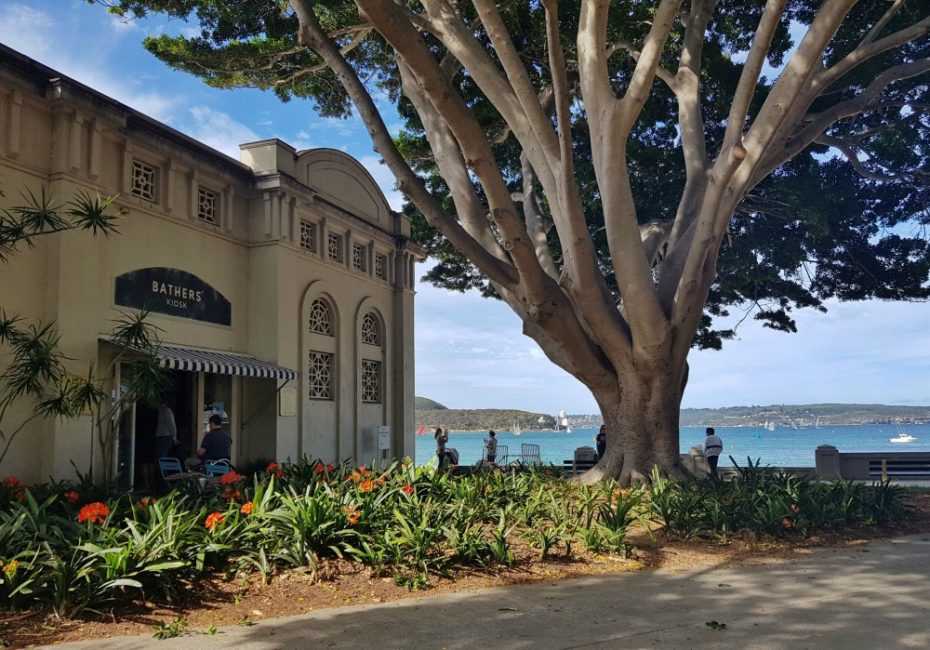 While you are here, consider a visit to Taronga Zoo
You can also walk from Taronga Zoo Wharf to Balmoral Beach via one of my favourite Sydney walks
How to get to Balmoral Beach by Public Transport
To get here, you can catch the 244 or the 247 bus from Wynyard to Military Road, Mosman; then it's about a 900m walk to the beach. Other buses stop close to the beach, but they need a change. Check Transport NSW for your options if the walk is a problem for you.
Cronulla Beach
If you are looking for beaches you can visit by train, look no more! At the opposite end of the Bondi Junction train line, is Sydney's longest beach Cronulla. Located 45 mins by train south of the city centre, it is the only Sydney beach that has a railway station just minutes from the sand. This is one of the easiest beaches to get to by public transport.
If you want a day at the beach with the locals and not a bunch of other travellers you ought to consider an outing here. The Cronulla Beach Walk is a popular way to spend a morning followed by a big beachside brunch.
Cronulla's beaches are less crowded, have great surf, good cafes and restaurants and an attractive shopping street. There are also backpackers here if you fancy staying somewhere a little quieter than Bondi.
What to see and do while you are in Cronulla
Walk around Gunnamatta Bay and fire up one of the public barbeques. The shady waterfront park is an excellent spot for a picnic lunch.
Get some fish and chips and have a beach picnic at South Cronulla.
Ride the Tom Thumb ferry across to Bundeena and check out the beaches, and the art, both indigenous and local artists studios.
How to get to Cronulla Beach by train
Take the train from platform four at Town Hall or Platform 25 at Central direct to Cronulla Station (or Kings Cross/Bondi Junction). The trip takes about 55 mins.
Check on some more great photos of Cronulla Beach by local photographer Michael Sutton. Once you have had enough of the beach, why not explore the suburb on foot using the day walk of Cronulla from local blogger Travel with Joanne.
Manly Beach
My favourite beach for visitors because it offers so much in one place. The 30-minute ferry ride gets you out on the harbour. The beach itself is gorgeous and not usually as jam-packed as Bondi.
There are two beaches often referred to as "Manly" beaches, the harbour side Manly Cove Beach and the ocean side Manly Beach. The stretch of sand at either end of Manly Beach is separate beaches Queenscliff to the north and Shelly Beach to the southeast.
Things to do while you are in Manly
There are lots of really great dining choices and bars here to help pass a sunny afternoon. We have written a detailed guide to visiting Manly that will help you plan a great day out.
How to get to Manly Beach by ferry
There are a couple of services that can get you to Manly. The regular Manly Ferry departs from Circular Quay.
You can also jump on the Manly Fast ferry which takes half as long to travel the 7 miles from the Quay to Manly. The fast ferry is a couple of dollars more expensive, but if you are in a hurry can save time. They also accept Opal cards
If you are a family, try taking the public ferry on a Sunday and using the $2.60 all-day Opal travel option to save money on transport costs.
Best Tours in Manly
Stay a while in Manly
Manly is a perfect staycation idea – these apartments are our favourites.
Freshwater Beach
Head just one beach north of the famous Manly Beach, and you will find one of the favourite beaches of north side locals.
Part of the Manly-Freshwater National and World Surfing Reserve Freshwater is the beach where Hawaiian Duke Kahanamoku showed surfing to Sydneysiders back in 1915 and setting in motion the rise of surfing as a popular Australian sport.
Things to do at Freshwater Beach
Check out the kiosk at Pilu just behind the beach. They have fantastic breakfasts and super fresh, healthy salads.
Take the boardwalk to Curl Curl
Check out the Olympic sized freshwater pool
Take a walk through the Wormhole – a (not so) secret tunnel carved by fishermen in 1908
Snap a photo with the Duke (statue) on the headland in Mackillop Park
How to get to Freshwater
Take Bus 139 from Manly Wharf, or you can walk about 25 min walk from Manly Beach.
Palm Beach
At 41km north of the Sydney centre in some countries, this would not be called part of the same city, but the trip to Palm Beach is well worth your time.
Palm Beach is on a peninsula with the ocean-facing 2km long Palm Beach on one side and the beautiful, peaceful Pittwater on the other. It's no wonder many of the city's
A-listers spend time here relaxing.
Things to do in Palm Beach
Take the 1km Barrenjoey Lighthouse to walk
Fancy working up a sweat – rent a kayak and explore Pittwater
Eat at the Barrenjoey House – Order a bucket of prawns served with sourdough and a bottle of wine.
Take the marked track from the south end of the beach to the beautiful bible garden (no need to be religious to enjoy the views)
Head to North Palm Beach Surf Life Saving Club keep your eyes peeled for film crews from the local soap series Home and Away (if you are a big fan you can also book a tour)
Take the ferry to one of the smaller towns in the area
Check out the full guide to exploring Palm Beach for more ideas
A weekend here can feel like you are in another world, a holiday on your holiday. If you fancy spoiling yourself, you could consider Iluka at Palm Beach
How to get to Palm Beach
The L90 (known locally as the Hell 90 because it takes so long to reach the city in peak hour) will get you from Wynyard to Palm Beach in about 1hr and 45 mins.
Try to do this trip midweek after 10am for the best run.
Best tours in Palm Beach
Further reading for your Sydney beach holiday.
Please before you head to the beach if you are not a strong swimmer familiar with ocean swimming spend five minutes reading this page from Surf Lifesaving NSW about beach safety.
Want some more beach action? Check out the top 18 beaches in NSW

About the author: Paula Morgan, a born-and-bred Sydney resident, has been sharing this city and its secret spots for over 15 years. She's not just about the iconic landmarks; she's all about the hidden alleys adorned with street art, and the joy of discovering a new café or a fabulous restaurant tucked away in a corner you never knew existed and weekends away exploring regional NSW.
First published Oct 2020 fully updated 7 Oct 2023