Whale Watching in Sydney: A Comprehensive Guide (2023)
Today we share everything you need to know to enjoy whale watching in Sydney. When is the best time to see whales? Can you see them for free? Which whale watching cruise should you book? For the answers to these questions and more, let's get started.
This post contains affiliate links. Our full disclosure policy is here.
Best Times for Whale Watching in Sydney
When can you see whales in Sydney?
The best time to see whales in Sydney is from mid-June to mid-July, when numbers are at their peak. The official 2023 whale watching season will kick off in May and continue until November. Over 16,000 of these beautiful creatures will pass along our coastline during this period.

The whale watching season covers the migration north for the winter and then returns south in summer. When they are heading north, the whales are closest to the coast and more likely to be seen from land. When they head back south, they travel further out to sea and are a little harder to spot, making cruising the best way to see them in the latter part of the season.
What is the best time of day to see whales?
Many say the best time of day to spot whales is between 11am-3pm when the sun is directly overhead and there is excellent visibility. However, for photography, the light is a little harsh at this time of day, and you will get much better shots in the morning or afternoon light. However, you can have success spotting whales at any time of day.
Whale Watching Tips and Guidelines
Where can you see whales in Sydney?
Along with all the cruises, there are many good whale sighting spots along the coast on either side of Sydney Harbour, with North and South Heads being the easiest for visitors to reach without a car. Check out our list of land-based whale viewing spots below.
What is the cheapest way to see whales in Sydney?
Obviously from land is the best choice for budget travellers, but you can also pick up bargain prices on cruises during the beginning and the end of the season. Your chances of spotting a whale are a little lower at this time, but they are around. This year there have been multiple sightings reported on many cruises.
Can you see whales in Sydney Harbour?
Whales have entered the harbour on several occasions over the last 15 years, but sightings inside the harbour itself are scarce. Two humpbacks entered Sydney Harbour and took a rest at Rose Bay in 2012.
In 2012, a Southern Right whale was playing off Middle Head and in 2013 off Bondi, we have even seen one in Botany Bay. However, while it is possible, it's rare, so head to one of the spots listed below or jump on a boat for more certainty of seeing these fantastic creatures.
What type of whales can you see in Sydney?
You are most likely to see Humpback whales and occasionally Southern Right whales in Sydney.
Humpbacks are the most playful of all whales, so they are the easiest spotted. Other species like Minke whales, false killer whales, killer whales and pilot whales also pass along, but in much lower numbers, so while you might see one, it is less likely.
Whale watching from the water
If you want the best chance of successful whale watching in Sydney, then you really should go on a whale-watching cruise. While it might seem a good deal to choose one of the cheaper cruises on offer, there are a few things you should consider before you make your choice.
How much does a whale watching cruise cost?
The price of whale watching boat trips in Sydney can differ depending on what's included and the length of the experience.
The price with a quality operator will vary between $75-$150 depending on the size of the group and the length of the tour. All the operators we recommend here will offer a safe and comfortable boat and staff who are experienced in spotting whales and can tell you lots about them. The more expensive options include a meal and drinks.
Things to consider before you book A Whale Watching cruise
Some operators offer a free return cruise guarantee if you don't spot a whale, good for those who like the idea of some insurance 😉

Do think about your sea legs, are you good on open seas? If not, choose a bigger boat for a more stable run. Regardless, you should probably pick up some anti sea sick tablets from the pharmacy before you board. There is one right at Circular Quay station that is sure to have a good supply.

Resist the urge to book a shorter tour – it will take you 20 mins to get out of the heads and 20 mins back, cruises less 2 hours are too short (except for the speedboat cruise below). Two and half to four hours will give you the best bang for your buck for those with sea legs. Novices to open water cruising may prefer a cruise between 2 and 3 hours.

Avoid operators who promise to get right up close to these magnificent creatures; boats may get within 100 metres of the whales; the whales can come to them when they are stationary, and sometimes they do, but vessels must not approach any closer than this.

Finally, the best cruises do book out in advance, so while the temptation to hold out and book on the day or the day before to catch the best weather, you will miss out during the NSW winter School holidays.
Best Whale Watching Tours Sydney
Captain Cook Whale Watching Cruises
Duration: 2.5 hours | Departure point: Circular Quay | Book this tour
The best-known cruise company in Sydney, Captain Cook, with great customer service and an outstanding record of sightings.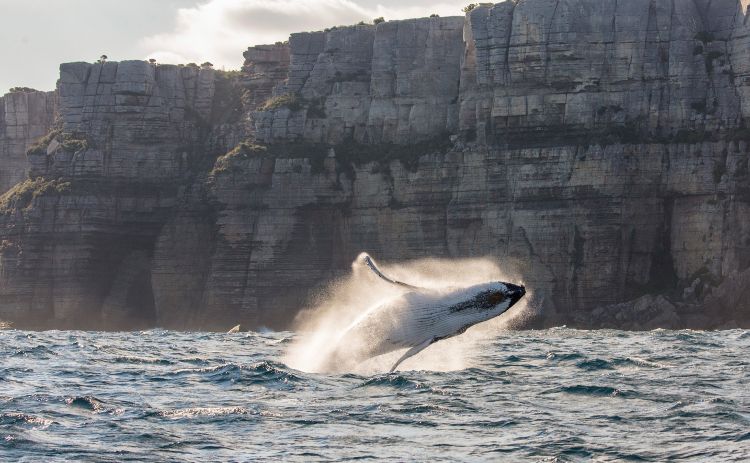 Indoor and outdoor seating in this comfortable catamaran give you the option to stay warm or brave the weather for a closer look. An experienced marine naturalist gives expert commentary with plenty of great information on the whales and their migration.
On offer are 2.5-hour cruises, a morning cruise that departs at 10am daily in the school holidays and on weekends. An additional afternoon cruise departs at 1:15pm on weekends only from $89.
Alternatively, join the 10am whale-watching cruise (2.5hrs) and then get off the cruise at Taronga Zoo at 12:15pm and join any Captain Cook ferry back to King Street Wharf – Book online from $99
All tours depart from Wharf 2 at King Street Wharf in Darling Harbour, an easy walk from Wynyard Station.
You can also buy a Whale Watching Cruise and HOHO ferry combined ticket
Duration: 2.5 hours
Features: Free return cruise guarantee if you don't see whales (Whale sightings are 95% guaranteed. In the unlikely event that you don't see any whales, you can cruise again in the same season for free (standby and confirmed 24 hours in advance, subject to availability).
Who should book this cruise? This is our best pick for families and nervous sailors, but great for all! Children under four years are free, but the cruise is not recommended for very young children.
Duration: 2 hours | Departure Points: Circular Quay & Manly | Book this tour
A great choice for adventure lovers Ocean Extreme take to the water in smaller boats specially designed for whale watching, one is a 12-metre rigid inflatable vessel. Carrying just 21 passengers, the boat can get you closer to the whales than any of the other operators.
They also have a slightly larger vessel that allows you to get a view nice and low on the water.
The cruise is 2 hours long, which is a little shorter than some others, but with speeds of up to 90km per hour, you get out to the whales quicker than everyone else.
The cruise, which departs from Campbells Cove at Circular Quay, is not suitable for kids under 12 years or for pregnant women. You can also choose to depart from Manly Wharf if that is more suitable.
Duration: 2 hours
Features: 2-4 departures per day. Ocean Extreme offers a FREE complimentary trip if a whale isn't spotted on your day!
Duration: 4 hours | Departure point: Eastern Pontoon, Circular Quay | Book this tour
One of the longer cruises, this is another very professional company with a quality product and excellent reviews.
Departing from the Eastern Pontoon, Circular Quay, you head out through Sydney Heads learning about whales and their behaviour along the way. The vessel the "Jerry Bailey" can carry 180 pax with the number limited to 95 pax on whale watching tours to ensure everyone has a good vantage point. Fully qualified crew on board.
I would highly recommend this one if you are looking for a more extended cruise. While on an older boat, this trip is a high-quality experience and one that I thoroughly enjoyed last year.
Duration: 4 hours
Features: Breakfast (weekends) or lunch on weekdays.
Duration: 3 hours | Departure point: Darling Harbour & Circular Quay | Book this tour
One of the biggest operators of whale watching cruises in Sydney, Fantasea Cruises, offers morning and afternoon cruising on their large catamarans. This type of boat is best for anyone prone to seasickness, as they are more stable.
They have a marine biologist on the boat who helps you appreciate the beautiful creatures you will see during your trip.
Duration: 2.25 – 3 hours
Features: State-of-the-art underwater microphones, free activity pack for kids, complimentary tea and coffee upon boarding, departures from Darling Harbour and Circular Quay
Must know: No children under two years are allowed.
Tip: book early for the peak season end of June and the beginning of July as some dates are already booked out.
Whale Watching in a tall ship – with lunch
Duration: 5 hours | Departure point: Darling Harbour & Circular Quay | Book this tour
For the ultimate whale watching in Sydney experience, I think it's hard to beat this one. This 5 hour trip aboard a tall ship, the Coral Trekker out through the heads gives you a good chance to feel what it must have been like for the first settlers who arrived on ships just like this from England.
I think this one is excellent value for money and an enjoyable day out, with a hot 3-course lunch included. Braver souls than I can harness up and climb the mast for a bird's eye view out to see.
Whale watching in a speed boat
Duration: 2.5 hours | Departure point: Campbells Cove Floating Pontoon | Book this tour
Personally, this is a little bumpy for me, but if you like the idea of an adrenalin-fuelled whale watching adventure, this might be right up your alley. The cruise offers 1.5 or 2-hour tours with departures from Manly or Circular Quay. The boat is one of the fastest commercial vessels in Sydney Harbour and is in touch with the central whale watching team to know where to head to spot whales quickly.
Whale watching spots in Sydney
There are approximately 38 vantage points for viewing whales from the shore in the Sydney region. Below you will find brief details of the best spots near the city to see these majestic creatures. We have included public transport information for those who don't have a car and some tips on other things you can do in the area.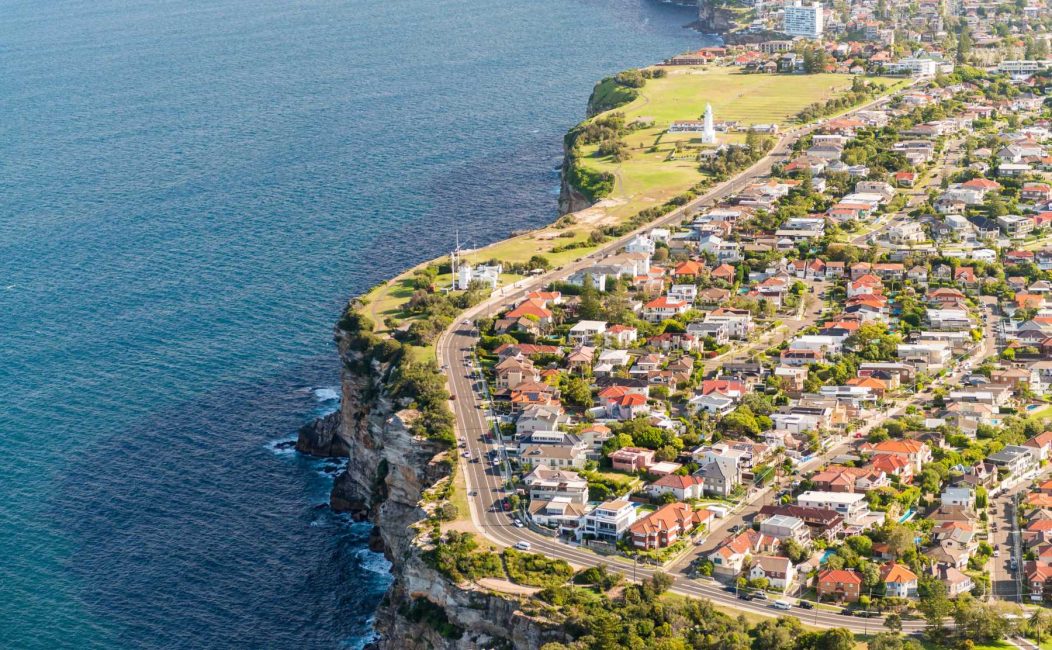 Whale watching spots in the South and East
Bondi Headland and Coastal Walk
Ben Buckler Point is the most easterly spot at Bondi and a popular place for keen whale watchers to hang out. You can also spot them from along the Federation Cliff Walk, which you should take the time to do while in the area.
Getting there: Take the 333 or 380 bus from the city or Bondi Junction Station to North Bondi.
Tip: Stop by the much loved Speedos Cafe for coffee or eats.
Related: Check out our guide to the Bondi to Coogee walk for more ideas
South Head and Hornby Lighthouse and the Gap
South Head and the lighthouse seem like a perfect spot, but it's not the best place at Watson's Bay to whale watch.
You will have a better chance of seeing whales at the Gap lookout. However, while you are here, you really should do this walk.
Getting there: Ferry to Watsons Bay, then a short walk to the coast.
Tip: when you have worked up an appetite, check out the Tea Garden Cafe
Malabar Headland National Park
A little-visited park just south of Maroubra, this is a glorious spot to visit if you fancy combining a walk in the great outdoors with your whale watching session. You are likely to have the track pretty much to yourself mid-week and will wonder if you are still in Sydney.
Getting there: Take the 399 bus from Museum Station, then a 1km walk into the park.
Tip: Once you are done, head around to La Perouse to check out Bare Island
Cape Banks – La Perouse
At under 20km from the city's centre and with excellent public bus connections, La Perouse is a good choice for those without a car who want to spot whales in relative solitude. When you arrive at La Perouse, follow the sign to the beautiful Congwong Beach, an unofficial nude beach, and follow signs to Henry Head. The walk is just a 7km return and is considered suitable for people with moderate fitness. Along the way, you will pass an old shipwreck, WW2 bunkers and lots of lovely Banksia bushes. There is some excellent historical detail on this page.
While parking here on weekends is a nightmare midweek, you will find it relatively easy. An easy (although long, lol) bus ride from the city.
Getting there: L94 bus from Museum Station and hike to the headland.
Tip: If you work up a hunger Bare Grill makes a mean burger
Cape Solander – Kurnell
On the headland directly opposite La Perouse is Kurnell. One of two spots staffed by volunteers in June and July, who, among other duties, provide details for the whale watching boats that operate out of the harbour.
The volunteers are beneficial at assisting first-time watchers in finding their first whale; spotting them is not as easy as it seems until you know the signs to look for. Many consider this THE best spot near Sydney, with the whales getting as close as 200 metres from the shoreline.

There are some great walks here too that will get you some great views as a reward; consider the Cape Bailey lighthouse walk and the Mura and Yena track.
Getting there: Train to Cronulla Station, then local bus 987 to Kurnell, then a 2.8km walk to the lookout.
Tip: Explore more of La Perouse on this suburban walk
Royal National Park
The second oldest National Park in the world, the Royal has a high coastal cliff line, making it a perfect spot to glimpse whales.
The Coast Track at the Royal National Park is a fantastic spot suited to anyone prepared to spend some effort in the hunt.

The full coast walk is a moderate 30km hike, but to spot the whales, you just need to walk out to the coast from the ferry pier, which is less than 30 mins and you can then continue along as far as you like or settle in straight away and wait for them to come to you.
Getting there: Train to Cronulla, then the Tom Thumb ferry to Bundeena Wharf. From here, follow the coast track to Jibbon Headland.
Tip: If you visit on the first Sunday of the month, be sure to check out the Bundeena Art Trail.
Whale watching in the North
Sydney is one of the best places to experience whale watching with relative ease, and these spots on the north side are among the best.
Fairfax Lookout – North Head
With views across to South Head and out to sea, this is one of the best viewing spots on the north side. North Head Sanctuary is also a good choice for prams and wheelchair users, with level tracks and only a short walk from the bus stop or car park to the cliffs.
There are several easy walking trails in the sanctuary and military fortifications, which were essential to Sydney's defence in WWII, and the Australian Memorial Walk, a series of paved pathways that link five monuments commemorating battles and military service.
Q Station is also a great choice if you fancy staying a few days like we did recently.
Getting there: Bus 135 from Manly Wharf
Tip: There is a lovely cafe with views looking back to Sydney Harbour, which is a great breakfast or lunch spot.
Long Reef Point
Long Reef Point sits between Dee Why and Collaroy Beaches with views that stretch north to Palm Beach and beyond. Surrounded by a marine reserve, the area attracts birds and sea life in large numbers.
There are some lovely walking paths, and other than the path down to the water, the area is dog-friendly.
Getting there: the B1 Mona Vale bus from Wynyard takes 1 hour but is a very scenic ride.
Tips: Great spot to watch hang-gliders in good weather. Be sure to stop at the Upper Crust pie shop on Pittwater Road.
Barrenjoey Head – Palm Beach
Take a walk up to the lighthouse on Barrenjoey Head. Unfortunately, my photo is the view looking back to the beach rather than out to see, but I think you get the idea 🙂
Getting there: Take the L90 from Wynyard for a scenic tour of the Northern beaches on your way here.
Tips: Once you have seen enough whales check out the sites of "Summer Bay."

About the author: Paula Morgan, a born-and-bred Sydney resident, has been sharing this city and its secret spots for over 15 years. She's not just about the iconic landmarks; she's all about the hidden alleys adorned with street art, and the joy of discovering a new café or a fabulous restaurant tucked away in a corner you never knew existed and weekends away exploring regional NSW.