Royal National Park Walks: Planning Guide
The variety of Royal National Park walks on offer have made it popular with bushwalking enthusiasts for over one hundred years. From easy beginners hikes to family-friendly walks and even an epic 2-day challenge along the Coast Track. We have been walking these trails since we were teenagers and we know there is a walk here to suit everyone!
Plan a walk in Royal National Park
Growing up in Sydney's southern suburbs, the Royal National Park was the place we headed as soon as we were old enough to venture out on camping or hiking trips alone. Our parents were comfortable cause it was not too far from home, and we loved it because it offered some pretty grand adventures.
Did you know that the Royal National Park is the second oldest national park in the world? It was established in 1879!
Map of our favourite places in Royal National Park
Map key
Click on the map to save it to your phone or see more detail.
Blue – Walks from Bundeena
Purple – Walks from Audley
Orange – walks from Wattamolla and Garawarra Farm Car Park
Pink – walks from train stations
Note: Please make sure you double-check the NSW National Park website for any current alerts and closure information. You can also follow them on Twitter for updates when the park is full and closed to cars.
Getting to the Royal National Park
Driving to the park is easy; take the M1, then A1, and finally Princes Hway. Only 30km and less than an hour from the Sydney CBD, you will find yourself in another world.
There are two key entry points for vehicles:
For walks in the northern section of the park, take Farnell Ave turn off. This includes access to Audley, Bundeena, Wattamolla and Curracurong Falls.
For walks at Garie or beyond, it's quicker to continue down the Princes Highway and turn off at McKell Ave.
Can you use Public Transport to get to the Royal National Park?
If you want to explore without a car, there are plenty of options for getting to the park on public transport.
Cronulla train station – The Bundeena Ferry departs from here for the Coast Track or Jibbon Loop
Heathcote train station – For Karloo Track
Waterfall train Station – For National Falls (3km each way) / Uloola Falls and Forest Path via Couranga Track
Helensburgh train station – for the Burgh Track, which takes you to Garawarra Hill
Otford train station – for the southern end of the Coast trail
Which Royal National Park walk should you do?
We have been walking these tracks for over 30 years and, in that time, have covered most of the 150km of trails and tracks on offer. Recently we tried to buy a book on walks in the park and were told by the visitors centre they don't exist.
We headed online and found lots of really great articles on individual hikes but not much that summarised everything on offer. So we thought we would share our thoughts on the most popular ones with you because we think they really are among the best walks in Sydney.
The Royal National Park is home to more than half a dozen waterfalls, although some only appear after rain. It is one of the closest spots to Sydney to find them.
So let's get you walking. As per the map above we have grouped the walks according to the part of the park they are located in.
Dividing the park into sections
This is an enormous park, 15,000 hectares to be exact, and you will need lots of visits to see it all. To make things easier, we have split the park into areas.
For coastal walks
Bundeena in the north
Wattamolla in the middle
Garie in the south
For forest and wild swimming spots
Audley
Heathcote/Waterfall in the west
These are common entry points with numerous tracks starting at each.
We use and recommend the All Trails app – the paid version – it's well worth the price!
Walks from Bundeena end of the park
Bundeena, a village of just under 2000 residents, sits on the banks of Port Hacking surrounded by the National Park. There are a handful of beautiful beaches, some well preserved Aboriginal carvings and the Bundeena Art Trail, where artists living here open their studios on the first Sunday of every month.
Jibbon Loop (and Jibbon Trail extension)
The Jibbon Loop Track is an easy 5km walk the mainly follows the coast to Port Hacking Point. Along the way, enjoy views back to Cronulla from the beach as you head to the point.
Detour to the Aboriginal carvings just before you come to Little Jibbon Beach (which is a nude beach).
This is a brilliant spot for some whale watching in the winter, with plenty of activity on the whale highway between June and October.
Another 'hidden gem' is Shelley Beach, which you will find at the junction of the Jibbon Loop and the Jibbon Trail. This is a lovely spot for a picnic or to paddle your feet, but I would not swim here as it's quite rocky once you get off the sand and the sea can get rough.
The loop will take you back to Bundeena by cutting off the point and landing you back on the beach part of the track. Allow 2-3 hours to enjoy everything on offer.
The Jibbon Trail continues south to join the Coast Track.
Best for: Families, whale watching, an easy coastal walk
Difficulty rating: easy
Distance: 5km
Public transport option: Easy – train to Cronulla and then 20m ferry ride.
The Coast Track or Coast Walk
The coast walk is a 27km trail that runs from Bundeena to Otford. Most people who attempt the complete walk do it over two days, spending one night at North Era Campground (currently closed).
The walk is generally attempted in the north to south direction, something we recommend because we think the view is nicer that way. You can, however, begin in Otford and walk north.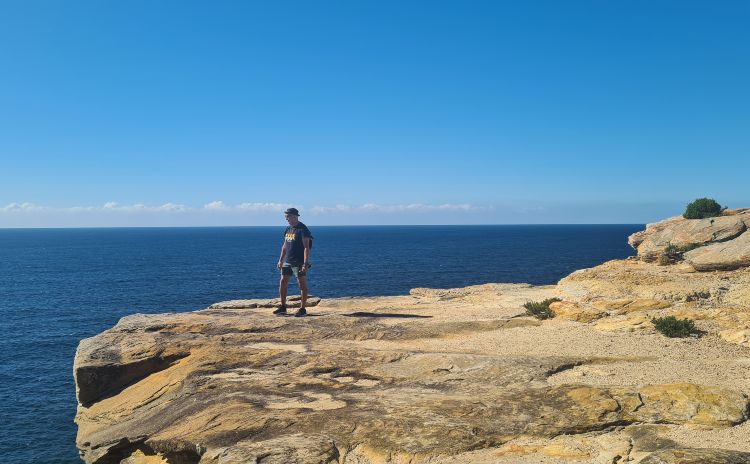 These days we prefer to split it into three sections over three visits. We are getting old and don't love rough camping as much as we used to 😉
Highlights of the Coast Track include:
Wedding Cake Rock
Curracurrong Falls and Eagle Rock
Burning Palms and Figure 8 Pools
In winter and spring – the whale highway!
Conveniently each section boasts one highlight meaning you will eventually want to do the whole thing!
Section 1 – Coast Trail Head to Wattamolla, 9.2km
The first section of the walk will get to Wedding Cake Rock – along the way, and you pass two other highlights, the Balconies and the Water Run, before finally reaching the fragile sandstone cliff that is Wedding Cake Rock.
From the start to this point, it is approx 2.8km; however, you will need to retrace your steps, so walk 5.6km return. Most people continue to Wattamolla where you can pick up the shuttle for a ride back to your car or a nearby station. This section is officially rated easy.
You could also consider this guided tour that includes Wedding Cake Rock and a couple of other top stops in the park.
Section 2 – Wattamolla to Garie Beach, 7.5km one way
The next section begins from the northern car park just past the facilities. However, take some time to check out the waterfall and lagoon overlooking the beach before you head off.
While jumping from the top of the waterfall is banned, and the area is fenced off, every time we are here there are people jumping, and every summer, there are accidents and, sadly deaths as recently as 2020. Please consider this and enjoy the waterfall from the lookout or the water below.
This section of the coast track is also known as the Eagle Rock walk and is described in detail below, but instead of coming back to Wattamolla, on the Coast Track leg you continue to Garie.
If you are not completing the entire walk, you can walk out to Garawarra Farm car park to meet the shuttle. This section is rated easy.
Section 3 – Garie Beach to Otford, 10.8km
The last section of the Coast Track is also the most challenging; I used to think it was just because it was when I got tired, but it really is a little harder than the previous stages. It passes through Burning Palms, where you take your detour to Figure 8 Pools before rejoining the track to Otford.
Best for: A challenge, although it's more distance than the walk's grade that provides the challenge
Difficulty rating: Moderate
Distance: 27km
Public transport option: Easy – train to Cronulla and then 20m ferry ride. From Bundeena Wharf, it's about a 20-minute walk through the suburban streets of Bundeena to the start of the coast track. Return home from Otford Station.
Wedding Cake Rock
If your goal is to see Wedding Cake Rock before it slides down into the ocean (something that is predicted to happen in the next decade), follow the instructions above for Section 1 of the Coast Track. An alternative is the Wedding Cake Rock, Big Marley Circuit Walk.
Please don't climb the fence – this rock is incredibly unstable, and no photo is worth risking your life for.
Marley Beach Walk
The highlights of this walk are the two stunning secluded beaches and Deer Pool, a small waterfall or cascade that is 1.8km from the start of the Marley track.
Marley Beach is a pristine, unpatrolled beach that has no vehicle access. There are no shops and no facilities. Instead, you will find beautiful clean sand and unless you visit on summer weekends very few people.
Three tracks will take you to Marley Beach; two are fire trails, popular with mountain bikers and the other an official hiking track.
Big Marley (fire) Trail – brings you out near Marley Head to the north of the beach.
Marley Track – from Marley car park via Deer Pool and joins Little Marley Trail ends near Marley Beach. This is the official option. It's an 8km return walk and will take between 1.5-2.5 hours, depending on your pace.
Little Marley (fire) Trail – The most southern route is the closest to Little Marley Beach (12.6km return). It eventually joins the coast walk here. You can head north to Marley Beach.
There are a couple of ways to do this walk, including a loop walk via Deer Pool that has you going one way on the track and back out on a fire trail, just over 14km and the Marley Track Loop that comes in at 11.4km. The fire trail walk is a little dull, but it's an easier walk.
Along with being three walks to Marley Beach, there are also two Marley Beaches.
Marley Beach is the northern one; it's a large sandy beach with some dunes that can be fun to explore. The ocean can get rough, and there are often strong currents, so I would not recommend swimming here.
Little Marley is our preference because you can usually find some shade to hide under. Along with that, the ocean is much calmer, and there are also some rock pools to explore. If you find Marley is too busy for you, head south to this little beauty.
You can view this walk on Google Trekker to get an idea of how wet the track can be.
Best for: A day at the beach without the hoards, suitable for older kids happy to walk distances.
Difficulty rating: Moderate
Distance: 6.5 to 8km, depending on the route you take.
Public transport option: OK – You can start from Bundeena, but this is easier with a car.
Walks from Wattamolla
Wattamolla often feels like the epicentre of the park. In summer, parking here is at a premium, often by mid-morning; it's not uncommon for the road to be closed for crowd control. Aim to get here early at 9am at the latest for a quiet hike.
Wattamolla Beach, Lagoon and Dam
One of the most beautiful beaches in the park. It sometimes feels like all of Sydney has descended on Wattamolla at once for their Sunday picnic. Don't worry, as most don't leave the beach and venture south to the key attractions on this hike.
Highlights at Wattamolla:
Wattamolla Waterfall – look but don't jump
Wattamolla Dam – a safe swimming spot
Providential Point – whale watching hot spot
For a short walk before your day at the beach, you could take a walk to Wattamolla Dam, also known as Wattamolla pool, which is a little over half a km from the car park.
Alternatively, make your way to Providential Point. A well-marked track follows the beach to the point where you get a superb view out to sea. It's a simple walk for kids, which is especially worth the effort in winter when whales pass this point regularly.
Eagle Rock and Curracurrong Falls
This is one of the most popular Royal National Park walks and one with a huge reward to effort ratio. Eagle Rock is an easy, although long walk, that you can take the kids and grandma on.
It's true, that this track is one of the busier ones, don't let that deter you. Just start nice and early, and even in summer, you can complete the walk in relative peace. If you have not already walked to Providential Point, you can walk that way and meet the track around the point. It's very scenic, and we recommend you start this one and finish via the official trailhead in the car park.
Spectacular ocean views await along the length of the walk.
Highlights of the walk to Eagle Rock and Curracurrong Falls are:
Curracurrang Creek and falls
Eagle Rock
Curracurrong Falls
In a confusing twist, there are two waterfalls on this walk with very similar names: one is the one you likely came here to see, and the other is a well-hidden surprise worth searching out on a hot day.
Curracurrong Falls is mentioned in the walk's name and falls off the cliff into the ocean.
Curracurrang Falls is about 200m west of where you cross the Curracurrong Creek.
From the start, it's 3.5km to Eagle Rock. Some of the walk is along unfenced sheer cliffs, so it's not the best option for little kids unless you have nerves of steel or can carry them for sections.
Just under 2kms in is Curracurrang Creek, a lovely area just before you reach the lookout suitable for a dip. It also doubles as a picnic spot if you find hunger strikes.
Tip: If you head upstream following an unmarked track just before the stepping stone to cross the creek, you will find a lovely swimming hole. More often than not, there is no one else here.
Cross the stepping stones and follow the trail to Eagle Rock. You can't see the rock until you pass it. If you are not sure, turn on Google maps or Alltrails to make sure you don't miss it.
Next, stop the falls. This is the only waterfall we have ever sent drops directly into the ocean. On windy days it blows back onto land.
All up, it will take you about 3 hours to return if you stop to enjoy the views. You can save yourself about half a km by taking the fire trail back to the Wattamolla car park instead of back via Providential Point.
Best for: a half-day adventure, not ideal for younger kids as you walk close to the cliff edge.
Difficulty rating: Moderate
Distance: approx 8km depending on the route you chose
Public transport option: No – book the shuttle or drive.
Curra Moors Loop Track
If you can't get parking or they have closed the road into Wattamolla, you can still access Curracurrong Falls from this track.
This is a pretty spring hike, and while quite long, it has less up and down than the previous one, making it a little easier. It's also an option if you don't enjoy doing in and out walks. The track starts from Stevens Drive and can get pretty muddy when it's wet. The highlight is when the track joins the Coast Track near Curracurrong Falls and Eagle Rock.
Follow this track, and you will find it rejoins just before North Garie Head. Get tips and more details here from the Wildlife Diaries great article
Best for: when you can't get parking at Wattamolla or need a flat walk
Difficulty rating: Moderate
Distance: 10km
Public transport option: No
Walks from Audley
We have grouped walks that begin from the Farnell Ave entry to the park or the Visitors Centre at Audley together here.
Audley is the best spot in the park to head if you want to combine walking and picnicking. The lovely Audley Cafe is next to the Visitor's Centre also does fabulous brunch and lunch meals.
The Bungoona Track
Just after you enter the park at Farnell Ave, you will see a turnoff for this walk. It's a 1km long wheelchair friendly walk is views of the Port Hacking River.
Even if you are here for a more challenging walk, pop in and check out the view. The only fully accessible walk in the Royal National Park.
Best for: Wheelchairs and prams
Difficulty rating: Easy – fully accessible
Distance: 1km
Public transport option: Not recommended but 4km from Loftus
Lady Carrington Drive
While this is more popular as a cycling track, it also provides a nice flat walk suitable for the entire family. Previously a road, the track follows the Port Hacking River with plenty of picnic tables along the way.
At the southern end of the path meets the Forest Path, which makes a great addition to your day if you are up for a longer walk.
Palona Cave detour
Another option of Lady Carrington Drive is this 1.6km return detour to Palona Cave. Marked by an old wooden sign that just states 'Limestone Cave'. It's not a very clear path, and while it's a pleasant walk, it's not at the top of our list, and it surprised us when we hear it referred to as a hidden gem.
There is sometimes a small waterfall here, but we have never seen it looking impressive. I think you really need to be here right after some heavy rain for a decent flow. But given how overgrown this track is, you getting pretty damp from the ferns and perhaps take home a leech or two.
Best for: Families or anyone looking for a flat walk
Difficulty rating: Easy
Distance: 10km one way (+1.6 for Palona Cave)
Public transport option: No, but you can take the shuttle to Audley
Winifred Falls
You can begin this walk at the Visitors Centre or take a shortcut and park on Warumbul Road. The last time we ventured here, it was stinking hot, so we took the easy way, and although it's only 1km, it's completely unshaded and gets quite steep on the final third of the track.
We saw two people wearing throngs lose their footing on the loose rocks on the downhill stretches.
Visit on the weekend and arrive after 11am and expect to share the falls with a dozen or more new friends. However, if you walk about 800m further along, you will come to South West Arm Creek, which is a much nicer spot to take a dip and offers way more room!
Best for: A waterfall picnic, the path is rocky and can be unstable on the downhill stretch
Difficulty rating: Moderate but the uphill walk from the falls can get you puffing.
Distance: 2km return on the fire trail or 3.8km each way from the Visitors Centre
Public transport option: No
Walks from Waterfall and Heathcote Stations
If you are visiting Royal National Park without a car, these tracks are a brilliant choice. You can do them as out and back walks or turn them into loop walks.
Uloola Falls Track
This track, popular for hiking and mountain biking, runs between Audley Visitors Centre and Waterfall. It's 11km one way and relatively flat. It's most attractive in spring when wildflowers are gorgeous.
There is a campground at Uloola Falls, it's about 5km walk from Waterfall Station and offers just a drop toilet, but there are no other facilities making it perfect for practising your bush camping skills.
Many people string this track together with the Karloo Track walking in and out from Waterfall and Heathcote.
You can check out the view on Google Tracker.
Best for: Carless hiking, wild swimming
Difficulty rating: Moderate
Distance: 11km return
Public transport option: Excellent
The Track to Karloo Pools
Karloo Pools Track begins at Heathcote Station, and you have a choice of doing it as an out and back or walking a loop via Uloola Track to Waterfall Station.
While it can get hectic on the weekend on weekdays, you can often find you have the pool to yourself. The pool itself is one of the deepest, and we think when you can get here on a quiet day, most special in Royal National Park.
Tip: The water here is freezing!
The track stays quite wet after rain, so be sure to wear decent shoes. It's also pretty rough in spots, making it challenging for little kids but a total adventure for primary aged kids.
Rated moderate, it's only about 5km if you retrace your steps, and most people can do it in an hour each way. Bring plenty of water, as there are no facilities along the way.
Leave your car at one station and jump the train back.
Check out all the swimming holes in the Royal National Park on Wild Swimming Australia.
Best for: Waterfall and swimming hole with little effort
Difficulty rating: Moderate – Grade 3
Distance: 2.5 km each way or 10km if you walk to Waterfall Station.
Public transport option: Excellent – a track from Heathcote Station
Kangaroo Creek Track
One of the less trodden trails in the park, this one is really only suited to those looking for a challenge. It's a roughly made out track so great for working on your navigation skills and an alternative to the well-formed routes described above.
Tip: Take a quick detour to Peach Trees Trig Station for stunning Port Hacking views.
This is a 14.8km loop walk from Heathcote Station. Pack plenty of water and stamina and even in summer consider trousers over shorts. There are other ways to access Kangaroo Creek from Audley.
Walks from Garawarra Farm Car Park
A starting point for some very popular tracks if you are driving is the car park at Garrawarra Farm. Take the McKell Drive, turn off and get here early as the car park fills quickly.
Walks from here will take you to the Royal National Park's best beaches.
Burning Palms and Figure 8 Pools
Figure 8 Pools is the most Insta-famous spot in the park. It's also notoriously dangerous and a visit here needs to be planned carefully.
The rock ledge the pools are on reminds me of the tessellated pavement at Eaglehawk neck near Port Arthur in Tasmania. It's just a lot harder to reach! While the pool that is shaped like an eight looks pretty cool in real life, I don't think it is quite as amazing looking as it is on Instagram, but that is just my opinion, many disagree!
There are a couple of ways to reach Figure 8 Pools. The quickest is from the Garawarra Farm car park. But you can also make your way here from Otford by following the Coast Track. The pools are to the south of Burning Palms Beach.
The way down to Burning Palms beach is quite steep, and once you are there, you hop across the rocks around a couple of headlands for about 900m to the rock shelf where the pools are. This can only safely be done at low tide.
The rocks can be really slippery, covered in moss at times, as can the main track after rain. You really should wear hiking shoes to be safe.
Carry in plenty of water in summer as there are no facilities along the track. The Sydney Coast Walks guide gives excellent instructions.
If you are inexperienced or plan to visit alone, we think you should consider a tour. At least this way you know you will actually get to see the pools and have some help if you need it.
Best for: Those with good fitness and some experience.
Difficulty rating: Hard
Distance: 7km return
Public transport option: The shuttle to Garawarra Farm car park
Check the tide before planning your outing. You can only see the pool at low tide. The tide needs to be less than 1m for this to be safe. Please take the warning seriously, as there have been some really tragic accidents here.
Palm Jungle Loop Track
Palm Jungle is one of the more challenging walks in the park. It offers magnificent views over Era Beach and Burning Palms.
Highlights include:
Figure 8 Pools
Burning Palms Beach
Werrong Lookout
This 10km walk is officially rated as hard, but anyone with a decent fitness level will be fine. This was our favourite walk for many years, but I must admit it's a couple of years since we did it.
Best for: Variety, jungle, beach, rock pools and sometimes deer!
Difficulty rating: Hard
Distance: 10km
Public transport option: Shuttle to Garawarra Farm car park
Werrong Beach Track
This is a pretty challenging track, one of the hardest short walks in the park. The track to Werrong Beach is not long, but it is very steep, which is how it earned its rating as hard. You begin at Otford Lookout and walk through the rainforest to a secluded beach and Royal National Park's only nude beach.
Note: you may occasionally spot a naked hiker here, so perhaps not a brilliant spot for those who are uncomfortable with nudity.
Best for: A challenge!
Difficulty rating: Hard (officially a grade 5)
Distance: 4km return
Public transport option: You can walk from Otford Station
Best Royal National Park walks for families
National Falls
This only makes the best family walks in Royal National Park if you're driving. You can walk from Waterfall Station; however, you will be next to the road, so it's not ideal.
From the McKell Ave turn off at Waterfall Station, it's just under 3km to the falls. You will see an area to pull in on the left, no huge sign, so best to add it to google maps or GPS if you don't want to miss it.
Alternatively, you can park 2 minutes away, and it's just a short walk to two viewing platforms. You can get underneath the falls by walking about 100m along the road. You will see an old set of steps just over the railing that will take you underneath the falls.
Forest Path Track
This is a great introduction to bushwalking for kids. A 4.5km loop track that is mostly flat. It's easy, but note that leeches may be ready to pounce after periods of rain.
Jibbon Loop Walk
This is a great choice for families because you can stop and swim at the beach if kids get tired or lose interest. The Aboriginal carvings are well signposted and add an extra element. In winter, you have a great chance of spotting whales.
Lady Carrington Drive
10km is fairly flat, and much of it is suitable for kids on bikes, although it gets a little rough in spots. The first section to Gibraltar Rock or the last section near the Forest Walk are the best choices if you don't want to do the whole length.
How much does it cost to visit the Royal National Park?
The entry fee is a per car fee. It's currently $12 per car; we have an annual pass that costs $65 and includes all NSW Parks except Kosciuszko. If you enter the path on foot, there is no charge.
How much wildlife will you see here?
While you don't see an enormous variety of marsupials in the park, you will spot plenty of gorgeous birds, a decent supply of lizards and usually an echidna or two. Snakes are also not entirely uncommon, we spotted one a few months ago, but they usually hurry off quickly.
Want to stay longer?
Try bush camping for the first time? Weekends camping in the Royal National Park's offer secluded beaches, at Garie or Burning Palms or North Era, coastal and bush hikes, waterfalls and lookouts.
The Royal National Park is a great place to begin your camping experiences, and the short drive from Sydney means you spend more time in the bush!
However, if you prefer not to rough it quite that much there are several properties available for rent that are perfect for families or groups.
All photos are our own unless otherwise credited.