We are fortunate in Sydney that we surrounded by so many beautiful parks, gardens and beaches that make perfect places to relax. Below we have shared what we think are 20 of the best picnic spots in Sydney, some are well-known, and some hidden but all are places that we are sure you will enjoy visiting. Better still all can be reached by public transport! 
Edited: April 24 2019
Nothing beats lunch outdoors on a sunny day and thankfully even in winter packing a picnic and getting outdoors is a great way to spend an afternoon in Sydney. To make life easier, we have added public transport info so you can leave the car at home.
Picnic Spots with views of Sydney Harbour
Great spots to the south and west side of the Bridge
The Royal Botanic Gardens
For an impromptu picnic, it is hard to go past the Botanic Garden. I am sure you are aware of the view but did you realise that just minutes away from the Macquarie Street gates is David Jones Food Hall or the IGA supermarket at Martin Place where you can put together a lovely bag of goodies to enjoy in the sun?
Why picnic here:
Admire the fantastic views
Enjoy plenty of shade and lots of quiet spots
Accessible toilets
Join one of the free walks or tours
Grab a fresh coffee (or a picnic meal) from the Botanic Gardens cafe
Where: Enter from Macquarie Street near Bent Street or by the Opera House 
Getting there:  Less than 10 minutes walk from Martin Place, St James or Circular Quay Stations.
Observatory Hill Sydney
Just a short walk from Circular Quay through the Rocks and under Harbour Bridge will get you to Observatory Hill. Once here you will find a beautiful old rotunda and a lovely place to look over the harbour from a different perspective.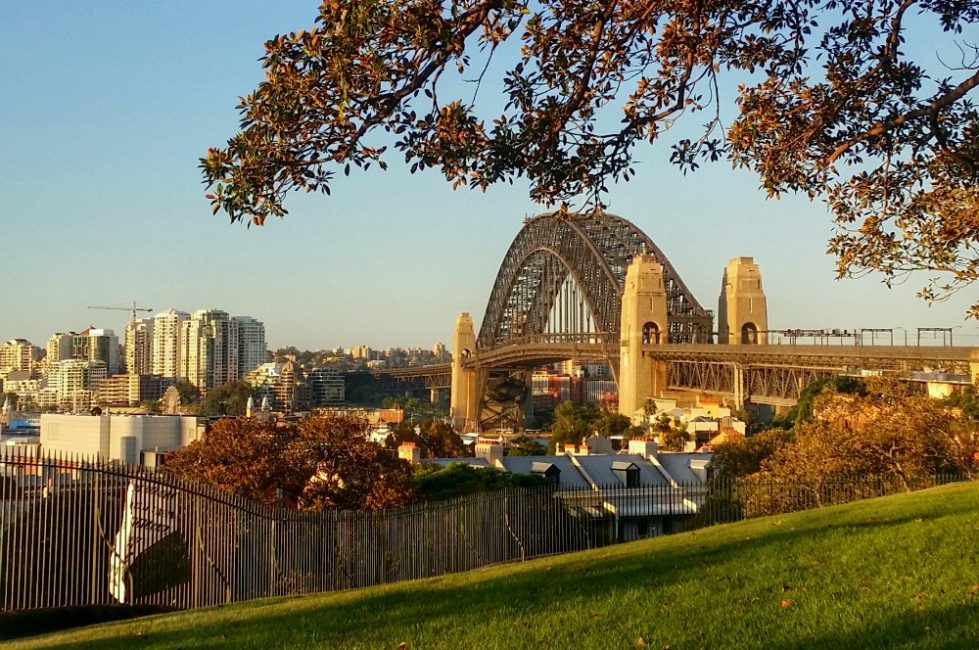 Why picnic at Observatory Hill?
Just minutes from the city but lovely and quiet
Fantastic views of the Sydney Harbour Bridge
Beautiful old rotunda
Shaded by a gorgeous tree
The park is dog-friendly (on leash)
Where? 1001 Upper Fort St, Millers Point 
Getting there: Walk along Kent Street from Town Hall right down to Observatory Hill.
You could then walk off your lunch by either exploring The Rocks on foot or take a walk over the Harbour Bridge
Barangaroo Reserve
Since it opened in 2015 Barangaroo has become a favourite spot for locals and visitors alike. With its 70,000 plus trees starting to mature and water views to the west to the Anzac Bridge and East to the Harbour Bridge this park has helped to open up a whole new vista for Sydney. There are no BBQs here so this is strictly a picnic basket affair.
The reserve was named for Barangaroo an important Aboriginal woman at the time the first fleet arrived; she was said to be the partner of Bennelong who's name is given to the point where the Opera House stands.
Why picnic at Barangaroo?
A quiet oasis just minutes from the city chaos
Fantastic views of two Sydney bridges
Plenty of room to run around
Excellent facilities and an elevator to take you to the top level
The reserve is dog-friendly (on leash)
Where? Hickson Rd, Barangaroo  
Getting there: Walk from Wynyard Station via the Barangaroo shops to pick up picnic supplies or stroll through the Rocks.
Combine your walk with a self-guided walking tour of the Rocks to put a bit of a history lesson into your day.
Pirrama Park (Pyrmont Point Park)
From a former base of the Water Police, and dockyards, Pirrama Park, has revitalised this part of the foreshore winning an Australian Institute of Landscape Architecture design award in 2012. The park has great views of the Anzac Bridge and views back up the harbour to the Bridge. In 2015 the park became known as Pirrama, which means 'rocking stone' in the Gadigal language.
Why Picnic in Pirrama Park?
Excellent playground with shaded play areas including a giant sandpit and water spray jets
Café for coffee and dessert
Dog-friendly (off leash)
Several parking areas and lots of BBQs and tables
Check out the Stevedore Walk which celebrates the history of wharves and dock workers.
Where: Pirrama Road, Pyrmont
Getting there: Take the 389 bus from Town Hall
Blackwattle Bay Bay / Glebe Foreshore walk
One of the 4 Glebe foreshore parks that hug the water on this western side of the harbour. Blackwattle Bay Park opened in 1983 on former industrial land. Several reminders have been left in place including a crane and some old incinerators designed by Walter Burley Griffen who won the competition to design Canberra in the 1920s.
Why Picnic at Blackwattle Bay Foreshore Park
Great boardwalk and bike track to stretch the legs after you eat
Kids playground
Café (Bellevue Cottage) for coffee and cake
BBQs
Dog-friendly (on and off-leash areas)
Where:  53 Leichhardt St, Glebe
Getting there: Light rail to Glebe and or 431 bus to Glebe Point Rd at Toxteth Rd both about a 500m walk from the park.
Cockatoo Island
Did you know you can picnic at a UNESCO listed site in Sydney? Well, now you do!
Cockatoo Island sits to the western side of the Harbour Bridge. Unlike most harbour islands this one has a regularly scheduled ferry service making it easy to visit.
The island has a fascinating past with colonial and industrial buildings to explore; there is even an old mine shaft. It was also once a reform school for girls charged with petty crimes.
Tour the historic buildings on site
2 BBQs with plenty of seating or put your rug on the grass on top of the hill
No BYO but you can drink in the licenced venues on the island
Play tennis or use the life-size chess set
Where:  Cockatoo Island is on the western side of the Harbour Bridge
Getting there: Take the ferry from Circular Quay
You can also camp or book a residence on the island if you would like to stay longer. Learn more about the history of the island from the team over at 2 Aussie Travellers.
Illoura Reserve Balmain
Illoura Reserve runs along the Balmain waterfront from the ferry wharf at East Balmain to Peacock Point. It's a relatively large area with several paths and viewing platforms to explore. Illoura is an aboriginal word meaning 'a pleasant place', and that is a very apt description.
Why Picnic at Illoura Reserve Balmain?
Excellent views to the city and Darling Harbour
Picnic tables but no BBQs
Great playground
Dog-friendly on and off-leash areas – check this map
Where: Weston St, Balmain East
Getting there: short ferry ride from Circular Quay
When you are done picnicking head up and explore Darling St Balmain and one of the old pubs the area is famous for.
Best picnic spots to the north of  Sydney Harbour
W

endy's Secret Garden
Wendy's (not so) Secret Garden is hidden behind an old railway line in Lavender Bay. The park is built on a steep embankment that runs down to the harbour. The terraced areas lend themselves to exploring, with many hidden features waiting for you to find them. There are tables and chairs dotted about the place and some green lawn areas for stretching out with a book.
Why picnic in Wendy's Garden?  
Small nooks and crannies make it perfect for quiet romantic picnics
The garden is dog-friendly
Shady spaces perfect for escaping the summer heat
Harbour views through the trees make it a photographers delight
Fun for older children to play hide and seek
Where: Lavender St, Lavender Bay NSW 2060
Getting there: Walk from Milsons Point Station or wharf
We have outlined the walk from Milson's Point here and highlight all the best spots along the way.
Blues Point Reserve
Blues Point is the only place where you can stand directly opposite the bridge. This park on the northwestern foreshore has views across to Darling Harbour and both up and down the harbour.  The best thing about picnicking here is the tower is not in your sight.
It was here that in 1817 Governor Macquarie awarded Billy Blue 80 acres of land here and he began his ferry service to Circular Quay making harbour crossings available to the first settlers. This service operated until the Harbour Bridge opened in 1932.
After your picnic, take the stairs up to the lawn in front of the infamous Harry Seidler Blues Point Tower, which many consider the cities ugliest building, for fantastic harbour views.
Why picnic at Blues Point Reserve?  
Fun and fenced children's playground
Fantastic water views
Lovely old Morton Bay figs provide good shade cover
Picnic tables
Toilets
Dog-friendly (outside the playground)
Where: Blues Point Road, McMahons Point
Getting there: Walk from MacMahons Point Wharf
More details: North Sydney Council
Berry Island – Wollstonecraft 
Hidden away on the western side of Sydney Harbour 2kms from the Harbour Bridge just before it splits into the Parramatta and Lane Cove River Berry Island is a great picnic spot that virtually deserted during the week and a perfect place for a romantic harbourfront walk and picnic. Weekends it is a little busier with families, but generally, this is a hidden gem outside the local community.
Technically Berry Island is not an island at all anymore. In the early 1800's resident Edward Wollstonecraft attached the island to the mainland by creating a causeway. Today along with being a lovely picnic spot it also offers a 20 minute bush walk, the Gadyan track. The track around the island details the history of the Cammeraigal people on a series of signboards.
Why picnic at Berry Island?
Large flat grassy area perfect for picnic blankets and accessible for wheelchairs and prams
Children's playground
Electric BBQ
Toilets
Dog-friendly
Aboriginal middens to explore
Where: 10 Shirley St Wollstonecraft
Getting there: Take the train from Town Hall to Wollstonecraft Station. Berry Island is about 10-minute walk from the station.
Cremorne Point
Cremorne Point was one of the most popular pleasure grounds for Sydneysiders in the 1920s, people flocked here to frolic late into the night, and it was THE place to go for the beautiful people of the time. These days it's where the beautiful people live, the houses that line the waterfront here will have you dreaming of a lotto win.
Why Picnic at Cremorne?
Explore the National Trust listed Rex and Ruby Gardens
Take a swim at the historic Macullum Pool
Dog-friendly (on leash)
Kids playground
Where: Milsons Road Cremorne Point
Getting there: Take a ferry from Circular Quay to Cremorne Point.
Walk off your picnic lunch by taking the very lovely Cremorne Point Walk 
Bradleys Head Amphitheatre
This spot is a bit special for us, our oldest daughter was married here in the park a few years ago, and with its beautiful harbour views, I am sure you will find it pretty special too. The amphitheatre is part of Sydney Harbour National Park, and the surrounding bushland makes you feel like you have left the city for the day, only the icons in front of you remind you how close you really are.
Why Picnic at Bradley's Head?
Fish off the pier
Wander up to Athol Hall for a coffee and cake
See how many kookaburras you can spot in the trees
Check out the old military relics on the site
Where: Bradleys Head Road
Getting there: Take a ferry from Circular Quay to Taronga Zoo Wharf and follow the track to the headland.
Dogs are not allowed at Bradleys Head as it is part of the National Park.
Bradleys Head is half way along our Taronga to Balmoral walk you might like to plan to do the whole walk and stop off here for lunch.
Balmoral Beach
Located in Mosman on the lower North Shore is actually named after Balmoral Castle in Scotland. The two beaches here are separated by a rocky island where which is a great spot to head with your picnic basket or some takeaway fish and chips from Bottom of the Harbour.
Why Picnic at Balmoral Beach?
Playground at the southern end of the beach
Calm beach for kids and non-swimmers
Netted swimming enclosure
Beach bordered by a shaded park
Good for snorkelling
Where:  The Esplanade Balmoral
Getting there: Bus 233, 238 and 257
Best Picnic spots to the East of the City
Nielson Park and Shark Beach
Nielson Park is a favourite spot for Eastern Suburbs locals, so it gets hectic on weekends, visit mid-week if you want some solitude. There is no playground so not the best place if you are looking for somewhere for the kids to burn off steam. Take a walk out to Hermit Bay for lovely views.
Why picnic at Nielson Park?
An easy bus ride from the city
Safe netted ocean pool in Sydney Harbour
Cafe and restaurant if you fancy coffee and dessert after
Shaded by lots of giant fig trees
Where? Greycliffe Ave Vaucluse 
Getting there:  Bus 325 stops 400m from the park.
This area is not dog-friendly. If you fancy a longer walk, then check out the Hermitage Foreshore walk to Rose Bay and take the bus home from there.
Parsley Bay
This large park and harbour beach are best known for its iron bridge that spans its bay. There is a large grassy area and plenty of Morton Bay figs to shade the park.
You can also carry your picnic out onto the rocks via the bus track for a private picnic.
Why Picnic at Parsley Bay
Kiosk (weekends and holidays)
Very kid friendly with a good playground
The netted area provides safe swimming in summer but is removed for the winter
BBQs
Almost deserted midweek (outside holiday periods)
20 min bush walk track
Where: Parsley Rd, Vaucluse NSW
Getting there: Bus 325 then a 600m walk
Parsley Bay is not dog-friendly.
Robertson Park – Watson's Bay
Watson's Bay is a great picnic destination with park and beach options.  There is the large Robinson Park by the ferry wharf, with lots of trees and half a dozen picnic tables. There is a small sandy beach and several walks from the top of the street to Camp Cove Beach, South Head or the infamous Gap lookout. The area also provides some magnificent harbour and city views.
If you don't feel like bringing a picnic along there is Doyle's fish, and chip take away on the wharf or perhaps a few hours in the beer garden at the Watson's Bay Hotel is more your type of picnic.   Where ever you decide to dine at Watson's Bay it's a great day out for visitors or locals. Sadly dogs are not permitted in Robertson Park.
Why picnic at Watson's Bay?
Fantastic harbour views
Small harbour beach
Picnic tables
Great for sunset picnics
Easy transport from the wharf
Playground
Netted swimming area
Where is it? 22 Military Rd, Watsons Bay 
Getting there:  The most enjoyable way to get here is by ferry from Circular Quay, but you can also take the 324 or 325 buses from the city or Edgecliff station.
Dogs are not permitted in Roberston Park or South Head Reserve. We have a whole page covering the walks around Watsons Bay if you would like to know more.
Centennial Parklands
Centennial Park is big, 360 hectares big, so make sure if you plan to meet friends here you have checked the map on their website before you head out.
Why Picnic in Centennial Park 
Eight free Electric BBQs Check the website for locations 
Dog-friendly (on leash)
Excellent Ian Potter Children's WILD PLAY Garden
Check out the  Labyrinth based on the design of the medieval labyrinth in Chartres Cathedral in France,
Watch the ducks on the lake
Take a horse for a gallop
Where:  Oxford Street, York, Darley, Alison & Lang Rds Centennial Park
Getting there: 355 bus to Lang Road and a 400m walk to the park. Alternatively, the 378, 380 and 355 buses depart from Central and Bondi Junction.
Picnic By the Beach
Bronte Park – Bronte
Just a couple of kilometres along the coastal walk from world famous Bondi Beach, Bronte Park is my pick for an eastern suburbs picnic. With its cute little picnic huts and eight gas BBQs. It's got everything you need for a perfect day in the sun. The park backs the beach, and there is also an ocean pool which is great for kids.
Best mid-week if you have the luxury of not working as it can get crowded here on weekends. Get in early to secure one of the huts. Bronte Park is a dog free and an alcohol-free zone.
Why picnic at Bronte Beach?
Lots of shady spots and several covered huts
Free BBQs
Kids playground
Kiosk for coffee and cold drinks
Gorgeous ocean views
Toilets
Where is it? East end of Bronte Rd, Bronte
Getting there: The quickest way is to catch a Bondi Junction train from platform six at Town Hall then take the 378 bus from Bondi Junction station.
Dogs are not allowed near the beach, near the BBQs or playground.
Shelly Beach Manly
Shelly beach is just a short walk around from Manly Beach and the Corso. It's an excellent spot for snorkelling and one of my favourite places to spend a sunny afternoon.
Why picnic at Shelly Beach?
Safe, calm water perfect for kids and non-swimmers
great for snorkelling with plenty of sea life to spot
free gas BBQs
kiosk for coffee and cold drinks
Gorgeous ocean views and a fab spot to watch the sunset
Toilets
Where is it? Bower Street, Manly
Getting there: Jump on the Manly ferry, and by the time you get there you will be in relax mode and ready for lunch
After lunch stretch your legs by following the track to the North Head Scenic Reserve. You can return to the ferry wharf from North Head if you don't want to retrace your steps. Check out all the details on the walks at North Head. They even have guided tours on weekends.
Brighton Le Sands Beach
The shores of Botany Bay where the first fleet landed and just 3km south of the airport is home to Lady Robinsons Beach, Sydney's longest beach.
Why Picnic at Brighton le Sands 
Great boardwalk and bike track to stretch the legs after you eat

Watch the

 locals flying kites and kitesurf
Plenty of great coffee and ice-cream
Netted swimming areas
White sandy beach and flat bay with no real waves
Dog-friendly
Several parking areas and lots of BBQs and tables
Where: General Holmes Drive, Brighton-Le-Sands
Getting there: The 303, X03 buses from Circular Quay or take the train to Rockdale and jump onto the 478 bus down to the beach.
Darook Park and Gunnamatta Bay Cronulla
If you want a spot that is a bit away from it all and certainly not on the tourist trail, head south to Darook Park. Named after the local aboriginal tribe Darook is a pretty sheltered spot on Gunamatta Bay in the southern suburb of Cronulla.
The area provides safe swimming, shady grass picnic areas and even toilets, picnic shelters and a playground. If you prefer to swim in a netted area, you could stop off at Gunnamatta Park right by the station.
Where: 43 Darook Park Rd, Cronulla
Getting there: It's a 55-minute train ride from Town Hall to Cronulla beach in Sydney's south then a short walk from the station.
From the station, you can do a loop walk down to Cronulla Beach and along a track to Shelley Beach before heading into the back streets to Darook Park.
Looking for even more Sydney picnic spots? Join our Sydney Expert Facebook Group and ask the community where they like to go for their picnics. It's also a great way to stay up to date with what's happening in Sydney and meet a bunch of friendly locals just waiting to share their advice!