An ABC of the Most Beautiful Gardens in Sydney
There are some beautiful gardens in Sydney to visit and this year we are working our way through the alphabet to see if we can find one for every letter. So far, we have covered 19 letters, some with two gardens, so if you can think of one for a letter we have missed, please let us know! Let's go see how many of these 21 Sydney gardens you have visited.
This page contains affiliate links. You can find our full disclosure policy here.
In our discovery of the best gardens in sydney we have tried to pull together all the details we think you need to decide which Sydney gardens to visit. We have added info on the accessibility of the gardens and also noted which gardens your dog is welcome to visit with you.

To the best of our knowledge, these details are correct, but if you come across anything that has changed, leave us a comment below and we will update the page as soon as we can.
We are still looking for gardens beginning with D, H, O, Q, X, Y, Z. If you can think of any, please let us know.
Auburn Botanic Gardens
These beautiful gardens are maintained by Auburn Council and are best known by Sydneysiders for their stunning cherry blossom displays each winter. The star attractions of the extensive gardens are the Ryoan-ji style Japanese Garden, the sunken rose garden and the rainforest garden.

However, the biggest stars for many are the wildlife, with 4 Aviary areas showcasing Australian and Asian bird life and a collection of native marsupials including Eastern Grey Kangaroos, Red-necked Wallabies, Swamp Wallabies, Emus and Common Wombats.
There are plenty of BBQs and a playground area. This is an excellent spot for families and get-togethers. Entry is free for residents of Auburn and $5 per adult for the rest of us.

Tip: If you plan to visit during the famous Cherry Blossom Festival, be sure to book a ticket as it sells out in advance most years.
Address: Chisholm Road and Chiswick Road, Auburn
Opening hours: 9am to 5pm
Public transport rating: There is a free community loop service from Auburn Station.
Wheel-friendly: most areas are level and easy to access.
Dog-friendly: no, dogs are not allowed in Auburn Botanic Gardens.
Bible Garden at Palm Beach
Relatively unknown outside Pittwater, the Bible Garden perched on the hill overlooking Palm Beach is a beautiful place of contemplation.
The garden, landscaped with plants that are listed in the bible, offers one of the best views back over the beach and Pittwater that I have found.
Address: 6a Mitchell Rd, Palm Beach
Public transport rating: It's a 20-minute uphill walk from the nearest bus stop
Wheel-friendly: no – lots of steps into the garden
Dog-friendly: no
Blackburn Gardens
This little garden sits hidden from South Head Road at Double Bay and is probably more worthy of the secret garden title than the real Secret Garden at Lavender Bay.
From the bottom of the site, you can look through the trees down to Murray Rose Pool (formerly Redleaf Pool) and Seven Shillings Beach. It's the perfect spot to sit with a book and relax or enjoy a romantic picnic.
Related: From Walsh Bay to Watson's Bay – a self-guided bus and walking tour
Address: 548 New South Head Road, Double Bay
Public transport rating: Bus stop immediately outside or 10-minute walk from Double Bay Ferry
Wheel-friendly: yes, there is a ramp from the street
Dog-friendly: No
Chinese Garden of Friendship
This beautiful garden in Darling Harbour was built in the mid-1980s, a gift from our Chinese sister city, Guangzhou, in China. Opening as part of the Bicentennial celebrations in 1988, this site has become a very popular spot with visitors enjoying the peace they bring to the middle of the city.
I love to take my grandchildren here after an action packed visit to the nearby playground. It has a very calming effect. Finish your visit with a snack or lunch from the traditional Chinese Teahouse, The Gardens by Lotus. You can also dine at night when the menu changes to Sichuan cuisine.
Tip: Check out our guide on where to eat in Darling Harbour if you are hungry
Address: Pier Street Darling Harbour
Public transport rating: Easy – walk from the Paddy's Market Light Rail stop
Wheel-friendly: in part, some stairs
Dog-friendly: No
E.G. Waterhouse National Camellia Garden
Celebrating their 50th Birthday in 2020, the Camellia Garden is named after Sydney local and a world-leading specialist in Camellia's, EG (Eben Gowrie) Waterhouse, home to well over 600 camellias with some rare types only found in Australia.

The gardens look their best in winter when the Camellias are in flower, however, a significant number of rose plantings mean the summer months are also lovely.
Address: 104 President Avenue, Caringbah South
Public transport rating: 20-minute walk from Miranda Train Station or 2 mins if you take the 978 bus from the station
Wheel-friendly: The lower garden is the more accessible part of the site. To access the tea house, enter via the top gate.
Dog-friendly: No
Fagen Park/ Gardens of Many Nations
This garden in Fagan Park has 11 themed displays over its 10 hectares. There are Chinese, Dutch, English, Japanese, and Mediterranean gardens, as well as BBQs and playgrounds.

Fagan Park also gives the Camellia Garden in Caringbah a run for their money with over 80 types of camellias on site.
Address: 38-48 Arcadia Road, Galston
Public transport rating: possible, but at least 2 buses and a walk
Wheel-friendly: Yes
Dog-friendly: Yes
Ivanhoe Park Botanic Garden
Ivanhoe Park has a long history as a public space with the Manly Wildflower show being held here for 20 years from 1880 to 1900. The site became a botanic garden in 2006 and is now heritage-listed.
Address: Raglan Street Manly
Public transport rating: Easy – walk from Manly Wharf
Wheel-friendly: not really, there is a lift, but it is often out of order
Dog-friendly: Yes
Joseph Banks Reserve
Joseph Banks Reserve in Sydney's Sutherland Shire is a garden that specialises in Australian native plants. Explore Aboriginal food and medicinal plants, a lovely rainforest area, and lots of other specific native plantings.
The abundance of natives attracts plenty of bird life who enjoy the banksia, grevillea, and Lilli Pilli. This is a lovely spot to walk around in summer when the shade cover provided by the trees keeps the temperature comfortable.
Address: Manooka Pl, Kirrawee
Public transport rating: possible – train to Miranda and then a bus and a 5-minute walk
Wheel-friendly: Yes
Dog-friendly: No dogs
Ku-ring-gai Wildflower Garden
The Ku-ring-gai Wildflower Garden is a great find, with lovely picnic areas, and a visitor's centre where you can learn more about the plants you will find here and grow your own wildflowers at home. Don't expect manicured garden beds, this is more like a part of the adjoining National Park than a formal garden.
There are three accessible walking tracks:
The Senses Track – a 500m walk near the Visitor Centre.
The Solander Trail – 2km track – best for wildflower viewing
Brown Trail – off Solander Trail – leads to the wetland boardwalk and the Caley's Pavilion Gardens where you can see bush foods like Davidson's Plum and native ginger.
Lots of short (5-15min) walks with a small number of steps are also on offer. If you have a bit more time, try the 4km Mueller Track
There is also a wildflower nursery if you want to take some plants home with you.
Address: 420 Mona Vale Rd, St. Ives,
Public transport rating: Train to Gordon and 197 bus stops just 5 mins walk away.
Wheel-friendly: the upper level of the garden can be seen from the pathway
Dog-friendly: No
Lisgar Garden
Created in the 1920s by Dr Max Cotton, who designed the original garden beds and fishponds. He met and became friends with Eben Gowrie Waterhouse, who the Camellia Garden in Caringbah are named for, and began planting camellias shortly after. In the mid-1960s, Hornsby Council purchased the gardens.

Today the lush green space features over ninety varieties of camellias, as well as rhododendrons, azaleas and gardenias.
Lisgar Gardens less than 1km from Hornsby Station is very much a secret, with few visitors outside the local area visiting.
Address: Lisgar Road, Hornsby
Public transport rating: Ok – 10 minutes' walk from Hornsby Station
Wheel-friendly: Prior arrangement with Hornsby Council required.
Dog-friendly: No
Hours: Closed public holidays open 8.30am-3.30pm weekdays, and 10am-4pm weekends)
Mount Annan Botanic Garden
The largest botanic garden in Australia, Mount Annan Botanic Garden, also offers one of the largest concentrations of native plants with over 1000 Australian species on display. Perfect for exploring from the comfort of your car, or for cycling or walking.
We have only visited a couple of times but would be regulars if it were closer to home. Try to get there in September when the paper daisy display is in full colour. You will find the main beds near the Visitors Centre in the Connections Garden. This garden is the best spot for those of you travelling with wheels, either prams or wheelchairs, as the paths are well surfaced and graded.
If you are looking for a gift or a day out for an avid gardener, the shop and café are lovely choices. They will also enjoy a stop at Plant Bank.
There are a couple of drives (one way) you can follow to get a good overview of all that is on offer. The Caley Loop is home to the garden's most Instagrammed spot – The Blue Tree – a sculpture type offering designed to get us all thinking about the effects of damage to the environment.
The Stolen Memorial Walkway, created as a healing place in remembrance of the Stolen Generation, features a panelled monument carved from Hawkesbury sandstone, another key spot that should not be missed.
Address: Narellan Road, Mount Annan
Public transport rating: Difficult – train and bus and 2km walk or taxi
Wheel-friendly: Yes, some of the paths and the facilities – get details from the visitors' centre.
Dog-friendly: No
Mount Tomah Botanic Garden
We finally visited these gardens in the Blue Mountains earlier this year. It had been on our to-do list for a long time, but the news that it survived the 2020 summer bushfires moved it to the top once the area reopened.
The gardens are the only Botanic Garden inside a World Heritage Area, and the focus here is on cold climate plants. There are several formal garden areas and three natural bushland areas, including a jungle area and a Gondwana Walk, which features the famous local tree, the Wollemi Pine.
A lovely cafe, The Potager, has a huge balcony overlooking the garden. There is also a takeaway area, the Ugly Mug Kiosk, if you prefer to picnic.

Free tours run most days at 11:30am, and you can also do specialised tours for $13.50, but these need to be booked in advance.
Address: Bells Line of Road, Mount Tomah
Public transport rating: not advised
Wheel-friendly: yes, some paths are accessible; however, the garden is on a steep hill. The café and top-level is worth visiting and fully accessible.
Dog-friendly: No
Nurragingy Reserve
One of the most popular parks in Western Sydney and now officially part of the Western Sydney Parklands, Nurragingy attracts over a million visitors a year.
There are several themed gardens, including an Aboriginal Heritage Garden, a Bush Tucker Garden, The Fred Hollows Sensory Garden, a New Zealand Garden, an African Garden and an American Garden.
One of the most impressive themed areas is the Chang Lai Yuan Chinese Gardens. The garden was created with help from sister city, Liaocheng in China. There are several large areas perfect for parties and weddings that you can book via the council website.
There is a children's playground and waterpark making Nurragingy a popular spot on warm summer days.
Address: Knox Rd Doonside,
Public transport rating: 10 minutes walk from Doonside Station or buses 728, 753.
Wheel-friendly: Yes
Dog-friendly: yes, on a leash
Paddington Reservoir Gardens
According to Sydney City Council, the Paddington Reservoir Gardens are a blend of the ancient Baths of Caracalla in Rome and the Hanging Gardens of Babylon. In reality, the site was once, as its name suggests, a water reservoir, but when it was no longer required it spent time as a garbage dump and a petrol station.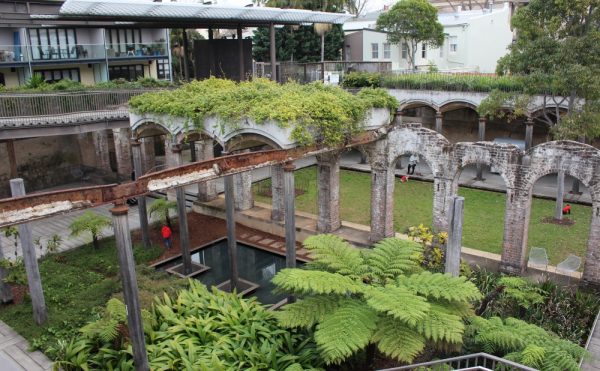 The garden opened in 2009 but its location, predominantly below ground on Oxford Street means many people drive past without noticing.
Winner of multiple international design awards, it's a peaceful place for a rest while checking out the famous Paddington Markets or many shops that line Oxford Street.
Address: 251-255 Oxford St, Paddington
Public transport rating: at the door
Wheel-friendly: There is a lift to the lower level
Dog-friendly: Yes
Royal Botanic Garden
Sydney's Royal Botanic Gardens is the most beautiful gardens Sydney offeres in our opinion, it's a treasured part of the city. There are over 26K reviews of the gardens on Google Maps and a rating of 4.7 out of five.
There's always something to do here from the free volunteer walks, to paid Aboriginal heritage walks.
Address: Mrs Macquaries Road, Sydney
Public transport rating: very easy 15 mins. walk from Circular Quay or 5 minutes from Martin Place Station. Buses to Mrs Macquarie and Art Gallery gates.
Wheel-friendly: yes, much of the garden is although access from the upper gates is challenging.
Dog-friendly: no
Stony Range Regional Botanic Garden
Nestled in Dee Why, Stony Range remains relatively unknown outside the Northern Beaches, but provides a pleasant reprieve from the surrounding streets. Six hectares of native Australian plants are cared for by a committed group of volunteers who established the garden more than 60 years ago.
There are 2km of walks to explore including a bush tucker garden. This guide (PDF) explains the plants, see how many species you can find. There is also an excellent sensory track that highlights plants you are encouraged to smell and touch.
Address: 810 Pittwater Road, Dee Why
Public transport rating: very easy
Wheel-friendly: Yes, flat paths
Dog-friendly: No
Open: 8.00am – 5.00pm
The Lex and Ruby Graham Gardens
Partway along the Cremorne foreshore path, these gardens created by local couple Lex and Ruby were a labour of love that has stood in place for more than 50 years.

The gardens are National Trust listed and a favourite spot on the Cremorne Point walk. A team of volunteers and local council gardeners continue the work started back in 1959 allowing us to all enjoy the vision of the Grahams.
The pretty gardens sit on terraced beds running down to the water. The stone paths are narrow and uneven and not suited to anyone not steady on their feet.
Address: Cremorne Point Reserve
Public transport rating: Easy – a short walk from the ferry wharf
Wheel-friendly: the upper level of the garden can be seen from the pathway but other than that access is not possible
Dog-friendly: Yes
University of Western Sydney Secret Garden
If you are looking for a place to improve your gardening skills, get ideas for your own garden and interact with other keen garden lovers, then you will love the Secret Garden at the University of Western Sydney.
They also have a lovely cafe, some farm animals perfect for small kids to enjoy visiting with and a nursery for you to buy the plants you fall in love with.
Address: Clydesdale Lane University of Western Sydney Richmond
Public transport rating: OK – 10 minutes walk from 677 bus stop
Wheel-friendly: in parts, call to confirm
Dog-friendly:
Vaucluse House Garden
Vaucluse House was the home of William Wentworth, a name you will come across throughout Sydney's early history. Wentworth was one of the first white men to cross the Blue Mountains, and his name was given to Wentworth Falls.
One of the wealthiest men in the colony, this property was home to his large family. This huge garden even has its own harbour beach.

The Victorian-style garden maintains its original style with a mix of indigenous and important plants, some of which came with the First Fleeters. I particularly enjoy the kitchen garden.

Take a look at the segment on Gardening Australia for a taste of the Vaucluse House Estate
Address: Wentworth Rd Vaucluse
Public transport rating: Easy – a short walk from the 325 bus stop
Wheel-friendly: while the property is accessible, most of the garden is not easy for wheelchair users to see.
Dog-friendly: Yes, on a leash in the garden only
Wendy's Secret Garden
One of Sydney's worst-kept secrets, Wendy's garden is a labour of love that has developed over many years. Wendy Whitely, the wife of famous Australian artist Brett Whiteley, built the garden as a memorial to her husband and daughter who both passed away. In 2009 she was awarded an Order of Australia medal for her efforts.
If you are keen to learn more about Wendy's Secret Garden, the gardeners work 6 days. Find out more about visiting here.
Address: Lavender St, Lavender Bay
Public transport rating: Walk from Milson's Point wharf or train station
Wheel-friendly: No
Dog-friendly: Yes
Garden Tours in Sydney
Regular tours are offered at most official botanic gardens and several gardens run by volunteers offer special monthly events. We have linked to the official sites of these gardens so you can check if things have changed. The current social distancing rules have seen some tours paused.
Want to do some more exploring? Check out some of these articles.