If you are planning a holiday to Sydney with kids, your itinerary will need to include things to do that are suitable for young explorers.  We have put together our Sydney with kids bucket list with the help of the members of our community who have shared what worked best for them on their visits combined with our detailed local knowledge.
Having said that this is your holiday too so finding a balance of family-friendly activities that everyone will love is crucial, so we have tried to keep things fair and make sure the grown-ups have some fun too. So with no further ado, and in no particular order, we present the
The top things to do in Sydney for families.
Families come in different shapes and sizes, so we have added ideas for three specific types of family groups. Finding things to do with toddlers in Sydney might seem hard, but we have uncovered some excellent options while doing this research. Amusing teenagers is another thing altogether, so we have looked for things to do that will not have them rolling their eyes all day. We have also tried to make sure mum and dad have some fun too!
Families with kids under five years
Families with kids 6-15 years
Active families – for those who like to do rather than see
Budget options – cause we all need a bargain sometimes.
Explore Sydney Harbour
Sydney Harbour, one of the biggest and best in the world will feature highly on your list of things to see in Sydney. There are many ways to get out and explore the harbour, and the age and interests of your family will play a significant factor in your decisions here so here are just a few options.
Kids under five years: Build sandcastles on a harbour beach
The waters of the harbour provide lots of calm swimming options. One of my favourites is Balmoral Beach looking out over Middle Harbour. There is a very safe swimming beach for little ones, lots of great dining options for mum and dad and a playground area for when the sand gets too hot. Other beaches work considering are Manly Cove just up from Manly Wharf, Clontarf Beach with its shaded playground and netted pool and for scorching days it's hard to beat Shark Beach at Nielson Park with its huge fig trees providing the perfect shaded picnic spot.
Kids 5-12: Take a tall ship Pirate cruise
Along with being a pretty unique way to see the harbour the Tallships Pirate Cruise is a whole bunch of fun for the entire family. The cruise is an interactive experience on a historic sailing ship on Sydney Harbour. Search for gold, hoist the sail and maybe even fire the cannons. You all have a chance to get involved on this cruise, and it is lots of fun no matter how old you are. Check out the details here 
Active families: Take a kayak tour
Several kayak tour operators are working in Sydney Harbour; there are also a couple of places you can hire a craft and explore alone including Rose Bay in the east, Manly on the Harbour and Balmoral on the northern side of the harbour.
Budget option:  Ride the ferry to Manly
Almost every guide book suggests a ferry ride on Sydney Harbour and the Manly ferry is the longest and most popular on offer. The public ferry leaves every half on from Circular Quay and will set you back about $8. Once you arrive at Manly Wharf, there is plenty for every member of the family, so this should be a fun day for everyone. I have written about this, and other ferry rides here.
Talk to the Animals at Taronga Zoo
Taronga is a world-class zoo with some of the best views over Sydney Harbour. It is home to 350 different species and 4000 animals in total. As you would expect there are lots of Australian animal in the mix with the Wild Australia section covering Kangaroos, wallabies, Koalas, wetlands birds, nocturnal native animals and my favourite spot, the Platypus House. While there is a chance you will come across some Aussie wildlife on your travels, it is tough to find platypus in the wild so do not miss this chance!  The zoo is open every day of the year.
Kids under five years: Enjoy the bird and seal shows
The zoo has a bunch of free shows every day, but the two that are always a hit with younger kids are the farm walk and the pat a pet talk. The free flight bird show and the seal show are also favourites!  I suggest you check the schedule the day before and plan your day around the talks you want to join.
Older kids: Wild Squad Missions
Taronga has put together a bunch of missions on their free app to help kids get involved in their zoo visit.  They choose one of six missions and learn more about wildlife on your visit.
Active Families: Wild Ropes
Explore the zoo from above – Wild Ropes is a 90-minute tour where you get the chance to watch the native wildlife from above. Using flying foxes watch the kangaroos, koalas and emus go about their day from your bird's eye view. Suitable for kids over three years, the younger riders will have two courses allowing them to view koalas and possums. Kids over 8 and adults can ride all four courses.  Find out more here
Budget Option: Birthday bonus
A day at Taronga Zoo is not a budget option, and there are not a lot of ways to reduce the cost.  They do have a birthday promotion where you pay just $1 to spend your Birthday at the zoo. There are also lots of combination tickets for sale that can save you money if you are planning to visit the attractions included.
If your kids are animal lovers, I also have a list of my favourite animal encounters in Sydney you might like to read.
Wander around the Royal Botanic Gardens
A perfect spot for kids to let off some steam, the Royal Botanic Gardens sits in Farm Cove overlooking Sydney Harbour. This 30-hectare garden was founded by Governor Macquarie in 1816 and has been a favourite spot for Sydneysiders ever since. It is open every day of the year and entry is free.
Kids under five years: Ride the Botanic Gardens Train
While I love to walk around the gardens when you are exploring with toddlers or younger kids the Choo Choo Express, a hop on hop off train will help you cover the entire garden. Be sure to get off at stop 4 to see the iconic Mrs Macquarie's Point view. The garden is also a great spot to let young ones run around for a bit if they are getting frustrated by being trapped in a pram 😉
Older kids: Check out the free exhibition at the Calyx
The current exhibition Plants with Bite will appeal to kids, because who isn't fascinated by plants that eat things! View a variety of carnivorous plants and check out the largest floral vertical wall in the world. There is also a podcast you can listen to before or after your visit.
Active families: Take a self-guided walk 
The Botanic Gardens is home more than 25 sculptures. Ten of the best are listed on this map, but how many more can you find? Once you are done, find a shady spot and have a picnic under one of the giant fig trees.
Budget options – Free Guided tours
The gardens volunteers offer free 1.5 hour guided tours every day at 10.30am. From March to November, a 1-hour tour is also offered at 1.30pm.
Get up close to the  Sydney Harbour Bridge
It's one of the most recognised bridges in the world and the Sydney Harbour Bridge is finally accessible to everyone with the installation on a new elevator at either end to allow prams and wheelchairs reach the main footpath easily! The view from the bridge is awesome and worth the time it will take you to stroll across.
Kids under five years: Walk the footpath
I like to walk from North to South, so the Opera House remains in view the entire way.  A little over a km long it should take you about 30 minutes given how many times you will stop to take photos and watch the traffic. There are new elevators at either end that were installed in Oct 2019 making this much, much easier than it was. In The Rocks you will find the lift in Cumberland Street and in Kirribilli, it is in Broughton Street.
Older kids: Visit the Pylon Museum
A visit to the Sydney Harbour Pylon Museum (and lookout) involves a little over 200 stairs making it best for kids who are steady on their feet (or parents happy to carry smaller ones). The view from the top is breathtaking and along the way are a variety of items to see and information to absorb. Read my full review of the museum and see the amazing photos here.
Active Families: Scale the top
The Bridge Climb is the Best way to learn more about the history and structure of the bridge and also give yourself a bit of a personal challenge. Kids 8 years and over are welcome to climb, and the climb is well paced so most people won't find it too challenging. There are 1,332 stairs which sound daunting, but the views and the guide make it easier than it looks.
I have written a detailed guide on How to walk across or over the Harbour Bridge that you will find helpful if you plan to do this.
Find out more about Sydney's Past
Our history might be short, but there is still plenty to explore from the ships that first sailed our coast to the stories of the cities criminal past and the ghosts that haunt the Quarantine Station.  These tours are the perfect way to squeeze some education into your holiday.
Kids under five years: Australian Maritime Museum
The Maritime Museum has a great kids play area for under 5-year-olds and also a bunch of regular activities. The biggest attraction there, however, are the various vessels that can be visited from the Endeavour a replica of Captain Cooks ship that first sailed to Australia. There is also a submarine, a destroyer, a navy patrol boat and several smaller boats. The catch with visiting these ships is that kids must be over 90cm tall. The average three-year-old probably fits this, but of course, all kids are different.  Older kids and mums and dads will love this too. Scoupon often has significant discounts on this museum so check before you go.
Older kids: Learn about the cities gangsters
The Justice and Police Museum is housed in the old Water Police building at Circular Quay. There are a range of interactive challenges including cops and robbers, where kids become detectives tracking a criminal or see if they can escape from the cells. There is also a chance to watch or participate in a mock trial. For me the biggest fun every time are the mug shots area where you can dress up and take a pic for free. The museum has limited hours and is open weekends and some weekdays during school holidays.
Active Families: Q Station Ghost Tours
The Quarantine Station, better known as Q Station, offers a ghostly introduction to the city. This was the first stop for many of Sydney's arrivals The Ghost Trackers tour is suitable for kids 8-14 years and their parents. The tour includes stories and of course ghost hunting. Learn why this is one of the most haunted places in the country. There is an over 15 years tour if you have an older family and are not afraid of ghosts!
For more family history experiences check out the offerings of the Sydney Living Museums.
Budget Option: Rocks Discovery Museum
Why not take my free self guided walk of the Rocks and drop in at the Rocks Discovery Museum. The collection is minimal but the staff are helpful, and there are some kids activity sheets to help guide you through the walk.
Play at Darling Harbour
Darling Harbour is the cities largest recreation and entertainment area stretching from Chinatown to Barangaroo. While it has always been popular with visitors, it has recently transformed and is attracting locals in larger numbers than ever.
Kids under five years: Sydney's best playground
My 18-month-old granddaughter loves this park with its water fountains and play area, swings and slides, and climbing equipment suitable for kids of all ages. This park will make most kids up to 12 years old pretty happy with a great variety of equipment.
If the weather is not cooperating, then head over to Harbourside and Caterpillar Lane where you will find a 40-metre long indoor playground for younger kids. You will find it right about the Harbourside food court.
Older kids: Dress up at the Chinese Garden
The Chinese Garden of Friendship has a few family-friendly activities like fish feeding, dumpling brunches and my favourite the chance to dress up in a traditional Chinese outfit.
Active families: Kingpin and Racecentre
Harbourside in Darling Harbour is home to a bunch of indoor adventure activities perfect for when the weather is not cooperating. Racecentre offers a variety of simulators from F1 to V8 and rally cars. Kingpin has bowling lanes, laser tag, pool tables and ping pong, Karaoke, an escape room and a ropes course. If you have teenagers desperate to burn off some steam, then this is the perfect place to do it. The centre is open from 10 am till at least 11 am or later on weekends. Prices for all the activities are reasonable too!
Budget option: Free festivals & fireworks
Darling Harbour is home to many of Sydney's biggest and best free festivals so make sure you check their what's on page to see what is happening this month. Darling Harbour has free fireworks every Saturday evenings at 9 pm in summer and autumn and a little earlier in winter so be sure to check.
Visit the Australian Museum
The Australian Museum has a collection of 21 million objects with some great dinosaur displays and a strong focus on First Nations Peoples, particularly from the Pacific and Aboriginal and Torres Strait Islander peoples. The museum is open every day except Christmas day and entry for kids under 15 years is free!
Kids under five years: Kidspace for games, storytelling and craft
The museum has a fantastic kids area, Kidspace and accompanying activity programs. Kidspace offers a storytime period between 2 pm and 3 pm each weekday. There are also two weekly programs, Tiny Tots and Mini Explorers held on Friday although these require pre-booking.
Older kids: Search and Discover
The search and discover collection allows kids to get their hands on dinosaur bones, taxidermied Aussie animals, live stick insects and lots more. Staff are on hand to answer questions and are great with the kids.
While events are run year round, there are significantly more events during the NSW school holidays. If these match your dates be sure to book any programs in advance.
Active Families: Dinosnore
The Museum hosts regular sleepover nights for kids and at least one parent. It's a great chance to explore the museum once it is closed and sleep in the dinosaur room.  Check their site for dates and book in advance.
Learn more about Aboriginal Culture
Under five years – Mini Explorers Program
Kids from 9 months to 3 years can join in the Tiny Tots playgroup where they will be exposed to First Nations history and culture through music, craft and games. Kids 3- 5 years are also catered for with their own sessions. Aboriginal educators run both programs.
Older kids: – Take an Aboriginal Heritage tour
The Royal Botanic Gardens offers a daily Aboriginal Heritage Tour that shows visitors how the local Aboriginal peoples use the land and plants, taste bush foods (in season) and learn more about indigenous culture.  I also love Kadoo Tours however these tours are not available every day unless you have your own group.
Active Families – Bundeena Rock Art
This is a big day out of the city, but it will give you a chance to explore suburban Sydney. Take the train to Cronulla and then the little Tom Thumb Ferry across Port Hacking to the tiny settlement at Bundeena on the edge of the Royal National Park. From the ferry wharf, you can follow a walk that will take you to some great rock art. The small general store near the waterfront often has free pamphlet guides you can follow.
If you want to know more about Aboriginal culture in general and the Aboriginal Sydney the Creative Spirit website is a fantastic place to start.
Visit Manly Beach
Manly has lots to offer families from bushwalks, several family-friendly beaches, bike, kayak and surfboard hire, and plenty of chances to spot the local wildlife. It has been attracted visitors since the 1870s and is still a favourite day out for locals today.
Kids under five years: water and sand play at Shelly Beach
Explore the safe sandy beach, take a swim in the Fairy Bower Sea Pool or watch the little fairy penguins wander up the beach at sunset. If you have not packed a bucket and spade, you can pick one up at one of the bargain shops along the Corso.
Older kids – 10km National Park and Beach Hike
This hike follows the coastline from the harbour to the sea and takes in several amazing hidden beaches, Aboriginal rock art and a Manly Beach sunset at the end.  The walk is not too challenging but best suited to older kids as it is quite long.  You can do this tour alone by following this walking guide; however, it is great to go on a guide led walk if the times and prices suit you. The tour I recommend is led by volunteer guides, and the cost of the tour is donated to kids in need. The guides explain so much about the area and the flora and fauna you will pass along the way, its an excellent introduction to Sydney's landscape.
Active families: Snorkelling at Cabbage Tree Bay
If you have tried snorkelling before you might like to grab some gear from one of the shops on the mall and head to Cabbage Tree Bay Aquatic Reserve near Shelly Beach. You can also rent them from the Manly Dive Centre. If you are not so confident there are some great snorkelling tours where guides will help you and all your gear (and even wetsuits) are provided.
Visit Bondi Beach
Sydney's most iconic beach and the one you have likely seen on TV may not be everyone's idea of the best beach in the city, but it is one that you ought to visit. This 1km long beach offers swimming, surfing and skateboarding opportunities. There is also a graffiti wall and the famous Icebergs complex.
Under five years: North Bondi Ocean Pool
Not the best beach for little ones but the northern end has a children's swimming pool, known as Mermaids Pool and also a shade-cloth covered and fenced playground that is perfect when you need to get out of the sun.
For older kids: Check out the Skate Park
If you are a family with older kids, you can swim at the north or head to wherever you see the red and yellow flags. Flags are placed at the part of the beach that lifesavers have deemed the safest for the day. Whatever you do resist the temptation to swim at the southern end of the beach. This area is known as Backpackers rip and is quite dangerous.
For active families: Take a surf lesson
If you have older kids who like a challenge, then you will probably enjoy a surf lesson and where better to learn than Australia's most famous beach.  Let's Go Surfing is the best known and respected surf school in Bondi and offer both small group and private lessons at very reasonable prices.
Budget option: Do the Bondi to Coogee walk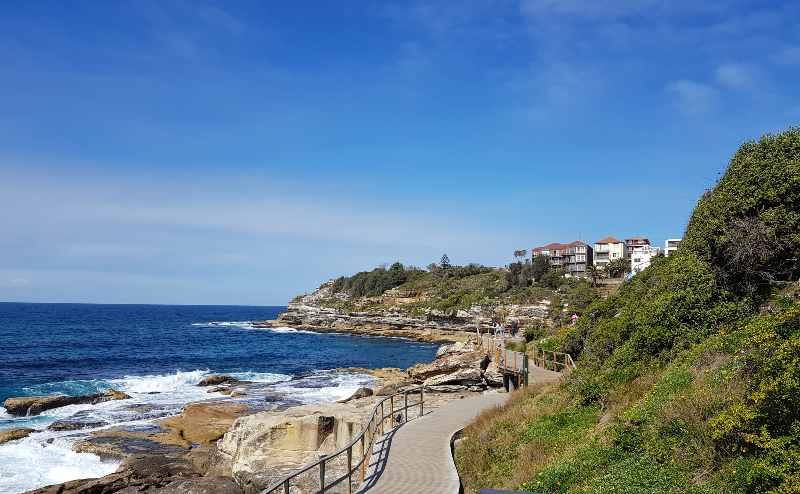 The coastal walk from Bondi to Coogee is suitable for kids aged 5 and over. There are several family-friendly beaches along the way like Tamarama with its great kid's playground and Clovelly with its sheltered bay.  There are great BBQs at Bronte where you can cook your own meals or a variety of cafes if you prefer to dine in.
Take a Self Guided Walk
Kids under five years: Berry Island walk and Playground
This hidden walk is great for visitors as you can reach it easily by public transport and it gives you the chance to take a short bushwalk in a landscape that looks much the same as it did a hundred years ago just 20 mins from the centre of the city.  Berry Island Reserve has a 750m circuit walk the Gadyan Bush Track while not really pram friendly (unless you have one of those cool offroad numbers)  is easy enough for most little ones to enjoy and short enough that if you have to carry them, it's not the end of the world.
There are good facilities with a fenced playground, gas BBQs and beautiful harbour views.
Older Kids: Glebe Foreshore walk
This walk begins in Pyrmont near the site of the Sydney Fish Market and takes you around the waterfront for just under 2.5km to the very lovely Jubilee Oval. You can then continue to the food hotspot the Glebe Tramsheds or jump on the light rail back to the city. I love this walk for the different views it provides, the western side of the Harbour rarely gets little praise, and it is lovely.
Along the way check out French cafe Bellevue Cottage for a delicious splurge brunch or lunch. Alternatively, pick up some fresh seafood from the market before you set off and picnic in the park.  The walk is flat and mainly stroller friendly.
Active families: Federation Cliff Walk & South Head lighthouse.
This one is only suitable for families used to long walks or parents happy to carry their kids lol, at the 8km in total it's not for the fainthearted. Your efforts, however, are well rewarded with not one but two lighthouses and a couple of playgrounds along the way. Camp Cove Beach makes a great rest spot near the end of the walk, and the ferry ride back to the city is a fantastic way to end the day. We have a detailed guide to this walk here
You will find more pram friendly walks on the Hello Sydney Kids website.
Hit the Pool
Sometimes it's just so hot the only thing to do is get yourself into the water and cool off. If a trip to the beach seems like too much hard work, there are a few pools in the CBD that will have you splashing around in no time with very little fuss.
Kids under five years: Cook and Phillip Park
Cook and Phillip is a great city choice for the tiny tots, while it does not have all the bells and whistles of some of the big suburban swimming pools it does offer a great kids (leisure) pool where the temperature is set at 30 degrees year round. Toddlers will enjoy the slide and hourly wave pool action on weekend afternoons. Weekdays are best if you want a quieter experience.
Older Kids: Andrew "Boy" Charlton Pool
The "Boy" Charlton pool is a salt water pool located adjacent to the Botanic Gardens and overlooking Woolloomooloo. This pool is named after one of the country's most successful swimmers who won five Olympic medals during the 1920s. While there is no special children's pool, older kids will enjoy this pool with a view, and it makes a great stop after a walk through the botanic gardens.
Active Families: North Sydney Pool
Swimming right under the Sydney Harbour Bridge is a bit of a thrill, even for a local and North Sydney Pool never fails to feel special. It's a salt water pool if you are chlorine averse as I am and a lovely spot to cool down as the sun sets over the city. I suggest a walk over the harbour bridge first to build up a sweat and then perhaps after you swim grab some dinner nearby and explore Luna Park.
Planning your family trip to Sydney with kids
Choosing your accommodation
We have done some pretty extensive research on the best hotels and apartments for families in Sydney to make selecting the right property easier for you. We have considered things like the number of beds per room, special family facilities and the best locations for families.
Best websites for further research
Some fantastic websites cover the best of Sydney for kids and families. I have to say upfront I know most of the people who run these sites personally however they are listed here not because I like them but because the content that they provide is invaluable and more detailed that I am in the position to do.
Hello Sydney Kids – This site is a great resource, especially for more extended visits or those wanting to get off the beaten track.
Kids Bucket List – The go-to site for school holiday activities and lots of great content especially for older kids.
Adventure Baby – Lots of reviews of events and attractions in Sydney for kids.
Mum on the Move – This site is especially useful for anyone exploring other parts of Australia
Want even more ideas?  Check out my friend Silke's rather exhaustive list of 70 things to do in Sydney with kids.