If you have just realised the end of term is fast approaching and wondering what to do in the school holidays in Sydney, we have you covered. There are plenty of choices, from low cost and free things to do across the city to fun day trips out of town. Read on and plan some fun days out in Sydney for your family.
Spring School Holiday at home ideas
The spring school holidays in Sydney are likely to be a little different this year and we will be looking at virtual events and mornings at the park or playground. Picnics and beach walks may also be a feature.
School holiday workshops and activities in Sydney's museums
Perfect for days when the sun goes into hiding, Sydney's museums and galleries have plenty to offer kids of all ages. Some of these activities will require prebooking because of current restrictions, so please check the links provided before heading out.
Australian Museum
The Australian Museum has several interactive experiences scheduled, including the popular Archaeologist for the day and a fun drama workshop with Monkey Baa Theatre Company.
If you miss the boat on, these Junior palaeontologists will jump back to the Age of Dinosaurs in this creative play space for kids of all ages. This area is free and does not require bookings.
Where: Australian Museum
When: 29 June – 10 July
Cost: free activities up to $100 for archaeologist workshop
Bookings and more info here
Museum of Contemporary Art
Perfect for creative kids aged 4-12 years is the Mini-makers studio: Mi, Garaga, Guri. It includes a tour of two galleries' works before the kids head into the studio to create their own artwork. Perfect for crafts loving youngsters.
Pop up to the rooftop cafe for lovely views across the city. Kids will love the glass lift you take to get there.
Where: MCA Sydney
When: 2 sessions 10:30-12:30 or 2pm-4pm
Cost: $25 for kids $15 for adults
Bookings and more info here
Art Gallery of NSW
Two drop-in and make activities will be on offer – neither require a booking, so perfect for the less organised among us! Kids can choose to create their own underwater landscape inspired by Kala Lagaw Ya/Yumpla Tok artist Alick Tipoti or, for younger children, a colourful, kinetic artwork using geometric shapes, lines and patterns.
Also running these holidays is the Archibald, Wynne and Sulman Exhibition which many children enjoy.
Where: Art Gallery of NSW
When: 11am – 3.30pm from Monday 28 June – Friday 2 July 2021
Cost: Free
Bookings and more info here
Powerhouse Museum
If you have a budding scientist on your hands, then you will likely find something here they will love. On the other hand, if you have not visited before, just exploring the museum collection, which is quite interactive, can easily fill a couple of hours.

On offer these school holidays are a range of hands-on programs from Museum Minecraft to Circuits & Coding Workshops. Podcasting and filmmaking workshops have already sold out for this session but sign up to the Powerhouse newsletter for advance notice of the next holiday's events.
When you are ready for lunch, there is a good range of family-friendly dining at Darling Quarter.
Where: Powerhouse Museum
When: 11am – 3.30pm from Monday 28 June – Friday 2 July 2021
Cost: Free
Bookings and more info here
Australian National Maritime Museum
Along with their regular exhibits, the museum offers two hands-on, creative workshops for kids aged 8-14 years.

An Animation Workshop: Claymation Creations held at the museum and for budding photographers a Cockatoo Island Adventures on Cockatoo Island.
Where: Australian National Maritime Museum
When: 11am–3.30pm from Monday 28 June–Friday 2 July 2021
Cost: From $75
Bookings and more info here
Convict Trail at Hyde Park Barracks
If you have not visited the Barracks since it reopened last year, now is a perfect time. You can use your Dine and Discover voucher for your entry.
A special audio guide suitable for children aged 5-10 years will keep the kids entertained while they explore Sydney's past. They solve puzzles using clues as they move through the collection.
Where: Macquarie Street Sydney
When: Open Thursday to Sunday, 10am – 5pm, closed Christmas Day and Australia Day
Cost: Adults $24, concession $20 and kids (5-15 years) $16
Bookings and more info here
Animal fun
Bears might hibernate, but winter is when the whales come out to play. Rug up and head to the cliff tops along the Sydney coastline for your best whale viewpoints.
One great spot to visit with kids is Kamay National Park at Kurnell. For starters, there is a bronze whale perfect for posing with if you miss out on seeing the real thing. There is also plenty of room to run around and some easy family-friendly bushwalks to tire them out for the drive home.
Alternatively, book yourself a whale-watching cruise. Captain Cook's boats are big enough to keep kids safe (although this is best for kids 4 years and over).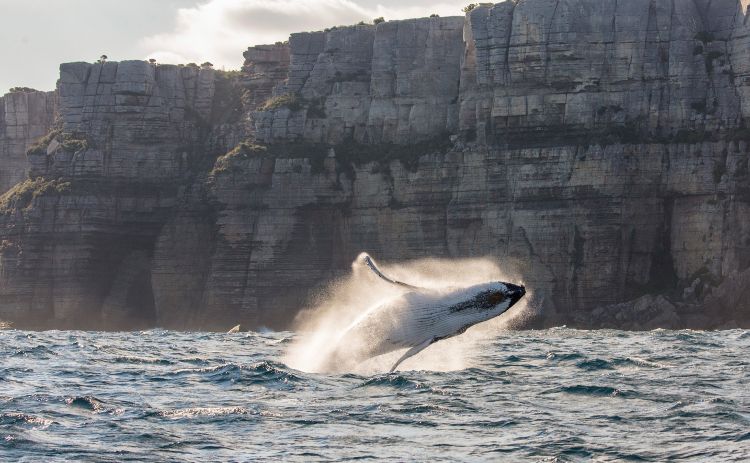 SEA LIFE Sydney Aquarium and Wildlife Sydney
One of the main attractions at Sea Life Sydney is Pig the Dungog, followed closely by the cute penguins and of course the sharks!
Wildlife Sydney Zoo offers the chance to get up close to some of the less well known Aussie animals like a quokka and a numbat. You can also meet Kofi the tree kangaroo.
Where: Lime Street Darling Harbour
When: Open 7 days a week 10:00 am – 5:00 pm (last entry 4:00pm) during NSW school holidays. Closed on Tuesdays and Wednesdays outside of the school holiday periods.
Cost: Single entry or multi passes available. Check the website for offers. You can combine these offers with your Dine and Discover vouchers.
Sydney Zoo
If you have not made the trip to Sydney Zoo at Bungarribee, put it on the list for these holidays.
The zoo is great for families with flat paths perfect for little explorers feet. Don't miss the pride of lions and, of course, the cheeky meerkats.

There are several animal encounters you can book if you want something special.
Check out our detailed guide to all of Sydney's zoos and animal parks here
Where: Sydney Zoo
When: Open every day from 9am – 5pm
Cost: $40 adults, $20 kids 3-15 years – These are online prices – it's at least $5 a ticket more expensive at the gate.
More details here
Get active – things to wear them out!
Family Fun Challenge by AmazingCo.
I love all the activities on the AmazingCo platform but this one jumped out as a great way for the family to spend some fun time together working on a common goal.
On offer for July, only you will receive weekly challenges and games suitable to play with younger and older kids. Complete the tasks and enter for a chance to win weekly prizes and a grand prize of $4000 at the end of the month.
Find out more or grab your pack here.
You can go with a digital version or pay a little more to have a physical version sent to you at home. The packs are tailored to the size and ages of your family members.
Year-round they offer family mystery picnics and family date nights
Frozen Zoo Ice Rink
This winter Taronga will offer a pop-up ice rink – combine a visit with a trip to the zoo or stick to just skating. Tickets are available for the rink or can be combined with zoo entry.
Where: Ice Rink at Taronga Zoo
When: 10am to 8pm daily from Saturday 26 June to Sunday 11 July 2021.
More details here
Pixar Putt-Putt
Mini golf is always fun in our book, but the holes in this course are inspired by all your Pixar favourites adding an extra element. Included are scenes from Toy Story, The Incredibles, Monsters Inc., A Bug's Life, Soul, Inside Out and more.
Where: Hordern Pavilion Plaza
When: Friday 25 June to Sunday 25 July
Cost: $19.90
More details here
Luna Park
Luna Park is reopening for the NSW School holidays with brand new rides to entertain the entire family.
The old favourites have been spruced up and new rides are ready to go, there will be in place by the end of the year.
Pop into Wendy's Secret Garden for a game of hide and seek before you head home. Or if the kids have any energy left, you could walk back to the city across the harbour bridge.
Where: Luna Park Milsons Point
When: Open daily from 25 June to 11 July and then Friday-Sunday.
Cost: Day passes from $34 – $44, annual passes $199
More details here
Sydney Harbour Bridge Pylon Lookout
After being closed for the last year for renovation, the Pylon Museum will open for the school holidays. Climb 200 stairs (that should wear them out!) for amazing 360-degree views across the city. Along the way, learn more about the construction of the Harbour Bridge.
Where: Sydney Pylon Lookout
When: Saturday 26 June – Sunday 11 July, between 10am – 2pm.
Cost: $19 adults,
More details here
Archery at Olympic Park
Archery is perfect for improving hand-eye coordination and just a whole lot of fun too. The Young Shooters program at Olympic Park Archery Centre is a one hour class suitable for kids over 7-9 years of age. For kids over 10 years, there is a Sharp Shooters program. Neither requires any experience.
They are also offering Laser Tag sessions, and a combo pass for both activities will save you $$.
Where: Archery Centre, Bennelong Parkway Sydney Olympic Park
When: 9am – 4.30pm from 28 June – 11 July 2021
Cost: $19.25 or $31 combo sessions*
More details here
Sydney Seafood School Kids Classes
Let them learn how to cook all their favourites. Classing on offer making dumplings, sushi and pasta.
After class, take a walk around Blackwattle Bay to the Tram Sheds for dessert.
Where: Sydney Seafood School Pyrmont
When: 10am Thursday 8 July
More details here
Children's Theatre in Sydney
Fairy Adventures – Outdoor Theatre
Join the fairies and explore the Royal Botanic Gardens – learn their secrets and find out about the plants and animals that they share their world with. You are encouraged to come dressed as a fairy. Extra points (from me) for parents who do this too 😉
Where: Royal Botanic Gardens
When: Thursday 1st July & Friday 2nd July | 10:30am-11:30am or 1pm-2pm
Alice in Wonder Park
This play, a take on Alice in Wonderland, will transport kids on a journey from the Mad Hatters Tea party to a game of croquet with the Queen. The event is highly interactive and runs for 50 minutes. Presented by the Eaton Gorge Theatre Company the play is suitable for kids 4 years and older.
Where: Centennial Park -The WILD PLAY Discovery Centre
When: Thu 08 July 10:30am or 1:30pm
Cost: $14
More details and tickets here
The 13-Storey Treehouse
Best-selling children's book The 13-Storey Treehouse by Andy Griffiths' and Terry Denton has been turned into a live stage performance.
Where: The Concourse Chatswood
When: 7 shows from 8-11 July
Cost: from $36-$45
Tickets and more info here
Zooom
Inspired by the book Harold and The Purple Crayon, Zooom uses lights, projections and lasers to engage kids. Presented by Patch Theatre productions at the Sydney Opera House.
Where: Sydney Opera House
When: 29 June – 10 July
Cost: from $29
Tickets and more info here
Free things to do in the school holidays
Royal Botanic Gardens
NAIDOC Week: Sea of Hands at The Calyx will feature a huge display of hand as part of the "Healing Country" theme.
Between 29 June to 3 July, you can join in by helping create the sea of hands. They need 10,000 hands and everyone is welcome to come and help create them. From 4 July to 11 July you can come along and check it out.
Where: The Calyx, Royal Botanic Gardens
When: June 29 to July 11
Darling Harbour Playground
Kids of all ages will enjoy a visit to Darling Harbour's epic playground. With a massive climbing frame, a 21-metre flying fox and a bunch of swings suitable for all ages.
There are cafes and family-friendly food options surrounding the playground making it easy to spend several hours here.
School holiday activities for teens
Secret Garden at the Grounds of Alexandria
Teens will find plenty of Tik Tok and Instagram fodder at the latest installation at the Grounds of Alexandria.
You will need to book a dine-in experience to guarantee access to the garden – it has been created for the restaurant and potting shed guests. There are two high tea options and the regular menus. See the link below for more.
Where: Grounds of Alexandria
When: Now until 1 August
More details here
Bounce Women's Holiday Camp
An interest or passion is all you need to attend this free basketball camp for girls aged 12-18. No experience is required.
Where: Arncliffe Youth Centre
When: 6 July
More details here
Day trips for the School Holidays
Jump on the train or get in the car for a day trip. We have a bunch of fun day trips you can do on the train but here are a couple of our favourite ideas.
Winter in the Blue Mountains
The mountains are a great day out for active kids. You can take the train or drive, either way there is plenty to do when you get there from easy bushwalks to family friendly picnic spots.
The Blue Mountains Explorer Bus is free for kids and a great way to explore the mountains without worrying about parking! We have written a detailed guide to the bus here.
If you decide to spend the night Light Up the Night at Scenic World and when you are done take the Katoomba Falls Night-Lit Walk 
You can even see how many of these lookouts you can squeeze into one day.
Snow Time in the Garden
If a trip to Thredbo is not an option this winter, you might want to take a trip to the Hunter for Snow Time in the Gardens. With a giant ice skating rink, a mega ice toboggan and a man-made Snow Play Zone there is a full day's fun to be had. You can stay overnight nearby or do it on a day trip.
Tip: Get an unlimited rides pass for just $20
Where: Hunter Valley Gardens
When: 19 June – 18 July 2021
More details here
School Holiday Dates in New South Wales 2021-2022
Below is a list of the vacation dates for this year and next so you can start planning. Please note many schools have school development days on the first day of each term. Private schools may have a week longer than these public school dates.
| | | |
| --- | --- | --- |
| Period | 2021 | 2022 |
| Autumn break: | 5 April – 16 April | 9 April – 25 April |
| Winter break | 28 June – 9 July | 2 July – 17 July |
| Spring break: | 20 September – 1 October | 24 September – 9 October |
| Summer break: | 20 December – 27 January 2022 | 21 December – 02 February 2023 |