The Best Animal Parks and Zoos in Sydney
Which of the Zoos in Sydney is best?
Did you know there are three zoos in Sydney? Add to that some excellent animal parks and choosing which one to visit can be tough. Well, don't worry, we have been to them all, more than once! So below we will give you all the details you need to find the right one for your visit, whether it's part of a trip of a lifetime to Australia or a day of family or school holiday fun!
Let's start with a rundown of each of the tree top Sydney zoos before comparing their features in a handy table.
This page contains affiliate links. Please see our disclosure policy for more details.
Taronga Zoo Sydney At Mosman
For over 100 years, Taronga Zoo has been welcoming visitors from its hilltop position overlooking Sydney Harbour. This zoo scores points for its stunning views, and if you plan your visit well, you can spend it walking downhill towards the view all day.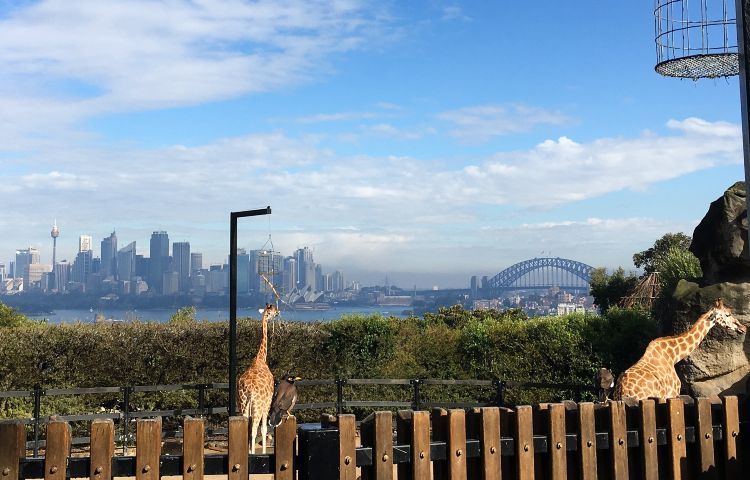 The zoo covers a large area, so it's good to have a game plan before you arrive if you are planning on spending less than a full day there.

Taronga has an extensive collection of Australian animals, including both platypus and quokkas. There is also the biggest range of exotic animals in Sydney.

There are several zones and trails to explore. One of the newest, the Tiger Trek, transports you to a jungle in Sumatra, complete with fake aeroplane entry. There is also an Australian Walkabout Trail, a Rainforest Trail, an African Savannah Trail. A Kids Trail includes the ever-popular Farmyard Nursery where the young ones can get up close to rabbits, goats, lambs, chickens and pigs.
Download the Taronga Zoo App or pick up a map – Taronga is the biggest zoo in Australia with 4,000 animals, so it's well worth having a plan of attack for your visit.
Special experiences at Taronga Zoo
Zookeeper experiences
They offer these Zoo Keeper experiences for everyone, while they are very popular with younger kids and teens, even adults enjoy them. Join a small group to see the behind the scenes and learn more about the animals and the workings of the zoo.
Wild Ropes
The wild ropes course will have you scale ropes over the zoo enclosures. Spend 45-120 minutes climbing and swinging above the Australian Walkabout enclosure. There are a variety of courses for adults and kids.
The Free-flight Flight Bird Show
Taronga Zoo bird show is legendary; it's been wowing visitors for 20 years. Held twice daily at 12:00pm and 3:00pm, there is seating for 500, but it fills up quickly, so arrive early. Witness an Andean Condor soar above the harbour or meet the pretty Red-tailed Black-Cockatoo and the famous pink and grey Galahs.
Seals for the Wild Show
A much-loved favourite watch, the Australian sea lion, Californian sea lion, and New Zealand fur seal perform their favourite tricks. Two shows every day, 11am and 2pm (except Friday, when there is no afternoon show.)

Dining at the zoo is not particularly memorable, so we recommend you pack a picnic and enjoy lunch in one of the garden areas.
Stay the night
For a special treat, consider staying at Taronga Zoo overnight. There are two options, a glamping experience or a luxury hotel-style stay.
Either rough it in the tents (hardly!) or splurge and spend the night at the brand new Wildlife Retreat. The 62 rooms at the retreat overlook either the harbour, animals or bushland and are designed to encourage relaxation.

Your stay includes breakfast at the onsite restaurant Me-Gal and access to the zoo before and after the guests have left. It's perfect for a romantic getaway in Sydney. Me-Gal is also open for lunch and dinner for the public.

The onsite restaurant Me-Gal has stunning harbour views and focuses on native ingredients.
Taronga Zoo Tickets
The zoo offers single tickets, family tickets – with a variety of options, including 1 and 2 parents and annual tickets.
Taronga Zoo Birthday Tickets allow you to visit for free on your birthday. Bring along official proof, and you will admission is on them!
Zoo and Ferry Ticket – The Harbour ferry with the rocket ferry, which allows you to hop-on, hop-off to combine a day at the zoo with several other stops on the harbour for a full day out. One and two day passes are available.
Related: Check out the Taronga to Balmoral Walk
How to get to Taronga Zoo
The ferry is the most popular way to arrive at the zoo, and all of Sydney's ferry operators offer a service. However, if you prefer not to take the ferry, you can reach the zoo via the 100 bus route that travels to Taronga Zoo from Wynyard train station via Military Road and Mosman shops.

Accessibility: Free wheelchairs are available for use, and 95% of exhibits can be reached and viewed by those with limited mobility. The zoo offers free entry to carers or essential companions and accepts the national Companion Card. You can download an accessibility map here.

Verdict: Taronga is the best choice for a full day out or visitors to Sydney not prepared for a trek to the outer suburbs.
Key facts for Taronga Zoo

When: Open every day except Xmas Day from 9.30am-4pm (winter) or 5pm (summer)
Where: Bradley's Head in Mosman – Google map reference.
How: Parking at the zoo costs $19. There are limited spots in nearby streets. If you are happy to walk a bit, you will probably find some early in the day.
Sydney Zoo Bungarribee
Opening at the end of 2019, Sydney Zoo in western Sydney, also known as Western Sydney Zoo, offers both a zoo and an aquarium, one of only two Australian venues offering this combination on one site. Sydney Zoo offers an experience that reminded me of our visit to Dubbo Zoo with its safari-like collection.

If you're a primate fan, you will love Sydney Zoo. They have a fabulous collection of primates, including 13 baboons and 11 chimps. They also have spider monkeys, orangutans and ten gorgeous "organ grinder" or Capuchin monkeys.
The aquarium is quite a different experience from the one in Darling Harbour with a good number of freshwater fish, including Murray cod and barramundi. There are also bull sharks, saltwater crocodiles and little penguins.

If your focus is Australian Animals, you will find kangaroos and wallabies, koalas, wombats, emus and dingoes, cassowary, echidna and Tasmanian devil.
Standout Experiences at Sydney Zoo
Animal Encounters – Sydney Zoo offers a few animal encounters each day. Starting at $44 for a small group meeting (4-6 guests), the encounters range from 30 to 45 minutes and offer you a chance to learn more about the animal, hand feed them and take a photo close up.
Choose to get to know:
Camels
Giraffes
Meerkats
Lions
Capybara
For a special treat or birthday gift, children aged 8-12 years can become a mini zookeeper for a day experience.
The Bungarribee Dreaming Area provides an Aboriginal cultural experience. Indigenous staff run an interactive program.
Verdict: The Sydney Zoo Blacktown is a great day out for families, particularly those in Western Sydney who no longer need to trek into the city for their animal fix. A great place to see a wide range of animals from around the world.

Sydney Zoo in the Blacktown region is a private zoo owned by John Burgess, who founded Sydney Aquarium back in 1988.
Accessibility: As expected for a new facility, accessibility is excellent. There are wheelchairs and electric scooters available. Read a full review of the accessibility of the site from Have Wheelchair Will Travel.
Key Facts for Sydney Zoo

Open: Wednesday to Monday from 9am – 5pm – Closed Tuesdays.
Where: 700 Great Western Highway, Bungarribee
How: Train to Blacktown and then the 723 or 729 bus – Drivers visit the Google Map location for directions.
WILD LIFE Sydney Zoo Darling Harbour
Wild Life Sydney is a smaller interactive zoo on the waterfront at Darling Harbour. You wander the exhibits on a one-way trail with plenty of information from both the keepers and on signage around the displays.
There is an excellent range of Australian animals on show, including what they call the Big Aussie 5; kangaroos, koalas, platypus, a wombat and a saltwater crocodile. They also have Tasmanian devils and the less well-known quokka and numbat.
Combine your ticket with visits to other Merlin attraction passes for Sydney Tower Eye and Madame Tussauds.
Wild Life Sydney is a relatively small animal park, perfect for small children or those with limited mobility. It's also a great wet weather option, with much of the premises being undercover.
Stand out experiences at Wildlife Sydney Zoo
We love the keeper talks here, on our last experience with the reptiles, to pat a snake. The staff are really patient with kids and go out of their way to ensure everyone is having a good time.
They are currently offering a 90 minute private tour that takes you behind the scenes
Covid has seen keeper talks reduced, but they have recordings you can listen to, and hopefully, they will be back soon.
Verdict: The Wildlife Sydney Zoo is compact and easily accessible, so a great choice if you are short of time or have little ones in prams.
Key Facts for Wild Life Zoo Sydney

Where: 1-5 Wheat Road, Sydney
When: Thursdays to Mondays from 10am-4pm
How: Train to Town Hall or Wynyard and then a short walk.
Comparison Table – Sydney's Zoos and Wildlife Parks
Use this table to compare the features of Sydney's zoos and wildlife parks. These venues are accessible, and most have wheelchair or pram hire available.
Zoo
Animals
Facilities
Location
Cost (Adult)
Taronga Zoo
Largest range in Sydney
Picnic area/Cafe
Mosman
Buy from $44.10
Sydney Zoo
Aquarium & safari animals a strength
Picnic area/Cafe
Blacktown
Buy from $39.99
Wildlife Zoo Sydney
Australian only
Cafe
Darling Harbour
By from $26.00
Featherdale
Australian only
Picnic area/Cafe
Doonside
Buy from $35.00
Symbio Wildlife Park
Australian & small
exotic collection
Waterpark, Playground, Picnic area/Cafe
Helensburgh
Buy from
$39.00
Sea Life Sydney Aquarium
If you can't get north to the Great Barrier Reef, you can see the largest Great Barrier Reef exhibit in the world! At Sea Life Sydney among the 500 animals that call the reef home, including reef sharks, jellyfish, some gorgeous tropical fish, and sea turtles.
There is also a penguin zone, Dugong Island, Shark Valley, and of course Sydney Harbour.

Standout Experiences at Sea Life Sydney
Shark Dive Experience: a chance to swim cage-free with the sharks and giant stingrays
Penguin Experience: a 75 minute with the King and Gentoo Penguins in their icy environment.
Frequently asked questions about visiting zoos in Sydney
Most cities have one zoo, but there are three zoos in Sydney and another 5 animal parks. Add to that the various zoos and sanctuaries across NSW, and you have plenty of different places to meet animals.
Which of the zoos in Sydney has the most Australian animals?
Taronga Zoo has the biggest range of Australian animals; however, Featherdale, with its smaller footprint, can be a better way to get up close and personal with them.
Can I hold a koala in Sydney?
Short answer no. To prevent koalas from becoming stressed, no zoo or wildlife park in NSW is allowed to let you cuddle a koala. You can, however, stand right next to one for a photo and a pat at Taronga, Featherdale, Symbio and Wildlife Zoo Sydney.
Which is the best zoo for toddlers and younger kids?
Wildlife Sydney Zoo's compact size makes it a brilliant choice for small children. You can complete your visit in a couple of hours, perfect for when they still need an afternoon nap! Is Sydney Zoo or Taronga Zoo better?
Are the zoos accessible to all?
Yes, all four of Sydney's zoos are fully accessible, although it is good to plan your visit before you head to Taronga, so you are not pushing your wheelchair or pram uphill all day.
Which is the cheapest zoo in Sydney to visit?
A sample of current pricing(March 2021) – more family combinations and annual membership offers can be found directly on each attraction's website.
Featherdale – $35 for adults and $105 for a family of up to 6
Sydney Zoo – $39.99 for adults and $218 for a family of up to 2 kids.
Taronga – $44.95 for adults and $124 for a family of 2 adults and 2 kids
Wildlife Parks in Sydney
There are several wildlife parks in the outer Sydney suburbs. Two that we have frequently visited offer fabulous experiences and make for a great day out.
Featherdale Wildlife Park
If you are on the lookout for Australian native animals, Featherdale is a top choice. This park specialises in Australian native wildlife and birds.
You can hand feed kangaroos and meet koalas up close and also observe a bunch of other Aussie favourites just going about their days.
Standout experiences at Featherdale
The Koala Experience – Featherdale offers a free meet a koala experience that does not require bookings.
Koala Kindy – Go behind the scenes to Koala Kindy. This extra experience ($100) includes assisting keepers in delivering the koalas Eucalyptus leaves and time helping with their conditioning.
Zookeeper for the day – the program allows kids aged 8-13 years to spend the day accompanying keepers and education staff around the zoo and assisting with their routines.
Feed the kangaroos – Part with just $3 for a cup of feed and hand-feed the friendly kangaroos. Try to visit in the morning, or you may find a bunch of sleepy, well-fed roos not really that interested in your offerings.
You can prebook Featherdale entry tickets here
Key Facts Featherdale

When: Featherdale is open 9:00 am to 4:00 pm, every day of the year (excluding Christmas Day)
Where: Kildare Rd Doonside
How: Train to Blacktown Station and then make your way to Bus stand E and catch the 729 bus to the park.
Symbio Wildlife Park
Located just off the Grand Pacific Drive in Helensburgh, Symbio Wildlife Park is a great choice for families who live on the southern side of the city.
Symbio has an extensive Australian animal collection and a range of exotic species like cheetahs, meerkats, red pandas, ring-tailed lemurs, and monkeys. There is also a fun farmyard area where you can sometimes feed baby goats and lambs.
Along with excellent keeper talks, you can have your photo taken with a koala or one of the friendly reptiles.
Standout experiences
The parks offer several behind-the-scenes experiences with some of the friendliest residents. You can cuddle a dingo, let the meerkats climb all over you, or hand feed a red panda.
Symbio has extensive picnic grounds and a new water play area that makes it easy to spend the entire day here!
Key Facts Symbio

When: 9.30am-5pm daily (except Christmas Day)
Where: 7-11 Lawrence Hargrave Dr, Helensburgh
How: Train to Helensburgh Station and route15 bus service which runs to Symbio. The bus is currently only running on weekends.
There is also the Koala Park in West Pennant Hills and Calmsley Hill City Farm in Abbotsbury; however, it's been a very long time since we visited either.
Zoos in New South Wales
Taronga Western Plains Zoo Dubbo
The biggest zoo outside of Sydney is Taronga Western Plains Zoo Dubbo. This award-winning zoo is one of the top attractions in regional NSW. We made the trip to Dubbo last September and finally got to check it out.
This safari-style zoo is best enjoyed on wheels, either renting a bicycle or an electric scooter and making your way around the 5km circuit.
The zoo offers 10 free talks a day so grab the schedule when you arrive and map out your day so you can include your favourites.

Commonly known as Dubbo Zoo, a long weekend trip to see the animals is a fun family getaway.
Standout experiences at Taronga Western Plains
Savannah Safari truck – Join a keeper and jump on the safari truck for a twenty-minute ride inside the enclosures. Get up close to the giraffe, zebra, rhinos and antelope.
Animal Encounters – Book a 40-minute encounter with a hippo, giraffe, or meerkat.
Accommodation for Dubbo Zoo
The zoo offers three accommodation styles, and if you are visiting the area especially for the zoo experience, it makes sense to stay here if you can manage it. Being onsite allows you after-hours access to the zoo and some special talks with the keepers.
Camping – Billabong Camp is located inside the zoo, a short distance from the Pride Lands. Everything you need is provided, and you get extra time with the animals, including an evening walk with the nocturnal Aussie wildlife. The next morning, you will take a walk before the zoo opens to see the Sumatran Tigers and Siamese Apes.

You won't go hungry with dinner and an evening supper, and continental buffet breakfast included.
Glamping – Zoofari Lodge offers 10 luxury lodges with views of giraffes, zebras and rhinos or five Bushland Lodges located just seconds away in the surrounding bushland.
Savannah Cabins – These two bedrooms cabin are fully self-contained with a kitchen, living space and TV with Foxtel. There is a playground and plenty of space for families. You are located just outside the zoo perimeter.
There are also several Dubbo Caravan Parks within a few kilometres of the zoo. We stayed at Mid-State, which was a mid-priced, no-frills option.

If you are travelling with kids, you would likely be happier at the NRMA.
Other NSW Wildlife Parks
If you are planning a regional holiday, there are at least a dozen other approved zoos and wildlife parks across the state.
The Australian Reptile Park Somersby
Australia Walkabout Wildlife Park Calga
Blackbutt Reserve Newcastle
Hunter Valley Zoo
Billabong Zoo Port Macquarie
Koala Hospital Port Macquarie
Oakvale Wildlife Park
Mogo Wildlife Park Mogo
Altina Wildlife Park Griffith
Potaroo Palace Merimbula
Birdland Batemans Bay

About the author: Paula Morgan, a born-and-bred Sydney resident, has been sharing this city and its secret spots for over 15 years. She's not just about the iconic landmarks; she's all about the hidden alleys adorned with street art, and the joy of discovering a new café or a fabulous restaurant tucked away in a corner you never knew existed and weekends away exploring regional NSW.
Main image credit Taronga Zoo: Destination NSW