Where to Eat Kangaroo and Other Aussie Food in Sydney [2023]
Do you want to try Kangaroo meat or other Aussie Food in Sydney? You can find emu and kangaroo on pizza, Crocodile in spring rolls just for a start. Vegetarians might prefer to stick to vegemite or Anzac biscuits. Here are a few local delicacies I think you should put on your list.
We have fully updated this article for 2023 as there have been lots of menu changes this year.
Kangaroo or Emu – Eat the coat of arms
Not a lot of locals eat Kangaroo, and I doubt many could say they consume Emu regularly, but both are worth a try while you are here.
Kangaroo meat is available in many supermarkets these days, but due to its low-fat content, it is not that easy to cook it well. Emu is available in upmarket butchers, and surprisingly Chinatown butchers stock frozen crocs too.
Kangaroo fillet used to grace most steak house menus but it seems to have disappeared from many. I am not sure why but I am guessing it is not really all that popular with locals.
If you would prefer someone prepares your wildlife for you, then try:
The Australian Heritage Hotel in The Rocks has both a pepper kangaroo or a saltwater crocodile pizza.
Pony Dining in the Rocks do kangaroo skewers, pepper sauce and berries
The Rocks Cafe offers a kangaroo burger and a kangaroo fillet
Blackbird Cafe in Darling Harbour have a grilled kangaroo fillet steak
Planar in Darling Harbour has a char grilled kangaroo fillet (and an excellent happy hour!)
I'm Angus in Darling Harbour serve a seared kangaroo tenderloin
It is best cooked rare to medium rare. If you prefer an easier option a kangaroo burger is sometimes found in markets and food trucks.
A Meat Pie or a pie floater at Harry's Cafe de Wheels
Meat pies are sometimes described as Australia's national dish. They are most commonly eaten at the footy or in my childhood were a school canteen winter treat. According to Wikipedia, Australians eat 12 each per year. I am about 11 behind in my tally this year lol.
Check out this jingle from the 1970s "Football, meat pies, kangaroos and Holden cars" for a crash course in Aussie culture.
The iconic Harry's Cafe de Wheels has sold pies in Sydney's Woolloomooloo since 1938. For an Aussie pie tasting steeped in history, this is your spot. These days there are several Harry's outlets around the city but I think that the Wolloomooloo is the only place to go.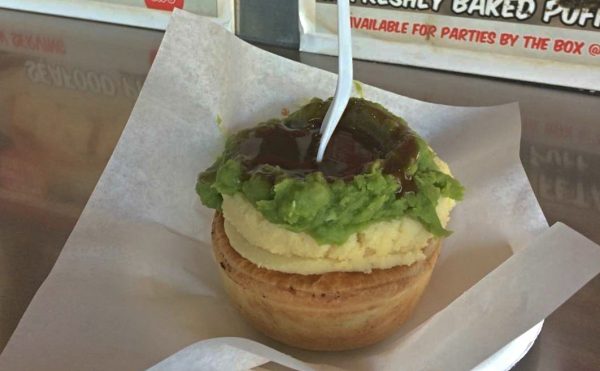 The signature dish, the Tiger, features a meat pie served with mashed pies, mashed potato and gravy is the dish I recommend. They have also recently added delicious apple turnovers to the menu. You can order them hot or cold, depending on your preference.
My personal favourite place to eat meat pies in Sydney is Bourke Street Bakery. If you are in the city centre the best options are the one in Barangaroo or the one by the light rail in Surry Hills. The pie fillings vary and all the ones I have had have been great, but I would stick to the basic beef pie as a first timer. The star thought it was their pastry. It's next level crispy and delicate at the same time.
You could also consider the Pie Tin in Newtown, especially if you are planning to take our street art walk. It's perfectly positioned near the end of the route when you will likely require some sustanance. The range of pies here is epic with the current menu on their website showing 5 pages of savoury and 4 pages of sweet pies! I recommend the steak and vegemite for full Aussie overload!
Other contenders include Black Star Pastry and Flour and Stone, both also in Newtown or the city.
A BBQ – the classic summer meal
Aussie BBQs are nothing like American BBQ but they take a lot less time to prepare and can be just as delicious. If you are not lucky enough to be invited to one by a friendly local then the next best thing is probably to head to the nearest supermarket – or if your budget permits – David Jones Food Hall – to buy some BBQ essentials and then head off to Bronte Beach or perhaps Pyrmont Bay Park and cook up your feast.

Meat in a Park is a great website to find more places that have BBQs near where you are staying. You could check out our guide to the city's best parks or gardens.
Your BBQ should at least include sausages (anything from cheap and cheerful snags to the gourmet range will do) onions, store-bought salads, coleslaw and potato are most traditional, fresh bread rolls and tomato sauce.
I also think it's hard to go past lamb cutlets on the BBQ, easy to pick up and eat while chatting with friends. Also, throw in a few vegetable skewers so you don't have to worry about salad!
If your tastes are a little more refined head to the fish markets and buy some fresh prawns and salmon to throw on the hot plate.
The Snag on a roll aka The Democracy Sausage
Once best known as a school fete snack the sausage sandwich or snag on a roll is now most associated with the fund-raising stalls outside Australia's biggest hardware chain Bunnings.
Almost any weekend trip to this hardware store requires you to walk past a sizzling BBQ full of sausages and onions just waiting to be shoved into a piece of white bread and covered in onions and your choice of sauce.
This delicacy is also referred to as a democracy sausage as it is the highlight of any voting day in Australia. Many schools are used as polling places on election day and the local school will set up a bbq right by the exit. It almost feels like coming in to vote earns you the right to enjoy this tasty treat.
Vegemite – it's the Aussie breakfast staple
Aussies love to torture visitors with this humble spread. We even made Oprah eat it on her visit down under. Vegemite is a yeast-based spread that has a salty flavour. The trick to enjoying it is to spread it sparingly on hot toast or fresh bread.
In my opinion, you must have butter underneath, but lots of my friends enjoy it without butter if that is your preference. It is often compared to the British Marmite or Promite, but I don't think they taste anything alike. Charles loves to take a tube of it whenever we travel as its special powers ward off homesickness!
My favourite way to eat it is with avocado and feta sprinkled on top thanks to chef Anthony Telford this discovery.
Pavlova – the great debate
While it may be a Kiwi invention like all good things that originate in New Zealand Aussies, have claimed the Pavlova as our own. With a crisp outer shell of meringue and lashings of cream, fresh fruit and sometimes even shavings of chocolate very few can resist this summer favourite.
Matt Moran's Chiswick Restaurant currently has an orange, passionfruit pavlova on their dessert menu or if you are travelling on a budget grab a Pavlova base from any supermarket and make your own.
Lamingtons
A lamington is a traditional Australian dessert that consists of a square-shaped sponge cake coated in a layer of chocolate icing and rolled in desiccated coconut. I remember the fun we had growing up helping mum to make these for our school fundraisers. Coconut went everywhere and our fingers became chocolate coated and delicious.
The perfect traditional lamington has a light and airy sponge centre which is covered in chocolate icing. The whole thing is then rolled in desiccated coconut and left to dry.
The desiccated coconut coating gives the lamington its unique appearance and adds some extra sweetness to what can often be a pretty bland sponge.
There is often a debate among aficionados about whether a traditional lamington has any filling. You sometimes find them with a layer of jam or cream or both between two layers of sponge that is then covered in chocolate. Personally, I think this makes them taste a lot better!
These days you will find many takes on the traditional version. I think the current stand out is Tokyo Lamington.
The best places to eat Lamington in Sydney in our opinion are:
Tokyo Lamington in Newtown – try the traditional, which comes with jam inside or my favourite, the very non traditional yuzu flavour that does not even have coconut on the outside!
Flower and Stone in Wolloomooloo and at Carriageworks Market on Sat mornings – the lamington here is soaked in pannacotta and features a berry compote centre and dark chocolate icing – it's up there with the very best version.
Breadfern in Redfern has a lovely lemon version with homemade lemon curd.
If you are limited to the CBD David Jones food hall usually has a lamington or two at the cake counter. I have also seen them at the Grounds of Alexandria in the city although I have not tried these.
Anzac Biscuits and Tim Tams
Both Australia and New Zealand have claimed the ANZAC biscuit as their own, and it seems versions have existed in both countries since the early 1900s.

The first published Anzac biscuit recipe dates back to 1917. They rose in popularity during WWI possibly because the ingredients were readily obtainable during the rationing period.
Named ANZAC after the Australian and New Zealand Army Corps Anzac biscuits were included in the care packages sent to the troops by their wives and mothers as ingredients did not spoil quickly.
These days we traditionally make them every year around ANZAC Day (April 25th). There are commercially produced versions, but I find these a little hard and a bit too sweet. If you see them in a café, I will try them there. Or you can make your own.
Woolworths and Coles serve versions of Anzac biscuits in their stores but I find them too crisp and sweet for my liking.
While the little Anzac biscuit may be more of an Aussie icon, the Tim Tam is quite possibly the most common supermarket purchase of visitors to Australia.
Tim tams originated as a chocolate malt biscuit with a choc creme centre and dipped in milk chocolate. These days there are more than a dozen versions. My favourite is the dark chocolate ones. According to Arnotts Aussies buy 35 million packets of Tim Tams each year.
I suggest you try the infamous Tim Tam Slam when you get the chance
Need more ideas? Join our Sydney Expert Facebook Group where you can ask questions, stay updated with what's happening and meet a bunch of friendly locals just waiting to share their advice!