Dessert in Sydney: 10 sweet treats to try
Looking to sample some of the best dessert in Sydney? Well, across the city you will find sweet treats from around the world, including fluffy Japanese cheesecake, flaky pastries, and iconic desserts like the Strawberry watermelon cake from Black Star Pastry.
If you finding yourself wandering around Sydney looking for somewhere to satisfy your sweet tooth and want to try something new, we have you covered. This comprehensive list by food writer, Hayley, of some of the best desserts in Sydney is definitely for you!
The best places to feast on dessert in Sydney
I am truly a lover of dessert, and I'm almost certain it's true when people say you have a second stomach for dessert! I've pulled together a list of 10 of my favourite places across Sydney to pick up a cone of gelato or some Nutella waffles to satisfy my late night cravings… or just any time of day cravings!
In no particular order, some of my favourite restaurants and cafes
Bay Vista Dessert Bar and Cafe
Bay Vista has been making the dessert lover in Sydney's south happy since 1991, and these days is one of Sydney's most epic places to have dessert!
If you want to dine in, this is a great choice, enjoy table service, great music and an epic fit out! Not to mention the sweet aroma you notice as soon as you enter the dessert bar, delicious!
Bay Vista offers every dessert you can imagine, so you'll be spoilt for choice! They have pancakes, crepes, ice cream bowls, waffles, cakes, donuts, sorbet, scrolls, fondue and so much more!
Even if some of your friends don't have as much of a sweet tooth as you – they can come along too! Bay Vista offers savoury snacks as well, including grilled cheese sandwiches or wings!
Must try: The cult classic – Nutella Crepes!
Where: 83 The Grand Parade, Brighton-Le-Sands or 330 Church St, Parramatta
Anita Gelato
Anita Gelato has taken over Sydney! The gelato joint has arrived in Australia after already winning the hearts of gelato lovers in Barcelona, San Juan, New York and many other parts of the globe!
What sets Anita apart from other top gelato bars is that they offer 150 different flavours, so you can be sure that you will find one that tickles your fancy!
If just a cup of gelato doesn't suit your tastebuds, you can order a plate of waffles with your chosen scoop of gelato on top, or pick a couple of gelato flavours and the Anita team will make a delicious and milky thick-shake out of it!
Must try: The 'Cookie Man' Gelato
Where: Multiple Locations (Bondi Junction, Bondi Beach, Central Park Mall, Manly)
Kurtosh
The name Kurtosh comes from Kürtőskalács–a traditional Hungarian pastry, famously known as chimney cake that is sold from carts all across Hungary!
Watching the chefs work their magic on the pastry is a sight to see, which is why the Kurtosh houses have glass windows where you can watch staff wave around a giant rolling pin and a thin ribbon of dough! If pastry is your thing this is one of the dessert spots you just can't miss!

The Kurtosh is a cylindrical sweet dough treat that almost looks like a telescope. It is baked and then covered in cinnamon sugar, for that extra sweetness, you can add a Nutella filling!
If the Kurtosh doesn't interest you, the cafe has a vast array of different baked treats to try including slab cakes! The cakes aren't pre cut so you can ask for as big of a piece as you like! (I'd recommend a big one!)
Must try: The Nutella 'Kurtosh,' (Hungarian Chimney Cake) and the Cookies and Cream Cheesecake! They also make mean coffee!
Where: Multiple Locations (Darling Square, Randwick, Surry Hills, Crows Nest, Wollongong, Marrickville, South Eveleigh (Coming Soon!)
Check out our guide to the best spots to eat in Darling Harbour
Teelish Brownies
Teelish Brownies have developed a cult following, and I am part of it, for sure! Teelish has been selling some of Western Sydney's best brownies to the Mount Druitt area for many years now, and recently opened a second store in Rouse Hill for Hills residents to enjoy!
Teelish Brownies don't claim to do anything crazy with their brownies, which is why I love them so much! They have taken the good old-fashioned brownie, created an EPIC recipe and added some sweet flavours to them to create the delicious brownies they claim as Sydney's best!
Biscoff fan? They've got one for you! Nutella fan? One for you too! Snickers fan? Yep, one for you as well! You get the point…they've got something for everyone!
Make sure to head down to one of their stores on the weekends as they often have local music artists having a jam session, so you listen to some weekend beats while treating yourself to a delicious, chocolatey brownie!
Must try: Cookie Dough Brownie, Mars Bar Brownie!
Where: Rouse Hill and Mount Druitt
PAFU
Have you heard of a PAFU?! If you haven't, you NEED to check them out! PAFU is PAFU is the holy union of the traditional French turnover (ou chasson aux) and the Japanese Shou pastry! The OG PAFU is the Apple Puff – pillowy cream custard and baked apple and is not to be missed!
PAFU's also come in many other flavours! Matcha Pistachio, Pineapple, Strawberry, Banana Caramel and if you are after something savoury – they've got chicken and cheese!
My recommendation? Purchase a 4 pack for around $16, so you can take a few of each home and share with family and friends (or…just keep them all for yourself, I wouldn't blame you!)
Must try: The OG Apple Custard PAFU
Where: Macquarie Centre and World Square Sydney CBD
Lukumades
Lukumades in Chippendale offers something that Sydney doesn't have a lot of – fresh, made to order Greek doughnuts with a modern twist!
They have a little something for everyone, so if you are a simple cinnamon guy or gal, or a crazy amount of toppings person – they have something for you.
Lukumades began as a food truck in 2016, and after just 9 successful months, opened their first brick and mortar store!
It's really exciting to see the doughnuts being freshly cooked up after you place your order and watching the amazing staff putting lots of love into your toppings, whether it's a mountain of crushed Oreos or some salted caramel sauce!
You can also grab a great cone of vanilla ice cream or a delicious coffee
Bonus: All of Lukumades' donuts are vegan!
Must try: 'Lotus Crunch' or 'Bueno'
Where: Shop 2, Central Park Ave, Chippendale
Read Hayley's guide to the Best Barbeque in Sydney
Delicious Desserts
Delicious Desserts is a relatively new dessert shop in the Hawkesbury region of Sydney, but don't underestimate this newbie, they know what they're doing! The owners also run 'Lollies and Stuff,' from the same street in Windsor – a long-standing and super popular American candy store!
When you arrive at Delicious Desserts, you should expect to see some American candy, thick cookies and donuts, a 'Friends,' orange couch and set up to take some epic pics, and down the back, you'll find the hidden gem of Windsor….an epic fro-yo bar!
Delicious Desserts have one of Sydney's best serve yourself fro-yo bars with flavours, including coconut and the famous Hawaiian pineapple Dole Whip! The toppings bar runs for what feels like miles! There are so many toppings to choose from, I've never seen anything like it! Don't skip trying some of the American candy or cereals on top!
Must try: All the American candy toppings, Pineapple Dole Whip soft serve!
Where: 123 George St, Windsor
Grumpy Donuts
Don't be fooled by the name, if you take a trip to Grumpy Donuts, you certainly won't be a grump with one of their donuts in your mouth!
Grumpy Donuts have gotten people travelling from all over Sydney to come and pick up some of their doughnuts and I'll happily make the trip anyway!
What's great about Grumpy's is that they switch up their menu with different flavours daily, so every time you make the trip, you are bound to get to try something new!
You can also get your fix daily at Valentinas, in Marrickville
Must try: The Strawberry 'Somer Himpson' donut or the Blueberry Fritter (filled with fresh blueberries, cinnamon and white chocolate pieces drizzled with a vanilla bean glaze!!)
Where: 72 Pyrmont Bridge Road Camperdown.
Bennett St Dairy
Bennett St. Dairy was originally a bustling cafe in the heart of Bondi until Sydney caught wind of how good their cookies are!
Bennett St Dairy was selling their choc chip cookies at the counter of their cafe until they became insanely popular! You can now buy Bennett St dough in 500g lots, in store, online AND in Woolworths! They've got Original Choc Chip, White Chocolate and Macadamia and Salted Caramel and White Chocolate!
If you aren't too sure what the buttons on your oven mean, never fear! You can still purchase the famous cookies individually in store at Bondi!
Must try: White Choc Macadamia Cookie
Where: 73 Bondi Rd, Bondi
Caramel Waffly
If you are planning to go to The Rocks Markets on the weekends, it's a crime not to visit Caramel Waffly for a sweet treat! Caramel Waffly are handmade Dutch waffle cookies filled with homemade caramel and covered with an array of delicious toppings!
The team at Caramel Waffly sandwich comes of their famous caramel filling between two of their waffle cookies, dip it in a chocolate of your choice and then sprinkle with some yummy topping like marshmallows or pistachios!
It's clear by the crowds of customers and on-lookers at the popular weekend market that Caramel Waffly is not a stall you can just walk past!
Must try: The Pistachio Waffly!
Where: Playfair St, The Rocks The Rocks Markets
More great sweet treats to try
Want more, check out some of these for even more great desserts in Sydney:
Koi Dessert Bar – head to Chippendale to try the wonderful creations of this MasterChef celebrity.
Black Star Pastry – tou have to try the watermelon cake the most instagrammed cake in Australia once!
Sweet Belem – you won't find better Portuguese tarts at this classic cafe in Sydney's Little Portugal Petersham
Gelato Messina – from Pandan and coconut to creations like Elvis, the fat years!
Flour and Stone – their lamingtons, whether classic or the panna cotta, are next level
Pasticceria Papa – for ricotta cannoli or baked cheesecake in three locations, Bondi, Fivedock or Haberfield.
Saga – head here for the mini pavlova with coconut chew, find them in Enmore.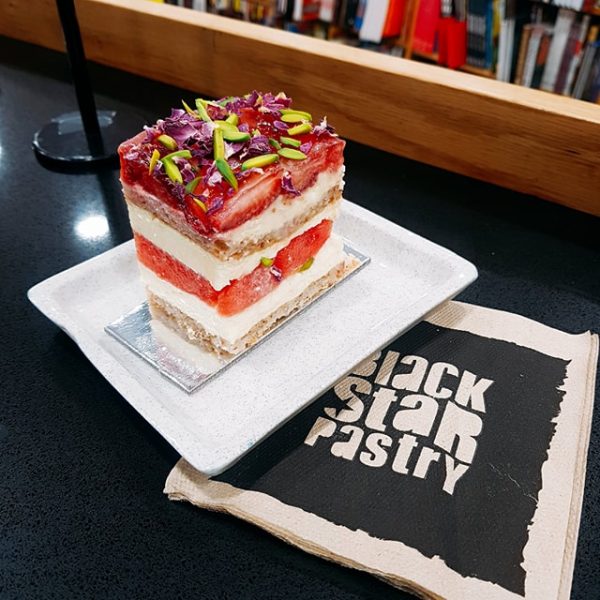 It's clear that there is a range of epic desserts to try across Sydney! Let me know your favourite place to grab a sweet treat in the comments below!
About the author: Western Sydney based creator, Hayley Tighe, runs The Sydney Food Hunt and aims to source and highlight the best food and drink across Greater Sydney to share with other Sydneysiders and visitors on Instagram.