The Best Harbour View Hotels in Sydney
Sydney's reputation as one of the world's most iconic waterfronts is well deserved, and nothing shows it off better than Sydney Harbour view hotels. If you are visiting the harbour city or even looking for a special staycation and your budget will allow a bit of a splurge, consider a night or two in one of these Sydney harbour hotels with views to die for.
Fully updated: 18 February 2022
Hotels and Apartments with Perfect Sydney Harbour Views
Several hotels stand tall overlooking the Sydney Harbour Bridge and the Opera House, so choosing which one to book is not a simple decision. Today I am looking at a range of rooms with a view of Sydney Harbour.

Some of these hotels have views of the Opera House, and others offer the perfect Sydney Harbour Bridge view; some have both! A couple of them are pretty affordable too.
It's a bit like booking a room with a view in Santorini or Paris; staying at one of these Sydney hotels is a worthwhile treat and one you are unlikely to regret. A stay in one of these hotels with their spectacular views of the icons and the city skyline is bound to become a cherished memory.
Frequently Asked Questions About Sydney Hotels with Harbour Views
What does the definition "harbour view" mean?
Hotels in Sydney use different words to describe the views they offer so I thought it best to clear this up first, as it can get a bit confusing.
Opera House view – obviously you see the Opera House and at least some of the harbour.
Harbour Bridge view – may only be a view of the Harbour Bridge as is the case with Pier One or may, in fact, offer views of both the icons.
Harbour view rooms – may include a view of both the Opera House and Harbour Bridge. Perhaps there is just a view of one or the other; perhaps you will see water but neither landmark. Make sure the description specifically mentions exactly what you will see if that is important; otherwise, clarify via email.
A harbour view may not include a view of either and could be a view out over Darling Harbour or the Botanic Gardens, depending on the hotel.
Which hotel has the best view of the Sydney Opera House?
I think it's hard to beat the Park Hyatt and its face-on view of the Opera House. Their rooftop pool also has a spectacular view. This is the prime location in Sydney.
Some rooms have floor to ceiling windows and private balconies.
Which hotel has the best view of the Sydney Harbour Bridge?
The standout hotels that overlook the Sydney Harbour Bridge are:
Which hotel has the best view of Sydney Harbour overall?
These are the best hotels both offer amazing views of the Harbour Bridge and the Opera House.
Which hotels with harbour views are pet-friendly?
Pier One Hotel offers pet packages, as does the nearby Langham Hotel, which does not have quite the same views but is an excellent alternative.
Which harbour view hotels are best for families?
The Meriton North Sydney offers 2 bed 2 bath apartments with a very easy walk to North Sydney train station and shops. Families will appreciate the space in these apartments.
If it is not clearly stated, always confirm the exact view before paying for a non-refundable room.
How did we choose the hotels on this list?
Well, we have stayed in most of them, and the ones we have not stayed in we have toured on more than one occasion.
We have decided not to present a top 10 list, but instead, are giving you the pros and cons of each to help you choose.

If you are looking for the best hotel views in Sydney, then I am sure you will be happy with one of these.
All the hotels mentioned below are perfect locations if you are visiting Sydney for New Year's Eve or the Vivid Light Festival.
A word of warning, Sydney has a consistently high hotel occupancy rate (over 80%) so grabbing a bargain hotel room in Sydney with a harbour view is difficult. If you come across one or have points from a rewards program, I suggest you grab it quickly.
This post contains affiliate links. Our full disclosure policy is here.
Hotels in Circular Quay and the Northern CBD
The Park Hyatt Hotel in Sydney
The five-star Park Hyatt Sydney is the city's most expensive hotel. It boasts twelve different room types, a dress circle location and some of the best harbour views in the city, with many rooms overlooking the Opera House. We booked a colleague in here for their wedding night, and I managed a room inspection. It was stunning.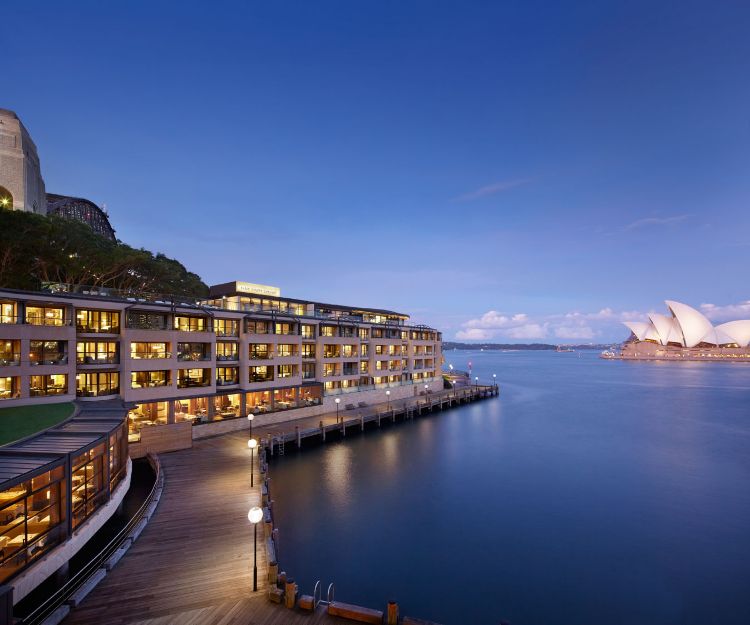 The two dining areas are bright and airy, offering buffets, afternoon tea or à la carte dining. If you can not afford to stay here, consider stopping by for a coffee and cake.
This is an excellent hotel if you are planning a visit to Sydney for New Year's Eve or for the Vivid Festival as you will have front row seats for all the action meaning you can avoid the crowds, save money on event tickets and sit back and watch the show from your room!
The room top pool has to have one of the best views in the world.
Pros: Bose digital music system, Nespresso coffee maker, 5-star views, a rooftop pool and a level walk from public transport.
Cons: Non harbour view rooms are not worth the price in our view. This view makes the hotel so unique – $$$ early check-in fee.
Location: 7 Hickson Road The Rocks, Sydney
The Shangri La Hotel Sydney
The Shangri-La Sydney Sydney is pure 5-star luxury. All the prime tourist attractions are right outside your room and the train station is only a few minutes' walk away.

We had a stay-cation anniversary here and loved it. The spacious rooms are very well-appointed, the large windows offer lots of natural light, and our bed was super comfortable.
Book early – if you can't get a room with an Opera House or Harbour Bridge view, then I think it's pricey for a regular room, although apparently, the view over Darling Harbour is also lovely.
Beyond the rooms, Bar Blu and Altitude restaurant are fantastic, perfect for a special occasion meal or drink. The hotel also has good business facilities for working trips. If you can manage a splurge in the hotel's spa, you will not be disappointed. I felt like I had gone to heaven!
Pros: Amazing views from the harbour facing rooms. Excellent service and staff. Great restaurants.
Cons: The uphill walk from Circular Quay could be troublesome for some, only an indoor pool, pricy car parking
Location: 176 Cumberland Street The Rocks, Sydney
The Intercontinental Hotel Sydney
The Intercontinental Sydney is where Oprah housed her entourage on her visit in 2010. Along with amazing views of Sydney Harbour, the hotel is only a 2-minute walk to the Royal Botanic Gardens makes this a brilliant choice for anyone who loves a morning walk or run.

The hotel has an indoor pool, it's a reasonable size and has a magnificent view of the harbour. Located only 5 minutes from the Pitt Street Mall shopping precinct, and with Sydney Buses stopping right outside, this is a very convenient location.
The hotel looks pretty grand from the Macquarie Street entrance; however the rear entrance is more like an office building. If you are lookinf for a place to meet friends the Lobby Bar is a good choice.

The pick here are the King Opera House rooms, which offer jaw-dropping views. If you win the lottery, book the Australia Suite! 
Pros: Room quality is as good as many pricier hotels, particularly those on the top floors. Make sure you visit the new rooftop bar.
Cons: Not all rooms have an unobstructed view, so be sure you request one.
Location: 117 Macquarie Street, Sydney
The Four Seasons Hotel in Sydney
The Four Seasons Sydney recently refurbished their 530 rooms. The rooms themselves are nice, with quality fittings and amazing views of Sydney Harbour. Of the three rooms types, I would only stay here if I could get a Harbour or Opera view room. Without the view, I think there are better choices than this.
Pros: This property has the best location and comfortable beds, a heated outdoor pool and wonderful food.
Cons: Some of the standard rooms are a little small.
Location: 199 George Street Sydney
Pullman Quay Grand Suites Sydney Harbour
The Pullman Quay Grand Sydney Harbour is a great option; this hotel has a fantastic harbour bridge view. It's an apartment hotel, which I admit is my favourite style, and offers 1 and two-bedroom suites.
Rooms here are expensive – even on sale, the one-bedroom suites are $499, but they do give you space, a view and a location right in the middle of the action. They also often host celebs, so who knows who you may bump into in the lobby!
When this development was first proposed, Sydneysiders were up in arms about the ugly "toaster" style building destroying the view of the Botanic Gardens. Several years on, I think it revitalised this area. Locals still refer to the buildings along East Circular Quay that house many cafes, shops and restaurants as the "toaster", but not as many of us are cynical about it now.
The rooms are also double glazed, so noise is not a problem. The pool on level 7 has excellent views over the harbour. If you are trying to save some money, consider a garden view, these are also very beautiful, and there are plenty of public areas to take in the waterside view.
Pros: Spacious rooms, laundry, location
Cons: Views from some rooms can be obstructed, so keep this in mind when booking.
Location: 61 Macquarie St East Circular Quay
Sydney Harbour Marriott
A short walk from the Quay and about 10 minutes to the shopping strip of Sydney Harbour, the Marriott is well located for exploring the city beyond the Quay. There are rooms with views of either the Harbour Bridge or the Opera House, or if you have enough cash, some exceptional rooms with both the icons' views.
The food here is also excellent, and they are well known for their quality seafood. There is an Avis car rental service operating from the hotel, making it easy to collect and return a car,

I recommend this hotel for anyone with limited mobility, as the short flat walk to the harbour and up to Pitt Street shopping district is very easy.
Pros: Flat walk to the harbour in just 2 minutes. Have facilities for you to use if your room is not ready.
Cons: The lifts can be slow, and service can get patchy in peak periods.
Location: 30 Pitt Street, Circular Quay
Search for Hotels in Circular Quay
Hotels in the Rocks with Harbour Views
Rydges Sydney Harbour
The Rydges Sydney Harbour has some rooms with harbour views, but the best views are from the roof's public areas.

It's been almost five years since I spent a night here, so my thoughts about the individual rooms might be a little outdated; however, this is a great location right in the centre of the Rocks.
It is only 5 minutes walk from the Overseas Passenger Terminal, so an excellent pre or post-cruise hotel. There is a superb view from the rooftop terrace, where there is also a smallish swimming pool on the roof.
Previously named Holiday Inn Old Sydney.
Pros: The view from the roof and the easy walk to Circular Quay are key selling points.
Cons: Rooms are a little plain but are perfectly comfortable
Location: 55 George Street, The Rocks
Check out our guide to where to eat and drink in Sydney when you visit.
Pier One Sydney Harbour
Pier One Sydney is perfect if you are more Harbour Bridge than Opera House. The Harbour view balcony suites where you can sit back and watch all the action on and under the bridge are on the money!

The hotel is built on one of the beautiful wooden wharves on the harbour's western side in between the Rocks and Walsh Bay, making it perfect for exploring the Barangaroo Reserve and its buzzing dining scene.
I would probably not book the rooms without balconies as they have small windows and feel a little claustrophobic to me, but the decor is nice, and you might be perfectly happy here.
Pros: Dog-friendly suites, short walk to Barangaroo, beautiful furnishings.
Cons: Can be noisy on weekends because of events in the function spaces. Rooms without balconies can be small.
Location: 11 Hickson Road, The Rocks
Hotels in North Sydney and the Lower North Shore
Some people prefer the relative quiet of the north side of the harbour; from here, you are still less than 20 mins away by ferry from dining options at Barangaroo or Darling Harbour and the action of Circular Quay.
Cosy Harbourside Apartment with Bridge View Pool
Located at the McMahons Point Wharf, these apartments offer an outdoor pool, BBQ area and laundry facilities. One- and two-bedroom apartments older style with kitchen facilities.

A lovely location with the famous Wendy's Secret Garden a few minutes away. This property is perfect for NYE or Vivid Light Festival. The ferry to Circular Quay is only 5 minutes' walk away.
Pros: Some rooms have fantastic harbour views. Free parking.
Cons: No air conditioning, although ceiling fans in some rooms, not all rooms appear to have been refurbished and are very dated. Wi-Fi is not always included, so check before booking if this is important to you.
Location: Henry Lawson Ave, McMahons Point.
Milson Serviced Apartments
These apartments are not flashy – they are a budget option with a fantastic view. Choose from studio, 1, 2- or 3-bedroom apartments. The property has a fitness centre and pool, free parking and a washing machine and dryer.

It's only a 2-minute, 100-metre walk to the train station and well placed for exploring the lower north shore harbour walks.
Tip: Request a lavender Bay view, choose a higher floor for views of NYE and Vivid Sydney.
Pros: Location is the biggest pro here.
Cons: Check the room you book has views. If you are not getting a view, there are better choices.
Location: 48-50 Alfred St, Milsons Point, North Sydney
View Hotel – Formerly North Sydney Harbourview Hotel
The View Hotel offers panoramic views of the Sydney Harbour Bridge and Sydney Opera House. Its location above the railway station can be a concern, but as long as you get a room above the lowest few floors, you will love the convenience and not hear the trains at all.
The Harbourview usually have a great NYE rooftop party, so this is something to consider if you are looking for an easy NYE option.
Pros: Short walk to the harbour and station with a shopping plaza nearby: refurbished rooms and good quality beds.
Cons: Limited dining, train noise can interrupt sleep on the lower floors. Only book a high harbour view floor.
Location: 17 Blue St, North Sydney NSW, Australia
Meriton Suites North Sydney
The five star Meriton Suites North Sydney is very well located, only a 4-minute walk from North Sydney train station. This 29 story hotel has the most amazing harbour views from their premium Harbour Suites.

Accommodation is in one- and two-bedroom apartments with full kitchens and living rooms. Some rooms have balconies overlooking the harbour. There are also accessible rooms.
Pros: full kitchens and laundries, indoor pool, free wifi, and a fitness centre.
Cons: no evening on-site dining
Location: 80 Arthur St, North Sydney
Search for Hotels and Vacation Rentals on the Northside of the Harbour
Travelling on a budget? Check out our favourite budget hotels in Sydney
First published 29 July 2014, Fully revised 09/05/2022