Where to Eat in Sydney: Food Lover's Guide [2023]
Consider this where to eat in Sydney guide the Ultimate Sydney Food and Drink Bucket list. The list was created by polling the members of the Sydney Expert Facebook community for their suggestions on the best places for visitors to eat in Sydney. We have included lots of places locals eat and hope it helps you to find the best food Sydney has to offer.
Apologies in advance for the photo quality in some of these, the main reason I am not a food blogger is I take terrible food photos. That or I forget entirely to snap one before I eat! And please if you think we have missed something essential, leave us a comment or head over to our Facebook group and tell us all about it. This list of vegan eats in Sydney might also be helpful.
This post contains affiliate links. Our full disclosure policy is here.
Starting this list with dessert might seem odd, but this topic was the one that fueled the most discussion in the group. Apparently, finding the best gelato in Sydney is essential! Italy may be the home of Gelato, but Sydney has plenty of great gelati, and everyone has an opinion.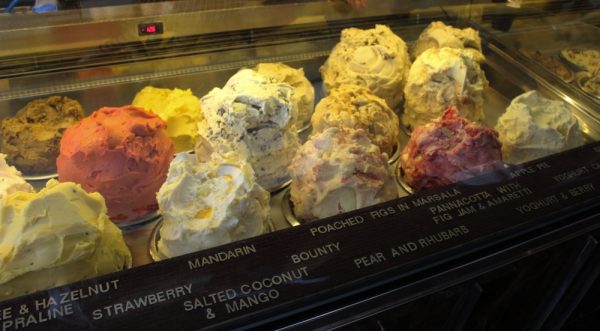 One contender for the city's best is the local favourite Gelato Messina. When these guys opened over a decade ago, the lines stretched several hundred meters most nights and they often still do. With a vast range of really unusual and truly decadent flavour combinations, it was easy to see why. There are 35 regular flavours and five specials each week. A recent option was Pavolva – vanilla gelato with raspberry and passionfruit puree and baked meringue.
These days there are multiple outlets and queues have settled down a bit. Is it the best? I am not sure, but I highly recommend you try my all-time favourite ice cream, the pandan and coconut and see what you think.
Rivareno Gelato had many recommendations for its traditional style gelato. Two outlets, one in Barangaroo and the other in Darlinghurst mean you are likely to pass one on your travels so be sure to stop in and see what you think.

In Sydney's inner-west you will find Cow and Moon they took out an international award in Italy for their almond affogato. They do a great range of traditional style gelato, and I think their pistachio is the best in the city.

If you do make it to the inner-west, I also suggest you try the Turkish ice cream shop, Hakiki on the city end of Enmore Road. They have a bunch of Middle-Eastern inspired flavours like sour cherry, pomegranate, and vanilla and baklava, which is an excellent option for those with a sweet tooth.
Where to eat great gelato in Sydney

Gelato Messina – Circular Quay, Star Casino, The Tramsheds, Newtown, Surry Hills & Darlinghurst
Rivareno Gelato – Barangaroo and Darlinghurst
Cow and Moon – 181 Enmore Rd, Enmore
Hakiki – Shop 1, 63 Enmore Rd Newtown
Explore the Hawker Stalls at Spice Alley
Just south of the CBD in Chippendale Spice Alley is a Sydney take on an Asian hawker centre. Part of the Central Park development just south of Central Station the alley is made up of 6 stalls and a few cafes set around lantern strung courtyards.
Grab a few plates from the Malaysian, Thai, Japanese or Chinese offerings, find a chair and enjoy! The stalls here are cashless so make sure you bring a card with you. The Char Kway Teow at Old Jim Kee is my favourite dish here, but I also love the roti and dumplings.
The area is BYO with no charge if you bring your own cups, but you can buy cups for 50c from the cashier's desk. Try to visit mid-week or a little before the lunch rush for ease of getting a seat.
Spice Alley – Behind Kensington Street and Central Park shopping centre in Chippendale
Yum Cha, more commonly known as Dim Sum in some parts of the world, is a popular weekend breakfast choice in Sydney. There are dozens of good, cheap places in suburbs like Ashfield, Chatswood, Burwood and Hurstville to taste these delicious morsels, but for visitors, it is easiest to stick to the CBD.

The Palace in Piccadilly Shopping Centre is on the pricey side for yum char, but it is in my top three offerings in Sydney. The service is usually excellent, something often lacking yum cha restaurants, and they always have a good variety of dishes.

Be sure to try the scallop Sui Mai, and the chicken feet, ( I think they do the best version in the city) – they taste so much better than they sound so give them a try if you have not before.

Another must-eat here are the egg tarts; they are the best I have had. Yum Cha is served 11am – 3pm. Expect to face a queue if you arrive after 11.30, but they usually don't take too long.
Marigold was the first restaurant in Sydney to serve yum cha when it opened back in the 1980s. Sadly it closed in Dec 2021
If you are celebrating a special occasion, it's hard to go past Mr Wong. The 1920's Shanghai styling, jazz playlist, exciting cocktails (and mocktails) and a vast menu, combine for a memorable experience. Is the food better than the choices above? I am still undecided, but the ambience is fantastic and the experience unique.
Where to find great Yum Cha in Sydney

Palace Restaurant – Shop 38 Level 1, 133 – 145 Castlereagh St Sydney
Mr Wong – 3 Bridge Lane, Sydney
Hunt down the best cakes in the city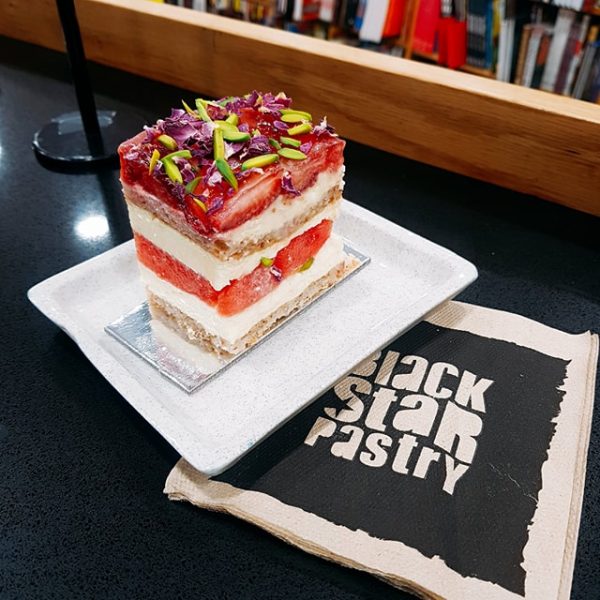 If you have been checking out Sydney on Instagram, you have likely come across the Instafamous watermelon cake. While the watermelon cake might be the best-known, there are many other delicious things to eat at Black Star; I think the lychee and raspberry cake is also damn fine. Along with the Instagram worthy cakes, they do excellent pastries, especially the meat pies and sausage rolls.

The original store is in Newtown, a larger one in Rosebery and a new one in the Galleries Victoria opposite the Town Hall.

The desserts are as pretty as they are delicious at Koi Dessert Bar. They are the creations of Masterchef alumni the Poernomo brothers. Try to visit on a weekday to avoid the crowds. Try the Moss Jar dessert, filled with Caramelised white choc crémeux pistachio mousse, caramel jelly, matcha soil, apple jelly, pistachio microsponge and dill.
Go old school with the traditional Italian Ricotta cake, Pasticceria Papa in Bondi. You will find it below street level in the Adina Bondi Hotel building.
Where to find the best cakes in Sydney

Pasticceria Papa – 75 Hall St, Bondi Beach
Black Star Pastry – King St Newtown or Ground floor 500 George Street Sydney

Eat the local fauna – kangaroo, emu or crocodile.
Meat District Co on King Street Wharf is very popular with Sydney Expert readers for their Kangaroo; I have not personally tried it because I am not a fan of roo at all, but it has received rave reviews from some of our members. The Kangaroo is chargrilled and served rare w. Truffle mash potato w. Jack Daniels sauce. They also have a crocodile burger on offer. They also offer a happy hour from 3-6pm with $5 beer and wine and $9 cocktails.
Touristy yes, but if you fancy feasting on Skippy or one of his friends rather than just snapping a photo at the zoo, then the Australian Heritage Hotel is probably a good stop. Kangaroo Burgers, crocodile spring rolls, emu or kangaroo pizza there is plenty to choose from here? This menu is more gimmick than gourmet and perfect for anyone not wanting anything too confronting. The old school Aussie pub in the Rocks also offers a huge range of local beers and tasting flights.

Another popular way to try Kangaroo is in a burger. Moo Burgers at Manly and Bondi have a budget-friendly $15 Kangaroo burger.
Where to find Kangaroo and Crocodile meals in Sydney

Meat District Co. – Lime Street Sydney
Australian Heritage Hotel – Cumberland Street, The Rocks
Moo Burger – Manly and Bondi
Try a craft beer at an inner-west brewery
Craft brewing is at the height of popularity across the world, and Sydney is undoubtedly on board too.
There are a lot of great options, but one that I frequent most is Young Henry's in Enmore/Newtown. This spot is only opened until 7 pm so if you fancy trying their brews in the evening head to the Fortune of War or the Glenmore in the Rocks.
Find out where Anthony Bourdain ate on his visit to Sydney
Another brewery we like visiting is The Grifter. Their large, tasting room never feels too crowded. They also have a range of non-alcoholic brewed soft drinks so everyone in the group can join in even if they are not beer drinkers. Tasting trays of 4 small glasses is a great way to try some of the 12 brews on tap.

Friday evenings and weekends food trucks provide sustenance, often vegetarian and vegan-friendly and there is a great pub next door if you fancy something else.
Wayward Brewing in Camperdown has 24 beers on tap and a cellar bar that is about as interesting as they get with a very eclectic collection of items displayed, providing perfect talking points.
Food trucks are in residence from Thursday to Sunday, and there is live music on Sunday afternoons.
The best craft breweries to visit in Sydney

Young Henrys – Wilford St, Newtown
The Grifter – Enmore Road Marrickville
Sauce – Mitchell Road Marrickville
Wayward Brewing – Gehrig Lane Camperdown
Try an organised Beer Tour
If you would prefer someone else to help you find the best brews, there are lots of brewery and bar tours. These are especially good for solo travellers. Three I recommend are:
The Rocks Pub Tour – Visit 4 of the cities oldest pubs on this tour in The Rocks, including local brews at each stop.
Grains and Grapes – Visit two breweries and an urban winery
Northern Beaches Breweries – visit Sydney's beautiful Northern beaches and tour and taste at four breweries.
Learn about the local food culture on a tour
I love a good food tour when I am travelling, and I have been on some great ones in Sydney including three tours offered by TV food journalist Maeve O Meara.

Maeve's Gourmet Safari tours have been running for 20 years, and there are several to choose from covering a range of cuisines.

I have taken a Turkish one based in Auburn, a Greek that covers Marrickville and a Thai one in the Thai town area of the CBD. All three were fun, informative and super delicious. Gourmet Safari – bookings one Gourmet Safari website.

Taste Cultural Food Tours have eight tours that cover a variety of suburbs and highlight the cuisines that have become popular in Sydney over the years.

Learn about the history of the area, taste plenty of good food and discover facts about Aussie culture. Tours last between 3-6 hours. Options include the Chinatown food tour or a tour that explores Australian Cuisine and heads up the Parramatta River.
Check out our detailed Sydney food tour reviews
Try a Famous Aussie meat pie
The traditions Aussie meat pie featured minced beef in a nice dark gravy. These days there are as many variations on this as there are letters in the alphabet. I am still partial to a good mince pie, but a lamb shank pie will win over me any day. And while the filling is essential, the pastry is equally so. It should be flaky and light and cooked until it has a beautiful golden tinge to it. So let's check out some good contenders for the cities top pies.
Sydney's first food truck Harry's has been operating at its original location on Woolloomooloo wharf since the 1930s. The star of the menu here is the Tiger Pie a beef pie with mashed potatoes, mashed peas and gravy, also known as a pie floater.

Harry's is an old school pie, the pastry is not that flaky, but the experience of eating a pie and peas is very Australian and can't be left off the list.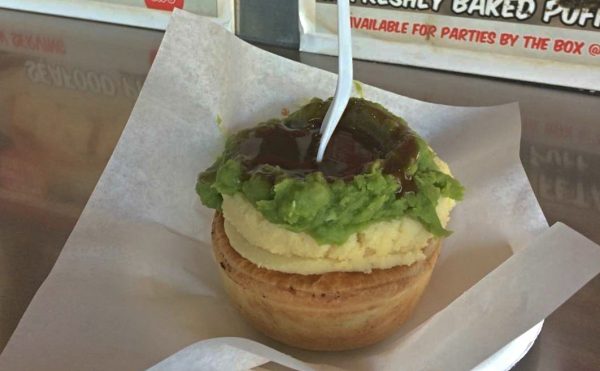 For a couple of years, we lived across the road from the Bourke St Bakery at Alexandria; this was not a good thing lol! We sampled a few too many pastries on lazy Saturday afternoons.

There are usually three meat pie options here, the beef brisket with red wine, a chicken and sweet potato and beef, beer and bacon. While all three are well done, the brisket is the stand out for me and deserves a place on the best pie list.

Bourke Street's pies are among my favourite in the city if you have room check out the pork and fennel sausage roll while you are here.
Finally, Infinity Bakery in Paddington and Darlinghurst offers some of the best pastry in the city for me. The standout in their pie collection is the chicken and mushroom.
Where to find the best meat pies in Sydney

Harrys Cafe de Wheels – Woolloomooloo for the original which is an integral part of the experience here.
Bourke Street Bakery – lots of stores but Barangaroo and Surry Hills are most logical for visitors.
Infinity Bakery – Paddington to eat in and Darlinghurst for take-away
Snack on the cities best-fried chicken
While it may well kill you fried chicken is the secret guilty pleasure of many of us. In recent years a bunch of speciality chicken shops have opened around the country.
Belles, a chain that began in Melbourne, has taken Sydney by storm in the last year. We recently visited and tried the Bucket, 16 wings with four southern sides. You can choose the intensity of the marinade with four versions on offer from mild to very hot. Best enjoyed with friends so you can sample the full menu.
Thirsty Bird in Potts Point is my personal favourite. Juicy southern fried chicken and burgers at a reasonable price with lots of great sides on offer like potato gems, waffle fries and coleslaw.
Sydney has some excellent Korean food, and their KFC or Korean fried chicken is pretty epic. The serving at Sparrow Mill is one of my favourites. Crispy and tender, there are so many versions, 16 in total to choose from. They come with a choice of two bases, a fried base and a new ICG (Incredible Chicken Gagnjung) version that is said to be healthier. Regardless of your choice, both are delicious. Check the range here.
Where to find Sydney's best chicken

Belle's – Steam Mill Lane, Haymarket and Barangaroo waterfront
Thirsty Bird – Bayswater Road, Potts Point
Sparrows Mill – Liverpool Street or Goulburn Streets Sydney
Sample the goods at one of the cities small distilleries
The inner-west of Sydney is home to a whole bunch of fantastic craft breweries our distilleries are a little more spread out.
You could easily walk straight past Poor Toms and be none the wiser. Located in a nondescript red brick building in the industrial landscape of Marrickville you best take note of the street number because this is a bar that gin lovers should not miss. The microdistillery began as a result of a hugely successful crowdfunding campaign and four years later has a cellar door and bar selling three different gins with unique Australian flavours.
Archie Rose popped up a short walk from home in 2014 and has gone from strength to strength, winning multiple international awards for their spirits. With handcrafted gin, vodka and whisky on offer, a few hours on a tour or in the tasting room is time well spent for spirit lovers. Tour the distillery with four tastings for just $30. If you prefer you can enjoy well-priced cocktails in the bar. Be sure to try the signature old fashioned, served with an Aussie twist, lemon myrtle and orange bitters.
I was first attracted to Manly Spirit Co. because of their beautiful packaging, but I was won over because of the great tasting gins. The point of difference with their gin is the Australian marine botanicals, things like sea parsley and sea lettuce, who knew these ingredients were even a thing! I am particularly partial to their citrus gin which features lemon myrtle and Meyer lemon. Head here for a tour and tasting for under $30.
They also make vodka, whiskey and limoncello and coffee liqueurs.
Where to find Sydney's distilleries

Poor Toms – Chalder Ave, Marrickville
Archie Rose – Dunning Ave Rosebery
Manly Spirits Co. – Winbourne Rd, Brookvale
Check out Sydney's take on the humble burger
We may not have perfected cooking burgers to the perfect medium-rare consistency thanks to our strict food laws, but you can still get a great burger in Sydney. There is a Facebook group, Fatties Burger Appreciation Society, dedicated to hunting down and recording the best finds across the city.
Bar Luca just a few minutes walk from Circular Quay is the home of the Blame Canada burger, something that should not be attempted without the support of good friends. It's simply too much goodness on one plate if you ask me but in saying that it's perfect to be shared! A 200g wagyu beef pattie, American cheddar, maple glazed streaky bacon and maple aioli and don't forget the poutine!
I am also a fan of Mary's in Newtown. The Mary burger is an old school American style burger
Finally, Bare Grill at La Perouse never disappoints. The burgers here are a perfect reward for finishing the Henry Head walking track. With 16 burgers to choose from, there is something for everyone. Try the Aussie outback with beetroot and egg added for a real Aussie experience.
Vegetarians and Vegans might like to check out Soul Burger, the people that pioneered plant-based burgers in Sydney.
Where to find Sydney's best burgers

Bar Luca – CBD and Darlinghurst
Marys – Newtown and CBD
Bare Grill – La Perouse and Surry Hills
Soul Burger – Randwick, Glebe and Surry Hills
Drink in the cocktails and views at a rooftop bar
There are a bunch of good rooftop options in Sydney, so we have chosen five that will give you very different experiences.
One of the most iconic nighttime harbour shots can be snapped from the Bar Blu, on level 36 of the Shangri La hotel. Technically not a rooftop bar at all but who cares about technicalities with a view like this. If you want a perfect Instagram shot with your drink, this is the spot to come. Head here early to midweek at sunset for the best experience.
Next and one of my favourites is the Henry Deane located at the top of the Palisades Hotel. This beautifully restored pub sits on the hill where The Rocks meet Barangaroo and offer 360-degree views of the city, west to Balmain and the Parramatta River and east to the iconic duo we all know and love. Along with the magnificent views, the share plates and cocktails up here are excellent. One big tip – don't visit on the weekend. It's just too crowded to be fun. This bar is a great spot to catch a Sydney sunset; early midweek is best.
Zephyr won me over pretty quickly with its massive gin cocktail list and shiny Darling Harbour views. You can't see the Opera House or the Bridge, but the water views and pretty lights over Darling Harbour easily make up for that. On Saturday nights you get a great view of the fireworks too. Once you have enjoyed your drink here check out the great eats at nearby Barangaroo.
Where to find drinks with a water view in Sydney

Bar Blu – Cumberland Street, The Rocks,
Henry Deane – Bettington St, Millers Point
Zephyr – Sussex Street, Sydney
Coogee Pavilion – Dolphin St, Coogee
Munch on a crusty roll filled with all things good
Mr Crackles is the sort of place where you could quickly develop an addiction. Their pork rolls are filled with delicious and perfectly roasted meat, fresh Vietnamese style salad and topped with crunchy crackling.

If you are not a bread lover, you can also buy the pork by the gram. These rolls are wonderful anytime but are the perfect late-night eat with a 4 am closing time on Friday and Sat night. They also make a great hangover cure!
If you are a lover of the Vietnamese favourite banh mi, Marrickville Pork Roll should be on your list for a lunchtime stop. Along with being a total bargain at only $5.50, this roll is full of goodness.

Crunchy bread rolls that are soft and fluffy inside, perfectly pickled carrots and fresh veggies, smooth mayo, tasty pate and your choice of pork or chicken to finish it off. Add some chilli if you are brave. The original outlet in Marrickville is the place to go for the full menu, but the new shopfront at Steam Mill Lane is almost as good and perfect for visitors.
Where to find the best rolls in the city

Mr Crackles – Oxford St Sydney
Marrickville Pork Roll – Quay Quarter / Illawarra Rd Marrickville
Feast of the best of Malaysia
Sydney has a surprisingly large number of Malaysian restaurants, and many of them are excellent. If you have not tried Malaysia food before this is as good a place as any to get an authentic Malaysia meal.
My current favourite is Ho Jiak in Haymarket, right opposite Paddys. There is an extensive menu here, and after several visits, we have managed to taste most of it. My two favourite dishes are the Tau Eu Bak, braised slow-cooked pork belly in soy sauce, the Belacan Kangkung, stir-fried greens with shrimp paste & chilli and the Char Koay Teow. The staff are really friendly, and if you are not sure what to order, they will help you based on your taste.
If you want to sample some great Malaysian desserts, then I suggest Mamak in Goulburn St. The regular menu is great, but for me, the fun starts at dessert. The sweet roti dishes like roti tisu, are paper thin and delicious, the Ice Kacang with red beans, sweetened condensed milk and shaved ice is an excellent introduction to Asian desserts. Finally, my favourite is the Cendol, noodles made with Pandan leaves and served with coconut milk and ice.
If Laksa is more your thing, the ever-popular Malay Chinese Takeaway has been serving one of the cities best versions for 30 years and still has a queue every lunchtime. Arrive early before the midday rush, and you may find this is the best $12 lunch in the city. They have just closed at their iconic Hunter Street location but will open soon on George Street.
Where to find our favourite Malaysian restaurants in Sydney

Ho Jiak – Hay Street Haymarket
Mamak – on Goulburn St City
Seafood lovers will probably already have the Sydney Fish Market on their list. While the market is not the most picturesque place, it is the biggest in the southern hemisphere. Plans were recently announced for a brand new market to be built next door.

Oysters nights, every Wed and Thursday at The Morrison are a great way to sample some of the cities best for only $1.50 each. The full menu features over 30 varieties of Australian Oysters and has plenty of options for the non-seafood lover in your group. You will find the bar just a short walk up from Circular Quay.

Eating fish and chips by the harbour is hard to beat. The best fish and chips I have had in recent years is at Bottom of the Harbour Seafoods at Balmoral Beach. We usually reward ourselves with lunch here after completing the Taronga to Balmoral walk. The menu is varied so you can choose to be healthy and stick to grilled fish and salads or indulge on Charlie's favourite, potato scallops!
If you would like a hands-on Sydney seafood experience, then check out these Sydney Fish Market cooking lessons. The lessons, held at the Fish Market, run for 3-4 hours and include a demonstration and hands-on class as well as a meal and a glass of wine to finish. You learn so much about seafood in the process and get an apron to take home as a souvenir. This class is loads of fun.
Where to sample Sydney's seafood

The Morrison – George St Sydney
Bottom of the Harbour Seafood – The Esplanade, Balmoral
Sydney Fish Market – Pyrmont Bridge Road Sydney
Want more ideas of what to eat in Sydney