Restaurants with a View of Sydney Harbour
If dining with views of Sydney Harbour is on your wish list, then we have you covered. These restaurants offer amazing views of the Sydney Opera House and Sydney Harbour Bridge AND great food. We have listed options at various price points, so no one misses out.
Special Occasion Restaurants with a Harbour Bridge or
Opera House View
If you are looking for restaurants with a view of Sydney Harbour to celebrate a proposal, anniversary, special birthday or another memorable occasion, it would be hard to go past these local favourites. Along with spectacular views, they offer 5-star service and food to match.
Price guide
$$ – mains approx $20-25
$$$ – mains $25-35
$$$$ – mains $35-45
$$$$$ – degustations over $150 or $50 mains
Bennelong Restaurant Sydney Opera House
Bennelong's location inside one of the iconic shells is the perfect place for a memorable meal or celebratory drinks. The architecture shines, and glimpses of the harbour through the glass sail as your dine enhances the experience immensely.
We celebrated our last wedding anniversary here, and it certainly lived up to the hype for us. Bennelong's Executive Chef is Peter Gilmore, whose Quay restaurant, which sits directly across the harbour, has held a spot in the worlds best restaurant lists.
The menu focuses on Australian produce and includes some vegetarian options. The desserts are a standout, so if you have to stick to two courses, be sure to include dessert. The cherry jam lamington and the very stunning pavlova below are among the signature dishes here.
This is a fine dining experience where the view and atmosphere are every bit as special as the food. Some people might find the serving sizes small but if this is a concern, ask your waiter for some recommendations of the more substantial meals.
Where: Sydney Opera House
When: Lunch from Thurs- Sun 12pm – 2:15pm Dinner service from 5:30-9pm,
Reservations needed: Recommended – more details on the website.
Approx cost: $$$$ 7 course tasting menu $210
Aria
Aria's sits on East Circular Quay with views over the harbour and amazing Opera House views from most of the dining room. We have not always had a great view, but if you book in advance, you should be fine.
They have pre-theatre (from 5pm) and post-theatre (from 10pm) 2 and 3-course menus. There are vegetarian, vegan, gluten-free, and other special dietary menus available, and they are happy to work with your needs. Just mention it when booking.
Where: 1 Macquarie St, Sydney
When: Weekdays & Sun. 12pm-2:15pm & 5:30pm-10:30pm Sat 12pm-1:30pm & 5pm-11pm
Reservations needed: best to book in advance, especially for a window table.
Approx cost: $$$$ 2-course lunch $90, 2-course à la carte pre-dinner menu 90, three-course $150, tasting menu $210 (various prices with matching drinks)
Quay
Quay has appeared on the list of 50 Best Restaurants in the World and awarded three Hats in the Australia Best lists for more than 15 years. It was recently renovated and has opened with a new menu which I must admit I have not yet tried.
The restaurant sits at the end of the Overseas Passenger Terminal directly opposite the Opera House and has amazing views. These can sometimes be obscured at lunchtime with ships in port; you can check the port schedule here.
Where: Upper Level, Overseas Passenger Terminal, The Rocks, Sydney
When: Lunch – Friday, Saturday and Sunday 12-1.30pm or Dinner Daily 6- 9pm
Reservations needed: Highly recommended – book online.
Approx cost: $$$$ 10-course tasting menu $295, 6-course $240 – drink packages available.
Cafe Sydney
I have had many a long lunch on the balcony at Cafe Sydney, which feels very much like sitting in the dress circle of Sydney Harbour. If you would like to be seated on the terrace, you really need to make a reservation.
I find the serving sizes are more generous here than at the previous restaurants, so if you have a hearty appetite, you might be happier here.
Where: 5th Floor, Customs House, 31 Alfred Street, Circular Quay
When: Mon-Sat 12 noon- late, Sun 12 noon for lunch only
Reservations needed: Recommended, especially for the balcony. Book here.
Approx cost: $$$ al-la-carte entrees $30ish main dishes $40ish
Altitude
Altitude Restaurant in the Shangri La Hotel has what I consider the best indoor view of the harbour in the city. This award-winning restaurant is also home to arguably the cities best pastry chef, Anna Polyviou.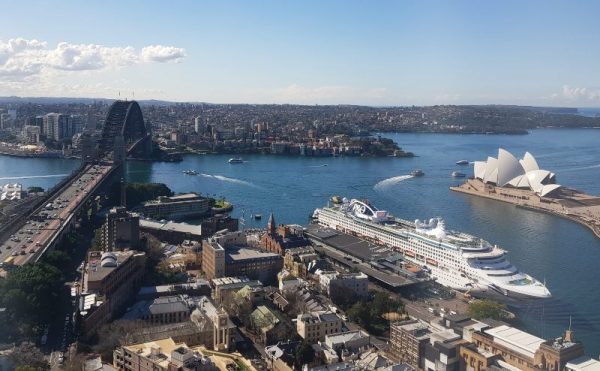 The modern Australian menu features locally sourced seafood quality meats but the vegetarian options seemed limited to me so I would enquire first if this is important to you.
On our last visit, we enjoyed the 2-course lunch menu for $65. For an extra $45, you could pair it with the Sommelier wine suggestion. I like lunch here because you get to make the most of the view. If you do choose dinner, try to time it for sunset.
Don't miss Anna's Mess, a mascarpone and vanilla mousse, with raspberry curd, and crackling crunch, pop-rocks.
Where: 176 Cumberland St, Sydney NSW 2000
When: 11am till late 7 days
Reservations needed: Often possible the last minute for lunch
Approx cost: Lunch – $65 2-Course | 3-Course $80 Dinner – $125 2-Course* | 3-Course $145 (dinner special available Sunday to Thursday only) See the full menu here
Mid-priced Harbour View Restaurants
Opera Bar
Opera Bar is another great casual option – with live music in the afternoon and most evenings and a varied menu that will suit most diners. This is the perfect spot for a lazy late lunch or early dinner. Often touted as the "best beer garden in the world", it offers lots more than just beer!
The menu features shared platters, pizzas, seafood and salads. There are not very many vegetarian options, but I do really love the cauliflower dish. Oh, and the coconut pannacotta is delicious!
Where: Concourse Sydney Opera House
When: Mon to Thur 10am – 12am, Friday & Sat 10am-1am Sun 9am-12am
Reservations: breakfast and weekday lunch – other times not taken
Approx cost: $$-$$$ Check the menu here
Opera Kitchen
Opera Kitchen sits right next to Opera Bar and but offers a different style of menu more in line with an Aussie pub menu. This is the type of food you will find in most suburban pubs.
The breakfast menu is excellent – if you have not tried smashed avo on toast, now is your chance. They also have a great range of salads, burgers, Asian bowls and popular casual Australian style main courses.
Where: Lower Concourse Sydney Opera House
When: 7 days, 7:30am-11am Breakfast,
Reservations needed: No
Approx cost: $$-$$$ Check the menu here
Ripples North Sydney
Ripples North Sydney is currently closed for renovation

Located almost underneath the Harbour Bridge at North Sydney. With indoor and outdoor seating, you will likely have a view wherever you are seated.

The food is Italian inspired, and the servings are large. Sometimes service slips when they are busy, but you have such a beautiful outlook; this has never bothered us.

Have a wander in Wendy's Secret Garden, explore old fashioned fun at Coney Island and try a preswim lunch at North Sydney Pool
Where: 1 Olympic Drive, Milsons Point NSW
When: Open for breakfast, lunch and dinner – check the website for exact times
Reservations needed: recommended – can have dessert and coffee only after 9pm
Approx cost: $$ (breakfast) -$$$ (lunch and dinner)
Affordable and Budget Options
MCA Rooftop Cafe
The menu at the MCA rooftop cafe changes regularly with the food complementing the current exhibitions.
There is a range of salads, main courses, and some great house drinks.
This is a good casual spot, and it's likely everyone in your group could find something to suit their taste and budget. You can also go for coffee or a drink.
Where: 4/140 George St, The Rocks NSW 2000
When: Daily 10am-5pm, Wednesdays: 10am–9pm (last orders 8.30pm)
Reservations needed: Not taken
Approx cost: $ (breakfast) -$$ (lunch and dinner) – see menu
Glenmore Hotel
The Glenmore is an old school Aussie pub with a lovely rooftop view over the harbour. There is limited seating on the roof, so arrive early or make a booking on the website.
They offer daily specials, including a Monday steak chips and salad for under $15 all day.
Where: 96 Cumberland St, The Rocks
When: Mon-Thur- 11am-Midnight, Fri-Sat 11am-1am, Sun 11am-Midnight
Reservations needed: Not taken for the rooftop
Approx cost: $ (breakfast) -$$ (lunch and dinner) – see menu
Bella Vista Manly
Located at South Head just near Manly the Bella Vista Cafe is open for breakfast and lunch and offers an Italian menu featuring both traditional and modern Italian dishes.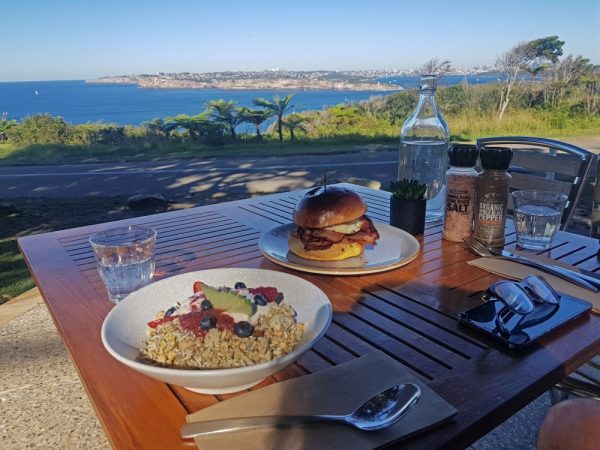 Breakfast with all the usual Aussie favourites is served until 11.30am. Lunch options include pasta, risotto, meat and chicken mains and salads.
Where: 203/33 North Head Scenic Drive Manly,
When: Open 7 days / Weekdays 9am – 4pm, Weekends 8am – 5pm
Reservations: via the Fork or walk in
Approx cost: $ (breakfast) -$$ (lunch) – see menu
How to save money on Sydney restaurants
The Fork – The Fork is a Tripadvisor company that offers 50% off some of the city's most popular restaurants.
First Table – If you don't mind dining early, you can pay a $10 booking fee per table to get 50% off your meal for 2 or 4 diners.
Entertainment Book – This book is actually an app and lets you save between 25-50% off per meal – The app costs $70. So two or three meals and you have your money back. It also covers tourist attractions. If you purchase an Entertainment Book, a small portion of your purchase price will be donated to Sydney Greeters.
Note- many restaurants apply a 12-15% surcharge Sundays and Public Holidays.
Want more Sydney drinking and dining ideas? Check these out: