How to Choose where to Stay in Sydney
Choosing where to stay in Sydney and finding the right hotel or apartment in the right neighbourhood can be one of the most time-consuming decisions of your trip planning. Which area is best? Which hotel best fits your budget? Well, we are here to help.
For most people, a holiday in Sydney is a significant investment in both time and money. Unless you are Aussie, chances are you have spent 8-20 plus hours on a plane to get here.

Choosing the right neighbourhood for your Sydney stay can make a big difference in how much you enjoy your visit. I hope this quick rundown of Sydney's best neighbourhoods helps you make your choice.
This post contains affiliate links. Our full disclosure policy is here.
To help you decide where to stay in Sydney, we have put together our thoughts on the most popular neighbourhoods in the inner city and the pros and cons of each.
If you are in a hurry, you will find our picks for the best areas to stay in Sydney for different travellers in the box below.
Our top areas to stay in Sydney
In a hurry and just want us to cut to the chase? Well, here you go!
Best area for a short stay in Sydney – The Rocks and Circular Quay offers a variety of price points within walking distance of key sites and transport.

Best area for families– Darling Harbour with its family friendly dining and fabulous playground is perfect for families.

The Best area for Budget Travellers – Potts Point and Kings Cross are home to some great affordable boutique hotels.

Best areas for foodies– Surry Hills is a top choice with loads of great bars and cafes followed closely by Potts Point.

Scroll down for our detailed advice on these areas and more and our top picks in each place.
The main hotel areas in Sydney – Getting the lay of the land
Sydney is a very spread out city; it covers a large geographic area. Hotels and major attractions are spread across a few key spots around the harbour and central business district and into inner-city suburbs, areas the city council likes to refer to as villages.

These villages include Surry Hills, Elizabeth Bay, Potts Point, Kings Cross, Darlinghurst, Chippendale, Redfern and Newton. Add to these beach suburbs like Bondi and Manly.
Sydney's main accommodation hubs are in the following areas:
The Rocks and Circular Quay
Central Business District (CBD)
Pyrmont and Darling Harbour
Central and Chippendale
Surry Hills and Paddington
Kings Cross, Potts Point & Elizabeth Bay
Newtown and Redfern
Bondi Junction and Bondi Beach
Manly Beach
Each of these areas has pros and cons which we will expand on below. We have also added some of our favourite hotel options in each spot.

To be included in our list, the hotels need to have good transport connections, offer free wi-fi and have an average guest rating of over 8 on TripAdvisor.

I would happily book any of the hotels listed below and I have either stayed in or inspected every one.
The Rocks and Circular Quay
I think the Rocks are an excellent choice for anyone on a quick visit. If you are a first-time visitor, you will love being right by the harbour. Many hotels here offer water views, making them more expensive than other locations.

Who should stay in the Rocks?
Sydney's oldest streets and beautiful historic buildings share the spotlight with the Harbour and Opera House, and visually, they make a formidable trio.

There are some great old pubs, plenty of dining options and transport to the rest of the city is less than ten mins walk away from even the furthers reaches of the Rocks.
If you enjoy a morning run or walk, this is the perfect place to start the day!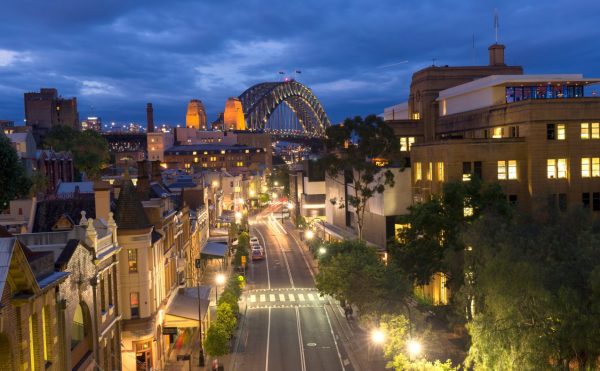 Things to know before you book a hotel in The Rocks
Some streets in the Rocks can be quite a walk to the city centre.
It can get a little loud along George Street on weekends, so choose a room away from the street if you are a light sleeper.
Choose your hotel carefully if you have mobility issues as many properties are heritage listed and do not have lifts.
Hotels in The Rocks and Circular Quay
Budget – YHA Sydney Harbour – the best budget view in Sydney!
The only hostel at this end of town, the Sydney Harbour YHA, is not the cheapest hostel in the city, but it is by far the. With glorious rooftop views and modern, clean facilities, it is an excellent choice for budget travellers, regardless of their age.
Family rooms sleep five and feature a double bed and bunks. Most dorms also have ensuite bathrooms, so you are not sharing with many others. We have shared a full review of Sydney Harbour YHA on our other site.
Check out reviews and current prices of YHA Sydney Harbour
Boutique – Harbour Rocks Hotel
This is a perfect choice if you like your hotels small and friendly. It's positioned just behind George Street in the Rocks, just minutes from the water.

The public spaces in this boutique hotel are charming; I especially like the library. Some rooms have great views, and there is also a lovely rooftop terrace. The hotel does not have a guest elevator, but they take your bags to your room via a service lift.
If you love heritage style hotels as much as I do, then you might want to check this one out.
Check availability and current prices for Harbour Rocks
Mid Range – Rydges Sydney Harbour
Perfectly placed for exploring The Rocks, one of the best things about the Rydges (previously Holiday Inn) in the Rocks is the fantastic rooftop pool area. The views are amazing! The rooms are functional if a little dull and the beds are comfortable.
The Rocks Market is right outside the door on weekends, and there are two pubs within a minute's walk. The hotel is well placed for exploring on foot and only a short walk to Circular Quay.
Read reviews and check prices of Rydges Sydney Harbour
Spluge – Park Hyatt The Rocks Sydney – THE place to impress
If you are coming to Sydney for a honeymoon or special event, then stop looking. You can't go past this hotel. The service and views would be hard to beat anywhere in the world.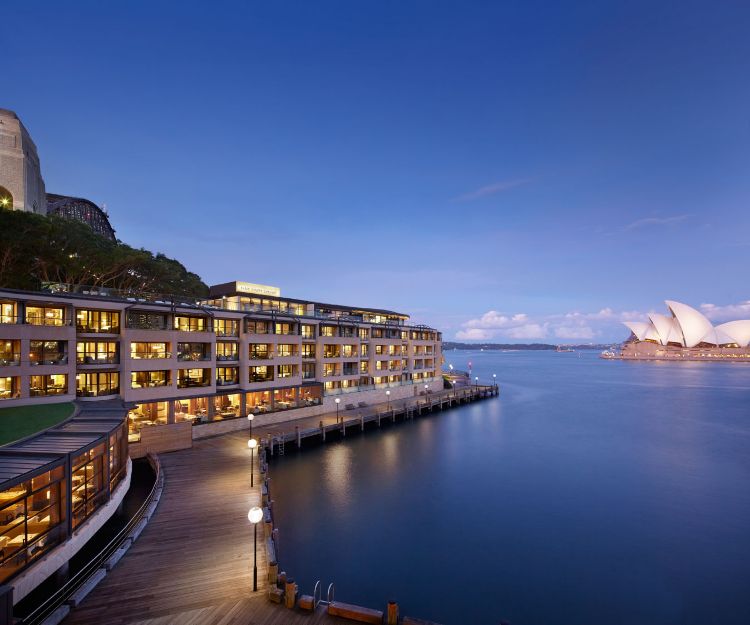 The Park Hyatt has everything you would expect from a 5-star hotel and a lot more. With a rooftop swimming pool and the perfectly positioned dining room, this is a superb choice for honeymooners, milestone birthdays, and A-list celebs.
Martin Place & Wynyard (CBD)
Martin Place and Wynyard station are smack bang in the middle of the area known as the CBD (Central Business District). Shops, bars and transport options are nearby. This area is home to offices, multinational companies, and is the central shopping district.

As for the key attractions, you can easily walk to The Rocks, Circular Quay, Chinatown and even Kings Cross if you enjoy walking as much as we do!
The bulk of the big brand hotels chains are in this area. There are also several serviced apartment buildings.

Who should stay in the CBD?
This area is a fantastic choice if you want to walk to most of the major sites, or if you are partial to a bit of shopping.

Transport is a breeze, with several train stations and major bus routes on your doorstep.

Small bars and dining choices have expanded over the last few years and the area, particularly in the north, offers plenty of choice.
Things to know before you decide to stay in the CBD
Outside business hours, the area around Pitt Street Mall and Martin Place can get pretty dead. Unlike other world cities, Sydney's shops shut early, with the average being 6pm.
There are fewer after hours dining options here although Martin Place has a number of restauarnts in the middle of the mall
You are unlikely to have a pretty view from your window.
Where to stay near Wynyard or Martin Place
This is the northern end of the CBD and includes the areas bordered by Bridge Street, Park Street, Macquarie and Kent Street.
Within a 10 minutes walk from this part of the city, you can reach The Rocks, Pitt Street Mall shopping and Sydney's brand new dining precinct, Barangaroo. There is also a great range of small bars in this part of town.
Train stations at this end of the CBD: Wynyard, Martin Place and St James
There are not a lot of budget options in this part of town, and real estate here is too pricey for hostels. If you are on a tight budget, I suggest you choose another location.
Our Recommended Hotels near Wynyard and Martin Place
Budget -Mercure Sydney Wynyard
Previously branded as Travelodge, this is now a Mercure, a good functional tourist hotel, but the location and the price make it a reasonable option. There are two Mercure properties in this part of town; the other is at Martin Place. However, I think this one is the better choice for leisure travellers, as you can walk to The Rocks or Barangaroo in less than 10 minutes.
Check availability, reviews and current prices of Mercure Wynyard
Mid Range – Little National
The thing I like more about the Little National are the communal areas. The guest only rooftop bar has great ambience and is a lovely spot for an evening drink. The lounge area is plush, super comfortable and offers a free guest library, all day tea, coffee and sparkling water.
There is also a good workspace making this an excellent choice for business travellers or anyone who wakes up hours before their partner like I do!
Check out photos of the rooms and availability of Little National
5 Star – Hyatt Regency Sydney
Sydney's largest premium hotel has recently done a major refresh with fresh nautical colour scheme and black and white images of the harbour a feature.
Harbour view rooms offer a Darling Harbour aspect, the perfect vista for enjoying a Sydney sunset.
Check reviews, availability and prices for Hyatt Regency Sydney
Splurge – QT – 5 Star and Special
Quirky and sexy are words you hear a lot when people are describing this hotel. Opening in 2016, the QT space used to be part of the iconic menswear store Gowings.
They have kept the art déco features and added a bunch of sass, including the staff uniforms, to make this one of the unique hotel experiences in Sydney. If you are planning a shopping holiday, you will love this location. It's also right next door to the State Theatre if you are heading to a show.
Check reviews, availability and prices for QT Sydney
Hotels Around Hyde Park & Museum Stations
This end of the CBD is the perfect part of town for shoppers, Asian food lovers, budget travellers, and also a good choice for families. While it is a 15-20 minutes' walk from the waterfront, you have Hyde Park, Museums and Darling Harbour only a short stroll away.
Train stations at this end: Town Hall, Museum
Hotels in the southern CBD area
Budget – Hyde Park Inn – Top Choice for Families
The Hyde Park Inn is a good option if you need 3-5 beds in one room. It is also usually excellent value for money. The hotel is only 50 metres from the exit of Museum Station, making it an easy train commute from the airport. The rooms, while nothing fancy, are spacious and have a small kitchenette for when everyone is too tired to bother going out to eat.
Free parking is sometimes included, so be sure to ask if you are bringing a car to Sydney. This is an excellent choice for larger families and groups.
Check the prices and availability of Hyde Park Inn
Family size apartments – Oaks Sydney Hyde Park Suites
On the other side of the park Oaks Sydney Hyde Park Suites The park across the road offers plenty of space for kids to run around, and if you are lucky enough to get a room on top floors, you have great views over the park.
With studios, one and large (80sqm) two bedroom suites that can sleep up to 5 people.
Check the prices and availability of Oaks Sydney Hyde Park Suites
Mid Range – Swissotel – family-friendly and perfect for shopping
The Swissotel has kids' rooms that feature kid-size furniture and linens in bright colours for young children. The hotel is also well located if you are travelling with teens who are keen to hit the shops. There is a heated outdoor pool to keep everyone entertained.
Hyde Park is just a 2-minute walk away, five minutes in the opposite direction and you will reach Darling Harbour and Cockle Bay Wharf. A great choice for shoppers and families.
Check the current prices and availability of Swissôtel
Splurge – Kimpton Sydney – An art deco lovers paradise
While it is not much to look at from the street, this art déco glamour is hiding some pretty unique interiors. The building was previously the headquarters of the Water Board and opened in 2017 to rave reviews.
The rooftop pool and heritage fit-out have been beautifully done. A great choice for singles and couples, it's well placed for transport and shopping, and walking distance to Darling Harbour.
Formerly known as Primus Hotel
Check out prices, availability and lots of gorgeous shots of the interior of the Kimpton
Darling Harbour & Pyrmont
Previously a working-class port, Darling Harbour and adjoining Pyrmont were redeveloped for the 1988 Bicentennial celebrations. These days it's a favourite spot for family dining and weekend festivals. It's also home to several popular attractions including the Star Casino, the Maritime Museum and more cafes and restaurants than you can possibly eat at in a week!

Who should stay in Darling Harbour?
This is a fantastic spot for families to stay with lots of activities and kid-friendly dining options and green space to run around right on your doorstep.

The recent development at the southern end, Darling Square, has made it a foodie hotspot too!
What are the cons? The area is connected to the city via the light rail or ferries, but neither option is a quick trip. It is an uphill walk to Pitt St Mall and the other city sites.
Hotels in the Darling Harbour
Ovolo Darling Harbour – great for couples and groups of friends
This hotel, a warehouse conversion, opened in 2016 and has become a firm favourite of mine in this part of the city. The soundproof rooms are well fitted out, and they have paid extra attention to comfort with great quality linens, fantastic showers and Apple TV.
There are self-service washers and dryers available; this is one thing I love when I am travelling, and it's important for longer stays in Sydney as there are very few options for affordable washing anywhere in the middle of town. They also offer a free minibar that is topped up every day.
This is one hotel where it pays to book on the hotel's own site as there are a bunch of extra freebies added for direct bookings. The location makes it a bit of a hidden gem, but it's only 300m from the light rail station and a short walk to Darling Harbour.
Check prices and read reviews of Ovolo Darling Harbour
Aiden Hotel
With gorgeous one of a kind botanical murals by local artist Jessica Le Clerc on the walls of each of its 88 guest rooms, this beautiful hotel is a welcomed addition to Pyrmont.
The hotels offers a range of creature comforts including an excellent bed, pillow menu and luxurious bathrooms. Add extras like a Dyson hairdryer and a Nespresso machine and Moda water taps for refilling sparkling and still water on each floor.
The Aiden offers a very comfortable space to return to after a day of sightseeing. The hotel is great for couples and singles. Digital nomads or business travellers will enjoy the ground floor work space and great wi-fi.
Check prices and availability of the Aiden Hotel
The Darling at the Star Casino – great for a splurge
It is a few years since I stayed at the hotel in the Casino and I have not stayed in this most recent remodel, however it looks fantastic, and by all reports, the service is excellent. If you like late-night entertainment, this is one of your best choices in the centre of town because The Casino complex sits just outside Sydney's ridiculous lockout zone.
It's also a delightful spot for cashed-up foodies with some delicious dining in the complex.
Check out reviews and photos of the Darling at the Star
Novotel Sydney Darling Square – a good option for families
The Novotel Darling Square is a good option for families; the standard room has two double beds, perfect for families travelling with children. Located behind the Pumphouse bar and brewery and within walking distance of the Darlig Harbour plaground, Maritime Museum, Aquarium, and Wildlife world. The light rail and the ferry stop just a few minutes' walk away.
Check the price of the Novotel Hotel Sydney at Darling Square
Central Station
Central Station is the main train and regional bus hub of the city; it is also the primary location for budget accommodation. To the western side of the station, you will find youth hostels, Paddy's Market and Chinatown, with all its delicious, cheap eats. On the east is Surry Hills where bars, exciting food and hipsters rule.
Why should you stay near Central Station? This is a budget central and a great spot for anyone arriving in Sydney by bus or train. Perfect for backpackers with lots of tour agents and hostels and bars where you can meet other travellers. Close to Chinatown and Surry Hills, it is easy to find cheap food.
What are the Cons – Like all transport hubs the streets here are not very picturesque, and some parts can feel a little seedy.
Hotels near Central Station
Budget – Sydney Central YHA
The largest hostel in Sydney, Sydney Central YHA is located 2 minutes walk from Central Station
There are also good public spaces, laundry facilities, a pool and family or ensuite rooms available. After the YHA in the Rocks, this would be my choice for a hostel bed in Sydney.
Check out the rooms and prices of YHA Central Station
Mid range – Adina Apartment Hotel Central – great for self-catering
We had a staycation here for my birthday a couple of years ago as we saw a show nearby. I was impressed with the size of the apartments and felt like I could have easily had an extended stay.
With full kitchens and the markets within walking distance, making it easy to prepare some of your own meals to keep costs down. While the area is not picturesque, transport to all parts of the city is right at your door. Despite the traffic outside the hotel, I found the room quiet. Studios, one and two-bedroom apartments are available.
Check the prices of the Adina Apartment Hotel near Central
Paddington and Surry Hills
Surry Hills and neighbouring suburb Paddington are perfect spots for foodies or anyone looking for a more local experience than the prime tourist locations above. I have lumped them together here because of geography, however they are quite different in atmosphere.
Paddington
If you are someone who prefers to pretend, you have moved to a new city rather than being a visitor in the main tourist hotspots, check out these inner-east suburbs or villages as the local councils promote them.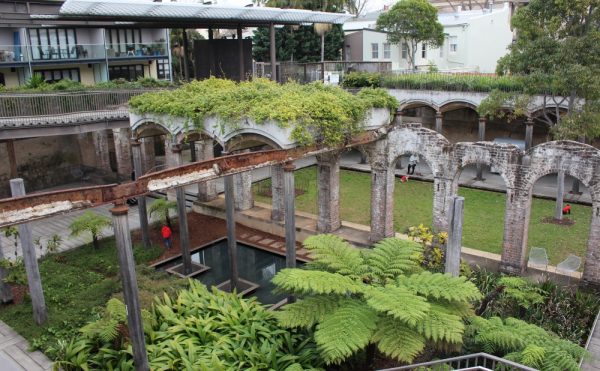 Who should stay in Paddington?
About halfway between the CBD and Bondi Beach, Paddington is home to small independent shops, lots of lovely cafes, several historic pubs and newer bars and the Victoria Barracks and Paddington Reservoir and famous Paddington Markets.
Paddington is home to some of the inner cities' prettiest streets, the area is well supported by buses and only a 20-minute walk to the city.
Cons: No major drawbacks other than there are no iconic sites nearby, and dining can be a little on the pricey side.
Hotels in Paddington
Boutique – Mrs Banks Hotel
One of the newest hotels in Paddington, the Mrs Banks Hotel, offers 30 rooms in a beautifully renovated art déco style building that was a branch of the Commonwealth Bank in its previous life. Opening in September 2017, the rooms are well-appointed, and the service is outstanding. Little touches like complimentary Tims Tams, water and Nespresso, are much appreciated.

The location is perfect with buses to the city and the beach almost at the door. You can walk to town if you fancy a little exercise. This is a brilliant choice for couples and solo travellers.

Look at the photos and reviews of Mrs Banks Hotel
Pet Friendly – Hughenden Boutique Hotel
Build in the 1870s, this Hughenden is a pet-friendly hotel with several rooms for those travelling with their furry friends. The hotel offers a variety of room sizes, some with small kitchenettes. Most rooms have recently undergone renovation. The hotel is also just a few minutes' walk from Centennial Park, perfect for dog walks or early morning runs. The service is super friendly, and one of my favourite buses, the 389, runs right by the door.
Check out the rooms and read reviews of the Hughenden
Surry Hills
Only 1 Km from the CBD and sandwiched between Central Station, Paddington and Darlinghurst Surry Hills is home to 23 pubs, leafy streets of Victorian terraced houses and an eclectic mix of residents.

Who should stay in Surry Hills?
OK, so they consider Hipster a derogatory term these days, but for many locals that is the image that comes to mind when they hear Surry Hills. Think cold brew coffee, food that provides much Instagram hype and plenty of creative types strolling to work.

Seriously though, there is lots of great food here, plenty of places to get a good drink and it's within walking distance to the city. If you are an active type, there are also excellent public transport connection.
Cons: 30-40-minute walk to the harbour and major sites
Hotels in Surry Hills
Boutique – Crystalbrook Albion
Hidden away in a quiet laneway is this gorgeous small guest house that punches way above its weight in both service and style. A considerable amount of thought has gone into the design, adding lots of little touches that make you feel really welcome from the honesty bar to the selection of milk from Almond to skim and everything in between.
The staff are welcoming and helpful, making sure you have everything you need. The decor is a mix of the 1920 and 1970s with some exciting art choices and giving a unique feel to the place.
Check out more photos of the gorgeous Crystalbrook Albion
Mid-Range Adge Apartments
Modern two bedrooms and two bathrooms apartments just a few minutes' walk from the action on Crown Street. These apartments have lots of great inclusions like good quality coffee machines and apple docks. Some apartments have balconies, and all have laundries. I am not a fan of the multicolour flooring, but other than that, this place is a great choice and only a few minutes' walk from Oxford Street.
Check out the photos of the property (and the funky carpet) and find current prices
Self Contained – Adina Apartments
We have had three stayed here over the years for hens nights and birthdays. The apartments are well located for more extended stays with plenty of local eats at your doorstep.
The spacious apartments feature full size kitchens and bathtubs. There is a courtyard, a swimming pool and barbecue area.
Check out the most recent reviews at TripAdvisor before you book.
My friend Jean, over at Travelling Honeybird has written a guide to Surry Hills that is packed with good tips if you are thinking of staying here.
Kings Cross and Potts Point
Once the city's red-light district these days, the Cross and surrounding areas of Potts Point and Elizabeth Bay are far more sedate.
My favourite thing about this part of town is that it has kept so many of the beautiful Victorian homes that sprung up in the 19th century when the colony finally had some wealthy residents. The streets are full of trees, and there are lots of lovely harbour views waiting to be found.

Who should stay in Kings Cross?
This is a great location for couples looking for some nightlife. The area has handy transport connections with both a train station and several principal bus routes.

Hotels are less expensive, and there are some outstanding two 3-star boutique options here. The leafy back streets are filled with cute cafes, small bars and restaurants and lovely homes from the early 1900s.
Some guide books might still refer to this area as a little rough, but I find it less so than some streets at the western end of the CBD near Central Station and always feel safe here.
Before you decide – this area would not be my first choice for families as there are few child-friendly activities in the area and some streets are quite steep for little legs and prams.
Hotels in Potts Point and Kings Cross
Boutique – Hotel Challis
This hotel is a restored terrace house has few bells and whistles, but the location is fantastic, and the King rooms are well priced for Sydney. It's an 8-minute walk to Kings Cross Station or a 25-minute walk to the Quay.
Read reviews and check the prices of the Hotel Challis
Budget – The Jensen
Located on leafy Macleay Street, the Jensen is a great choice if you are happy with a shared bathroom situation. Personally, I am past this, but the hotel is lovely in every other way. The individual bathrooms and just a few steps from your room, so it's not a big deal for most people.
Read reviews and see if the Jensen is for you
Newtown
Who should stay in Newtown?
Foodies and lovers of alternative arts will enjoy a stay in Newtown. Think street art, craft beer and cafes as far as the eye can see; there are so many places to eat along the high street here it would take you a few months to cover them all.

Newtown was once a grungy university suburb home to every subculture you can imagine, but these days it has been significantly gentrified. While it has kept its bohemian feel, for now, the introduction of the lockout laws has attracted a more mainstream crowd to the area on weekends, which might endanger that.
Newtown only has one hotel, and the reviews of late have been mixed, so I would rather not recommend it just now. It's a great area to look for an Airbnb or holiday rental, though.
Bondi Beach
Who should stay at Bondi Beach?
If you want to spend more time on the beach than checking out the sites, that this is a good choice, plenty of dining options (a superb choice for vegetarian and vegan travellers). It attracts a young backpacker crowd and can be a lot of fun if you fit the demographic!
Check out our Insider's Guide to Bondi for lots more on the popular part of town.
Before you book you should consider: Traffic getting in and out of Bondi is a nightmare most of the time. While there are plenty of buses up to the Junction, it can take ages to get there. From here it's only a 10 minute train ride to the city, but some days it can take 30 mins on the bus from the beach to the station.
Hotels in Bondi
Self Contained – Adina Apartments Bondi Beach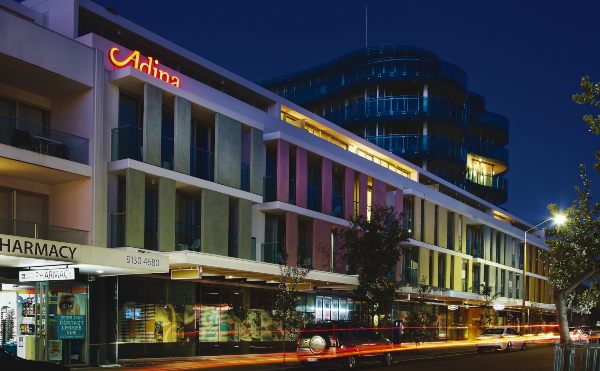 If you plan on staying a while, these apartments are perfect for giving you a holiday during your holiday. All the comforts of home, including full kitchens and comfortable lounge furniture. It's an easy walk to the beach, and there is a nice small pool that is undercover and good for hot days. The layout of some rooms is a bit confusing, but overall the bigger rooms are a good option for families.
Take a look inside the apartments at Adina and see if they are right for you
Manly
If you are looking for the Aussie beach culture lifestyle that is so often portrayed in the media, this might be perfect.

Who should stay in Manly
In the 1930s, when marketers began flogging Manly to local Sydneysiders as a perfect getaway destination, they coined the phrase "7 miles from Sydney and a thousand miles from care", and they were spot on.
You do feel quite remote from the city centre, which for some can be a good thing.There are plenty of dining options for evenings, and the city is a lovely 20-30 minute boat ride away.
Before you book: You need to factor up to an hour's return travel to do most of your sightseeing. If you are a larger group, you also need to consider the costs of the tickets.
Related: The Best Things To Do In Manly
Where to stay in Manly
Self Contained – Quest Manly at the Wharf
You will find the Quest Manly directly across from the wharf. The property is a large (53 room) property with water views and plenty of room for families.
The apartments here are bright and sunny with great harbour views. They offer studio, and one and two-bedroom apartments that can accommodate a max of 6 people and are close to supermarkets, shops and cafes.
Read reviews on check prices of Quest Manly
If you would prefer a self-contained apartment, try one of these
Where to stay in Sydney with kids
I have an entire article about the best places in Sydney to stay with kids that you should check out if you are travelling with your family.
The best areas to stay in Sydney according to Sydney Expert
So of all these areas, where would I stay?
Which areas in Sydney are the best for a very short stay (1-3 days)? The Rocks and Circular Quay.
Where is the best place to stay in Sydney for families? Darling Harbour or the CBD.
Which is the best area for food lovers to stay? Surry Hills, Paddington or Potts Point.
The best places to stay in Sydney for budget travellers? Potts Point or Kings Cross.
What are some good choices for honeymooners? The Rocks or Manly.
Best places to get a local view of Sydney? Newtown or Paddington.
The best location for solo travellers? Potts Point, CBD or The Rocks.
The best area for a shopping holiday? The CBD.
None of the hotels listed in this post has paid us to include them. Instead, we chose based on personal experience and feedback.

About the author: Paula Morgan, a born-and-bred Sydney resident, has been sharing this city and its secret spots for over 15 years. She's not just about the iconic landmarks; she's all about the hidden alleys adorned with street art, and the joy of discovering a new café or a fabulous restaurant tucked away in a corner you never knew existed and weekends away exploring regional NSW.