Heading to Sydney for a weekend and wondering how to spend 48 hours in the harbour city?  Well, there are literally 100 different ways to spend 2 days here but today we are going to share a weekend itinerary that as locals we love to do often. 
Updated 3/4/19
My Ultimate Sydney Weekend
This weekend pretty much revolves around the harbour and beaches. As a lifelong Sydneysider, I never get tired of seeing it. If you are a visitor to Sydney I think the weekend I have come up with below would be a great way to spend your time in our fair city.  If you are a local why not play tourist for a few days and remind yourself just how lucky we are to live here!
Saturday 
My favourite way to celebrate the beginning of the weekend is to head out for an unrushed session of fresh air and sunshine. What better way to do that than to spend some time walking along the harbour foreshore.  If you are an early riser you might be lucky enough to witness a harbour sunrise. If you don't fancy walking just jump on a Manly ferry and by the time you reach the wharf you might be ready to take a power walk down the Corso to the beach.
I would start the day with a sunrise walk around the Royal Botanic Gardens or the harbour foreshore (you can run if that's more your style).  I love watching Sydney Harbour come to life.  This walk also offers plenty of great photo ops along the way so I can indulge my Instagram addiction and torture my friends too.
Brunch like you are in Asia
Next, to feed the appetite all that early morning activity has given me I would make my way to the Palace Chinese restaurant in the Piccadilly Centre for a Yum Cha breakfast to rival those found in Asia.  The Palace has excellent food and friendly service, something missing in some yum cha spots in Chinatown. If you have never tried this sort of dining take a look at this post of an old Sydney favourite Marigold restaurant on Simon's Food Favourites for ideas.
Check out the Markets
Once you have finished your Yum Cha brunch head to Elizabeth Street and jump on a bus up Oxford Street to Paddington to check out the long-running Paddington Market.
These markets feature fashion, jewellery and craft items. I can never leave without buying a couple of things. Overall the quality on offer here is much higher than other markets in the city and the prices are reasonable.
While you are in the area pop into to check out the Paddington Reservoir Garden, an old water reservoir that was restored and opened at a sunken garden in 2008.
The area also has the largest concentration of
Dinner with a view
Dinner would really depend on my budget – Cafe Sydney or Aria for a splurge with a view or it the credit card was looking grim a quick cheap meal in Thai town, perhaps at Chat Thai or House or a Malaysian fix at Mamak.
I finish the day with some theatre perhaps at either the Opera House or The Wharf. I am also keen to try to catch the latest show in town, Saturday Night Fever is on at the Lyric Theatre or Charlie and the Chocolate Factory at the Capitol Theatre.

Sunday 
After all that shopping and eating, I think I would start on Sunday with a good pace long the Coogee to Bondi walk.  It's so stunning even in the cooler weather of autumn.  I am all about rewards so for finishing the walk I would splurge with breakfast at Bondi – lots of choices here but I usually end up back at one of my old favourites, Gertrude and Alice or Brown Sugar.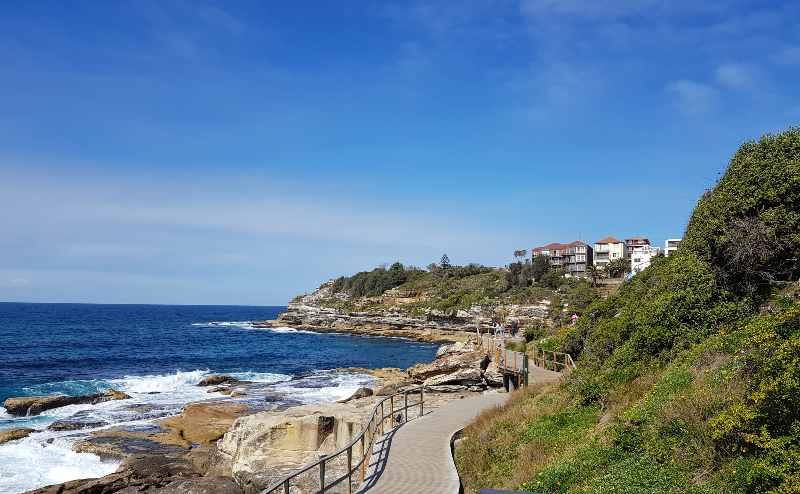 After breakfast, I would check out the Bondi market before heading up Watson's Bay to explore South Head and some of the harbour beaches.
A couple of cold drinks at the Watson's Bay hotel would go down nicely now and perhaps a bite to eat before catching a ferry into the city.
A ferry ride is perhaps my favourite way to end a day in Sydney, the perfect place to catch some sunset shots of the harbour on your way home.

Public transport for my Ultimate Sydney Weekend. 
Regular readers will know I am a public transport advocate so in order to make it easier for both visitors to Sydney and those of you who can be persuaded to leave your cars at home I have included below all the details you need to do this car-free.
Day 1 
Bus or train to Circular Quay
Free bus to Chinatown
Train from Town Hall to Circular Quay for dinner – Ferry to The Star.
Day 2 
Bus to Coogee from Central Station or Circular Quay
Bus from Bondi to Watsons Bay
Ferry from Watsons Bay to the city.