If you are looking for an Airbnb in Sydney for the family, then get comfortable, we have done the hard work and pulled together our favourite properties in Sydney. These are excellent choices when you need an Airbnb to sleep 4 or more.
Why Airbnb is a good choice for families
Two main features make Airbnb a great choice for families, space and price. More space and, therefore, amenities for a lower cost is a key selling point for Airbnb!
For families of four or more staying in an Airbnb is often cheaper than interconnecting hotel rooms. They also offer more space and amenities that on offer at most hotels.
In these uncertain times be sure to choose properties with flexible cancellation and note the last date you can cancel. For the most recent trips we took, we could cancel up until 2 days before at no loss to us.
Tips for choosing Airbnb properties for families.
Trawling through Airbnb listings is not many peoples idea of fun, but we love it! We have hand-selected the properties here based on their location, super host status, and flexible cancellation policies. However, here are some tips that can help you uncover your own great finds.
In some cities, you can search by trip type and then choose "family travel" however this is not a choice in Australia, so a workaround is to filter by amenities and choose things like a high chair or cot. Properties offering these items are likely going to be good choices for travelling with kids.
Be sure to include kids (and infants) when filling in the search form.
Sydney offers the Airbnb Plus option, which means the properties have been inspected by a staff of Airbnb. This gives an added feeling of security that you will get a suitable property.
Look at all the photos carefully – while they may describe the listing as family-friendly it may not necessarily be toddler-friendly – balconies with gaps, open staircases, white fabric sofas. You know your family best so keep these things in mind when scrolling all the photos.
Choose a number of bedrooms rather than just adding the number of guests. Some properties can sleep 6 but have them all in one or two rooms. These are less likely to be family-friendly spaces.
Read all the reviews, are there any from families, has anyone mentioned the back yard or toys etc., things that give away that it is a family-friendly home?
All swimming pools in Australia must be fenced, so this is one less thing to worry about. But in some countries, it is worth making sure that pools and spas are fenced.
Make contact with the host before booking and confirm the availability of any special features you need.
Related: Where to stay in Sydney with kids – Hotel guide
Please note we are Airbnb Associates and receive compensation when make a purchase using these links. Our full disclosure policy is here.
Airbnbs in the Sydney City Centre and Fringe
If you want to stay right in the middle of town, then areas like Millers Point, Hyde Park in the middle of Sydney's CBD, Darling Harbour and Pyrmont are great choices. There are close to parks and gardens for letting the kids run off steam, and family-friendly dining is nearby.
Carinya – 3BR Luxurious Stay in Dalgety Road in The Rocks
Carinya is a heritage-listed terrace house high on the ridge in Miller's Point. This is a great location for exploring the city with public transport just minutes away. You are also surrounded by some of the city's oldest pubs and bars.
There is no back garden here but just a 2 minute walk away is Sydney's newest public park, Barangaroo.

The impressive Barangaroo site is a lovely place to watch the sunset and perfect for walking off one of the great meals you will enjoy in the waterfront dining options nearby.
This Sydney Airbnb sleeps up to six guests in three bedrooms and is airconditioned in all rooms except the 3rd bedroom.
Key features on offer at Carinya include:
big flat screen smart TV connected to the WiFi
high-quality mattress topped with luxurious hotel linens
queen bed in the main bedroom and double beds in 2nd and 3rd bedrooms.
high-end kitchen appliances and Nespresso coffee machine
laundry facilities including dryer
You are just minutes away from the Harbour Bridge and Sydney Opera House, perfect for your morning walk!
Check prices and availability of the Millers Point airbnb here.
Related: Take a self-guided walk in The Rocks.
Family Terrace opposite Barangaroo
This heritage terrace in Miller's Point is directly opposite Barangaroo Reserve and just minutes walk from Sydney Harbour Bridge.
It is also within walking distance of The Rocks, Circular Quay, Barangaroo restaurants and ferry wharf and Wynyard Station. You are very well placed to explore the city on foot. Perfect for a long or short Sydney getaway.
Along with outstanding decor, this historic property features:
Airconditioning
Backyard/outdoor space
Large kitchen
Comfy beds
Quality furnishing
3 bedrooms, 2 with queens and 1 sofa bed
Check price and availability of the Barangaroo beauty here.
Darling Harbour 2 Bedroom Apartment
This two-bedroom apartment on the city side of Darling Harbour is well-positioned for exploring the city and an easy relatively flat 15 minute walk to Circular Quay. Only five minutes to Queen Victoria Building and city shopping.
The spacious 90 sqm apartment has plenty of room for families with car parking available nearby. Walk to Darling Harbour for one of the best children's playgrounds in Sydney
The property features:
High chair and cot can be arranged
Also wheelchair friendly
Located just behind the Hyatt Regency Hotel
2 bedrooms (main with extra child single)
2 bathrooms
city views
gym and pool in the building
See more photos and check the price of this city centre Airbnb here.
Related: Read our guide on where to eat in Darling Harbour
Inner City Airbnb Properties in Sydney
Staying in Sydney's inner-city villages is an excellent choice if you want to experience Sydney like a local. Consider suburbs like the inner eastern suburbs of Surry Hills and Darlinghurst, inner south areas like Alexandria, Green Square and Redfern and inner west's Newtown, Glebe and Enmore.
The Moo Project -Wolloomooloo Terrace
Almost bordered by the Botanic Gardens Woolloomooloo is a harbourside suburb bursting with history. It's an easy 20-minute walk into the city attractions and well serviced by public transport.
This heritage-listed designer terrace offers 3 bedrooms and 2.5 bathrooms.
Key features of this property include:
TV and air-conditioning in all bedrooms
A fold-out cot and a high-chair
Walking distance to transport, shops and cafes
Indoor-outdoor dining area
Read the reviews regarding the suburb and decide if its right for you. We love it; it's a great choice for a multi-generational trip.
Check price and availability of the Moo Project here.
Related: Explore nearby Potts Point and Elizabeth Bay.
A Green Oasis in Alexandria – close to transport and cafes
This three-bedroom property is a great choice for a family with good sized living spaces, indoor and out. A gourmet kitchen with a dining table and a gorgeous outdoor eating space make meal times special.
The whole family will love the lush garden, but kids especially will enjoy the water feature with frogs and tadpoles.
Key features of this property include:
Lush garden with outdoor table
Very close to transport – walking distance to Redfern Station and buses
Full kitchen
Surrounded by cafes and restaurants
2 bedrooms with queen beds and another room with a double sofa bed
Parking permit available ($10 per day)
Check prices and more photos of this garden paradise here.
Room for Family and Friends in Redfern
This Victorian Terrace in the inner city suburb of Redfern is a great base for exploring Sydney on a longer visit. It sleeps up to 6 in 3 double bedrooms and has plenty of room for kids to run around outside.
Features include:
3 bedrooms with queen size beds and 1 with a child's bed included
2 full bathrooms plus a powder room
Pay-TV and free wifi
Children's toys and highchair
No off-street parking is available however free parking on the street near the house. It's walking distance to Redfern or Central Station.
Check prices and availability of this family-sized Airbnb in Redfern.
Airbnbs by the beach in Sydney
Staying by the beach can be a great way to have a holiday within your holiday. You can spend your days taking in the sites and early mornings and afternoons at the beach.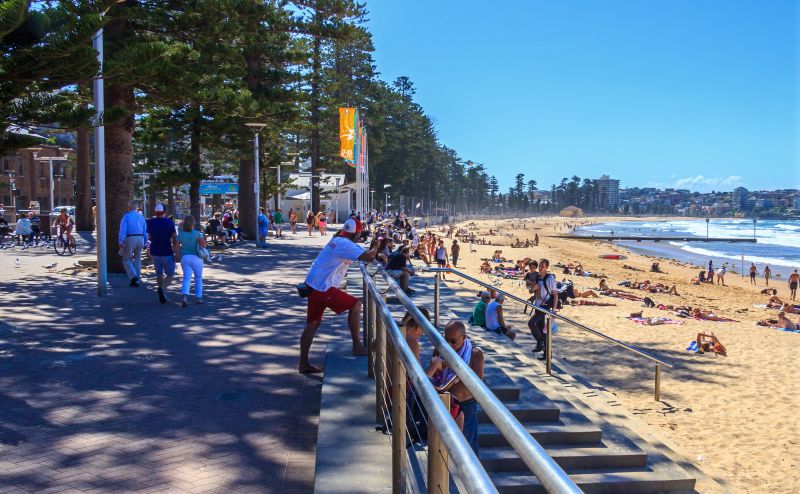 Airbnbs in Manly
Manly is a great location for a family holiday – it's only 30 minutes by ferry to the city centre and you are surrounded by beautiful beaches, walks and great food.
Views From The Ocean to Harbour – +dog friendly
The gorgeous penthouse apartment offers stunning water views and plenty of space for a family, particularly one with teen or adult children.
Situated on the Manly/Fairlight border, you can easily walk to either spot or jump on one of the buses that stop nearby.
Features include:
Bedroom 1 has a queen-size bed with ensuite and walk-in-robe.
The second bedroom has two long single beds that can be joined to form a King size bed.
Both bedrooms and the living area open onto the massive balcony with wonderful district views over Manly from the beach to Harbour.
Queen sized quality sofa bed is in the lounge room for extra guests.
The fully equipped kitchen includes an oven, gas hotplates, microwave, dishwasher and full-sized refrigerator.
There is free parking available on-site, but you need to request when booking to ensure a spot.
Check prices and availability of this gorgeous Manly Airbnb here
Related: Check out our guide for the best things to do in Manly
Apartment on Water's Edge at Fairy Bower Beach.
The sheltered waters of Fairy Bower and Shelly Beach at Manly are one of the best places to teach kids to snorkel. This apartment is literally footsteps from the pool and a 3 minutes walk to the beach.
The apartment is on the first floor above one of our favourite local cafes meaning your perfect morning coffee is only minutes away. There are beds for five, making this a great choice for families.
Queen Bed Master bedroom/living room with spectacular ocean views and sofa
Second bedroom at the rear with bunks (double & single).
Small kitchen fully equipped with oven, microwave and dishwasher.
Check price and availability of this perfected located Airbnb in Manly
Related: Be sure to spend time on the Bondi to Coogee coastal walk
Airbnbs in Bondi Beach
Family Beach House with a baby room!
This designer beach house offers a luxurious feel and is only an 8 min walk from Bondi beach in a quiet cul-de-sac away from the main street hustle and bustle.
Three bedrooms and a baby room make this a perfect choice for a large family. There are also 3 bathrooms and an outdoor shower to wash off the sand from a day at the beach.
The kitchen flows onto a beautiful outdoor space and you make you feel like eating in every night!
Check price and availability of this Airbnb Bondi family home
Related: Check out our Insiders Guide to Bondi
Airbnbs near Sydney Harbour
The homes we have chosen below are located in Sydney harbourside suburbs in the north and east of Sydney.
Rose Bay Art Deco Beauty
Featuring Hollywood Regency and Art Deco interiors this apartment facing the Rose Bay waterfront in Sydney's Eastern Suburbs is minutes away from cafes, restaurants and harbourside walks.
The property features:
Three large bedrooms, two with robes & one with a drawer
Dedicated off-street parking spot

Washing machine

Can sleep, 5 guests
Transport is at the door with a bus stop 50m and ferry 500m walk away.
Practical and comfortable furnishings and the leafy aspect make this a calm and relaxing place to end a day of sightseeing.
Check prices and availability here of the Rose Bay Apartment here
Related: The Hermitage Foreshore Walk starts nearby!
Fabulous family home in Waverton
This four-bedroom home comfortably sleeps a family of six. With large living areas and 3 bathrooms, there is plenty of space for everyone and no bathroom queues as you prepare for your days' sightseeing.
Transport links, cafes and restaurants and a supermarket all within walking distance. Just five minutes walk to the train station with direct access to the centre of the city. There is also a car share vehicle at the door (GoGet).
King size bed in the main bedroom
2nd and 3rd bedrooms have single beds and the 4th a set of twin beds
City views from the rooftop terrace
Lego and kids toys for use in a sunroom
well equipped kitchen
A perfect property for a family stays in Sydney.
Check the price and availability of this Waverton Airbnb.
Some terminology useful when reading Airbnb listings
Airbnb Superhosts – Superhosts have been awarded their status because they provide outstanding hospitality. They are checked four times a year to ensure they are still offering their guests an excellent experience. We like to choose super hosts, but it is not always essential for a good experience. If our search results yield lots of options, we tend to filter this setting to help us find a great stay.
Airbnb Plus – is another handy option to filter your search results. Airbnb Plus listings have been visited in person by Airbnb staff and rated for up to 100 things considered important for guest comfort. They usually offer an executive-level of comfort and attractive design features.
The Neighbourhood – Scroll to the bottom of the listing to learn more about the neighbourhood
Booking an Airbnb Property
There are two types of bookings offered, and it's personal preference which you decide to use, many people don't mind either way.
Instant book – with instant bookings you receive confirmation immediately.
Request to book – your host will consider your booking request before accepting you. This allows them to look at any reviews you may have received from previous hosts, or if you are a first-timer, they can see your profile and read anything you have added about yourself and your trip in your booking request.
Personally, I prefer the request to book option. I like that the host cares about who stays in their property. This suggests to me that perhaps they take better care of the place.
Find our full list of family-friendly Airbnbs in Sydney here
Planning a trip to the Blue Mountains while you are in town? These articles might help: