Must-Sees and Things to do in Forster NSW +Map
There are so many great things to do in Forster that you can quickly fill a weekend or, for that matter a week without digging too deep. Our list will get you off to a great start and includes a map you can save for your next road trip north.
Forster is renowned for its natural beauty and has been a popular holiday destination for decades. A charming seaside town nestled amongst a region brimming with things to explore, here are five reasons why you should visit Forster this year!
This page contains affiliate links. You can find our full disclosure policy here.
Where is Forster NSW?
Forster is located on the north coast around 300km north of Sydney via the Pacific Highway: about three and a half hours' drive on a good day.
Situated in between Newcastle and Port Macquarie, Forster (and its twin Tuncurry) are the biggest towns in the Great Lakes area, a system of three freshwater lakes in the lower part of the New South Wales Mid North Coast region.
5 Reasons we think you should you visit Forster
With its unique position between the Pacific Ocean and the lakes, Forster is a paradise for beachgoers and the outdoorsy, a great place for young families and solo travellers alike. Not convinced? Here are five reasons you should visit this year and a bunch of the best things to do in Forster while you are there.
The Beaches in Forster are magic
Forster NSW is a town most known for its beaches, and so there's no place better to begin our little exploration of the town. Here are a few of the main ones that a visitor shouldn't miss.
Forster Main Beach
Situated right in the heart of town, Forster Main Beach is the most popular place to be on a hot summer's day. It's also the safest beach in town, with typically gentle surf and lifeguards present throughout the holidays; it's great for young families and novice swimmers alike.
If you're not in the mood for waves, an enclosed ocean bath known as the Bull Ring sits right next door, complete with a newly renovated barbecue, toilet and changing facilities.
Tip: Locals flock to Beach Bums right on Main Beach for breakfast – plenty of choices here; you can stay healthy with the Acai Berry Bowl or fuel up for your morning walk with a Mexican Breakfast Wrap
Pebbly Beach
A short walk away, and you'll find yourself at Pebbly Beach. Pebbly is a super place for a walk (more on them later), but it's probably best known for being home to the Tanks.
The Tanks are a formation of straight rock walls that form a long natural pool much loved by residents. Come high tide, waves crash over the rocks, sending waterfalls cascading down into the placid section on the other side.

Apart from this great swimming spot, there are plenty of nooks and crannies in the rocks for you to explore, with their own wide range of marine life. Kids will love the rock pools.
Tip: Grab yourself a snorkel and see what you can spot in the water by the Tanks.
Related: Check out our guide to the best beaches in NSW
One Mile Beach Forster
A little further away from the town centre, facing outwards into the Pacific Ocean, is One Mile Beach: possibly THE jewel in Forster's crown. Favoured by local surfers, this long stretch of sand culminates at the beach's north headland in one of Australia's biggest single dunes.
Thrill-seekers can grab a board and fly down the mountain before taking straight to the waves. A small café and amenities are located at the beach's south side for those looking for something a little more placid.
Tip: There is a nice easy boardwalk running behind the beach if you fancy some time in the shade.
Burgess Beach
The last of our Forster beaches we will share today is also one of the most interesting. Burgess Beach is off the main tourist trail, and its location on the edge of town means many visitors miss it altogether.
There are few facilities here, and the beach is not patrolled, but it is a fantastic spot to watch the sunrise or have a quiet picnic.
There are some great walks and lookouts in Forster
Forster is a great place for a hike, with a range of tracks of varying difficulty winding up to lookouts that offer awesome views of the surrounding areas.
Forster Bicentennial Walk/ Frewins Walk
The best place to start is the Forster Bicentennial Walk. Beginning at Main Beach near the Bull Ring, it's just a short burst up the headland to Second Head Lookout.
Beneath the lookout is Pebbly Beach, where the path meanders past the Tanks to the section known as Frewin's Walk.
Things get a little steeper here, but the scenery makes the effort worthwhile. Frewins Walk runs through a patch of littoral rainforest, with the canopy above blocking out the harsh midday sun.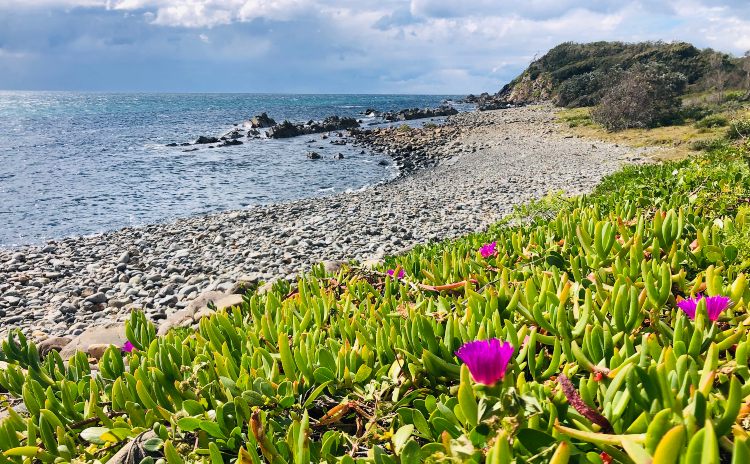 You emerge from this track onto Bennetts Head proper. Here you walk up the bare hill, with the wide expanse of Cape Hawke Bay to your left and the town of Forster below you on your right.
Finally, the Bennetts Head Lookout juts out from the headland at the road's end. If you're in the right season (between about May and November), this is one of the best places in town for whale watching.
Cape Hawke
Towards the southern outskirts of Forster sits the area's highest point, Cape Hawke, another great walk for the intrepid traveller. It's best to make your way here via car, through a neighbourhood of semi-rural properties and up steep forested hills, until you come to the end of the road. Here there's a place to park your car before setting out.
Related: Forster makes a great stop on the Sydney to Brisbane drive
The Cape Hawke walk isn't very long, but it is steep and continuously so. If you aren't in good physical condition, you might be in for some difficulty, but keep in mind what stands at the top.

The Cape Hawke Lookout is a steel observation tower that pushes up above the surrounding canopy with the best view in the area. Stretching from Tiona and the Ruins Caravan Park in the south all the way up towards Taree in the north, this lookout is like no other, offering an eagle's eye view of the whole region. And, if it's any consolation, the walk back down is much easier.
Forster is a mecca for water lovers
The town of Forster is surrounded by the Pacific Ocean on one side and Wallis Lake on the other, meaning that it's a fantastic place to get out on the water.
Fishing
Fishing spots are many, along both the coast and among the lakes. Favourite fishing areas include both sides of the Forster-Tuncurry Breakwall and from the various wharves and jetties around the town centre. For lesser-known spots, you'll have to speak to local fishers. These places are often hard to get to but well worth the reward.
Whale and Dolphin Watching with Amaroo Cruises
Additionally, the whale and dolphin watching boat the Amaroo leaves from Wallis Lake near Wharf Street most days at around 10am, taking visitors out into the open ocean searching for the ocean's most majestic creatures.
Rent a boat
Following the lake down from here, you can find plenty of places to hire small watercraft. These range from canoes and kayaks to flat bottomed party boats and even aquatic bicycles. A warning on the last one of these, though: pedalling against the fast currents towards the bridge is hardly like riding a bike. Charter one of these at your own caution.
Diving and Snorkelling
Alternatively, you've got businesses like Dive Forster, which rents diving and snorkelling lessons and equipment. Here you can learn to snorkel and dive in the calm serenity of Wallis Lake or take it all the way out into the open ocean if you're brave enough. Dive Forster offers a range of options for all levels of experience.

It's surrounded by natural beauty and attractions
When you come to stay in Forster, it'd be a crime to limit yourself simply to the town itself. Forster is not just a destination; it's a gateway and launching pad to a whole region of natural wonders.
Tiona
Heading south of Forster, you come on to a narrow isthmus called Tiona, with the ocean on one side and Wallis Lake close by on the other.

Along this road are the sleepy town of Green Point and several secluded caravan parks and camping grounds that run the length of peaceful Wallis Lake.
Hidden in among the towering palms is the Green Cathedral. This outdoor church looks out to Wallis Lake. There are occasional services, and you can also get married, christened or have a funeral here.
Booti Booti Naitonal Park
Towards the end of the isthmus, the land rises up, and those who've made it to this point can try out the rugged Booti Booti walking track, a 7km loop through the Booti Booti National Park that should last you a good three hours.
Pacific Palms
Over the hills lies the holiday town of Pacific Palms and its three beaches: Elizabeth Beach, Boomerang Beach and Bluey's Beach. All three are patrolled during the holiday season, with Boomerang favoured by surfers and Elizabeth by families.
Make sure you steer clear of the stormwater runoff at Elizabeth Beach's east end, and (if you're not keen to catch an eyeful) the nudist Shelly Beach just over the headland.
Related: Why not spend a weekend in Newcastle on your way north
Smith's Lake
Heading south out of Pacific Palms (making sure to stop at the Bluey's Beach shopping strip and nearby information centre), you'll quickly run into Smiths Lake. The smallest of the Great Lakes, a town of the same name, juts out into the water, filled with holiday houses and AirBNBs (along with a tight-knit community of locals).

The Frothy Coffee Café is a key attraction of this little town, while outdoorsy types are drawn to near Celito Beach, where the Lake drains into the ocean, with plenty of fishing opportunities, swimming and four-wheel driving.
Seal Rocks
By now, you're already about half an hour's drive south of Forster, but it would be remiss of us not to press on a little further towards Seals Rocks.
Rated as one of Australia's best surfing beaches, Seals Rocks were named after the colony of seals that once lived nearby. However, wildlife still abounds here, most notably a population of relatively peaceable grey nurse sharks that you can meet up close and personal should you wish to go for a snorkel.
The nearby Sugarloaf Point Lighthouse, constructed in the 19th century, is also a great visit for history buffs, not to mention those of us who love a good view.
There is plenty of great food and drinks
As a holiday destination, Forster has plenty of places for tourists to eat and drink and (in this day and age) a wide range of options to boot. Here are just a few.
Where to eat Seafood in Forster
Unsurprisingly, a town so closely tied to things maritime has plenty of great seafood options available. Ranging from great quality (albeit a little grungy) takeaways like Lobby's to award-winning establishments like Beach Street seafood, you'll find many of these shops in and around the town.
For great oysters, head over the bridge to Tuncurry for oyster platters and fine wines at Hamilton's, situated right on Wallis Lake.
Mediterranean Options
Italians, mostly involved in the fishing industry, have long called Forster home and have left their mark in the area. Bella Bellisimo on Wharf Street and The Sicilian down by Main Beach have generated great reputations as the place for fine Italian food, served with a casual Forster flair.
If you're looking for something a little more to the east of Brindisi, there's Anatolia, a bold new addition to the Forster culinary scene, serving take away Turkish food as it attempts to expand and break its way into traditional dining.
A new Egyptian restaurant, King's Valley has also opened recently, situated on the top floor of the Wharf Street shops heading towards the bridge, its balcony showcases lovely views over the lake.
Everybody loves Chinese
Like every Australian country town, Forster is also filled with Chinese restaurants. Happy Garden, on the bridge end of Wharf Street, has a good reputation as a clean and modern restaurant, much loved by locals.

A little way back, on Wallis Street, sits Gold Medal Chinese Restaurant, a little more formal and dated, but with a certain charm of its very own.

And if you're a little more adventurous, try Dragon's Den, a hip, fusion outlet in the arcade.
Pubs and Clubs
Forster is a sleepy and serene town not known for its nightlife (especially in the age of corona). That said there are still plenty of places to grab a quiet beer.

Head down to the Lakes and Ocean in the heart of town for a pub lunch overlooking the water or over to the recently refurbished RSL, Club Forster. The grungy and classic Lakeside Tavern, with its built in Chinese Restaurant, is also much beloved by locals, although a little out of the way of Forster's major tourist precincts.
Try the local craft beer
Beer connoisseurs should make sure they check out the Coastal Brewing Company, located in the industrial estate behind Stocklands shopping centre. This family-owned microbrewery specialises in making unique brews, named after and catered to the local area. Test some boutique beer along with some lovely appetisers before taking home a little bit of the local drop yourself.
Download and save our map of things to do in Forster NSW
Where to stay in Forster
From hotels and waterfront apartments to family homes by the beach. There are also several caravan parks and a couple of motels. You will find something for all tastes and budgets here. Generally, the summer season, particularly between Christmas and New Year, book out very quickly.
Hotels in Forster
Serviced apartments
Holiday Homes
On our most recent visit, we stayed in our motorhome at Smugglers Cove Caravan Park. It's well located on the lake just opposite the local shopping plaza and within walking distance to the pub.
Once we parked, we walked everywhere for most of our visit. Forster is relatively flat and very walkable. This park is a great choice for kids with a fantastic playground and water slides. Right next door is
We explored travelled from Sydney to Forster in a Let's Go 6 berth motorhome that was insanely comfortable. It was our first time in an RV and we loved it!
Disclosure: We rented and paid for our vehicle as private customers and can't fault the vehicle or the service.
So what are you waiting for?
Even after all this, we haven't covered all the delight of Forster and its surroundings, but if that's not enough to send you packing, I'm not sure what is. Get in there and get amongst while the hours are long and swimming weather is great. You'll be sure to love every minute in this gorgeous town.
Want more coastal getaways from Sydney?