See Sydney on a Budget: Top tips from a local expert [2023]
Planning a trip to Sydney on a budget if can be pretty daunting. Talk of it being an expensive city is true, food and accommodation can set you back but with our tips you can still have a wonderful time.
Sydney is recognised as one of the most expensive cities in the world to live – but it doesn't mean you can't enjoy all the sights and sounds of this picturesque wonder by saving your pennies. If you are going to Sydney, you may balk at how pricy things can get, such as food, transport, and accommodation.
With all that in mind, can you visit and enjoy Sydney on a budget? Yes, we think you can. There are so many things to do and explore in Sydney that don't cost the earth – in fact, they may cost nothing! Here's our guide to making your dollar (or pound or rupee) stretch as far as possible while having a blast along the way.
This page contains affiliate links. Our full disclosure policy is here.
Start off right – Save money on exchanging your currency
The first step to saving money is to keep as much of your local currency as possible in the foreign exchange process. That means getting on top of how much in fees your bank or credit card provider will charge – sometimes they'll double or triple dip on the one transaction!
Your best bet is to use a money transfer comparison site to see how forex offices structure their fees and commissions – and some might not even do that! Some advanced platforms will only execute trades when they're at their most favourable for you, which means more money in your pocket at the end of the day. Some foreign currency exchanges such as Wise allow you to track all your currencies via the convenience of an app.
Plan to meet with a Sydney Greeters
Every corner of Sydney hides a hidden historical gem – Sydney is the birthplace of Australia, after all. To get a free walking tour of Sydney, you can take advantage of a free tour with the not-for-profit Sydney Greeters.
They're volunteers who help tourists and new arrivals find all the interesting and wonderful places Sydney offers. From a walk in a historic neighborhood to a visit to a farmer's market or a ferry ride to Manly Beach, there are all sorts of places you can explore with a greeter.
They also have some greeters who speak languages other than English too – it's all in the name of cultural exchange!
They also emphasise sustainable tourism, which means low impact activities (and light on the hip pocket!)
Finding things to do in Sydney that are budget friendly.
Though you might think nothing is free in this town, don't worry – Sydney has plenty to do for free or little outlay, in fact we have a list of 75 free and cheap things to do in Sydney.
Check out the icons on the cheap
While the Bridge climb is expensive, you can enjoy the bridge without breaking the bank. Two budget options are to walk across the pedestrian footpath that goes across the bridge or visit the Sydney Harbour Bridge Pylon where for approx $20 you can take in a 360-degree view of the harbor.
An Opera House tour will cost just under $30, but you can also just walk around the outside or dine at one of the many outlets in the house to enjoy its beauty up close. You can also sometimes grab tickets to a performance. These can be as cheap as $50.
Stroll one of the city's best walking tracks
Much of the land on the harbor's edge is public land and there is no better way to see the city than by lacing up your walking shoes and hitting the waterside walking paths and tracks when you visit Sydney.
From a short walk through the Rocks to a half day walking ticking off all the big sights, there is a walk to suit you.
If you only have time for one walk head to Mrs Macquaries Point for stunning views of Sydney Harbour. Found at the edge of the Royal Botanic Gardens, from Mrs Macquaries Point, you can take in this iconic view of the Sydney Harbour Bridge and Opera House. Just enter the Gardens at the Opera House gate and follow the path around to the end.
If you are staying in the city center as opposed to Circular Quay, then this walk from Hyde Park to the Opera House via the Royal Botanic Garden is a great first day experience. Along the way, you pass St Mary's Cathedral, The Australian Museum and the Art Gallery of NSW. Depending on your schedule, you could stop in at and explore any of these for free. In fact, the Art Gallery offers free tours at 11am every day.
If you have a little more time and energy, the Foreshore walk from Woolloomooloo to Pyrmont is a top choice. At 11km you will spend 2-3 hours traversing the waterfront past many of the city's best sights including the opera house, Circular Quay, the Rocks, and the Museum of Contemporary Art, Barangaroo, and Darling Harbour's Wild Life Sydney Zoo and Sydney Sea Life aquarium.
Last but not least, the iconic Bondi Beach to Coogee Beach walk is a must. We prefer to start at Coogee Beach and make our way to Bondi Beach as there are more cafes and transport options at this end.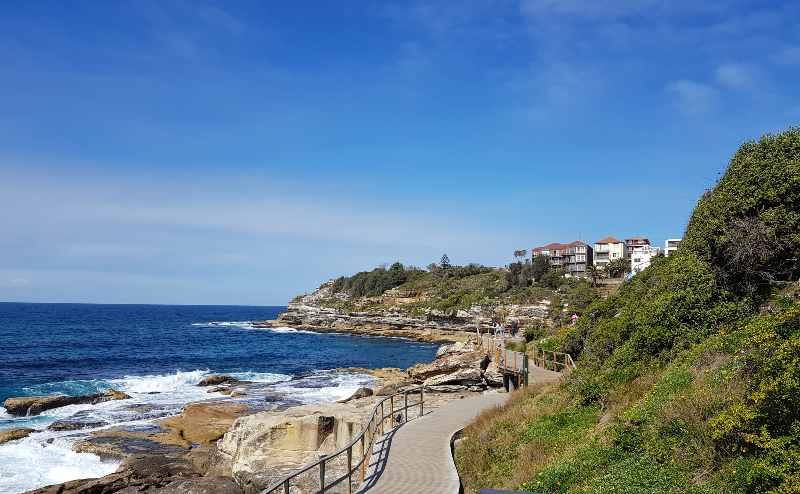 Visit a National Park
Next up explore one of the city's national parks. You don't have to head far from the Sydney CBD to get a dose of nature.
Nature lovers will appreciate the Taronga Zoo to Balmoral Beach walk in Sydney Harbour National Park. The city skyline is directly across the harbor but you feel you are miles from the crowded streets of the Sydney CBD. This guide will help you find the highlights of the walk.
If you prefer to explore the eastern suburbs of Sydney, then make your way to Watson's Bay and walk out to South Head lookout. Also, a part of Sydney Harbour National Park this walk offers a mix of history and views for the price of a ferry ride.
Learn about the history of Sydney
To learn about Australia's indigenous history, we suggest a visit to one of the city's free museums particularly the Australian Museum, which has an extensive collection. The Art galley of NSW is also a good choice and has no entry fee.
One of the easiest ways to learn more about the colonial history of Sydney is to take yourself on our Rocks Self-Guided walk.
You can take a free walking tour of the Rocks that is offered every night at 6pm. This is a tip based tour so please consider tipping your guide at least $10 (AUD).
The Hyde Park Barracks museum also offers free entry and offers engaging exhibits on the first settlement and the relationship between officials, convicts and the first nations peoples who lived in Sydney at the time the colonists arrived.
Take a day trip by train
A trip to the Blue Mountains is high on most visitors to Sydney to do list. It is the most popular place to go in New South Wales and easily visited on a budget.
A two-hour train trip from the city centre will get you to Katoomba where you can either use the affordable HOHO bus or save even more money by taking local buses. We have detailed instructions on how to do this here.
Time your visit
Enjoy Sydney's free festivals!
Be sure to check the Sydney Festival Calendar before you book your visit. From the free fireworks show on New Year's Eve to Vivid Sydney, the open-air concerts in the domain that are part of the Sydney Festival to the wonderful Sculpture by the Sea festival at Bondi Beach there are lots of free events to enjoy.
Check out our what's on pages before you visit and join the Sydney locals for some fun.
Make use of public transport – especially cheap weekend travel
The most cost-effective way to get around Sydney is by public transport. NSW Transport encompasses buses, rail, light rail, and ferries that can get you around the entire city and even into the regions.
The weekend cap makes Manly Beach a popular choice on Saturdays and Sundays, but it means it is busier, so try to go early or later in the day to avoid crowds.
What you should do before you arrive in Sydney is work out if you should use your credit card to tap onto public transport or buy an Opal card, the contactless pre-paid transport pass. If your credit card does not have international transaction fees, then you won't really need an actual Opal card, but if not, then it's worth buying one.
You can buy them from train stations, some ferry berths, convenience stores. Getting from Sydney Airport to central station or Wynyard Station costs only A$19.23 – a third of what you'd pay for a taxi or Uber.
Eating in Sydney on a budget: where to find cheap eats
Though Sydney is known for its international fine dining, you can still have local flavours without costing too much.
One of Sydney's fun food truck type spots is a pie stand called Harry's Café de Wheels. A favourite of locals and international celebrities alike!
You can also pick up great value meals in Chinatown, Sydney has fantastic Asian food and its relatively affordable. Spice Alley in Chippendale, a short walk from central station is also a good place to visit.
Thai food lovers will find great lunch deals close to Town Hall Station along George Street near Campbell Street in Sydney's Thai Town.
For coffee with a view, make your way to the top floor of the Museum of Contemporary Art where the rooftop cafe offers good value breakfast and lunch options combined with perfect views of the Sydney Opera House and the Harbour Bridge.
Other options include traditional Australian fish and chips, which usually costs about $20-$25 to feed an entire family of four. Coffee shops and bakeries are also dotted around Sydney, which can fill you and the kids up for a fraction of the price of eating at a sit-down restaurant.
A visit to Paddy's market in Chinatown is a great place to stock up on fresh fruit and vegetables if you are self catering while you are in Sydney. Other options are to get fresh food or ready meals from supermarkets such as Coles and Woolworths.
Happy Hour
Happy Hour in Sydney is the best way to save money on your drink bill. There are options all over the city, but I was recently surprised how good the prices were along East Circular Quay. Make your way to Opera Bar for sunset, but perhaps grab a happy hour deal along the way!
Maybe Sammy, one of Sydney's best bars, sells mini cocktails in happy hour for under $10. However, perhaps the best deal in the city is Aperitivo Hour at the Four Seasons Hotel where $30 will get you a drink and 2 hours access to delicious Italian cheese, meats and more.
If you are looking for a party atmosphere, there are backpacker bars near Central Station on the edge of the city centre.
Phone sims and data plans
While there is free wifi in shopping centres, the airport and some public spaces, if you want to use the interest more regularly you will probably want to get a sim or esim. Allow about $30 AUD for a month.
Start planning your visit
So there you go, we hope you now have plenty of free things to do and free activities to join in from walking tours of the local parks and inner suburbs to guided tours of museums and galleries.
Using these tips can all create a fun, frugal, and unforgettable trip to Australia. You might even have a bit of money left over for some souvenirs, too!
Need more ideas? Join our Sydney Expert Facebook Group where you can ask questions, stay updated with what's happening and meet a bunch of friendly locals just waiting to share their advice!