While this is a five-day Sydney itinerary each day stands alone so if you have fewer days you can choose the ones that best suit you. We have planned it to cover a good range of sites and included our favourite eats too!
A Sydney Itinerary for first-time visitors
With bonus dining suggestions and public transport costs!
Before we begin just a couple of points. This itinerary assumes you are staying in the centre of Sydney. If not then make your way to the starting point which I will outline at the top of the day. These are action-filled days – if you are staying longer feel free to slow the pace a little!
If you have not sorted your accommodation start by reading our guide to the different neighbourhoods in Sydney to help you choose the best location.

I also suggest the Opal transport for visitors article is a must, understanding public transport here will save you time and money!
Day 1. Circular Quay and The Rocks
This first day will have you ticking off Sydney's big-name icons.
You will explore Circular Quay, the Opera House, Botanic Gardens and take a self-guided walk in The Rocks. Then if you still have energy left, head up onto the Harbour Bridge from the Cahill Walkway and visit the Pylon Museum, where for just $15 you are rewarded with 360-degree views of the harbour.
Start the day at Circular Quay.
Breakfast
After you have eaten – or at least grabbed a coffee make your way to the Botanic Gardens.
The Royal Botanic Gardens
Even if you are not much of a gardener, these gardens are worth visiting. Along with beautiful garden beds, the area is dotted with old and new sculptures and water views that are hard to beat.

There are several specialist garden areas to explore. Green thumbs will probably benefit from a stop at the visitors' centre to pick up some detailed information and a map that will let you head to the parts that grab your interest. Almost every corner you come to is signposted so if you are not sure where you are head to a corner and follow the signs.
Enter via the Queen Elizabeth Gate by the Opera House and head to the right – we are heading to the upper level of the garden to begin our walk. Follow the signs to the Taipan Lawn Precinct, or the Bennelong lawns that look out over the Harbour Bridge and Opera House. Snap a few photos and retrace your steps back the way you came.
You pass Government House along the way. If you arrive after 10 am you can also explore the Government House Gardens. There are also free tours offered several times a day
Continue on the upper path until you reach Folly for Mrs Macquarie – a sculpture by Fiona Hall. This is one of my favourite of the many sculptures in the gardens.
Continue along the path and follow the signs until you reach the Calyx. The current exhibition, Plants that Bite runs until 2020. Entry is by gold coin donation. You can pay $5 to feed the Venus flytraps.
From the Calyx head down the path towards the shop and visitors centre, I am not much of a shopper, but if you are looking for interesting souvenirs, this one is worth a look. You will also find bathrooms and a cafe nearby. See if you can find the topiary Koala that has recently become an Instagram sensation.
Just outside the Visitor Centre, you will find a Wollemi Pine, this tree, one of the rarest in the world was discovered in the far corners of the Blue Mountains in 1994. Less than 40 survive making it critically endangered.
From here follow signs to the Lions Gate and head down the path to find the Boy with a Thorn sculpture where you will find the view below.
From here we will head to the point and the famous Mrs Macquarie's Chair.
The is THE stop in Sydney for photographers. Once done follow the sea wall path back around to the Opera House.
Exploring the Opera House
The Opera House opened in 1973 and ever since the world has been in awe of this building. I promise you it is as stunning as it looks. In 2007, the Sydney Opera House became a UNESCO World Heritage Site recognising it as one of the most distinctive buildings in the world.
You can book a tour to learn how the Opera House was built and see inside some of the performance spaces however if budget is a little tight it is also nice to walk right around the building and get up close to the tiles for a good look.
You can wander inside the building by heading under the middle of it where you see the road. You can usually enter the southern foyer and some of the other foyer areas provided they are open.
If you are not sure about a tour, I suggest you check out our detailed review of Sydney Opera House tours and see what you think. Tours last approximately 1 hour and can be booked in advance.
You could also consider checking out a performance
Cahill Lookout and the Sydney Harbour Bridge
Wander back along East Circular Quay towards the station until you come to the glass elevator – head inside and up onto the walkway above the station for a bird's eye view of the Quay.
Make your way along the footpath – you will have a fab view over the Rocks from the western end of the path. From here you can get a couple of great shots of the Opera House and also the main street of the Rocks from above.
Continue until you reach the end of the path and you follow the signs to the Sydney Harbour Bridge. Walk out onto the bridge and check out the view of the harbour from a new angle.
Inside the southern Pylon is a museum and lookout that will only cost you $15 and provide you with an amazing 360-degree view up and down the harbour. Read more about the museum and lookout here.
Head back down and retrace your steps into the back of the Rocks.
If you have worked up a hunger, you have a few options nearby.
Discovering the Rocks
After lunch, it's time to explore Sydney's oldest streets on our Rocks Self-Guided walk. This is the best-preserved part of the city and its cobblestone streets and heritage listed buildings are worth a couple of hours, even if you spend those hours working out which is the oldest pub in the city.
By now you will be well and truly ready for a rest. Just remember that Sydney is not Spain and we eat dinner early, ridiculously early, especially Monday to Wednesday when it can be hard to get a meal after 9 pm anywhere but Chinatown! Later in the week, it is easier but keep this in mind Sunday-Wednesday and check hours or make a reservation if you have a specific place in mind.
Dinner
The super organised among you may have found tickets to a show at the Opera House in which case I can highly recommend the pre-theatre menu at Bennelong.
If you only have one day in Sydney then take a look at our layover guide for more ideas. It might be nice to finish with the day by taking the ferry to Manly for dinner for instance or spending less time in the Gardens and more time in another part of the city.
Day One total transport costs: Zero!
Day 2. From the Harbour to the Sea
Today we will be spending most of the day by the water, beginning in Barangaroo on the western side of the harbour and finishing in Sydney's east in Bondi or Coogee depending on your stamina!
Morning – Start the day at Barangaroo – you can take the train to Wynard and follow the signs to the waterfront.
Barangaroo
One of the most recently developed areas in the city and now home to many of our big financial companies the shiny new office blocks here have polarised the locals, some people feel the site is suffering from overdeveloped with high rise towers but it has really grown on me, and I like the energy here. These streets were fairly deserted a few years ago and are now teaming with life.
Barangaroo comes alive about 7 am weekdays, but if you are visiting on the weekend, you might find it more of a challenge to get breakfast here before 8 am.
After you have built up some sustenance for the day ahead jump on the ferry from Barangaroo Wharf to Watsons Bay.
I recommend this particular ferry route because the journey gives you a chance to visit both the western and eastern side of the harbour. Stopping at Balmain, Milsons Point, Circular Quay, Rose Bay and finally Watson's Bay the journey takes 58 minutes and provides many photo opportunities along the way.
Watson's Bay
Once at Watsons Bay, follow Wharf Beach around to you reach some steps (aka Marine Parade) and then up on to Cove Street follow this until it ends. Turn right and then first left and you will come to Camp Cove Kiosk and beach.
From the end of the beach, you will see signs out to the South Heritage Trail that will take you around South Head to Hornby Lighthouse and some of the best views in the city. You can find detailed instructions on this Watsons Bay walk.
Head back the way you came but this time take Cliff Street and make your way to Robertson Park and then cross the road to Gap Park. There is a short walk here to the top of the cliffs and the great lookout over the Pacific.
Once you have explored enough at Watson's Bay jump on the 380 bus to North Bondi Beach, sit on the right side of the bus for views back towards the city along the way.
Bondi Beach
The best-known beach outside the country In Bondi jump off the bus at North Bondi and head to the North Bondi RSL for a local beer with a fantastic view over (above) the beach. Alternatively, you could choose to eat at Watsons Bay Hotel before you join the bus to Bondi.
Lunch with a view
All refreshed? It's time to walk along the beach and check out the local graffiti wall that lines the southern end of the wall separates the beach from the carpark before making your way up to Icebergs swimming pool and the famous Bondi to Coogee path.
Even if you are not up for the full 6km walk, it's worth at least heading to the top of the first hill for a fantastic view out over the beach.
Check out our Insiders Guide to Bondi if you want to spend a little more time here.
You can take a bus back to the city from Bondi or take the walkway to one of the next beaches. There are buses from each beach that will bring you back to either the city or Bondi Junction train station. If you continue and complete the Bondi to Coogee walk, it makes for a huge day but lots of fun.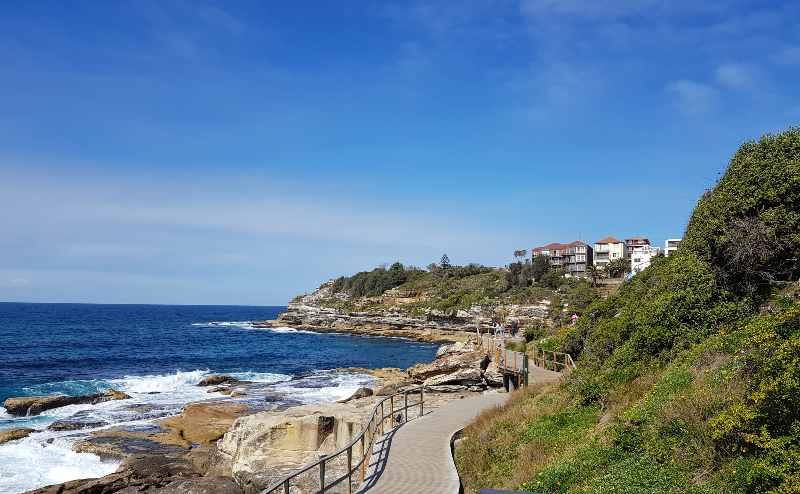 Some dinner inspiration
Budget: take a bus back to the city and head to Chinatown for some fantastic cheap eats.
Mid-range: Coogee Pavilion
Day Two total transport costs: $9.67 (Opal) or $11.80 single tickets
Day 3 – Blue Mountains
Sydney's mountain retreat is a favourite day trip for locals and visitors. You can easily explore the Blue Mountains on a day trip from Sydney using public transport. Whether you decide on a tour, the train or to rent a car is a personal preference; there are pros and cons to each option.
We will go over a few here but don't worry we have a detailed guide to each choice to help you work out the best one for you.
Dining ideas in the Mountains
Take A Tour
There are lots of tours to choose from, and it can make it hard to decide on what will suit you best. Things to think about include how much time on the tour consists of rushing from spot to spot, is there any bushwalking, is there too much for you? Does it stop at the Featherdale Wildlife Park on the way up, which may be something you would enjoy or would you prefer more time in the mountains themselves?
There is lots to consider so head over to our guide on how to choose the best Blue Mountains tour and make sure you find the best fit.
Go by train
This will be loads cheaper than the other options and also relatively easy. It takes about the same amount of time as driving and possibly less than a tour bus. It's my preferred option for taking smaller kids as you can move about on the train more easily and they are less likely to get bored.

When you reach the mountains, you can continue using the local buses to explore or take the Hop on Hop off bus.
Read our full guide to using public transport for exploring the Blue Mountains
Rent a car
If you want the flexibility to explore specific parts of the mountains or take some of the longer walks then having a car can be a great option. It's also a good choice for anyone travelling with kids or photographers who want to hit as many of the top spots as possible in one day.
Check out our three self-drive itineraries for exploring the best of Blue Mountains in one day.
Dinner: I am not sure you will be up for much more than a quick bite from or take away in your room after such a big day.
Day Three total transport costs for the train option: $6.08 offpeak or $8.69 peak & Sundays $2.70 with an Opal or $10.60
Day 4 – Get to know the flora and fauna
Today it's back to nature with a choice between getting your Dr Dolittle on and visiting with the local wildlife or hitting one of the harbourside walks. If you are an early riser, you could manage both!
Visit Taronga Zoo
Known as the Zoo with a view, Taronga certainly is that, but it is also a modern zoo with quality enclosures and programs. Get up close to Australian animal including some less common ones like the tree kangaroos and the endangered and beautiful Southern Corroboree Frog. Visit the Australian Walkabout area and book a Koala experience for a chance to have your photos taken with these much loved sleepy creatures.
Aside from the Australia animals here the rare Sun Bears from Asia and the Sumatran Tiger cubs are a huge hit. You can easily spend a half-day here, longer with small kids in tow.
OR
If you are not a zoo person, and not everyone is, or you visited Featherdale Wildlife Park as part of your Blue Mountains tour you might prefer to take a harbour bushwalk.

There are two walks that I love to recommend that start or finish near the zoo. If you are not visiting the zoo, you could combine these into one longer walk culminating with fish and chips on Balmoral Beach.
Dining options for the zoo: My best tip for refreshments here is to pack a picnic. The food is very ordinary and very expensive.
Walk option 1: The Cremorne to Mosman Walk
This scenic walk takes you past the manicured gardens and numerous harbourside homes that will have heading to buy a lottery ticket on the way home. From the wharf at Cremorne Point around to Sirrus Cove, once an artists colony, to Taronga Wharf where you can take a ferry back to the city or begin your visit to the zoo.
Walk option 2: Taronga Wharf to Balmoral Beach walk
Another of my favourite walks; the 6km track to Middle Head and ultimately Balmoral Beach follows the curves of the harbour along pretty tree-lined trails. You are likely to see some eastern water dragons and kookaburras along the way. I have written a long detailed photo guide to help you find your way, but it is very straightforward.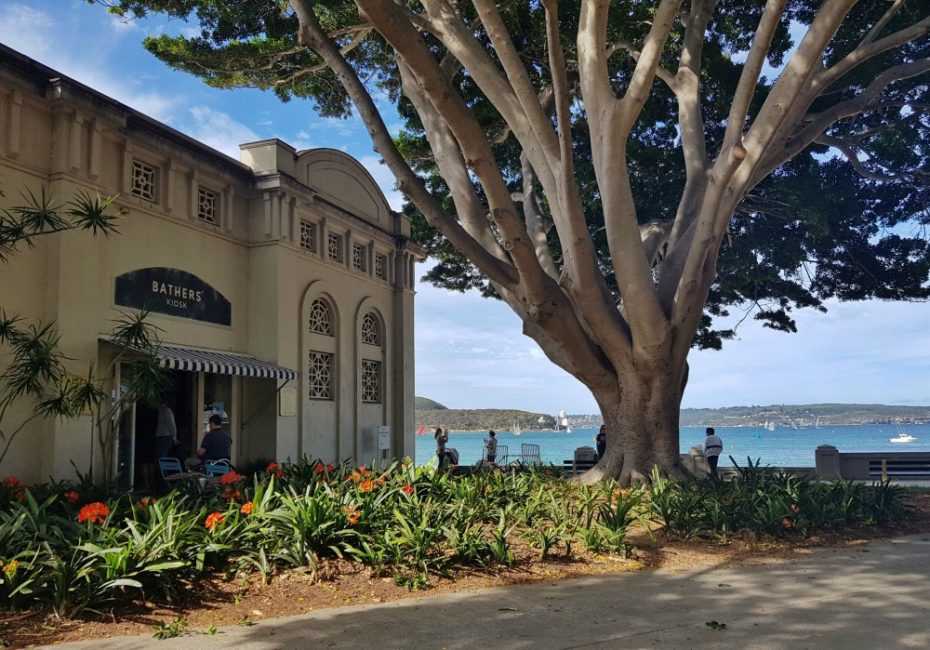 There are a couple of lovely cafes, restaurants and tea houses on the route and a few chances to shorten the walk by jumping on a bus back to the wharf or the city via Mosman.
Dining options for day 4 and 5 are listed on the map at the bottom of the page.
Day Four total transport costs: $14.22 with an opal or $17.60 without
If you like to walk we have a plenty more for you to check out on this list of Sydney's Best Harbour walks.
Day 5 – Explore the inner city suburbs
Depending on your interests you should get away from the harbour and big attractions today and explore one of the city's suburbs. You might like to book a free Sydney Greeter and have a local take you and show you their favourite spot. It's best to request your greeter 3-4 weeks in advance, particularly in the summer.
If going it alone, you might like to choose from one of my four favourites neighbourhoods in the inner city.
Redfern and Chippendale
An excellent walk for art and architecture lovers will take you from the working class and Aboriginal heritage of Redfern through to a reborn Chippendale that has over recent years become a hub for galleries and design firms.
I like to begin at Redfern Station and stroll to Chippendale, it takes less than 20 mins, but there is much to see along the way with interesting architecture and some great cafes.
Potts Point and Elizabeth Bay
One of my favourite areas in the city, in part because of the incredible amount of art deco architecture here. Add some historic homes, fabulous harbour views, a great weekend market and lots of good food and you have more than enough reason to spend a couple of hours here.
There are so many impressive buildings in these streets including the Art Deco gem above that you will think you have stepped back a few decades. In contrast, the heritage-listed Colonial Regency Elizabeth Bay House will give you a glimpse of life in 1820s Sydney.
Finish up by walking back to the city via Woolloomooloo and grabbing a pie and pea floater at Harry's Cafe de Wheels.
Newtown & Enmore
From street art to craft brews, independent shops and watermelon cake. Newtown is a great spot to visit mid-afternoon or evening.
While you don't need much of a plan, I like to take the train to St Peters which lays at the southern end of the suburb and stroll the full length of the main street, King Street, weaving in and out of the back streets when I spy a mural or charming house.
Make sure you save some time to visit one of the pubs or take a short stroll down Enmore road to Young Henry's and try their "Newtowner"

If you are not in the mood for beer stop by Black Star Pastry in Australia Street and try the watermelon cake.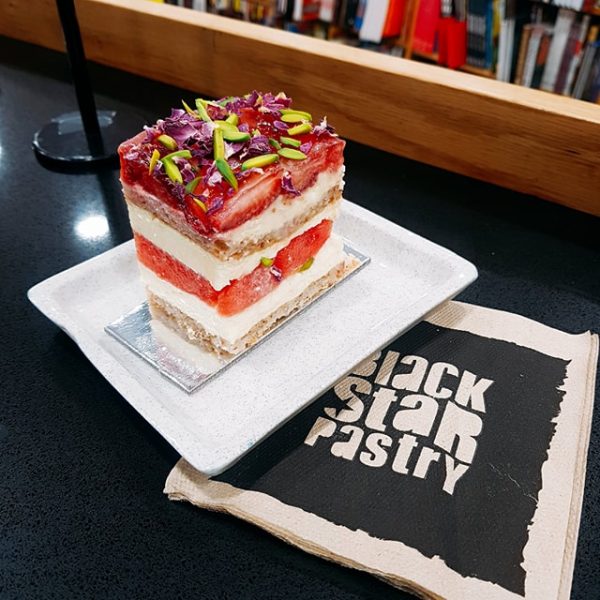 We have a short self-guided walk in Newtown here that you can follow or a longer Inner West street art walk for die hard mural fans.
Manly and the Northern Beaches
Surf, snorkelling, craft beer and fish and chips all make for a top day out. After your 30-minute ferry ride wander down the Corso to Manly Beach and on to Shelly Beach.
You can get picnic supplies at the Aldi supermarket on the wharf when you arrive and enjoy a beach picnic or dine at one of the waterfront restaurants at either the waterfront or the beach. There are plenty of options to choose from.
If you are not one to sit still too long you might like to take a walk up to the North Head Sanctuary for fantastic views and some war memorials and walking trails or visit Q Station, the old quarantine centre for a ghost or history tour.
Day Five total transport costs: Potts Point – $4.40, Newtown $7.08 Opal or $8.80 single ticket Manly $15.02 Opal or $18.40 single tickets
Your last evening
After your day exploring you might like to do some last-minute shopping, head to QVB, Pitt Street Mall or Paddy's Market to pick up some souvenirs.
Early evening drinks should probably include a harbour view. Why not go for something a little different, a western harbour view. I like Zephyr Bar at the Hyatt Regency that offers fabulous views of the sunset over Darling Harbour or the Henry Deane bar on the edge of Barangaroo Reserve with its glass-encased top floor bar.
And there you have it- Sydney Expert's five day Sydney itinerary, all things I would recommend to my family or friends visiting. Keep an eye out for our next itinerary which will have a family focus.
Hope you have a great time in Sydney!
5 days in Sydney map
Do you have specific questions about your circumstances? Head over to Facebook and join our Sydney Expert Facebook Group where you can ask questions and find friendly locals and other travellers happy to share their advice!