20 Tips for Enjoying Sydney on a Budget
We pulled together these ideas for enjoying Sydney on a budget because we all know Sydney can be an expensive place to visit. If you can save some dollars on your sightseeing you might just have enough for the odd splurge or two like a special dinner or a Bridgeclimb!
This page contains affiliate links. Please see our disclosure policy for more information.
How to save money on your visit to Sydney
Along with choosing the best season to visit for affordable hotel and hostel prices, there are plenty of ways you can save money and still have a fantastic holiday. We have pulled together our best tips for finding cheap things to do in Sydney that will help you discover hidden gems and tick off the big attractions all on a tight budget.
Tip 1 – Use Public Transport
Bus, train, light rail or ferry Sydney's public transport is well set up for exploring the cities attractions. It is almost always the best way to see the sights.

We have written several articles to help you plan some great days out using these services and also about using the Opal ticketing system.
Try our self-guided "Hop on Hop off" day exploring the same spots as the regular HOHO but at a fraction of the cost.
Or check out the best ways to use regular buses to explore some of the cities best inner suburbs.
We have also covered the best ferry rides for a day out in Sydney
Start by making sure you understand the Opal ticketing system and read our guide to public transport in Sydney.
Tip 2- Book a Sydney Greeter and get a local view of the city.
Sydney Greeters is a non-profit organisation that matches visitors with a local volunteer who will spend 3-4 hours with them, showing them a part of the city they love. I am one of the volunteers, so who knows, we might get matched!
You can read more about the service here. For best success, request your greet 3-4 weeks in advance. Sadly not every request can be met in peak periods, but we have over 50 volunteers, so we do our best.
Check out our guide to the best cheap hotels Sydney has to offer before you book.
Tip 3 – Beach time is perfect for enjoying Sydney on a budget
One of the joys of living in Sydney is that the city has more than 100 beaches along the coast and around the harbour. From tiny patches of sand along the Hermitage Foreshore Walk to the iconic Manly Beach or Bondi Beach

All of Sydney's beaches are free to visit, and we suggest you check out at least 2 or 3 of them. Bondi and Manly will undoubtedly be in your guidebook, but some of the less known beaches like Tamarama or the harbour beach Camp Cove below are also worth a look.

You can reach some of the best beaches by public transport too!
Many beaches have free electric BBQs, so head to the beach at the end of the day and cook yourself a real Aussie barbie. Woolworths supermarket at Town Hall is the perfect place to grab supplies. There are also supermarkets at most beachside suburbs except Bronte, which happens to be my favourite spot.

Halfway along the Bondi to Coogee walk, Bronte offers a beautiful patrolled beach, a large grassy area, and cute little huts that provide shelter from the sun. The BBQs are usually really clean, and there are great coffee shops in the street by the beach. What more could you want?
Check out as many harbour and coastal walks as you can while you are here.
Tip 4 – Visit free museums and galleries
Along with many kilometres of walking tracks around the harbour, several galleries and museums offer free entry and provide a great break when the weather is unkind.
Australian National Maritime Museum – This museum located at Darling Harbour offers free entry to the main galleries and some exhibitions, although there are charges for exploring some boats. It's open every day (except Christmas Day) from 9.30-5pm.
Museum of Contemporary Art – The large art deco style building near the wharf at Circular Quay is home to the Australian Museum of Contemporary Art. Entry is free, and there are free guided tours at 11am and 1pm each day.
Art Gallery of NSW – Located at the edge of the Royal Botanic Gardens, the Art Gallery has a significant Aboriginal and Islander collection in its Yiribana Gallery. There are also paintings by two of my favourite artists, Brett Whitely and John Olsen. Open 9-5daily and 9-9pm on Wednesdays. There are free tours at 11am from Tuesday to Saturday and free talks on Wednesday night. Please note some special exhibitions have charges.
Other free museums and galleries to visit include:
Rocks Discovery Museum
White Rabbit Gallery in Chippendale
Australian Centre of Photography
State Library of NSW Galleries
Brett Whitely Studio in Surry Hills
War Memorial in Hyde Park
Darling Harbour – There is almost always something happening at Darling Harbour, from buskers and street performers to free fireworks and concerts. There is a fantastic children's playground, and the nearby restaurants have plenty of happy hour deals.
Even if there are no events on at Darling Harbour, it's a great people-watching spot, and there are plenty of places to sit and relax.
Check out our guide to Eating in Darling Harbour – there are some surprisingly good deals to be found.
Tip 5 – Sydney loves a festival
Check out one of the many festivals; so many of the events offer fun, free things to do.
Sydney offers its residents and visitors hundreds of free events every year, from Sydney Festival in January to the Vivid Festival in May/June. October is Good Food Month, and November brings Open Sydney behind the scenes in many of the city's iconic buildings.

Explore some of these links if they coincide with when you are in town.
You can find out what's on in Sydney during your visit using our month by month guides here.
Tip 6 – Get the best view of the city for less than $20
If the Sydney Harbour Bridge climb and Sydney Tower are beyond your budget, you can still get a birds-eye view of Sydney from the Sydney Harbour Pylon Lookout and Museum. Check out our guide to the collection and the views.
Once you are done, walk across the bridge to North Sydney for some fantastic views from Kirribilli and Blues Point.
Tip 7 – Check out the city model and access free wifi
Shhh, it's a library – The Customs House library is the main branch of the Sydney City libraries. Its location right on Circular Quay makes it a convenient stop for visitors.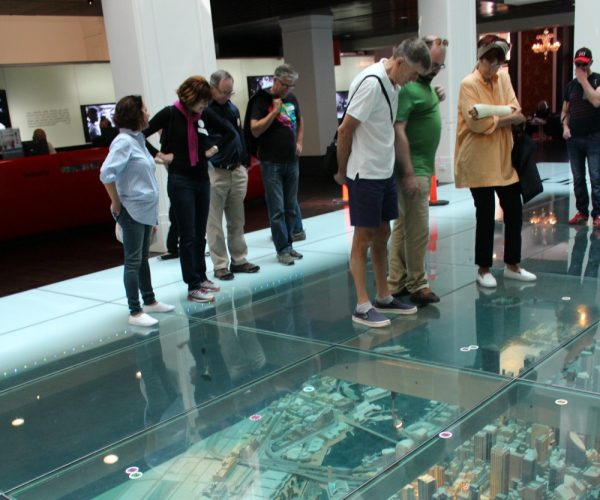 The big drawcard here is the free city model under the floor in the foyer. It can be an excellent way to get your bearings when you first arrive.
There is also free wifi, computers you can use and plenty of comfortable seating if you fancy working or reading somewhere cool and quiet.
Tip 8 – Take a step back in time
The best value way to explore the history of Sydney!
If you are a history lover like me, then Sydney's Museums of History are a must. In 2022 most of these museums did away with their entry fees so they are perfect for a quick stop when on trying to save some money.
Of the museums included, the following are of most interest to visitors:
Museum of Sydney – a great way to learn about the history of Sydney
Hyde Park Barracks – originally built to house convicts, the recent renovation has bought the building and its past to life. Enjoy a 90-minute tour.
Susannah Place Museum in The Rocks – a peek inside decades of local history
Justice and Police Museum at Circular Quay – Learn about Sydney's dark side and take a mug shot of your own.
And the historic homes that are easily reached by public transport incliude:
Vaucluse House near Watsons Bay
Elizabeth Bay House near Kings Cross
Government House in Paramatta
Elizabeth Farm at Parramatta
Tip 9 – Sydney is a city of Villages
Explore beyond the city centre and glimpse multicultural Sydney. Sydney is a city of villages with many suburbs offering unique experiences for visitors. A day trip by train or bus to one of these suburbs is a great way to have a local experience.
Newtown is the ultimate cheap eat suburb; the main street, King Street, is home to over 180 restaurants, and many of them are very affordable! You name it; you can eat it here, African, Polish, Greek, Korean, or Thai, with vegan and vegetarians, also well catered for. The shops here are also open later than most of Sydney too. Check out our guide to street art and eats in Newtown for some ideas.
Cabramatta – is home to the Vietnamese community and some fantastic pho (soup). It's located about 30km south-west of the city and can be reached by train in about 50 minutes.
Campsie is little Korea; shops, restaurants, even the public library has a distinctly Korean feel. Easily reached by train from the city. Head out for some Kimchi and Bulgogi
Lakemba – Visiting Lakemba can have you feeling like you have arrived in the Middle East – you will hear more Arabic than English, and the food is cheap and tasty.
Take yourself on a self-guided food tour.
Tip 10 – Shopping like a local
From markets showcasing local artisans to the weekend farmers markets across the city, visiting a market is a great way to shop like a local. By far our favourite is the Carriageworks market held every Sat just a short walk from Redfern Station. This farmers market offers plenty of taste testing and some of the best produce from around the city.
If you are self-catering and staying in the centre of town, you can't go past Paddy's Market for super cheap meat, fish and veggies. You might also like our guide to the best market shopping in Sydney to find some other spots for bargain shopping.
For factory outlet shopping Market City above Paddy's is the most central location. There is also a large DFO outlet near Homebush.
Tip 11 – Take a free tour of the Royal Botanic Gardens
Even if you may not consider yourself a garden person in your everyday life, these gardens are a little special; they come with this view!
Free 90 minute guided tours are offered every day from 10.30am. They are a great way to learn a little of the cities history and get some great photos.
And then check out these other free tours in Sydney.
Tip 12 – Visit the Blue Mountains by train
A trip to the Blue Mountains is the most popular day tour visitors to Sydney take. The guided tours on offer are great, and you can book a fantastic day tour for as low as $80, BUT did you know you can visit the Blue Mountains using public transport for less than $20.
If you head up on a Sunday and follow the guide for exploring the mountain villages by public bus, this can be a budget travellers dream day.
Check out all our Blue Mountains tips here before you go!
Tip 13 – Explore the city's street art
Sydney may not have Melbourne's laneways, but we have some mighty fine murals around the city and inner suburbs.
Follow one of our self-guided street art walks or take a look at the best place in Sydney to find murals.
Learn more about some of Australia's Best Street artists before you go searching
Tip 14 – Save $$$ on a visit to the Opera House
There are a few ways to enjoy visiting the Sydney Opera House. You can take a tour, but sometimes, for a similar amount, you can pick up bargain tickets to a show or performance.
Check out Opera Australia's Affordable deals.
Student Rush tickets when available will get you A Reserve seats for under $50
Have a scroll on the What's On pages there are often performances for around the $30 mark.
Keep an eye on the LastTix site for current deals.
Tip 15 – Join a free Sydney walking tour
So everyone knows that free walking tours are not actually free. A small tip is expected, and in my case, I have not done one that was not worth a small tip of $10-15. These tours usually get you a pretty decent 2-3 hour walk and a crash course in the history of Sydney.
There are two main companies offering these tours in Sydney, the green ones, I'm Free, which leave from Town Hall Square and the orange ones, Free Tours Sydney who start from Hyde Park. I'm Free also run a 90-minute walking tour of the Rocks each afternoon at 6pm.
Tip 16 – Explore the Harbour foreshore
Much of the shore on the north of the harbour is accessible, with walking tracks hugging the shoreline almost all the way from Blues Point to Manly. You could spend several days exploring here and find something new each time.
From the free Maccallum Seawater Pool at Cremorne Point to the back streets of Kirribilli, photo opportunities will appear around every corner.
Our favourite spots include
Tip 17 – Download some helpful apps
There are many Sydney apps in the Play Store or on iTunes, but a lot of them are not much good. There are a few that will really earn their spot on your phone, and these include
Transport Apps
The official Opal app is a great way to top up your card, check timetables, and determine how much things cost.

Another helpful transport app is CityMapper; this one is a little more user-friendly as it can find trips based on your current location if you have location services. It also lets you share your location with friends.

Both of these transport apps are available for both apple and android devices.
Free Walking tour apps
Culture Walks is a free app from Sydney City Council that offers 17 different self-guided walks of the city with detailed notes and an excellent map index. Covering everything from Aboriginal History to Public sculptures and hidden laneways to the history of Mardi Gras, there is something here for all interests. Both Android and Apple versions are available.
Tip 18 – Save money on eating out
First Table is a website that offers a reduction on meals booked for the first seating of either lunch or dinner that will make budget travellers smile. The site offers some great quality options and reduces costs by up to 50%. Find out all the details here.
The Fork is part of the Tripadvisor family and offers deals of up to 30% off dining around the world. Some popular Sydney restaurants listed include the breakfast institution Bills, Silversters in Bulletin Place and Saki in Double Bay.
Tip 19 – Hunt down happy hours
Sydney can be an expensive place to grab a drink, but you can find bargain drinks in even the finest establishments if you are in the know.

Recently we sat in the lovely and very comfortable Mode Bar and Kitchen in the Four Seasons Hotel where for just $30 we enjoyed a cocktail and 2 hours access to an apertivo buffet! This offer is available Monday to Friday from 4-6pm.
We share all the best happy hours we come across on our Facebook page. You can also check out the Happiest Hour website and app.
Tip 20 – Do all 75 things on our Free Things in Sydney list!
We are so passionate about making sure a lack of funds does not equal a lack of fun on your trip to Sydney that we have make a list of 75 things you can do that will not cost you a cent. Also our list of 90 things to do in Sydney at night includes 10 free things too!
There you go – no excuses!

About the author: Paula Morgan, a born-and-bred Sydney resident, has been sharing this city and its secret spots for over 15 years. She's not just about the iconic landmarks; she's all about the hidden alleys adorned with street art, and the joy of discovering a new café or a fabulous restaurant tucked away in a corner you never knew existed and weekends away exploring regional NSW.